Last updated on September 19, 2023
Having cherry wood present in a bedroom is not a problem. You just need to know what colors go with cherry wood bedroom furniture. Read on!
Cherry wood furniture is classic if a bit dated. It's one of those pieces of furniture that if you have it's fine, but you probably wouldn't go shopping for it. So whether you've inherited such a piece or it was your spontaneous buy from the flea market, you have to decorate your bedroom around it. As you will soon see, it's not a bad situation to be in.
Indeed, cherry wood is very prominent. So much so that it can easily be the anchor of the room's decor. Whether you want that or not is another question. You have two ways to go – either you feature it in the room or you make it disappear in matching hues. We'll cover both ways.
Wall Colors That Go with Cherry Wood
As we've mentioned, you either want your cherry wood furniture to disappear or you want to feature it. Wall colors are the first thing that will help you achieve either goal. You can either go dark or light depending on your goal.
Dark Colors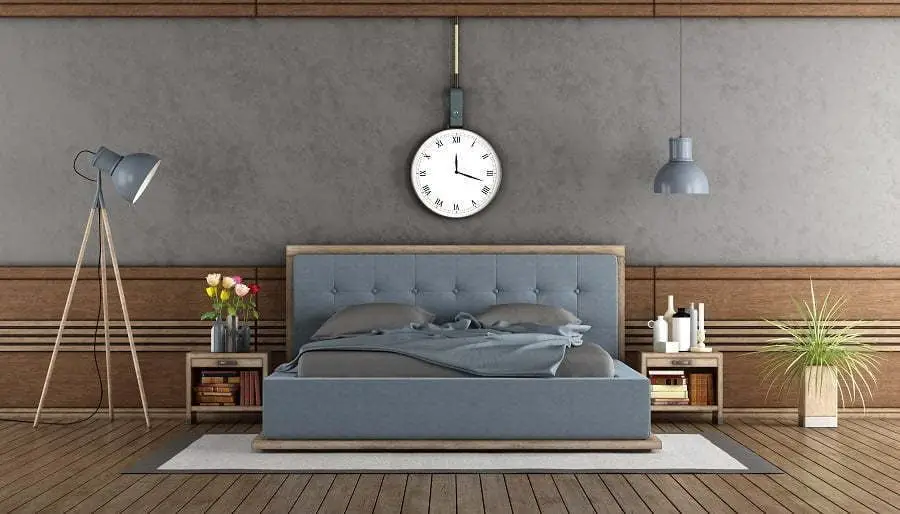 As cherry wood is naturally a dark hue (and it gets even darker as it ages), only dark wall colors will make it blend in. Here we cover the most popular and best fitting options.
Grey Walls with Wood Trim
If you want to play it safe, then go with a neutral color for your walls. This should go well with anything that you will put in the room including cherry furniture. Add wood trim for a more sophisticated look.
Dark Wood Trim
An alternative is to retain your existing wall paint and simply add dark wood trim. This will echo the strong presence of the cherry furniture and create a more cohesive appearance for the bedroom.
Blue and Navy Blue
Cherry wood furniture has a warm tone. While some people like this a lot, using a similarly warm color for the walls can be overpowering. Go for a cool hue like blue or navy blue for contrast and balance.
Light Colors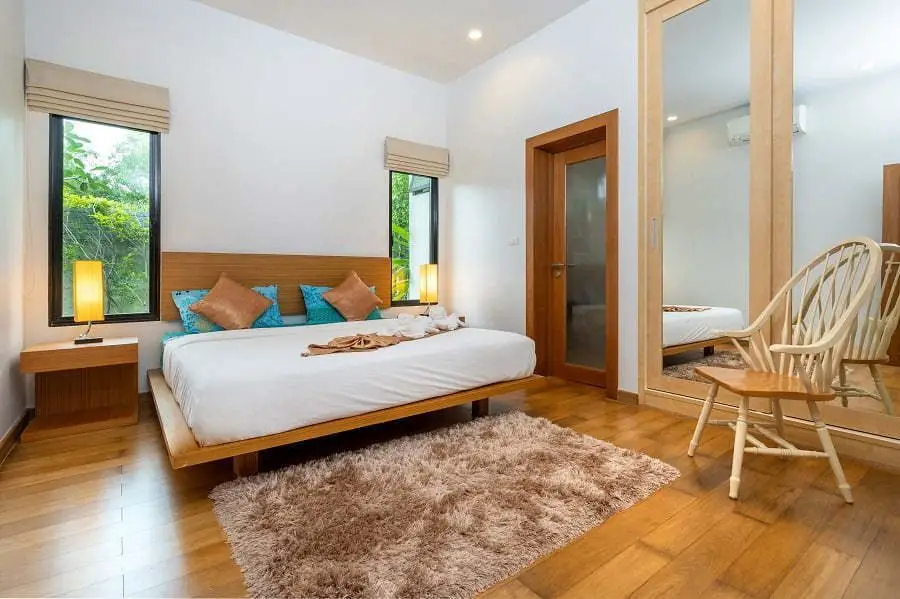 Light wall colors will make your furniture stand out. These are the most fitting light color options for the walls to match cherry wood.
Pastel Hues
If you would rather have a light-colored wall, then consider pastel hues. This will make the room feel bright and cheerful all year. Remember that cherry wood darkens as it ages so light paint will increase its prominence.
Teal and Turquoise
Pastels can appear too feminine for some. Keep it light yet masculine with a splash of teal and turquoise. The blend of blue and green should offset the rich red of the cherry wood.
Light Wood Trim
You could also keep your existing light-colored wall, typically white, and install light wood trim. Make this go all around the room to create a feeling of resonance between the walls and the furniture. The trim should follow the style of the cherry wood pieces.
Wood Paneling
The walls could also show off the natural grains of wood paneling. This would have the same effect as the wood trim except multiplied exponentially. You could feel like you were in a posh cabin when you walk into your bedroom.
Window Treatments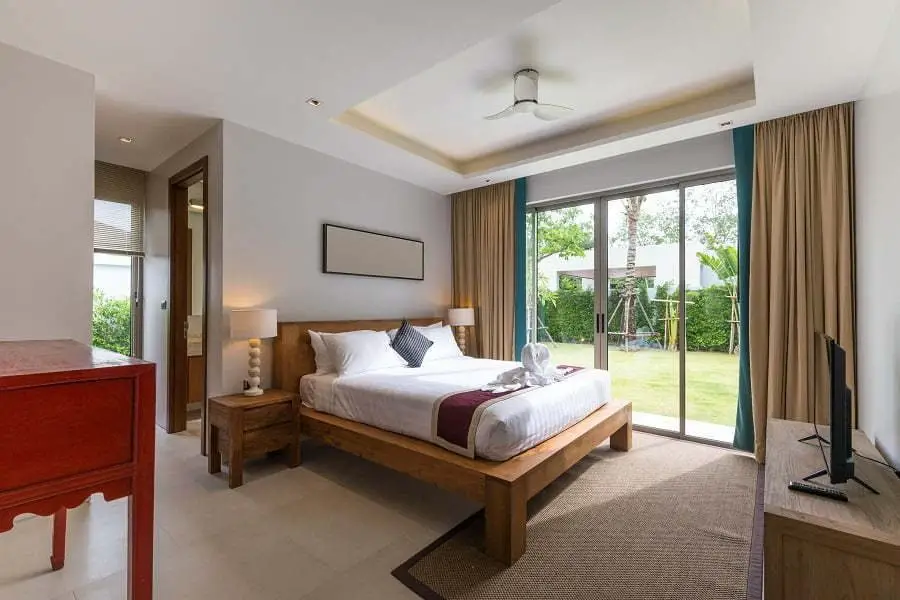 The next thing on the list is the window treatments. Because we're dealing with such a visually heavy decor piece as cherry wood, the best option is layering the shades and curtains. You can go both ways too – light or dark.
Dark Red Hues
Employ window shades with hints of dark red so that the light that filters through will complement the furniture instead of clashing with it. Layer this with white sheers for contrast. You will be able to control privacy and illumination better with this system.
Light Natural Woven Curtains
Similar to the strategy of using wooden trims, you could install light natural woven curtains on your windows. This could be made from reeds, grasses, or wooden slats. This should give the window a rich texture and interesting character.
Floors
The choice of floors (or carpeting) is a great way to change the anchor of your bedroom decor. It's an excellent way to make your furniture blend in or stand out.
Dark Wood Floors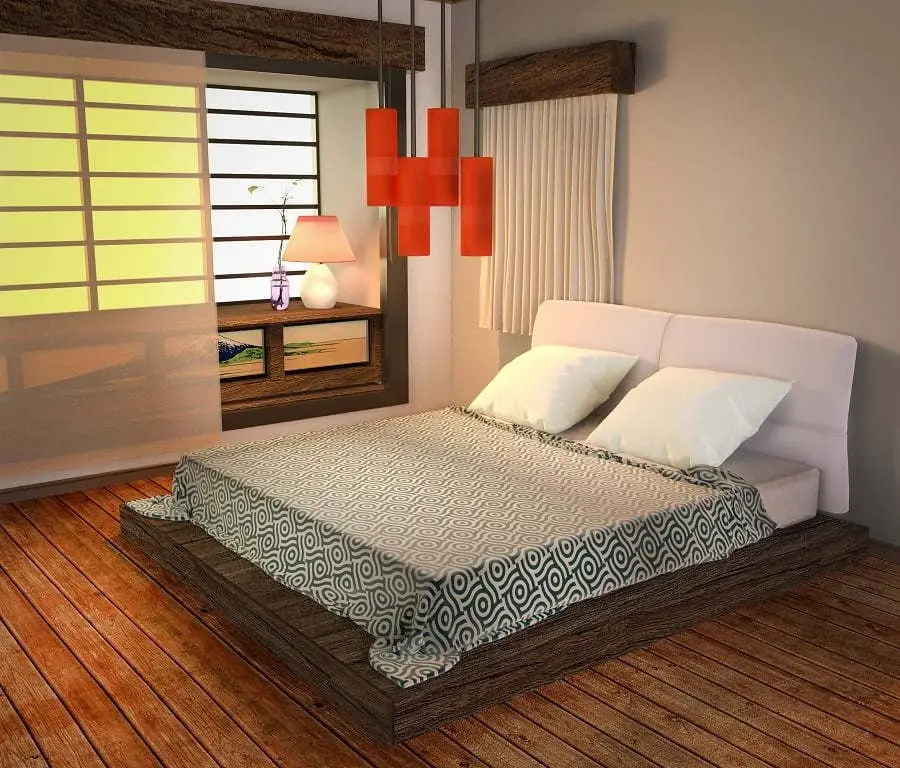 Cherry wood furniture goes best with dark wood floors. This can be quite expensive but worth it in terms of aesthetics and durability. Dark wood lends an air of sophistication to any space. It is easy to maintain and blemishes will not be as visible.
Light Wood Floors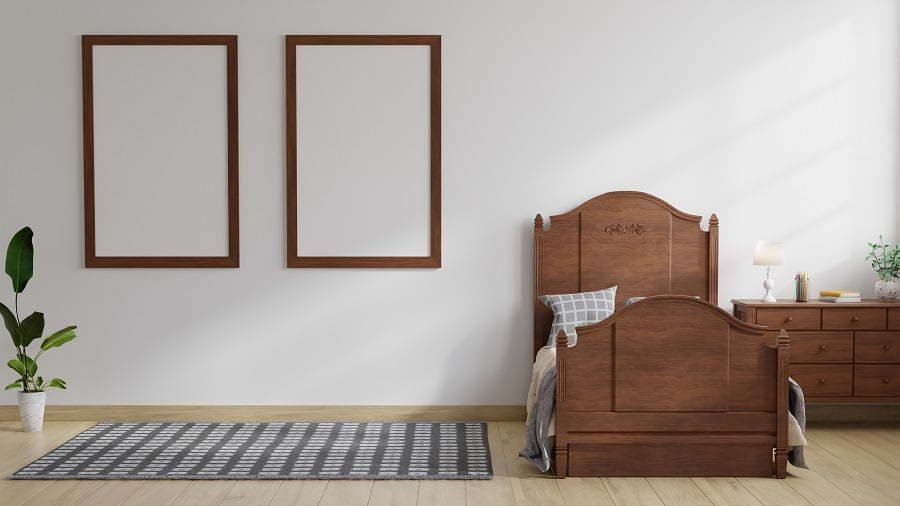 If you have a small bedroom, then the dark cherry wood may be enough for you. A dark floor will push this over the edge and make it feel cramped. Go for a light wood floor instead to maintain the natural look while making the room feel bigger.
Carpets and Rugs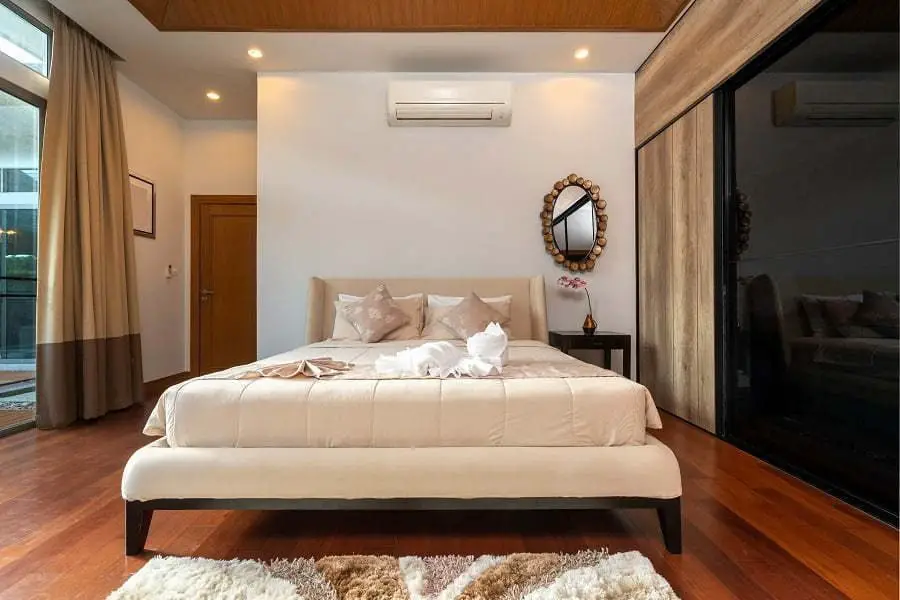 Some will prefer carpet for a softer floor that also feels warm and comfortable even in winter. Find a light grey or light brown carpet or area rug for the bedroom. Any of these should go well with cherry wood furniture. Just be prepared to clean the floor frequently.
Furniture to Complement Cherry Wood
When choosing complementing bedroom furniture for the cherry wood pieces, your goal is to balance out the room decor. They key is to avoid the room looking lopsided (which can easily happen with visually heavy furniture.)
How to Arrange Bedroom Furniture
Your goal here is to mix wood tones and balance out the room. So wherever in the room the cherry wood furniture goes, you have to make sure to have complementing furniture or decor pieces of similar hues on the other side of the room.
Take the measurements of the floor and use a notebook to begin planning. Provide at least 3 feet of separation for walkways. Do the same for sliding glass doors (if any). Place the bed at the center, if possible, and design in a symmetrical manner.
Dark Colors
Dark-colored furniture will even out the visual weight of cherry wood. Place it away from your main pieces to keep the room balanced.
Black Furniture
Black furniture goes well with existing cherry wood furniture. You could, for example, place a black armchair or even a rocking chair at a corner that can serve as your reading nook. You could also use black side tables to flank your bed and hold your lamps.
Brown Furniture
Brown furniture will have a similar hue to cherry wood so they are great additions to the bedroom. You could use dark brown cabinets and shelves for storage. While black furniture tends to have a modern feel, brown ones are usually more traditional.
Espresso Furniture
The color of rich strong coffee happens to be a popular pick for furniture as well. It is darker than antique cherry with streaks of brown and black. Consider this for drawers, coffee tables, and TV stands.
Dark Gray Wood Stain
If you want to achieve a more contemporary look, then consider using dark gray wood stain. This will make pieces seem like they have aged to a fine state over the years. These are perfect if you have white or light gray walls.
Light Colors
Light furniture can go anywhere as they fall in the backdrop. Still, consider their arrangement carefully especially if you've chosen dark wall colors.
Light Wood Stain
If you have a tiny room, then populating it with dark furniture will only make it feel smaller. Consider pieces with a light wood stain instead. This should be enough to give them more protection and character without overwhelming the room.
White Furniture
Of course, the best way to make a space appear brighter is to use white for almost everything. This will make light bounce around and provide the illusion of wideness. It will also make the cherry wood stand out more being the only different color.
Bedding
The choice of bedding gives you an important touch-up to complete the look of the bedroom. As they can be easily replaced you have a lot of room for experimenting here.
Grey Bedding
Grey bedding is always a wise choice because the color hides dirt and stains better than other colors. You won't feel compelled to dispose of your sheets just because you had a spill. Consider this if you have a grey wall or grey floor.
White Bedding
White will fit in any space no matter what the décor or styling. It will also look stunning especially when new or freshly washed. However, this versatile bedding will quickly show blemishes across the years.
Beige Bedding
Beige is a good option if your bedroom has a lot of prominent brown items. For example, if you have dark wood floors or furniture, then this can be considered as a lighter hue that blends well with space.
Red Tones
Cherry wood has a warm reddish glow. If this is what you have for your bedframe, then it would only be fitting to get a bedding with red tones. This could be a plain red sheet or a floral fabric filled with warm colors.
Blue Tones
On the other hand, those who would like to balance the warmth can rely on blue tones for the bedding to get the job done. A light shade of blue can be calming while a darker shade would be able to hide the stains.
Accessory Ideas for Cherry Wood Bedroom Furniture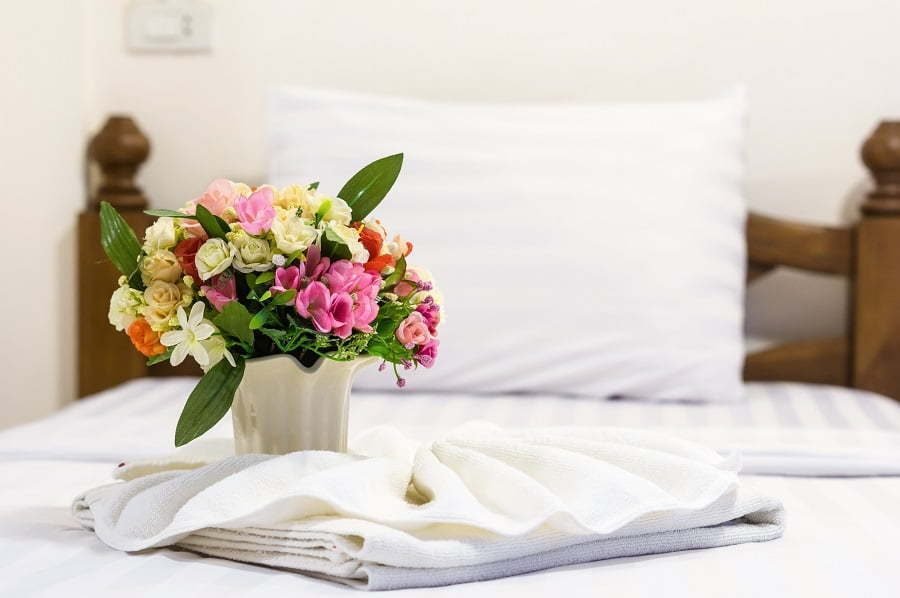 A few smart accessories will work much better than a cluttered pile of decorations. For example, place small potted plants on an armoire for a splash of green or hang an eye-catching lighting fixture. If you have a large wall, then select a striking oversized wall art for it.
Related: