Last updated on September 18, 2023
Want to design your bedroom in mid-century modern style? Great choice! And these are the things you will find in a typical mid-century modern bedroom.
If there's one thing that defines mid-century modern it is nostalgia. We all have it somewhere in our hearts, whether it's through the first home we lived in as kids or the interiors of our grandparents' houses. They were all sunk in simplicity, seemed trusty and immovable – something you can always rely on. Yet they were welcoming and warm. That's what we want to bring to the bedroom (as well as the kitchen and living room) design and decor when we talk about this style.
What is Mid-century Modern Bedroom Decor?
The style in bedroom decor can be defined with the following characteristics:
Tapered or hairpin furniture legs
Low profile furniture (especially seating)
Simple and functional design over intricate embellishments
Warm earthy colors with vibrant pops
Vintage accessories
Window treatments that allow natural light in but still make an accent in patterns
As a complex design style, mid-century doesn't have strict rules but it is evident that simplicity and function rules. So whatever you do to bring this style to your bedroom, you'll do good to keep it simple.
If we had to sum it up in one rule it is this. Keep the choice of furniture, colors, and patterns simple but use engaging vintage accessories at will.
All that makes clean, functional but simple bedroom design (typical to the middle of the last century) which is full of character (achieve with accessories.)
Let's dissect a typical mid-century modern bedroom step by step. Here's what you'll find.
Mid-century Modern Bed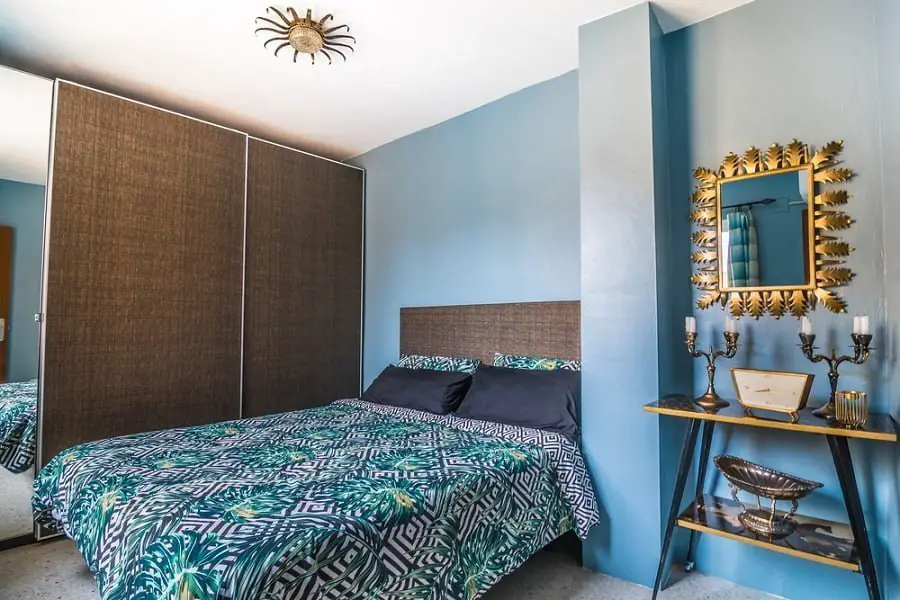 The bed is simple, sturdy, and durable. There are often the everpresent tapered legs, otherwise, it's a low profile platform bed. The headboard is the most prominent part of the bed as everything else gives way to function. And with that, it's still simplistic and warm. Sometimes you get a little decor interest with a slight curve or an angle of the headboard.
Note the above bedroom decor. The colors are typically warm and earthy mid-century scheme shades. Everything serves its purpose and there's nothing that's not necessary. The only embellishment is done by an intricate mirror frame, small statement chandelier, and other accessories on a typical-to-the-era vanity desk.
Mid-century Modern Window Treatments and Curtains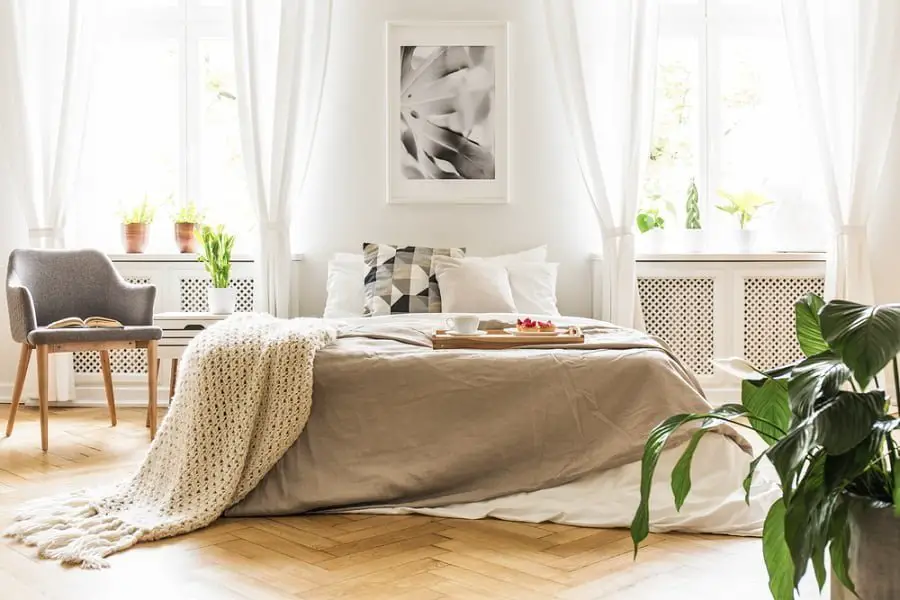 You'll almost always find sheer curtains and non-obstructing curtains in this style. Simplicity remains the key. And the most important thing is to let as much natural light as possible. If you have an enjoyable view outside, bringing that in with picture windows is a must.
If you want to add an accent with your curtain patterns, choose naive and geometric patterns. The colors can be vibrant but warm earthy tones are preferred. It all comes down to your personal style.
The above room has nothing but sheer curtains for the window treatment and nothing else is needed to feature those big windows. Maximizing natural light is essential. Also note the simple geometric wall art, few fabric patterns, and the use of houseplants. And of course, the tapered leg armchair which is the staple of mid-century modern.
Mid-century Modern Bedroom Furniture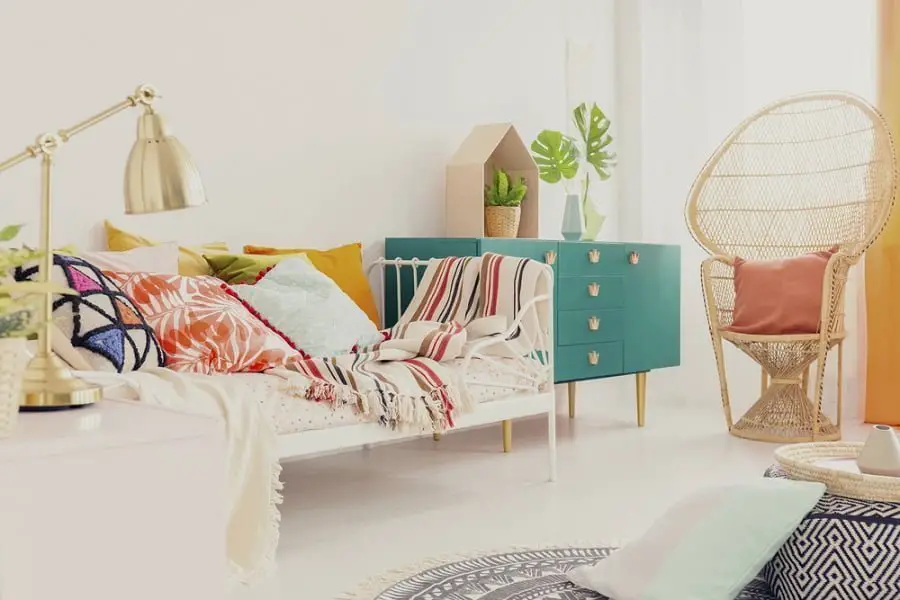 Because keeping it simple is one of the keys to this decor style, the presence of furniture in the bedroom is minimal. There are only the essentials. The bed, the nightstand, and the dresser. If needed and there's room, you can have a statement chair.
The design of mid-century modern furniture prefers function over style. So it's well crafted, sturdy, durable, and functional. But at the same time, subtle accents are everpresent. You can have vintage pulls and knobs that add so much character. And of course, the tapered legs.
The bedroom pictured above embraces this style perfectly. It's subtle yet imposing. The color scheme is warm with the sage green accent dresser (which also features nice accent knobs.) The bed has a sturdy metal frame that's subtly embellished.
Mid-century Modern Wall Decor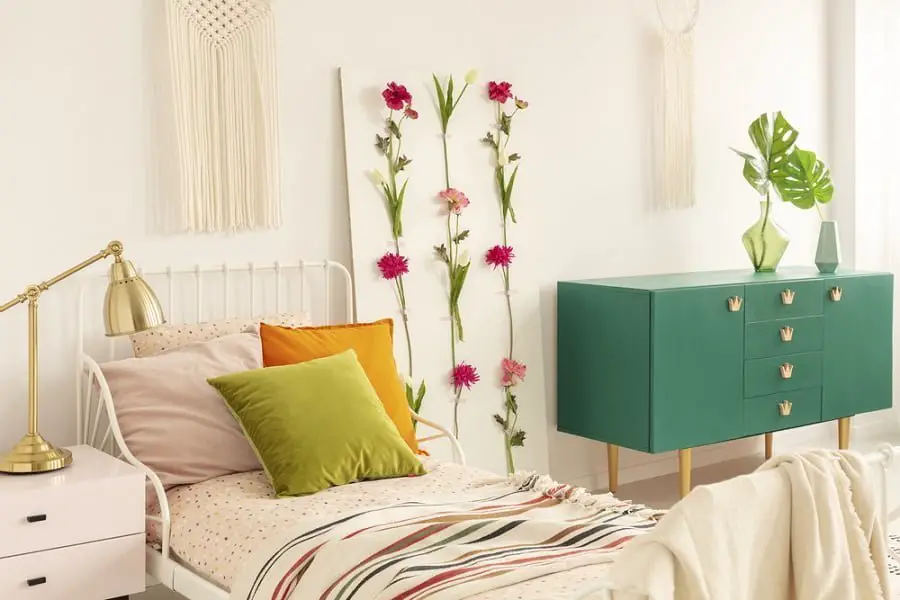 Wall decor typical to this decor style is a mix of retro, boho, vintage, abstract, and futuristic accents. The key is stripping it of any symbols and leaving it pure natural form.
So you can have abstract paintings and prints, macrame wall hangings, flower arrangements, accent mirrors, and so on. And while most of the design choices in this style are functional, wall decor is the space for you to shine with creativity. Use this chance to add something unique, quirky, especially if it's from the era.
The bedroom above uses macrame wall hangings and a flower arrangement art piece to translate the message. It's very down-to-earth and helps to carry the right vibe.
Mid-century Modern Wardrobe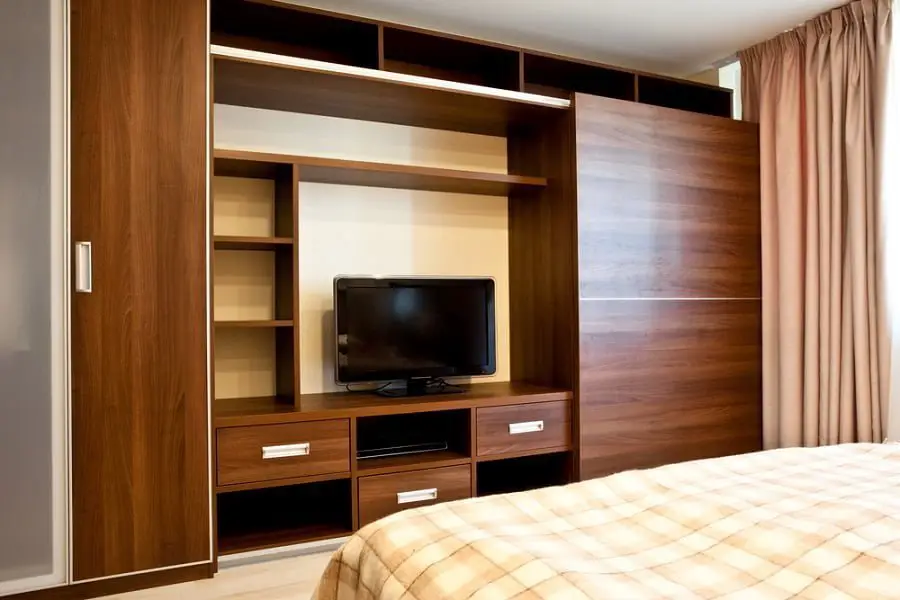 One of the keys to mid-century modern is being functional and it is especially evident in the wardrobe. So it is designed not to blend in (as in modern design) and not as an architectural feature (as in classic or farmhouse design) but as a simple closet that can store all your clothes. Typically it is in a natural wooden finish.
You can see above that such a closet system has plenty of space and it doubles as a tv stand. The natural wood finish is overwhelming.
Mid-century Modern Bedding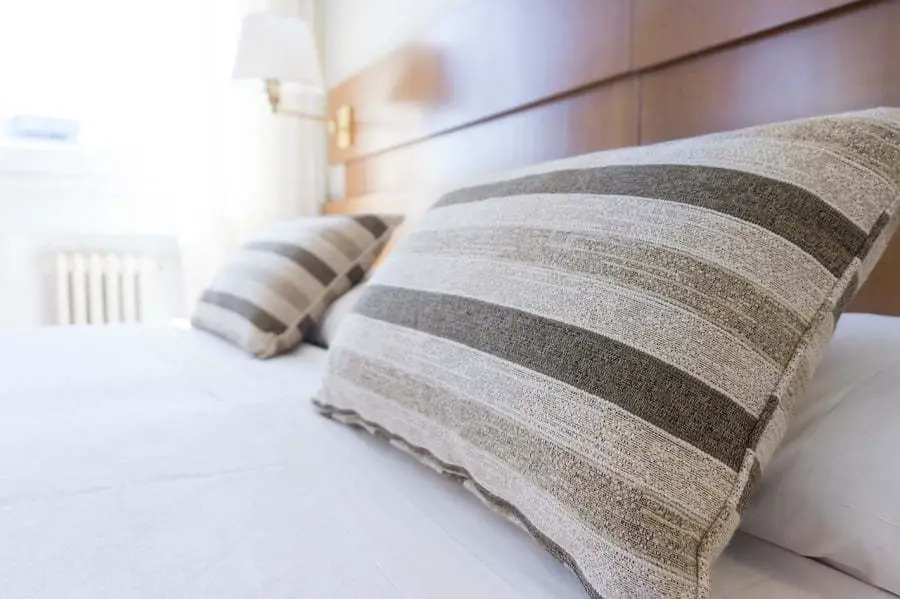 While you can add accents to your bedding, it is kept simple as a rule in this style. If patterns are used they are simple. If colors are used they are warm pastels. You have two choices here – let it blend in and support the rest of the decor or add decor interest with patterns.
The above bedroom design keeps it simple with white bedding and uses accent pillows in a subtle striped pattern. The colors are earthy warm throughout.
Mid-century Modern Bedroom Colors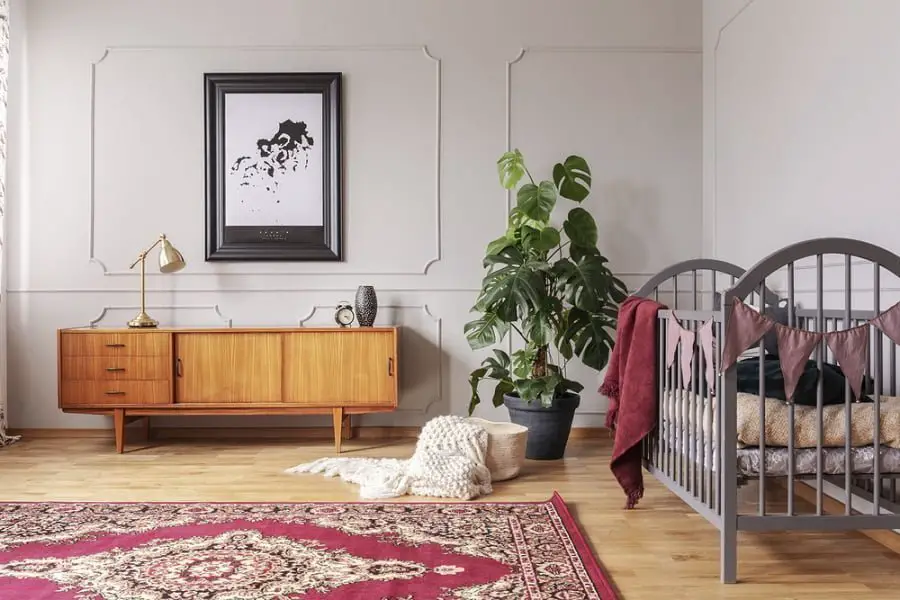 Because the mid-century style is a combination of a few decades, the color choice can be very different (and clashing at times). We have two categories:
Warm earthy colors with lots of natural tones (especially natural wood)
Vibrant hues and pastels
You'll often see the combination of the two as well – a warm color scheme with vibrant popping accents.
A typical example of this combination is the bedroom shown above. It is a warm earthy scheme with a popping red area rug and additional accents.
Mid-century Modern Furniture Set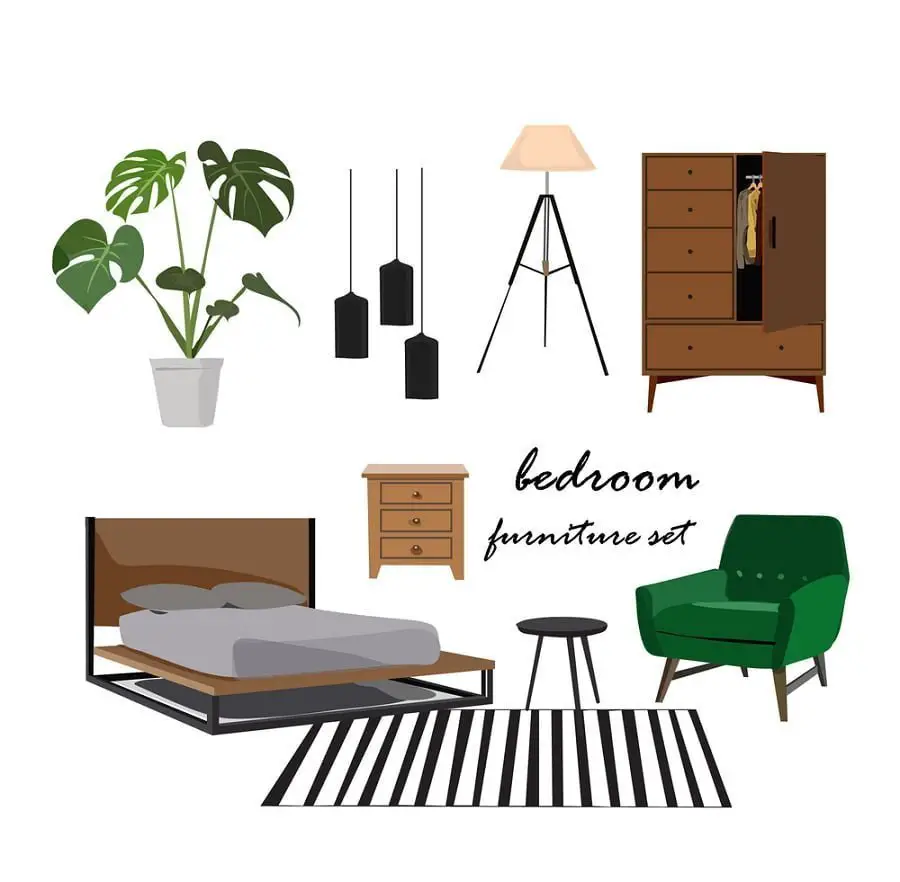 Let's sum it up with a bedroom furniture set that pays its dues to mid-century modern. Therefore we have:
A sturdy bed that can have a metal frame
Seating with tapered legs that is as functional as it is decorative
An accent area rug
Craftsman nightstand and wardrobe in a natural wood finish (possible with tapered legs)
A retro or vintage lamp
Houseplants
Accessories (retro-futuristic, vintage, and things typical to the era)
Related: