Last updated on September 18, 2023
What is the mid-century modern kitchen? Let's pick the top ten design ideas and see what makes the style. Read on!
Mid-century modern style doesn't often pertain to the kitchen (we're more used to seeing it in the bedroom and living room) but no room of a home is exempt. If you like this style and want elements of it in the kitchen, by all means, go for it. We'll only congratulate you for it. It is important, however, to understand what makes this style so appealing and how to achieve it properly. After all, there's nothing worse than tacky decor that is the result of wishful design choices that aren't well thought out.
Let's get to know this kitchen design style and its nuances.
What is a Mid-century Modern Kitchen?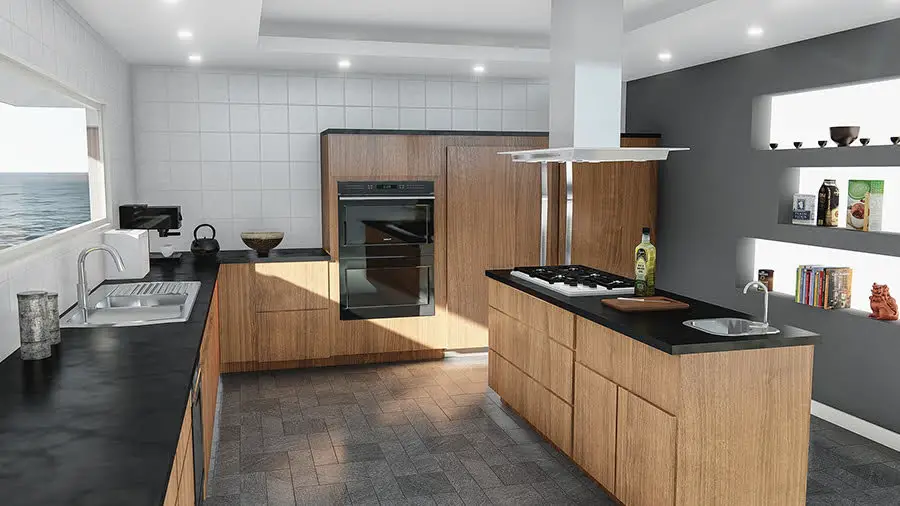 The main characteristic of the mid-century modern kitchen includes futuristic aesthetics, more emphasis on space functionality, predominant angular structures, and a secure connection of outdoor indoor.
Millennials today are often preferring this kitchen design style over others. It's because this design is focused on both the form and functionality of a kitchen. The mid-century design of modern kitchens has its deep roots in the era of the 1930s to 1960s when designers shifted their focus from traditional designs to futuristic contemporary ideas.
Mid Century modern style originated from Europe, but then architects like Marcel Breuer, Walter Gropius, and Ludwig Mies van der Rohe brought it to America. It was quite popular at that time. And still, it is regarded the one of best by designers because it offers flexibility in terms of color and material selection. The main idea is to have clean lines and more functionality while making the most from the contemporary minimalistic approach.
So what are the parts of kitchen design that make it mid-century modern? We're going to dissect them bit by bit next.
Mid-century Modern Flooring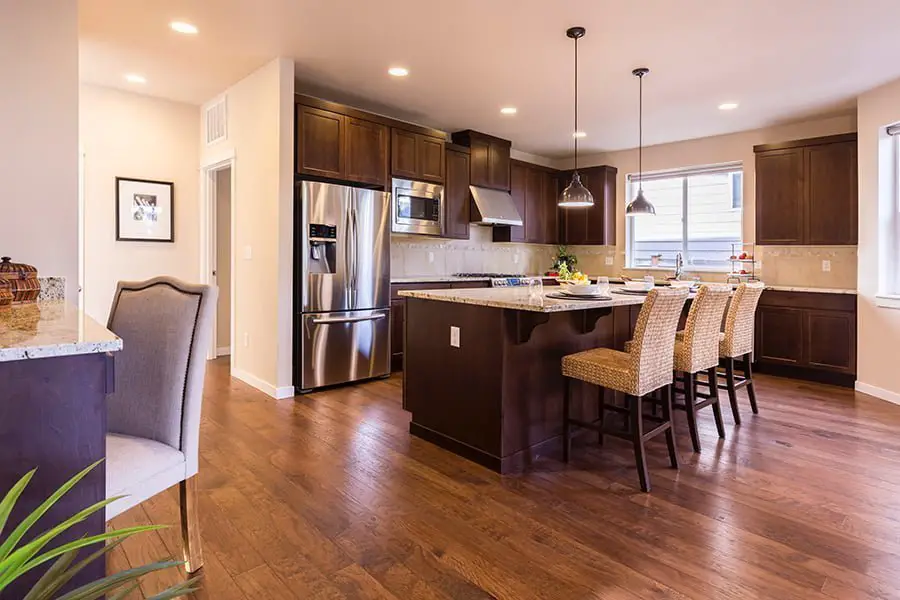 When it comes to choosing mid-century modern flooring, you can think of anything related to nature, such as ceramic, marble, and wood. The idea is to bring nature inside your kitchen space.
Are you going with wood? Don't stick with only one type, go ahead and try many different types in a single area. A bit of creativity is a requisite to pull off this contemporary theme. The most common wood types that can add style and beauty into your kitchen flooring are reclaimed wood, reclaimed pine wood, barn wood, pinewood, etc.
In case the wood flooring doesn't fit in your budget, an affordable option is faux marble flooring that lets you match mid-century modern kitchen themes in no time. Make sure to grab those earthy tones in marble that have clean lines and textured veining. Light hues and shades in ceramic are perfect choices to enrich your kitchen with natural elements.
Mid-century Modern Kitchen Tables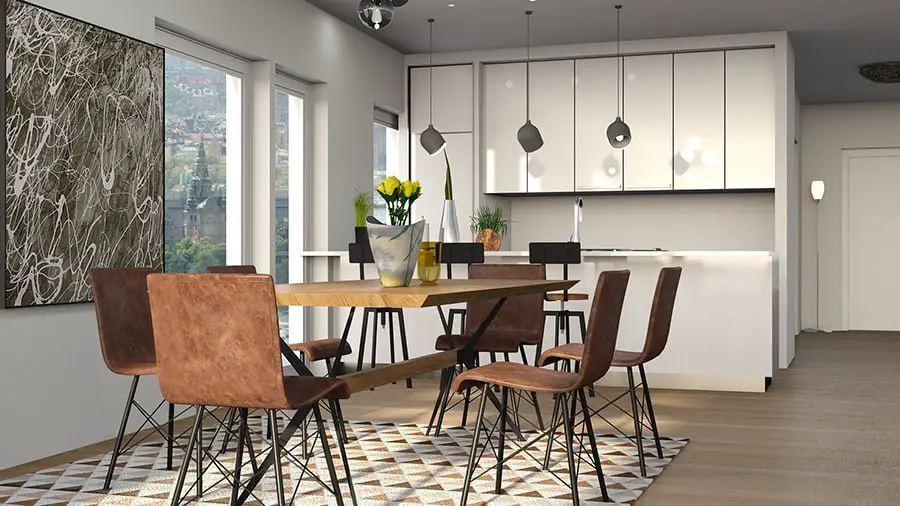 As the functionality of the kitchen was the primary concern of mid-century style, the kitchen breakfast nook table became an integral style part. In case you want to copycat this table design, think of getting a wooden table with colored tulip-style chairs.
Another idea that looks fabulous is to have a vintage dining table that works as a casual breakfast nook. If you have a white marble countertop, you can pick the same material for your kitchen table as it has streamlined design and bring clean angles in your space.
Reclaimed pine wood offers an instant boost in the shape of a kitchen table and instills a mid-era theme instantly, especially when set with metal or plastic colored chairs.
Mid-century Modern Kitchen Cabinets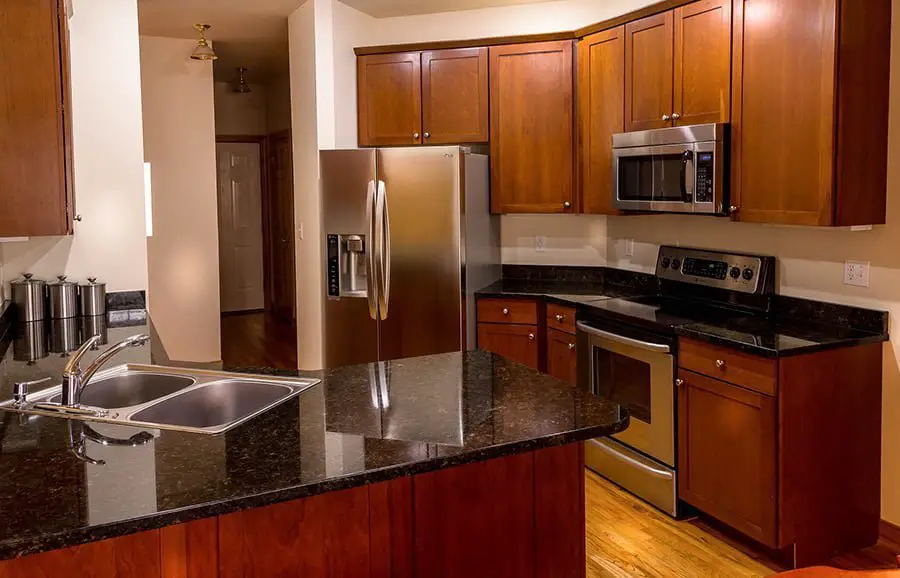 Mid-century modern kitchen cabinets can get two distinct forms: one is to use only wood, and the second is to go metallic with pastel shades.
If you want to neutralize the whole look, then wooden cabinets with the color of pine, oak, plywood seem like the ultimate right choice. However, if you like to play with soft shades that make the kitchen area bright and lighter in tone, then you should think of getting flat front cabinets style.
The next thing is to have are some delightful pastel shades, so consider minty green, turquoise, light lemon, or even creamy pink.
To set a perfect mid-century modern style in your kitchen cabinets, you need marble and granite countertops. White and grey (even black) granite countertops are timeless designs and blend beautifully with both wooden and pastel shades cabinetry.
Mid-century Modern Tile
Anything bold and beautiful can enhance the aesthetics of your space. Contemporary cork tiles are inspired by mid-century modern style, so get them to make your kitchen look clean and chic.
Other ideas that are dated back to the 1930s and 1960s period are black and white diamond floor tile and checkerboard vinyl tiles for flooring. In case you want to know how to adore your backsplash, then you need to think of getting marble hexagon tile backsplash, glass tile with a retro pastel shade, and mini tiles inside square tiles.
If you are going with colorful tiles or white tiles, then the best way to create a perfect mid-century modern tile theme is to have a stunning black border tile around them.
Mid-century Cabinet Pulls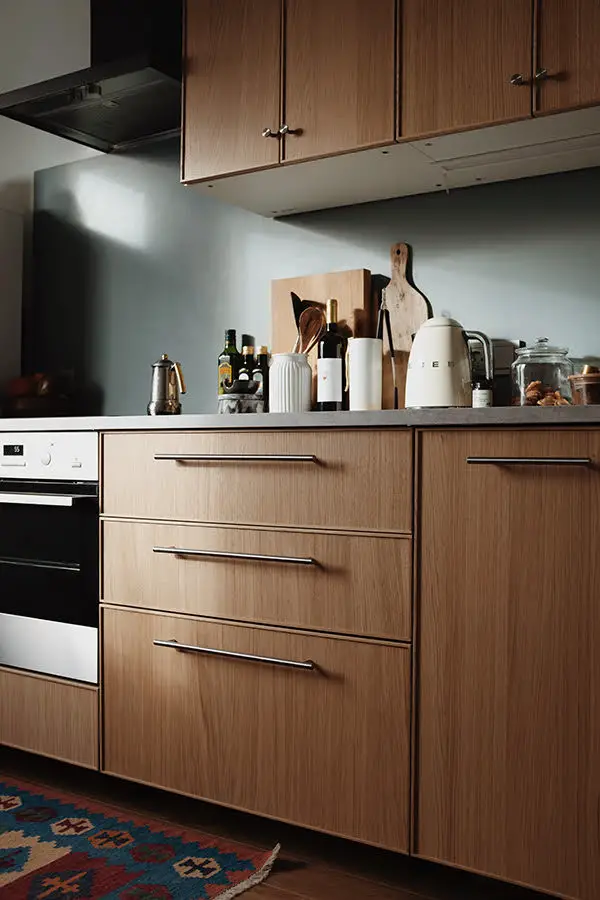 Mid-century cabinet pulls come with clean and sleek lines. Center to center bar pull is the prominent hardware to complement with metal and wooden cabinets. If you have wooden cabinetry, then you can pick up bronze and golden pulls as they look seamlessly classy. On the other hand, silver and chrome finish in straight bar pulls can readily go with metallic white or retro cabinets. Any cabinet hardware with square and flat angles can be a good choice.
Retro Kitchen Cabinets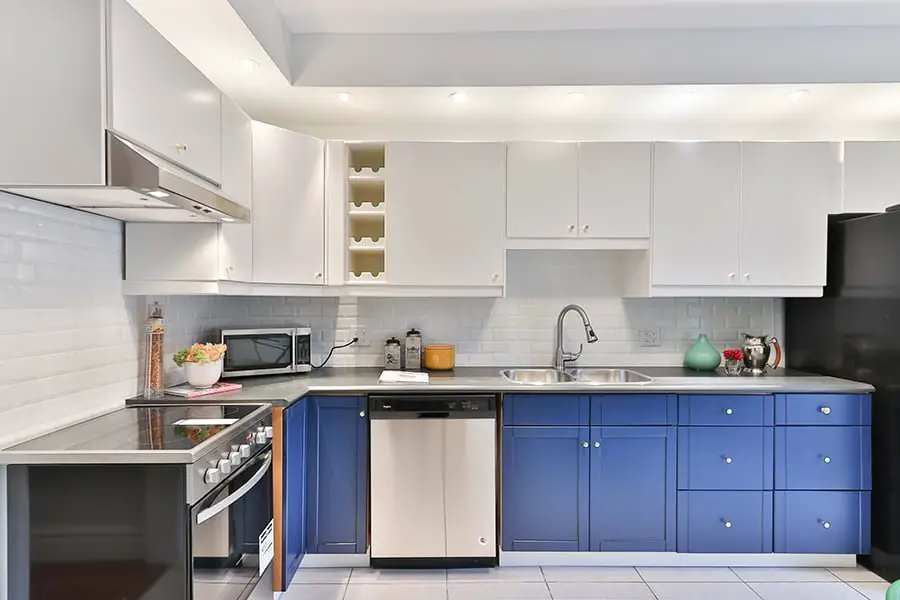 Retro kitchen cabinets add playful appeal to any space. In the case of midcentury modern retro style kitchen cabinets, they are characterized with vintage charm, minimal adornment, solid construction, and rounded geometrical shapes.
Cabinetry of this era has a sleek look with less decorative flair and more focus on basic functions. Today, you can find multiple soft shades of mid-century modern style cabinets in retro design from home improvement stores.
If you have wooden cabinetry, then you can paint them with pastel shades to give them an adorable mid-century makeover. But whenever you opt for shopping, try to grab metal retro cabinets as it was the must-have ingredients of the 1950s era kitchen style.
Turquoise Kitchen Appliances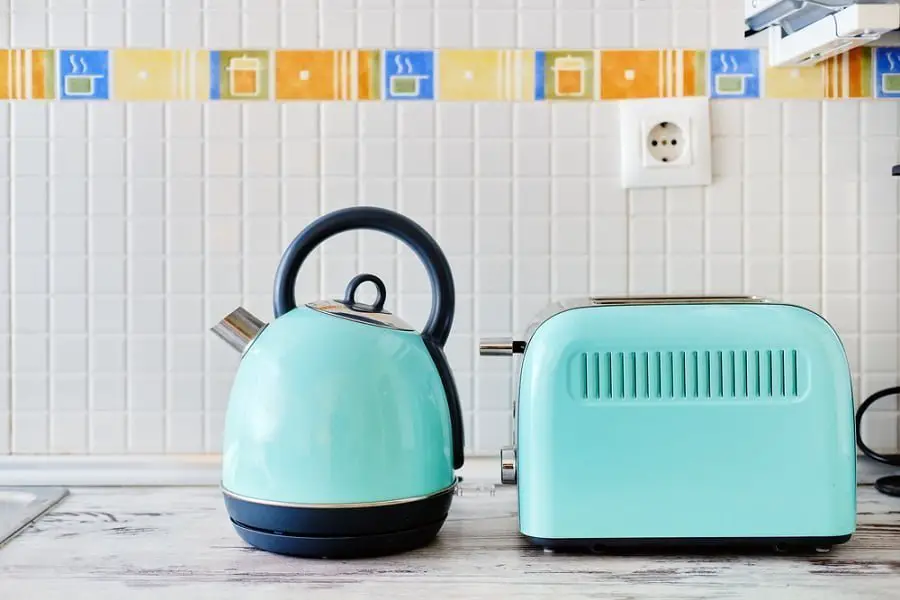 When it comes to setting the design subtly, nothing works as amazing as bold and pastel shade kitchen appliances. For example, you can grab turquoise kitchen appliances and then set them over a laminate countertop.
Turquoise appliances look great with minty green and yellow metal cabinetry. Another shade that can bring a decor element into your kitchen is making a combination of turquoise with cherry red and yellow appliances.
1950s Kitchen Decor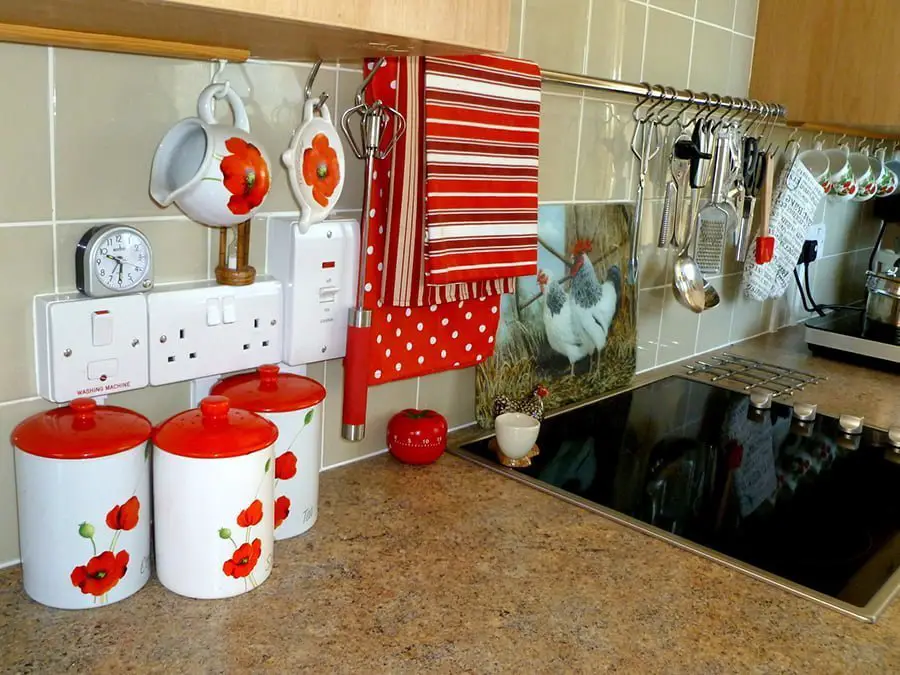 Want to get inspiration for the design for your space from 1950s kitchen decor? You should focus more on metal cabinets and less on wooden. In the 1950s, the war was over, so factories that were making weapons from metal started using it for domestic purposes. That's why in every 1950s kitchen, you could quickly notice a metal cabinet as clean lines and streamlined geometrical angles were commonly integrated into kitchen interior.
When it comes to picking a shade, you need to go with a lighter tone as 1950s kitchen decor was all about picking softer shades such as yellow, pink, and blue. Almost nine times out of ten, the color of kitchen cabinets matched with its appliances and accessories in an authentic mid-century modern kitchen.
Mid-century Modern Farmhouse Kitchen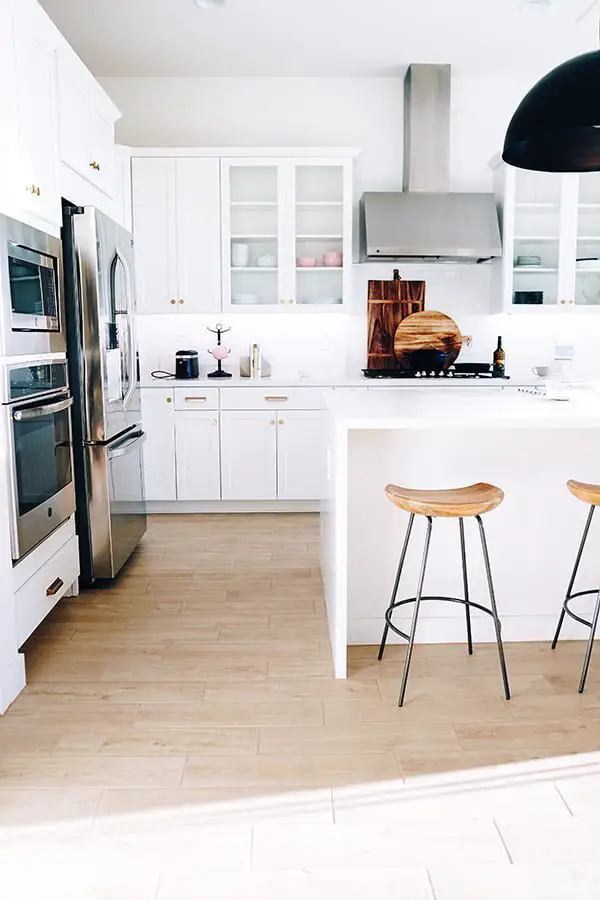 Mid-century modern farmhouse requires more decorative items than a modern kitchen. This highly decorated space must have less unnatural items. You can set the farmhouse tone in your kitchen by merely using either rustic countertops or kitchen shelves.
When you go with racks, then they will become not only a storage spot for utensils but also an area to showcase kitchen-specific decorative items. However, you need to mix traditional elements with modern kitchen cabinetry to adopt the perfect mid-century modern theme.
You can skip on traditional rugs, but what you need the most is a contemporary pendant light or hanging lamp right above the kitchen island. It will serve the purpose of modern designing and task-lighting side by side.
Related: