Last updated on September 21, 2023
Transforming a garage into a stylish and comfortable bedroom can be an exciting home decor project that opens up new possibilities for maximizing your living space.
Transforming a garage into a bedroom can be a rewarding project, offering additional living space for growing families, guests or creating a unique retreat. With a touch of creativity and strategic planning, this often-overlooked space can be converted into a comfortable, stylish, and functional bedroom.
This article delves into a variety of garage bedroom ideas ranging from minimalist designs to luxurious transformations. Whether you're looking to create a cozy guest room, a teenager's hideaway, or a master suite, you'll find detailed insights and practical tips to help you navigate the conversion process.
Stick around to explore all the possibilities and find the perfect solution to fit your needs and style.
Loft-style Garage Bedroom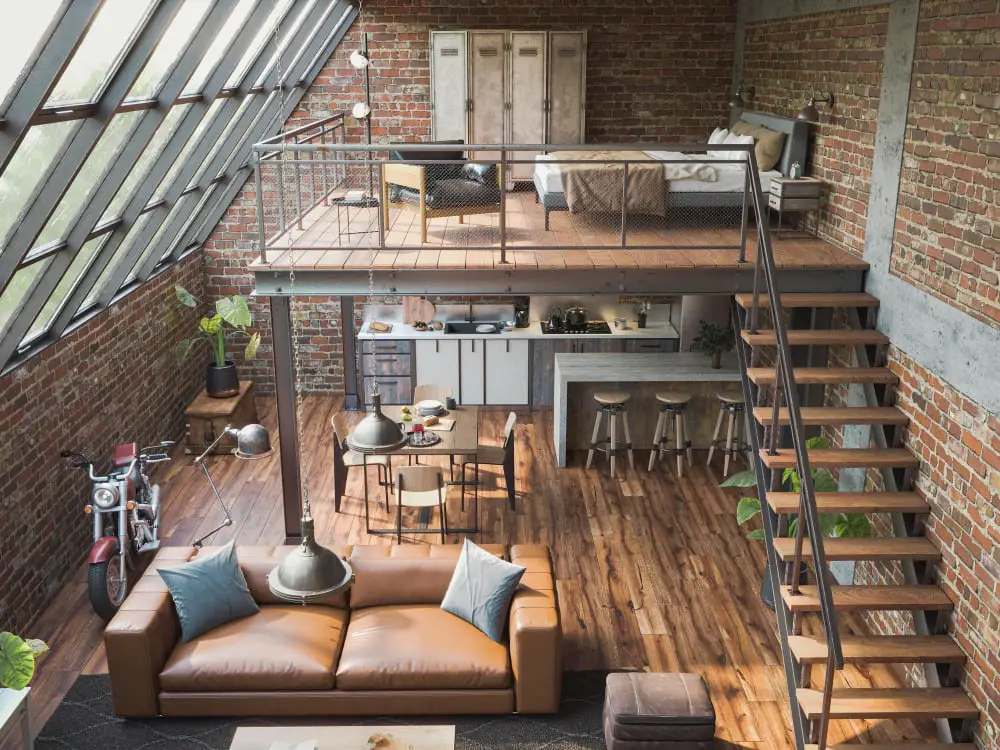 Embracing a loft-style design in your garage bedroom can create a unique, urban aesthetic. This concept primarily involves incorporating raw and industrial elements, all while maintaining a warm, inviting atmosphere.
Key Points:
Open floor plans – capitalize on the abundance of space in your garage, breaking down traditional barriers between designated areas.
Exposed Brick or Concrete – Utilizing the raw structures of your garage walls can highlight the authenticity of the loft style.
Elevated Sleep Area – In true loft fashion, consider raising the bed platform to differentiate the spaces.
Large windows – Increase natural light flow and offer a view with large or floor-to-ceiling windows.
Metal Accents – Integrate metallic touches for a refined industrial feel, such as light fixtures, staircase railings or furniture.
Warm Lighting – Offset the raw architecture elements with soft, warm lighting for a cozier feel.
Rugs and Textile – A large rug and comfortable bed linens can soften the rough aesthetic and make the room more inviting.
By following these guidelines, one can successfully capture the essence of a loft-style garage bedroom.
Minimalist Industrial Design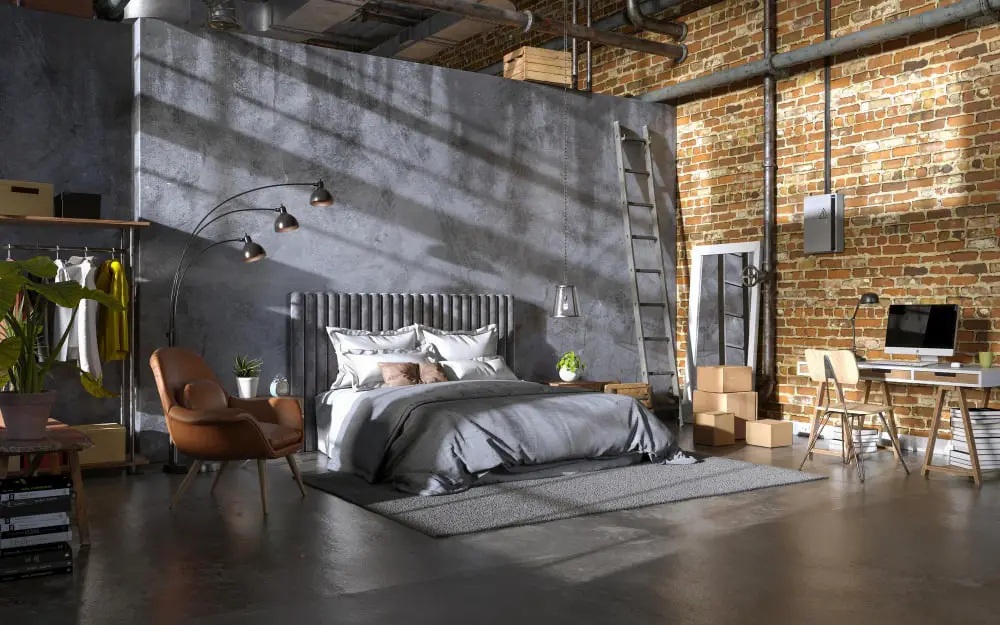 Adopting this style involves the clever use of raw, unfinished elements which have an aesthetically pleasing rugged appeal. Key details often include:
Exposed bricks: They create an urban loft vibe, bringing a blend of roughness and charm to the space.
Metal accents: Use of iron, steel or aluminum in bed frames, light fixtures, or accessories enhances the industrial feel.
Minimalist furniture: Opt for simple, functional pieces without intricate details.
Neutral color palette: Shades of gray, white, and black dominate, bringing contrast and depth.
Open floor plan: Fosters a sense of spaciousness, embracing the minimalist aspect.
Concrete flooring: Offering a sleek and modern look, it balances the warmth of other elements.
Large windows: They permit natural light abundance, making the room feel welcoming and airy.
Incorporate these elements mindfully, and the result will be a chic, modern space that combines simplicity with character.
Vintage Car Theme Decor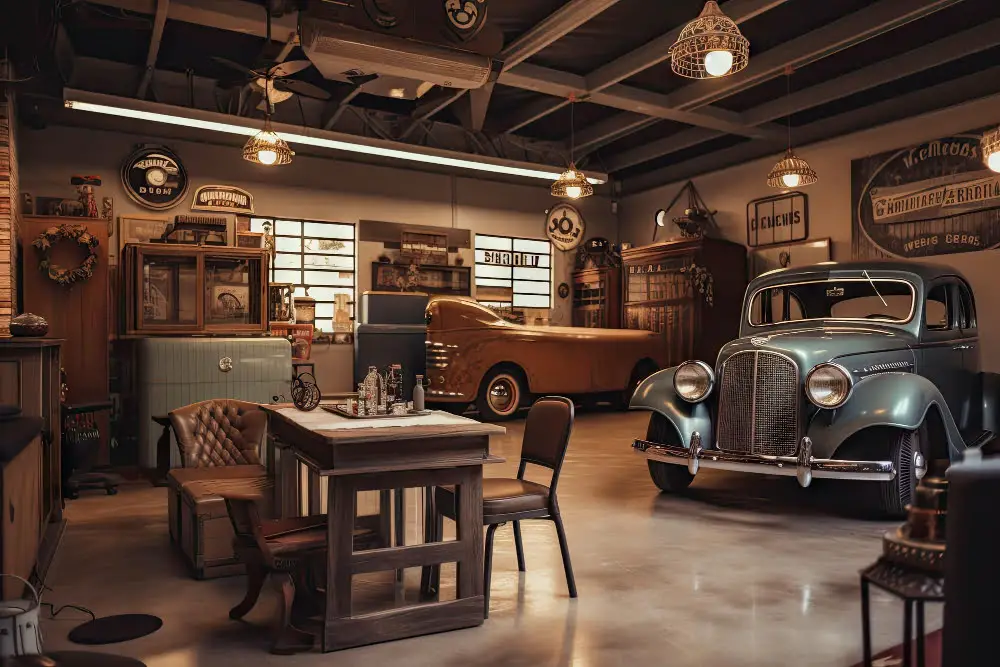 Dedicated to the classic car enthusiasts, this styling takes a nostalgic approach to decor. It involves the incorporation of automotive memorabilia and features that bring vintage vehicles to life.
Key points:
Incorporation of vintage automotive signs, license plates, and vintage gas station items to further enhance the theme.
Use of car grills or hubcaps as wall art. Flea markets or antique shops could serve as excellent sources for these items.
Functional decor such as a retired gas pump turned floor lamp.
Ambiance creation using colors. Reds, blacks, and metallics can mimic the feel of a mid-century garage.
Consider using a futon or couch that mimics the design of a vintage car seat for added authenticity.
A vintage car-inspired bed frame can be the centerpiece of the room.
Use of accessories like a mechanic's tool chest as unique storage options may also be effective.
Remember, the aim is to create a blend of comfort and nostalgia. The decor should reflect your love for vintage cars without compromising on the functionality and comfort of a bedroom. The key is to hold back the temptation to overload the space with too many car-related items, thereby ensuring class and style.
Garage Bedroom With Skylights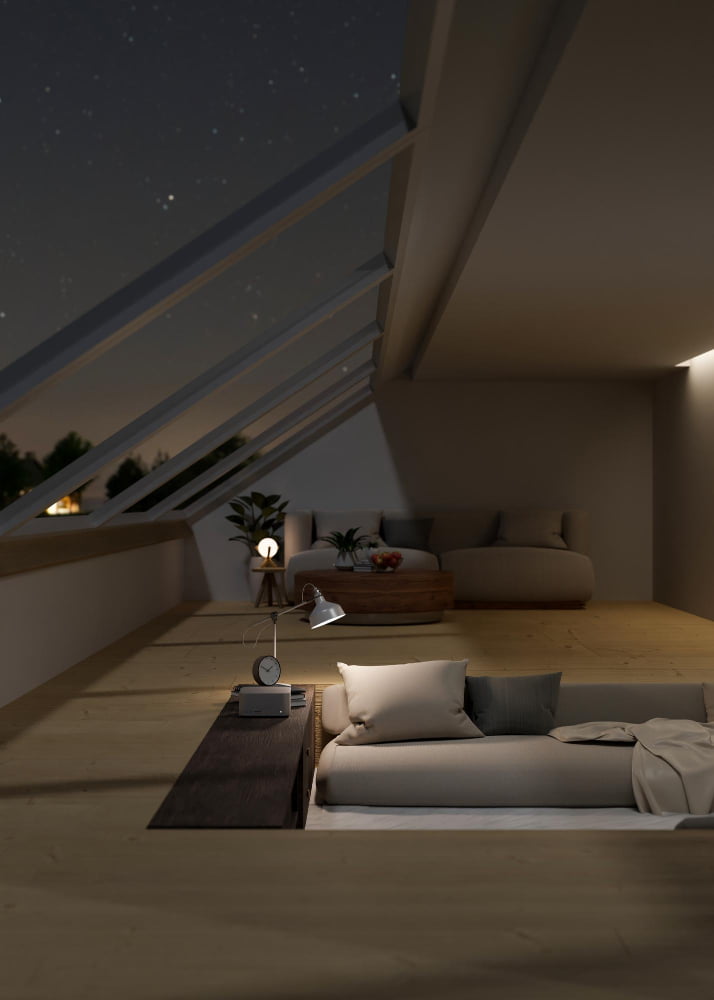 Capitalizing on natural lighting will not only save energy but will also create a warm, inviting atmosphere. By incorporating skylights in the ceiling design, space will feel more airy, spacious, and modern. This design idea works best with high-ceiling garages to give a sense of openness and a loft-like appearance.
Key Points:
1. Natural Light Source: Skylights provide an abundance of natural light, reducing the need for artificial lighting during the day.
2. Space Perception: By installing skylights, smaller areas will appear more significant due to the bright, airy feel.
3. Energy Efficiency: This design idea also promotes sustainability, taking advantage of the sun's light and saving energy.
4. Aesthetic Appeal: Skylights introduce an architectural element that adds visual interest and modernity to the design.
5. Mood Enhancement: Natural light has proven to impact positively on mood and productivity.
Remember to consider factors such as the direction your garage faces, the climate in your area, and the types of skylights available when planning this transformation. With careful planning and creative design, a skylight will beautifully illuminate your garage bedroom.
Multi-purpose Room With a Murphy Bed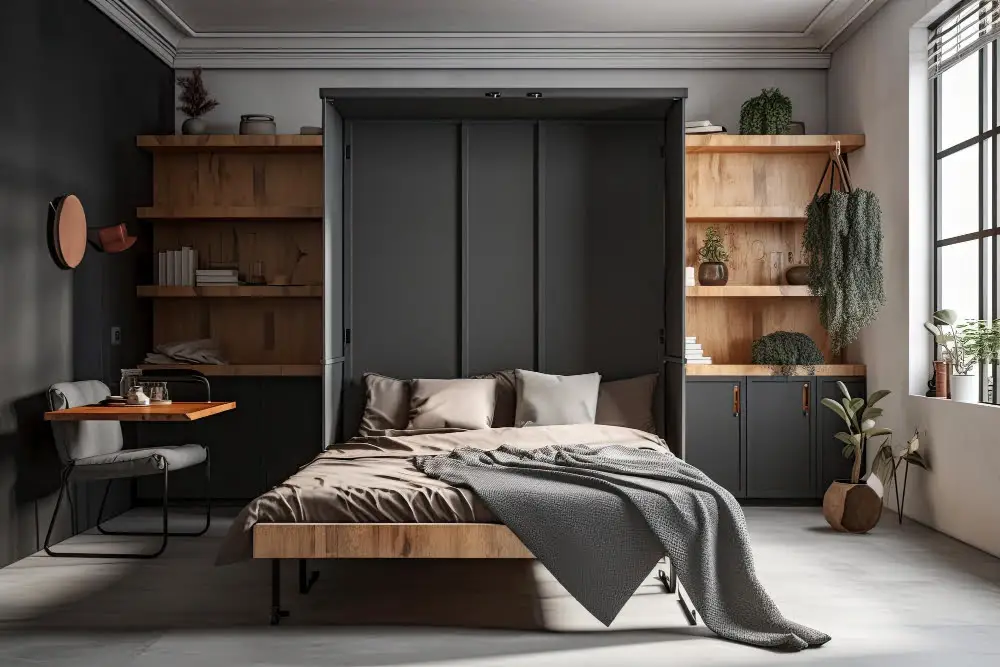 In creating a multipurpose space, the murphy bed emerges as a key asset. This neat piece of furniture helps optimize the limited area, transforming the room into a versatile living space during the day, and a cozy retreat at night.
Key Points:
1. Space-Saving: The murphy bed's fold-up design saves floor space, thus facilitating room for other activities during the day.
2. Versatility: Its easy-to-use structure allows for quick transition between a living room, office or a study, and a bedroom.
3. Comfort: Unlike other space-saving options like sofa beds or futons, a murphy bed uses standard mattresses, ensuring optimum comfort during sleep.
4. Customization: Different designs of murphy beds offer built-in storage, desks, or shelving, seamlessly merging functionality with aesthetics.
5. Style: Contemporary murphy beds come in various styles and finishes, catering to distinct tastes, and blending effortlessly with room decor.
By implementing a murphy bed, the dual functionality of a garage bedroom is harnessed to its full potential, without compromising on comfort or style.
Cozy Rustic Garage Bedroom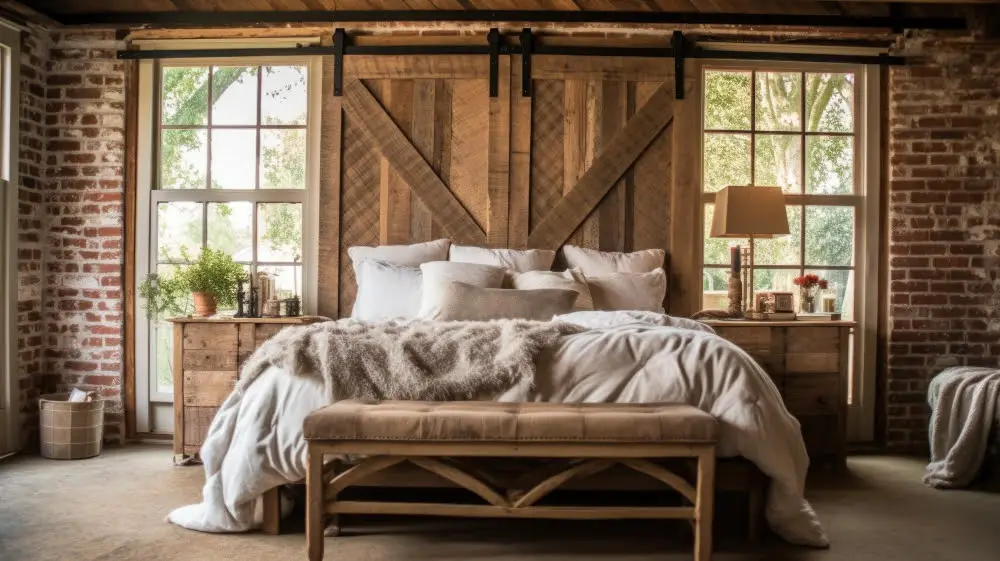 Adopting a nature-inspired palette of earthy tones like browns, forest greens, and creams can evoke a sense of calm and tranquility. A vintage touch with reclaimed woods, repurposed furniture, and antique items contributes to the rustic charm. Soft lighting sources like table lamps and portable lanterns create cozy vibes, while textiles like wool, flannel, or faux fur add warmth and texture.
Key points:
Earthy color palette – Neutral hues and warm tones representing nature.
Vintage pieces – Incorporate antiquated items or repurposed furniture.
Soft lighting – Create a warm ambiance with various light sources.
Textured textiles – Use wool, flannel, or faux fur to increase homeliness.
Sports-themed Room Decor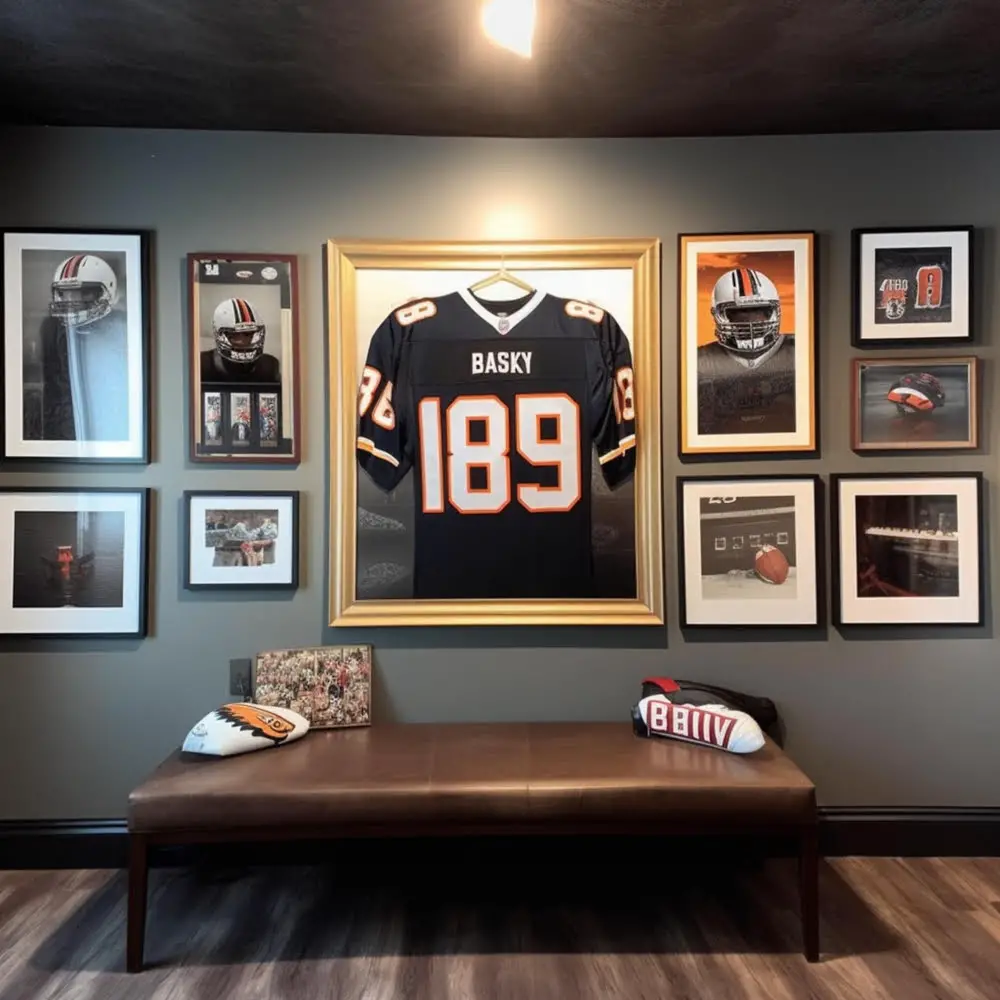 Capitalizing on a love for sports can create a vibrant, energized atmosphere for a garage bedroom. Embrace the theme by selecting tasteful decor pieces such as framed Jerseys, sports paraphernalia, and motivational quotes. Additionally, consider incorporating themed bedding and curtains to elevate the overall look.
Key Points:
Wall Decor – Use framed jerseys, medals, or photos of favorite players to personalize the space.
Seating Area – Incorporate a sports-themed seating area or man cave with memorabilia like autographed baseballs or NBA-themed furniture.
Color Scheme – Use team colors or general sports hues (greens for fields, blues for teamwork) as the basis for room's palette.
Lighting – Choose funky lights, like hockey puck lights or a football-shaped lamp.
Floor Covering – Consider using sports-themed area rugs or even artificial turf to tune in with the sports vibe.
Gaming Zone and Bedroom Combo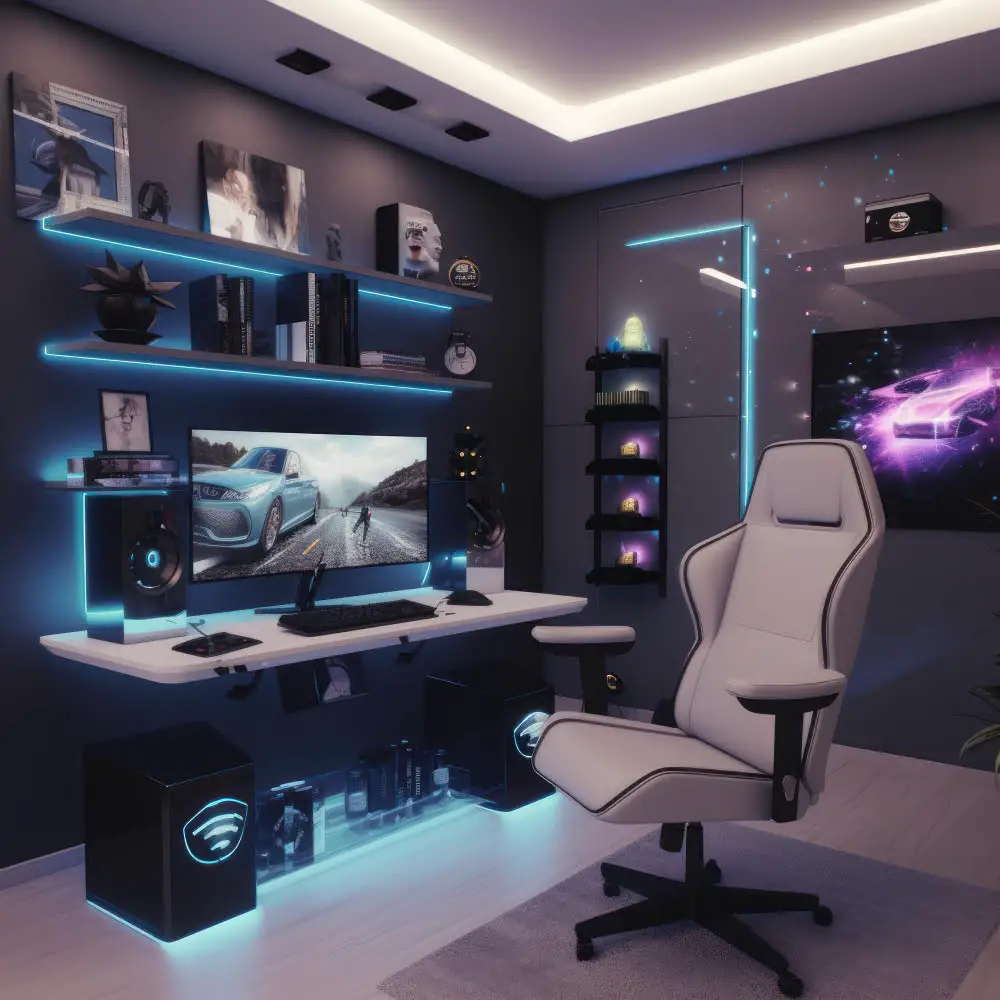 Venturing into the gaming arena, the concept of a synergistic space offers a unique approach where function seamlessly blends with style.
Key factors to consider:
Comfortable Seating: A crucial consideration revolves around proper ergonomics. High-quality gaming chairs or loungers ensure comfort for those extended gaming sessions.
Desk Space: A sturdy, spacious desk is vital for housing consoles, monitors, or VR equipment. Consider desks with built-in cable management to keep the setup tidy.
Lighting: LED strip lighting or themed lamps can help create a more immersive experience. Natural light helps prevent eye strain, so allowing for it becomes essential.
Sound: Sound-absorbing panels can enhance audio quality while reducing noise leakage.
Storage: Ample storage solutions keep games, peripherals, and tech gadgets in order. Consider shelves, under-desk drawers, or storage ottomans.
Bed Positioning: For a cohesive design, place the bed in a spot less likely to interfere with gaming, like opposite to the game station.
Remember, the key lies in striking a balance between the gaming zone and bedroom theme to maintain a congenial atmosphere.
Teen Hangout With Bunk Beds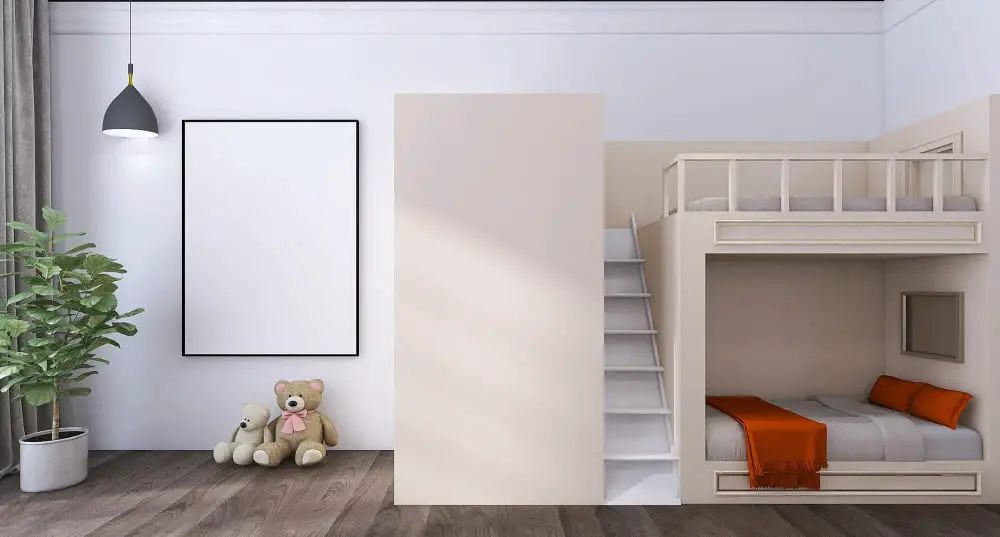 Transforming the garage into a teen hangout spot hinges on the smart use of space and design elements that appeal to the younger demographic. Bunk beds are a phenomenal choice, serving a dual purpose of providing extra sleeping space and leaving room for recreation activities.
Key Points:
Space Utilization: Installing bunk beds maximizes vertical space, offering room for lounge seating, gaming areas or a study corner.
Design Appeal: Opt for trendy, vibrant colors and patterns which resonate with the teens' eclectic tastes. Light and bright colors open up the atmosphere and add a friendly vibe.
Functionality: Adding storage drawers beneath the bunk beds allows for clean and easy organization of personal items, making the room practical as well as fun.
Ambiance: Incorporate elements such as string lights, area rugs or modular furniture to make the room inviting and reflective of the teens' personality.
Flexibility: Bunk beds which can be detached into individual units offer flexibility for evolving needs.
Through thoughtful choices and the right balance of fun and functionality, a teen-friendly haven can be created which stands out in its attractiveness and utility.
Garage-bedroom Office Space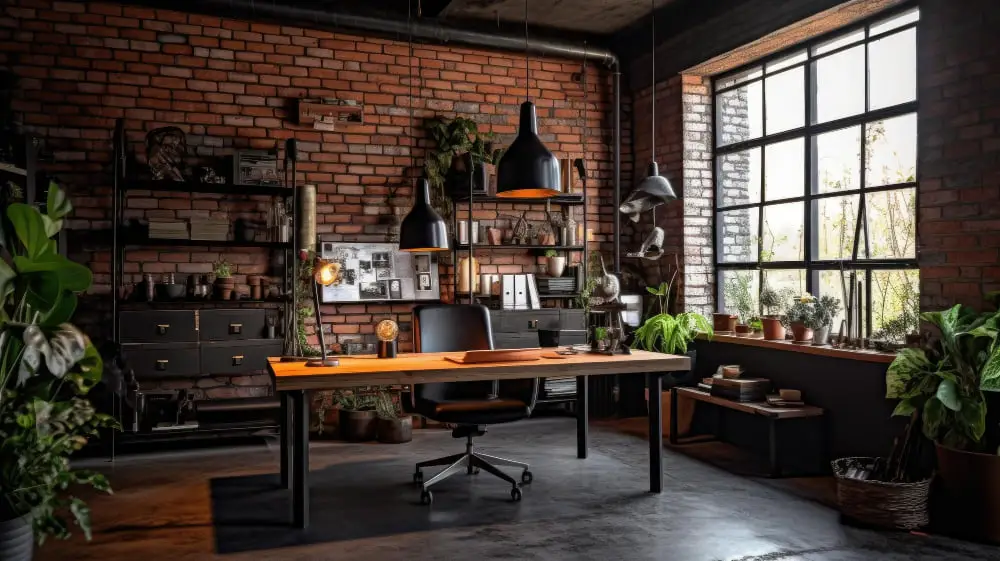 An efficient use of the garage-bedroom transformation is establishing a multipurpose setup that includes an office space. This modification suits the evolving work-from-home trend perfectly.
Here are some key points to consider:
1. Desk Location: Position your desk near a window to benefit from natural light. But, keep in mind the view. A serene outdoor scene will enhance work productivity.
2. Storage: Use vertical shelves to maximize available space. Opt for cabinets for storing office essentials away from sight for a clutter-free environment.
3. Furniture: Consider a comfortable chair and a suitable desk in line with ergonomic guidelines to reduce strain during long working hours.
4. Separation: Demarcate the sleeping and working zones. Use a room divider, or even a strategically placed bookshelf can define boundaries without building walls.
5. Color Scheme: Neutral and muted tones foster concentration. If you prefer bolder colors, consider using them on accent walls or as pops of color in decor.
6. Lighting: Invest in task lighting for the desk area. Adjustable lamps are an excellent choice for working at different times of the day.
7. Tech Setup: Look at cable management solutions to maintain neatness and avoid a mess of wires.
Implementing these tips for an integrated garage-bedroom office space can result in a functional and aesthetically pleasing area.
Home Gym Incorporated Bedroom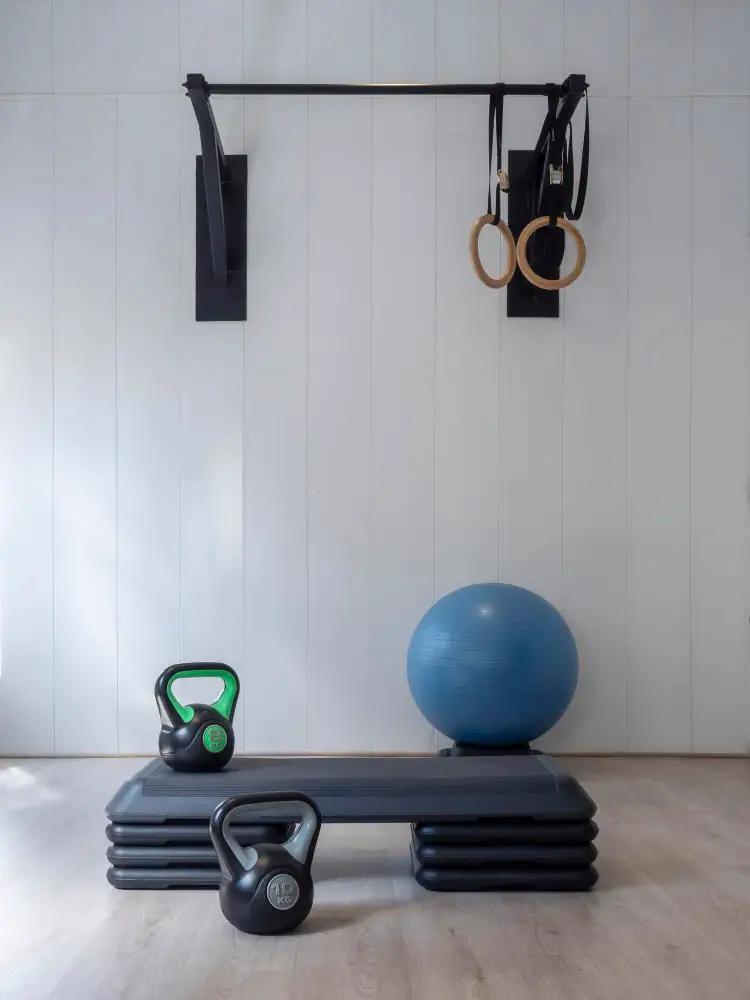 A home gym incorporated bedroom benefits those leading an active lifestyle, by promoting exercise consistency and saving travel time to an external gym. The first step in integrating a gym is to identify the essentials needed, considering your fitness preferences.
Key points:
Equipment Selection: Opt for compact, versatile fitness equipment such as resistance bands, yoga mats, dumbbells or a multi-purpose weight bench.
Space Allocation: Dedicate a specific section of the room for the gym, maintaining enough space for movement and bedroom furniture.
Storage Solutions: Utilize smart storage options like wall mounted racks or multi-use furniture to store equipment.
Wellness Emphasis: Include elements such as a water cooler, Bluetooth speakers for motivational music, and ample ventilation.
Safety Measures: Install rubberized flooring or heavy-duty mats to prevent accidents or damage to the original floor.
Decor: Incorporate positive artwork or motivational quotes on the walls to create an inspiring environment.
Balancing functionality and tranquility is vital in a home gym incorporated bedroom. Effective planning creates a motivating fitness atmosphere without compromising the bedroom's comfort. A seamless blend can yield a perfect combination of rest and wellness.
Built-in Closets for Storage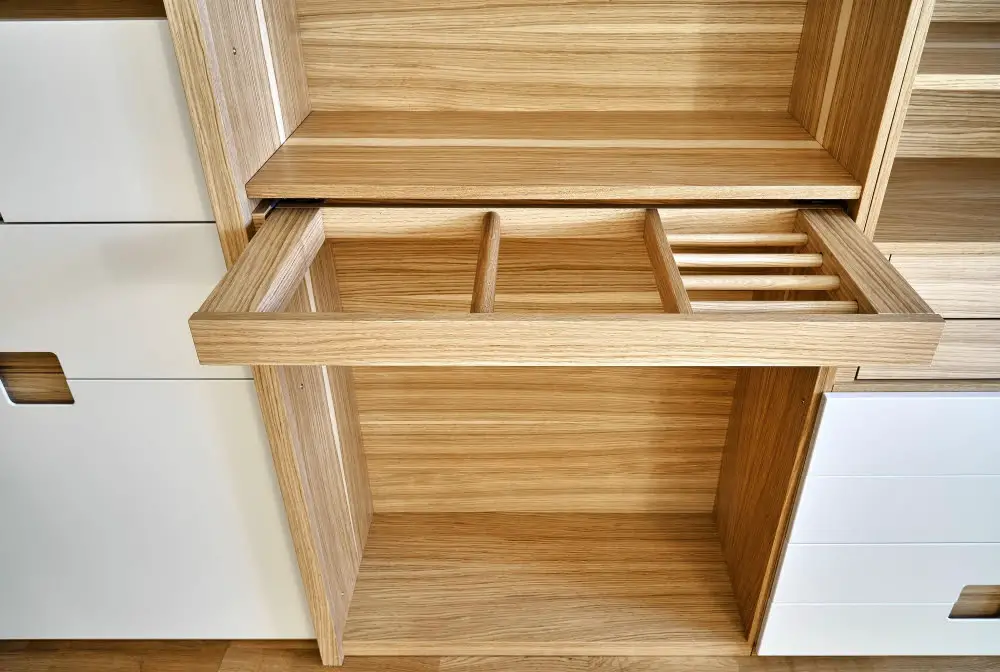 Ample storage is a necessity in any bedroom, but even more so in a garage conversion. Cleverly designed built-ins offer the perfect solution.
1. Smart Use of Space: Capitalize on the room's height by installing floor-to-ceiling wardrobes. This provides both storage and a way to conceal clutter.
2. Custom Sizing: Tailor the size of the cupboards to suit your needs, allowing items of varying sizes to be stored.
3. Integration: Blending the closets with the room's decor creates a seamless, clean aesthetic.
4. Versatility: Opt for a mix of hanging space, drawers, and shelves. This arrangement can hold everything from clothing to shoes, books, and accessories.
5. Lighting: Incorporate lighting within the closet system. This not only enhances functionality but adds a touch of elegance.
Remember, well-planned built-ins can revolutionize the practicality and style of your new bedroom, making it easy to keep the area tidy and organized.
Maximalist Colorful Design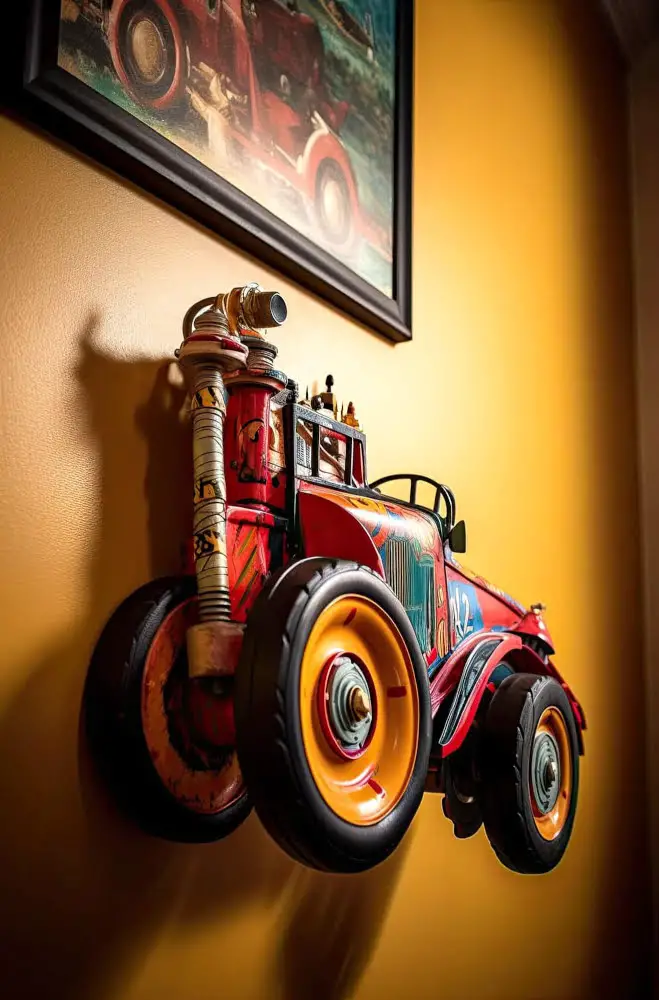 The Maximalist colorful design represents an eclectic mix of colors, patterns, and textures. It provides an enchanting departure from minimalist trends and allows the expression of creativity and integrality.
Key points:
Color Palette: This style has no rules when it comes to color. Incorporate vibrant hues such as cobalt blue, sunny yellow, or cherry red for a striking look.
Pattern Mixing: Layer different patterns to create visual intrigue. Floral with geometric, stripes with paisley. Make sure they have one color in common for cohesion.
Texture Usage: Mix different materials and fabrics – velvets, furs, silks, and linens for a multi-dimensional feel.
Statement Furniture: Embrace boldness in furniture choices. Look for unique, eye-catching pieces that stand out.
Artwork: Fill your wall with art, experiment with various styles from different periods to add a stroke of personality.
Accessorise: Bold ornaments, vibrant rugs, and deluxe cushions are essential. They shouldn't match; the beauty is in the artistic clutter.
Display Collections: If you're a collector, maximalist style invites you to showcase your items, whether books, ornaments, or vintage finds.
Garage Bedroom With Ensuite Bathroom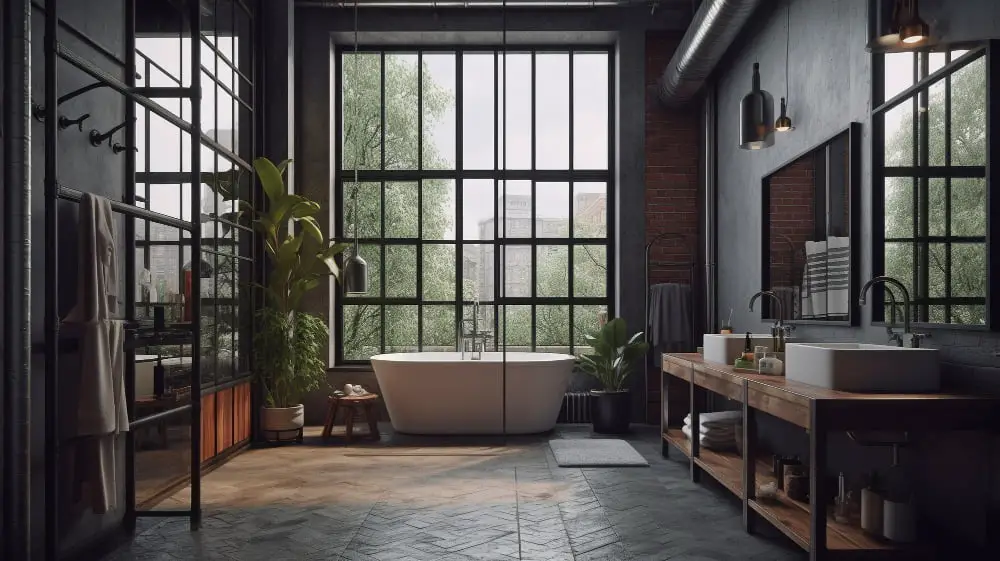 A garage bedroom with an ensuite bathroom is a practical solution, adding value and comfort.
1. Space-saving design: Efficient utilization of space ensures a seamless combination of bedroom and bathroom.
2. Privacy: Being detached from the main house provides an added level of privacy.
3. Functionality: The inclusion of an ensuite bathroom bolsters functionality, particularly for guest accommodation or for a teenager craving independence.
4. Cost-effective Renovation: Transforming a garage space into a living area with a convenient bathroom can be a cost-effective solution compared to larger home renovations.
5. Comfort: Ensuite bathrooms provide comfort and convenience, eliminating the need to navigate through the house during the night.
6. Increased Property Value: Such an addition can potentially raise the overall value of a property.
Remember, a professional contractor can help to tailor the layout based on specific needs and style preferences while ensuring proper plumbing and electrical setup.
Nature-inspired Room With Greenery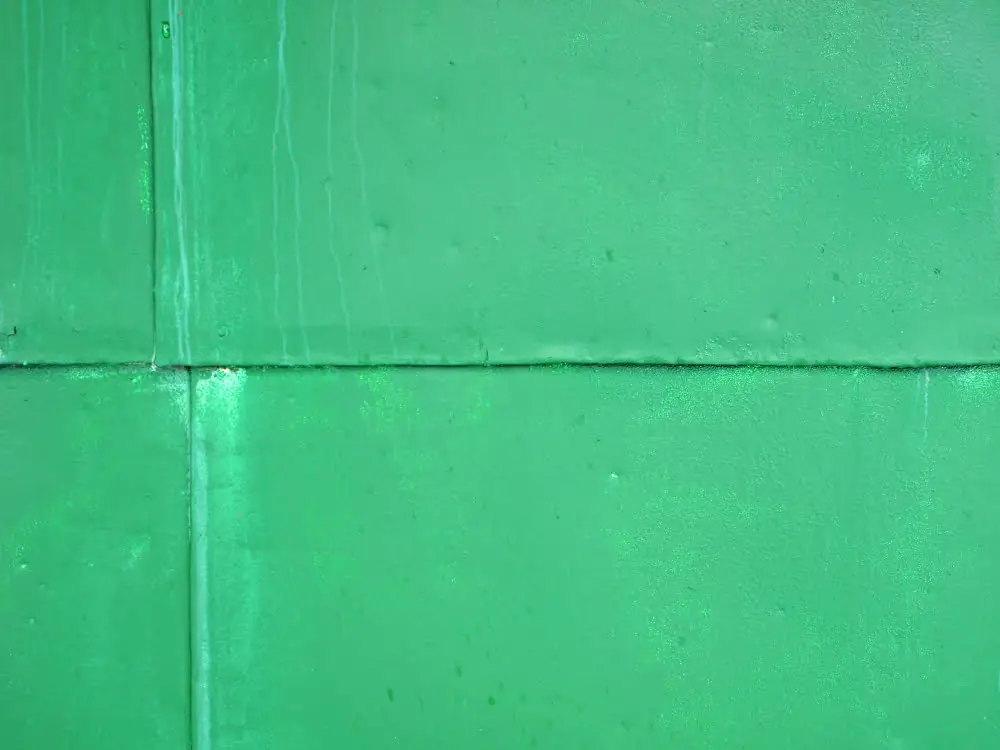 Bringing a touch of outdoors to the interiors, this design instils tranquillity through the infusion of nature's elements. An ideal choice for individuals seeking serenity, the nature-inspired aesthetic adds both aesthetic appeal and promotes wellness.
Key Points:
1. Green walls or greenery units: Nothing says nature like plants. Employ hanging pots, stand-alone planters or even green walls.
2. Natural materials: Using natural materials like wood or stone for the flooring or walls brings an earthy feel to the room.
3. Light: Maximizing natural light through large windows or skylights mimics the outdoors and helps in plant growth.
4. Neutral colors: Soft tones reminiscent of nature should dominate the color scheme.
5. Textures: Incorporating natural textures through carpets, rugs or curtains adds an extra dimension to the space.
Artist's Studio Style Bedroom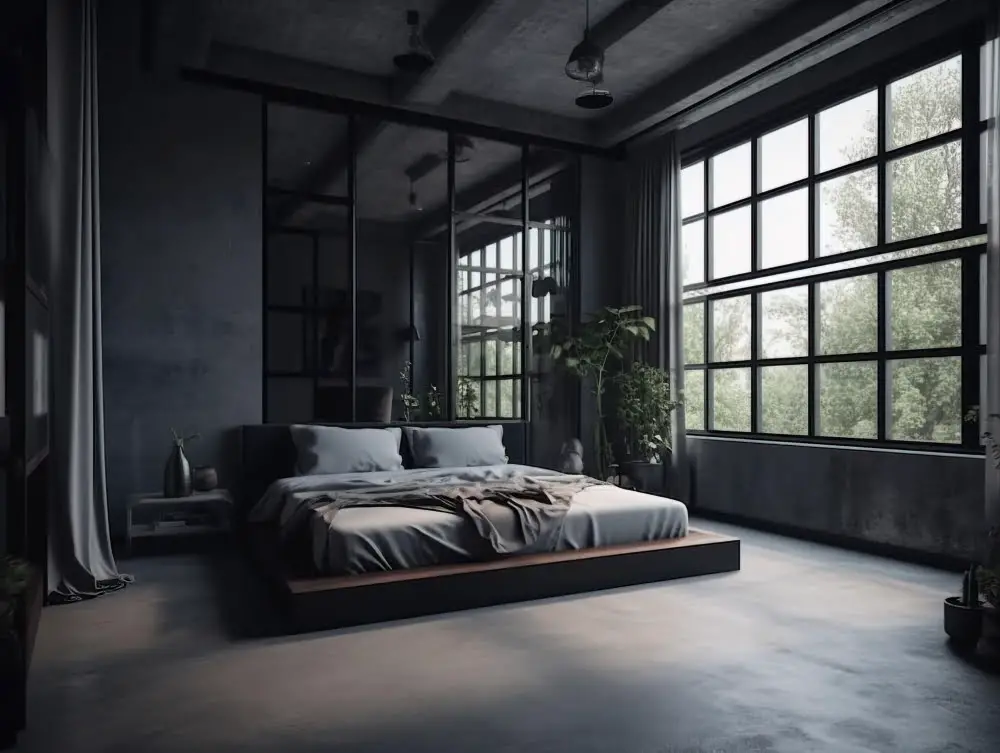 Creating this type of bedroom involves merging relaxation and creativity. It's all about incorporating elements that reflect an artist's workspace into a comfortable sleeping area.
Minimal furniture including a simple bed, small storage units for art supplies, and a convertible desk that can double as an easel make up the interior.
Natural light is crucial, so consider larger windows or artificial lighting that mimics daylight.
Key points in designing an Artist's studio style bedroom:
Mixing art utility and minimal furniture.
Convertible desk that can be used as an easel.
Adequate storage for art supplies.
Natural light or equivalent artificial lighting.
Nautical Themed Decor
Drawing inspiration from the sea and its myriad shades, a nautical themed décor adds charm to your garage bedroom. Attention to detail is paramount in capturing this essence.
1. Color Palette: Focus on colors drawn from the ocean – blues, creams, and sandy tones.
2. Furniture: Opt for weathered, rough-hewn wooden furniture reminiscent of the seaside. Use items like old trunks to add nautical charm.
3. Fabric: Consider stripe patterns for the bedding and curtains. Shades of blue combined with white work exceptionally well.
4. Accessories: Accentuate the space with seashells, maps, paddles, life rings, and vintage maritime equipment. An accent wall with an oversize nautical chart or a mural delivers a major visual impact.
5. Lighting: Select warm, ambient lighting which complements the color scheme. Lantern-style fixtures can also enhance the naval ambiance.
While curating this space, remember that less is more. Through careful selection of a few impactful pieces, you can create a haven that feels both naval and cozy.
Music Studio Inspired Room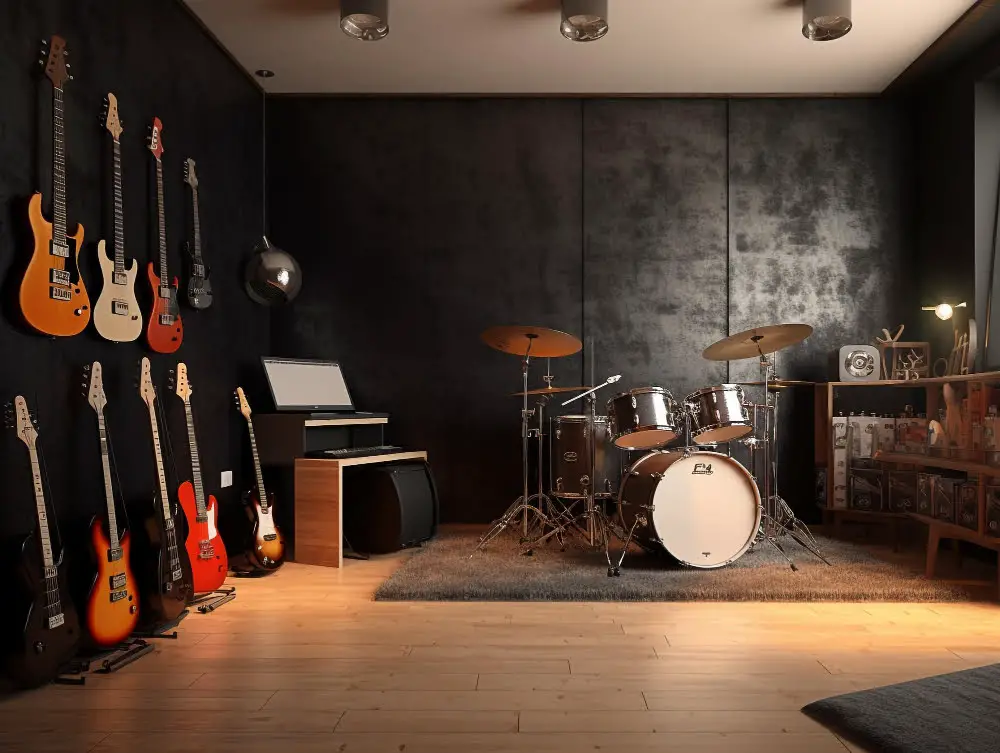 Turning a section of the garage into a mini-recording studio allows an ambiance for musicians or any music lovers. Key elements include soundproofing, light arrangements, and furniture.
1. Soundproofing: This is essential to ensure effective acoustics. Depending on the budget, one can use foam panels or invest in more professional settings like mass-loaded vinyl (MLV).
2. Light arrangements: Adequate lighting sets the mood for the space. Options include overhead lights, LED strips, or floor lamps.
3. Furniture: A comfortable seating arrangement like a plush couch or armchair could add a relaxing vibe. Additionally, a small table to hold beverages and music gear is essential.
Remember, the aim is to blend functionality with aesthetics to create a harmonious composition. This includes ensuring that instruments like guitars, keyboards, and drums fit naturally into the room's design. Amplifiers, speakers, and other equipment should be strategically placed for optimal sound and to avoid clutter.
Bohemian Chic Garage Bedroom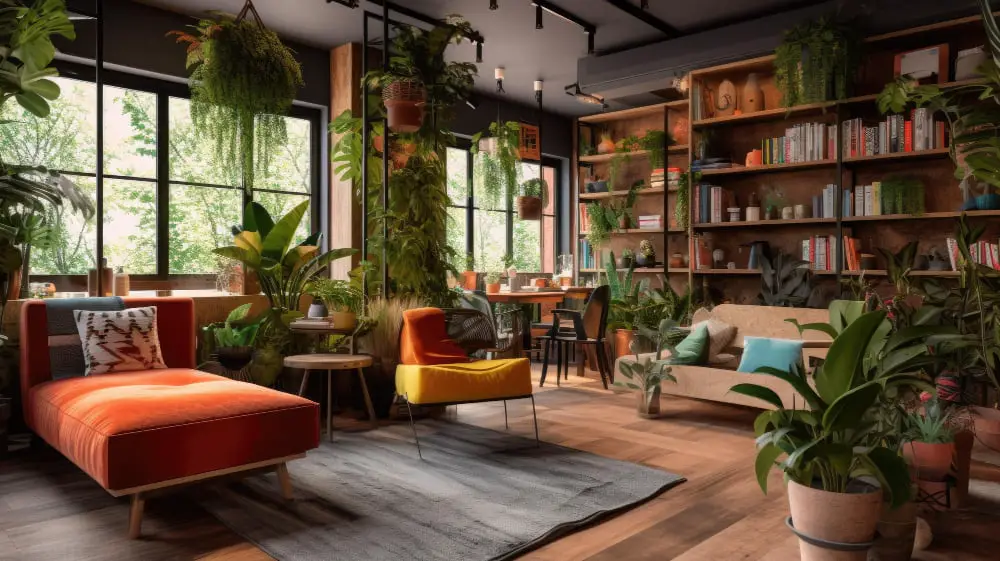 Bringing the bohemian flair to your garage bedroom can create an artistic and relaxed atmosphere. This style, often associated with artists, writers and intellects, embraces a carefree, relaxed and unconventional lifestyle.
Key points:
1. A bohemian chic bedroom typically merges a mix of vibrant colors, patterns, and textures. The fabric plays a significant role in achieving this look, use artisanal rugs and throw blankets.
2. Enhance creativity with an eclectic combination of accessories – think vintage, shabby-chic furniture pieces, colorful ottomans, and art from your travels.
3. Bohemian lighting is typically soft and layered. Wicker or material lampshades, fairy lights, and candles contribute to the cozy and welcoming ambiance.
4. Add greenery in the form of potted plants. Ferns, succulents or any other low-maintenance plants are practical and breathe life into the room.
5. Don't forget to incorporate globally-inspired items and décor, like Moroccan lanterns, Turkish kilim rugs, or artwork from local flea markets.
6. Freedom and individualism are the heart of bohemian style. Remember, there are no rules, mix, and match as you wish.
Keep these tips in mind when designing your Bohemian chic bedroom, and you'll have a unique space that you can truly call your own retreat.
Luxurious Penthouse Style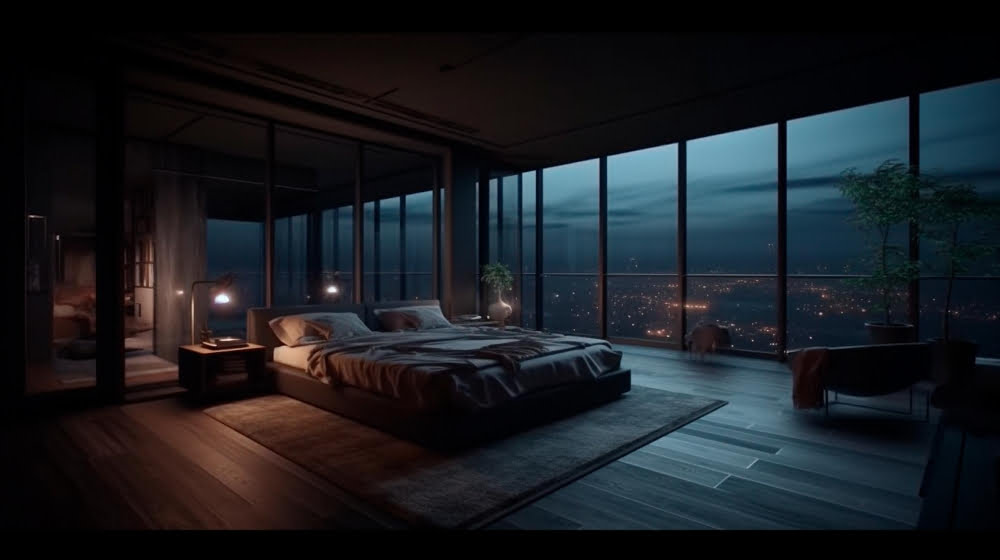 Achieving this look requires careful selection of high-end furnishings and accessories. Start by choosing a color palette that leans towards neutral tones, such as light grey, beige, or soft white, which will help create a sophisticated atmosphere.
Key points to consider:
1. Furniture: Opt for luxurious items like a plush king-size bed, paired with stylish nightstands and a sleek dresser. Leather accent chairs can also add a touch of opulence.
2. Lighting: Install recessed lighting and add a statement chandelier for a glamorous finish. Use layered lighting for an ultimate luxurious feel.
3. Accessories: Choose upscale items like silk drapes, high thread count linens, and abstract artwork to fill your space.
4. Floor coverings: Opt for plush carpeting or hardwood flooring tastefully adorned with high-quality area rugs.
5. Layout: Opt for open, spacious layouts, separating different areas of the room by function with plush dividers or creative furniture placement.
6. Views: If possible, incorporate large windows to take advantage of outdoor views or cityscapes, evoking the feel of an upscale penthouse.
Remember, the key to recreating this look in your converted garage is about creating a space that feels exclusive, refined, with a definite air of high-end living.
Related: