Last updated on October 28, 2023
Transform your garage into a dynamic game room with these creative and versatile decor ideas that maximize space and style.
I proudly take credit for both the written and graphic content of this article on Garage Game Room Ideas, and sincerely hope you find as much inspiration and enjoyment in these designs as I had while creating them.
Transforming your garage into a game room is an innovative way to create a dedicated space for fun and relaxation in your home. Whether you're a fan of retro arcade games, a billiards enthusiast, or you prefer console gaming, the options are limitless.
This article will guide you through various game room ideas, from selecting the right decor and furniture to optimizing your space for sound and lighting. We'll also delve into the practical aspects such as insulation and ventilation, ensuring your garage game room is not only fun but also comfortable and functional.
Stick around to uncover the full potential of your garage.
Pool Table Centerpiece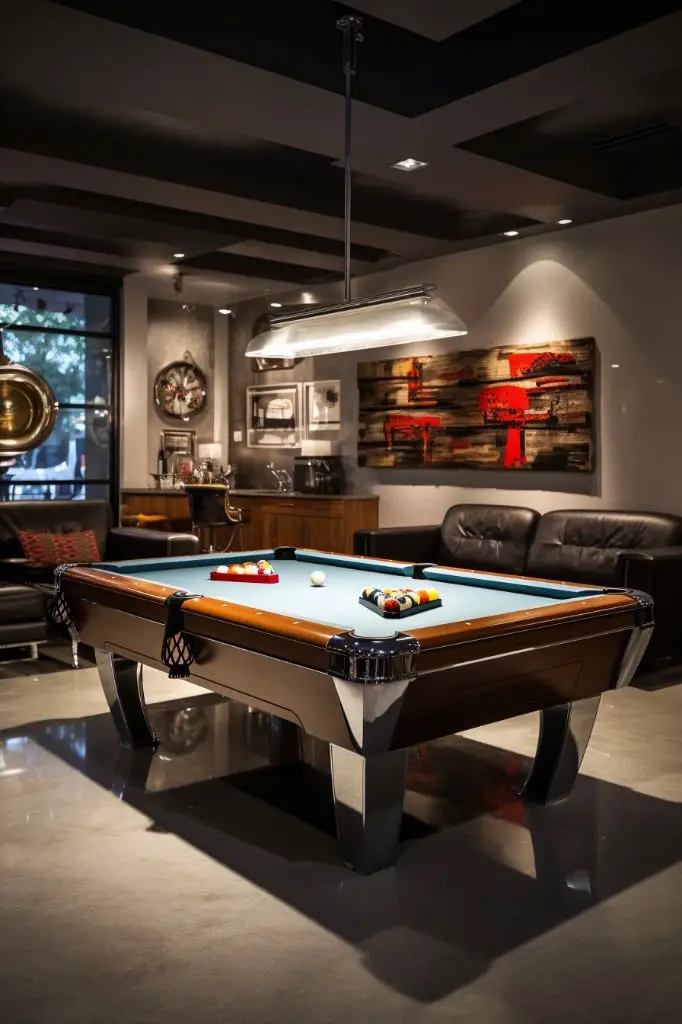 A well-placed pool table can serve as the perfect addition to elevate your garage into a polished game room. Here are the key points to consider for making the pool table the centerpiece of your space:
1. Size: Be clear about the space available. Standard pool tables come in three sizes: 7, 8, or 9 feet. An 8-foot table is ideal for casual play, while a 9-foot table will suffice for professional games.
2. Placement: For smooth gameplay, ensure there's ample room around the table. A rule of thumb is to have at least 5 feet of open space on all sides.
3. Lighting: Proper illumination is key. A dedicated overhead pool table light provides an environment free of shadows.
4. Theme: Align the style and color of your table to your garage's existing decor, or set a unique tone for the entire space.
5. Accessories: Lastly, remember storage for cues, balls, and other equipment. A wall-mounted rack can keep things tidy while adding an aesthetic touch.
Done correctly, a pool table centerpiece will transform your garage into a dynamic social hub for friends and family.
Interactive Dart Board Area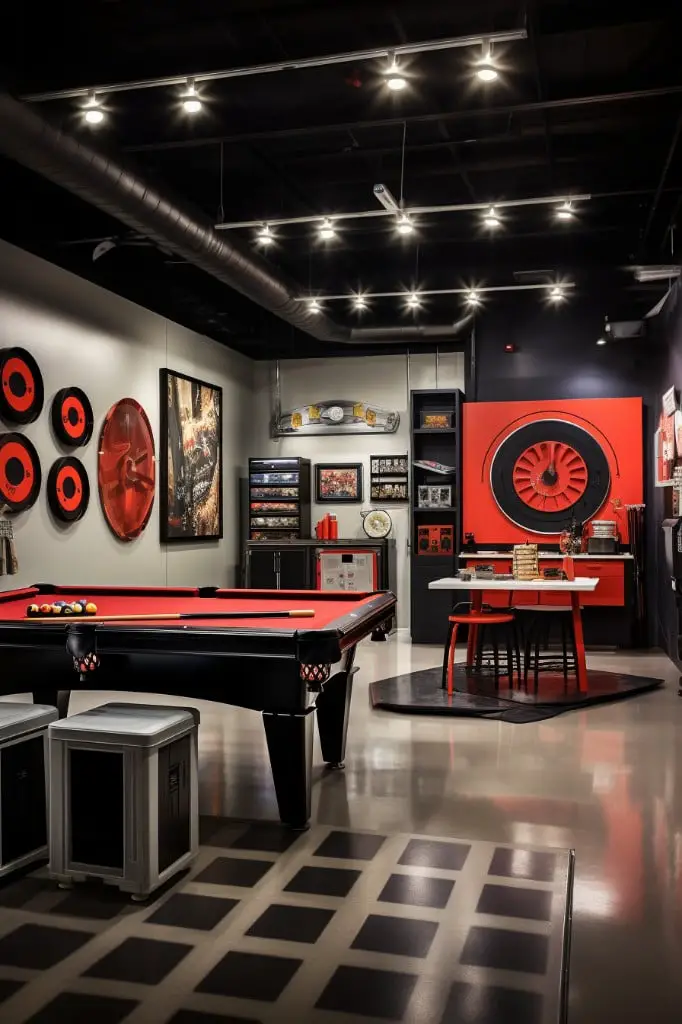 Placing the dart board at a standard height of 5 feet 8 inches from the floor to the center of the board is ideal for an interactive dart game area. A dart mat or a piece of plywood behind the board will protect your garage wall from missed throws. Make sure there's enough space for players to step back and take aim; an average of 7 feet 9.25 inches from the board is recommended.
Key elements to consider:
Dartboard: Traditional sisal fiber or electronic for scoring convenience.
Lighting: Adequate illumination to easily see the board and score.
Protection: Dart mat or similar to safeguard your walls.
Space: Free area for throwing darts and spectators.
Accessory storage: Organized area for keeping darts and extras.
Comfort: Consider stools or chairs for rest between turns.
Let it be a social spot by adding a small seating area. Remember, even if you're an accomplished player, safety should be the top priority. Keep the darts out of children's reach and supervise their play if darts interest them.
Retro Video Game Arcade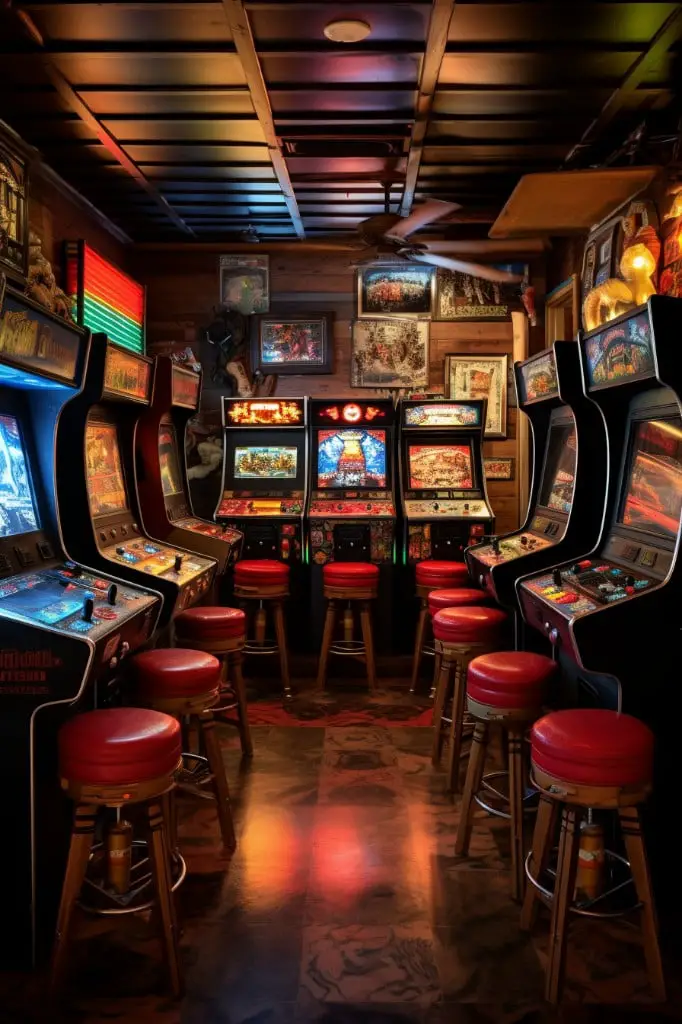 A retro video game arcade will certainly inject a dose of nostalgia into the room. This embodies a nod to 80s and 90s gaming where classics like Pac-Man, Space Invaders, and Donkey Kong reigned. Modern gaming systems also offer 'retro' versions providing these vintage experiences with a sleeker look and enhanced functionality.
Key Considerations:
Variety: Incorporate a mix of games from different eras and genres.
Size: Depending on space availability, opt for full-sized arcade machines or more space-efficient console setups.
Maintenance: Vintage machines may require extra upkeep, consider this while selecting.
Multiplayer: Choose games that offer multiplayer modes for greater enjoyment.
Appearance: Enhance the vintage feel with neon lights or even jukebox for thrilling ambiance.
Pinball Machine Corner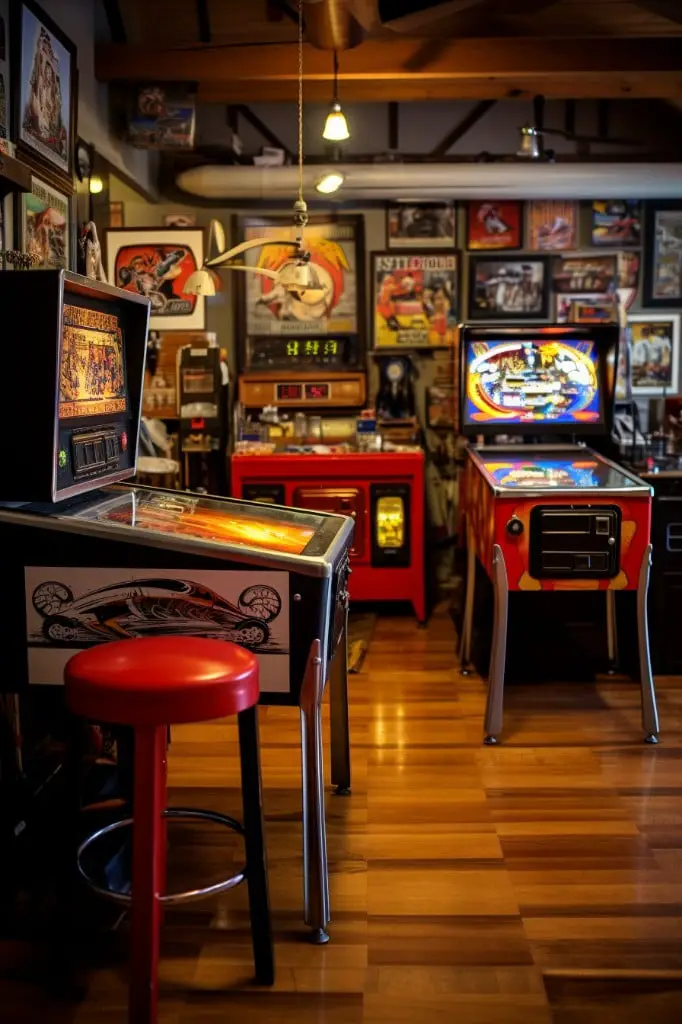 No game room is complete without the vintage charm of the pinball machine. Its size makes it a standout piece, ideally positioned in a corner.
Here are key points to ensure the pinball machine fits harmoniously into your game room:
Theme: Select a pinball machine that complements the room's theme.
Size: Partition enough space; the average machine is 2.5ft wide and 5ft long.
Surrounding: Keep a few feet of clearance for players to move around the machine.
Lights and Sound: Have warm lighting for visibility and ensure sound levels match the room's acoustic.
Maintenance: Regular cleaning and minor repairs would be necessary for the machine's upkeep.
Variety: Consider multi-game pinball machines for diversified fun.
Comfort: Ensure a comfortable standing rug for the players.
With these considerations, the pinball machine corner can serve as a nostalgic addition to your garage game room.
Foosball Table Setup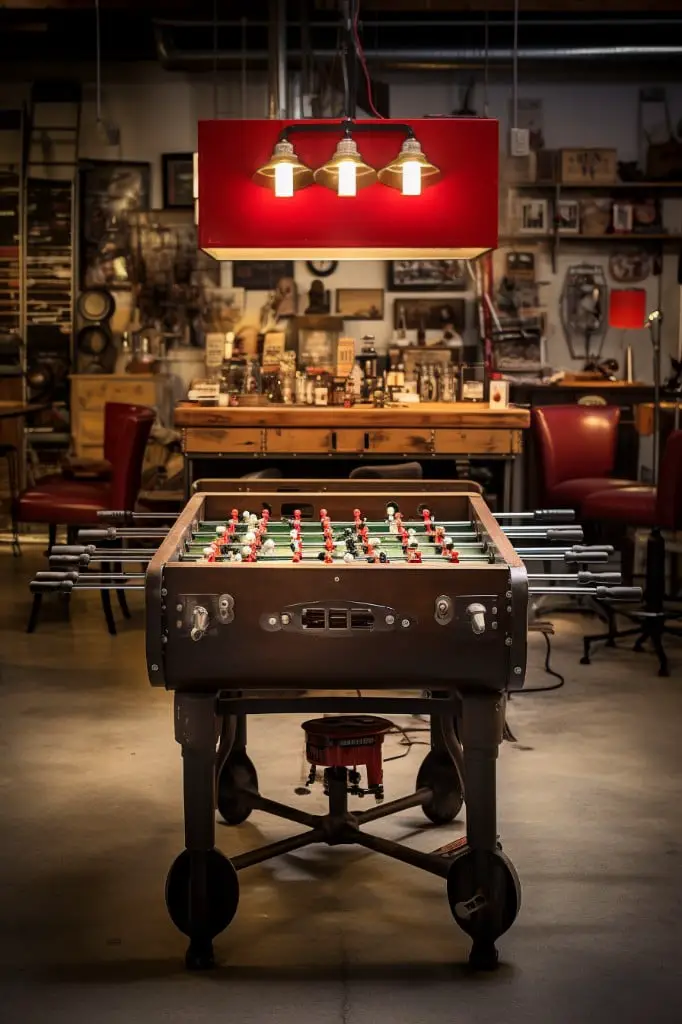 Creating an ideal foosball setup demands considerations for both space and placement.
1. Dimension Check – Standard full-size foosball tables measure 56 inches long and 30 inches wide. A minimum of 3.5 to 4 feet on all sides is recommended for player mobility.
2. Lighting – To identify ball movement and player rods quickly, it's essential to have ample lighting overhead that does not reflect on the playing surface to avoid glare.
3. Levelled Ground – The table needs to be stable and on even ground; even a slight tilt could interfere with the game's flow. Levels could also be adjusted slightly if required.
4. Noise Constraint – Foosball tables can generate noise, so set it in an area where this wouldn't cause disruption.
Remember also to maintain the rods with silicone lubricant every few months for a smoother play. The setup must cater to the convenience and comfort of the players for an immersive gaming experience.
Air Hockey Table Spot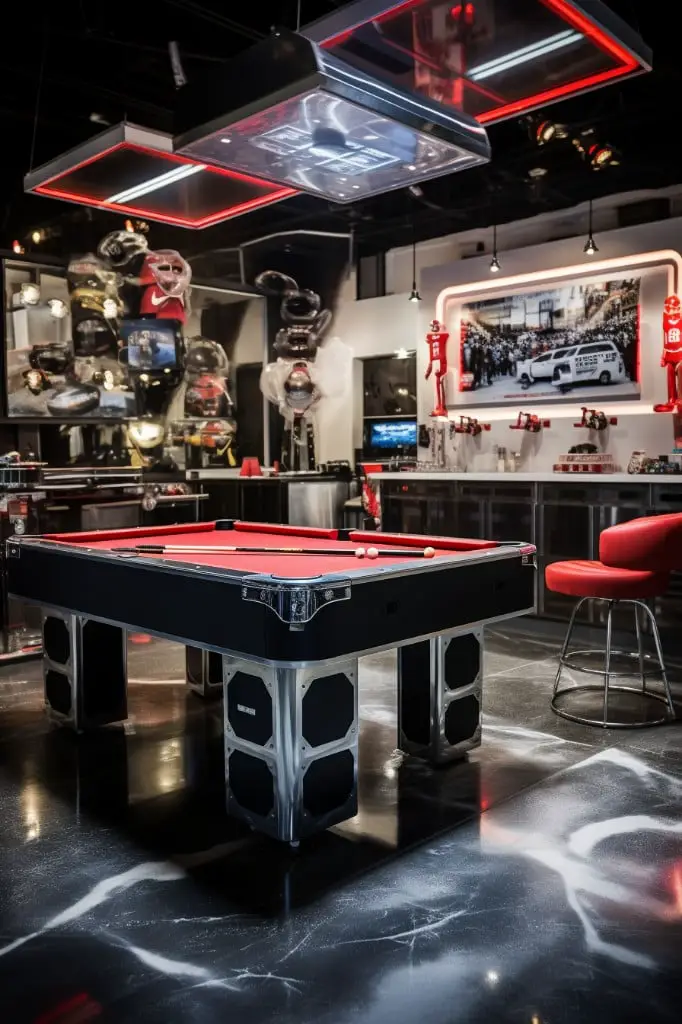 To transform your garage into an engaging entertainment zone, including an air hockey table can be a worthy addition. This fun-filled fast-paced game, a hit amongst kids and adults alike, takes up relatively less space compared to other game tables.
Key Points:
Space Consideration: Ensure there's enough room around the table for players to move freely without feeling cramped. A standard table requires a 10-foot by 7-foot space.
Lighting: Opt for bright overhead lighting to enhance visibility during gameplay.
Temperature Control: Since air hockey is a high-activity game, installing a fan or air conditioner can help maintain a comfortable environment.
Table Selection: Choose a table based on durability, ease of assembly, and the air motor's quality. Consider models with electronic scoring systems for an enhanced gaming experience.
Accessory Storage: Designate a spot nearby for safekeeping of paddles and pucks.
Acoustic Planning: Given the game's noise level, consider adding soundproofing elements if playing late at night.
Maintenance: Regular maintenance, including cleaning and air holes checkup, is vital for optimum functioning.
Mini Bowling Alley Arrangement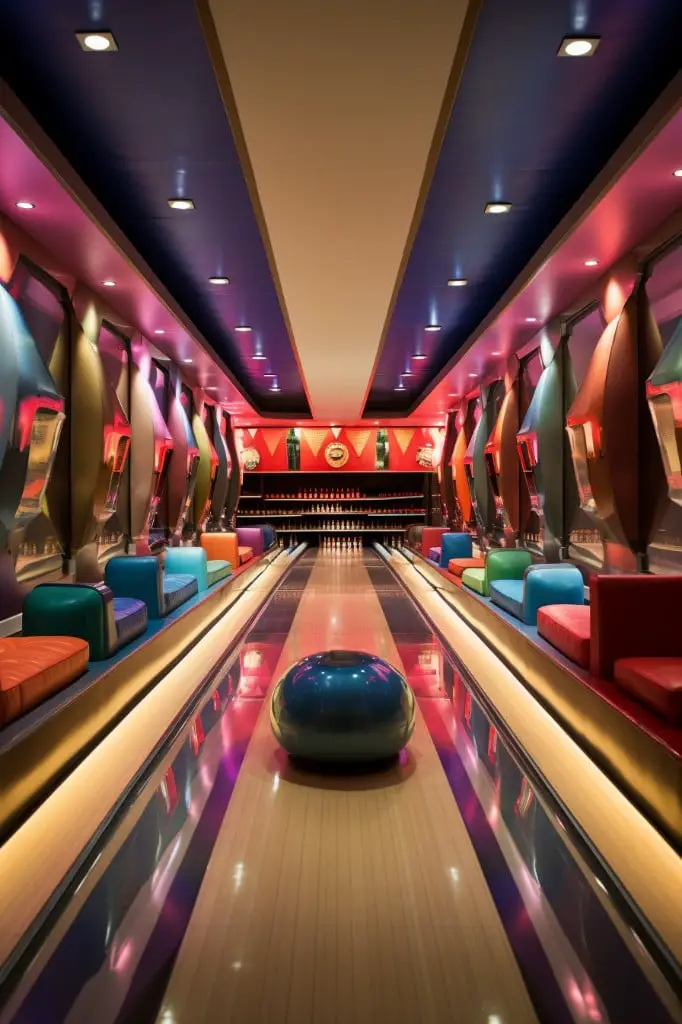 In the designing phase, pay attention to the space requirements and your budget. The width of a standard bowling lane is 42 inches with a length of 60 feet, but mini lanes can be shorter to fit your garage.
Key considerations include:
Appropriate Lighting: The focus should be on the lane and pins, with ambient lights to keep the spectators' area dimmer.
Slip-resistant Flooring: Regularly waxed and polished to ensure smooth ball motion.
Functional Alley Equipment: Arrange for regular maintenance of the pinsetter and ball rolling system.
Safety Measures: Netting or barriers may be needed to protect spectators from stray balls.
Scoring System: Modernize the experience with a digital scoring system.
Turning your garage into a mini bowling alley takes careful planning and investment, but the payoff is worth it for bowling enthusiasts.
Board Game Lounge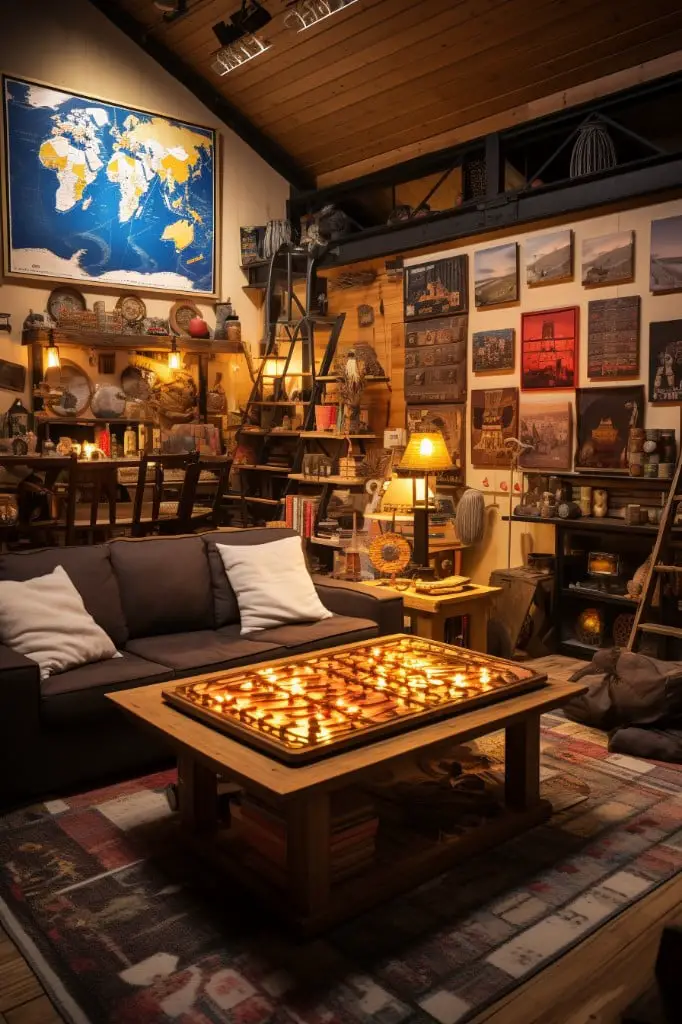 Transforming a garage corner into a board game lounge requires thoughtful planning and strategizing of space. Efficient utilization of the area involves integrating seating arrangements — where both comfort and aesthetics are taken into account. Select soft, cushioned chairs and a large table to provide adequate room for the games.
Important aspects to incorporate in your board game lounge include:
Vast Game Collection: Showcasing an extensive array of board games caters to varying individual gaming preferences.
Organized Storage: Invest in custom shelves, drawers, or gaming cabinets to store and display the board games neatly.
Appropriate Lighting: Ensure proper, glare-free lights to maintain clear board visibility all times.
Decor: Personalize the space to reflect your style. A mural based on your favorite game, graphic print rugs, or quirky cushions can add an exciting touch.
Remember, the goal is to enhance the gaming experience while maintaining a cozy, sociable environment.
Virtual Reality Station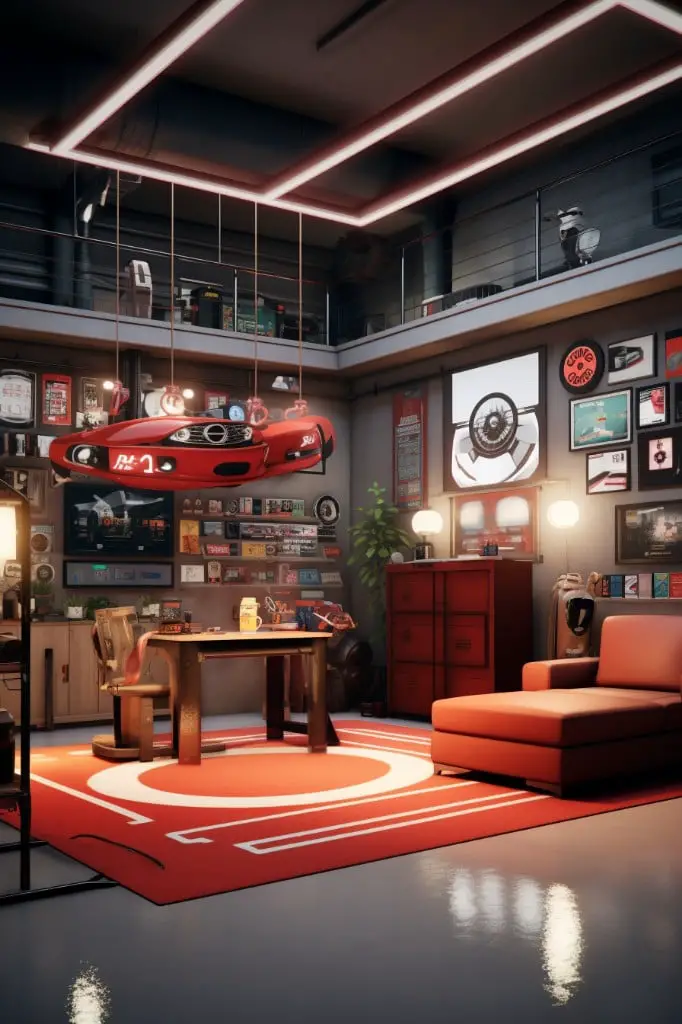 Creating an immersive and interactive gaming environment, a virtual reality station can truly take a game room to the next level. Key points to consider include:
1. Spatial Requirements: Consider enough room for safe, unrestricted movement while immersed in virtual play.
2. Equipment Selection: There are various VR sets on the market, including the Oculus Rift S, PlayStation VR, and the HTC Vive. Select one that fits your budget, game preferences, and hardware capabilities.
3. Comfortable Gear: Ensure headsets and controllers are comfortable and easy to use for extended periods.
4. Noise Control: VR games often come with intense sound effects; consider sound-proofing options for uninterrupted play and peace for others in the house.
5. Safety Precautions: Soft, padded flooring can prevent injuries in the event of a stumble or fall during play.
6. Adequate Lighting: Opt for adjustable lighting to cater to varying needs of different games.
7. Storage Solutions: Organize cords and devices with proper storage solutions to maintain a clean and orderly space.
Poker Table Setup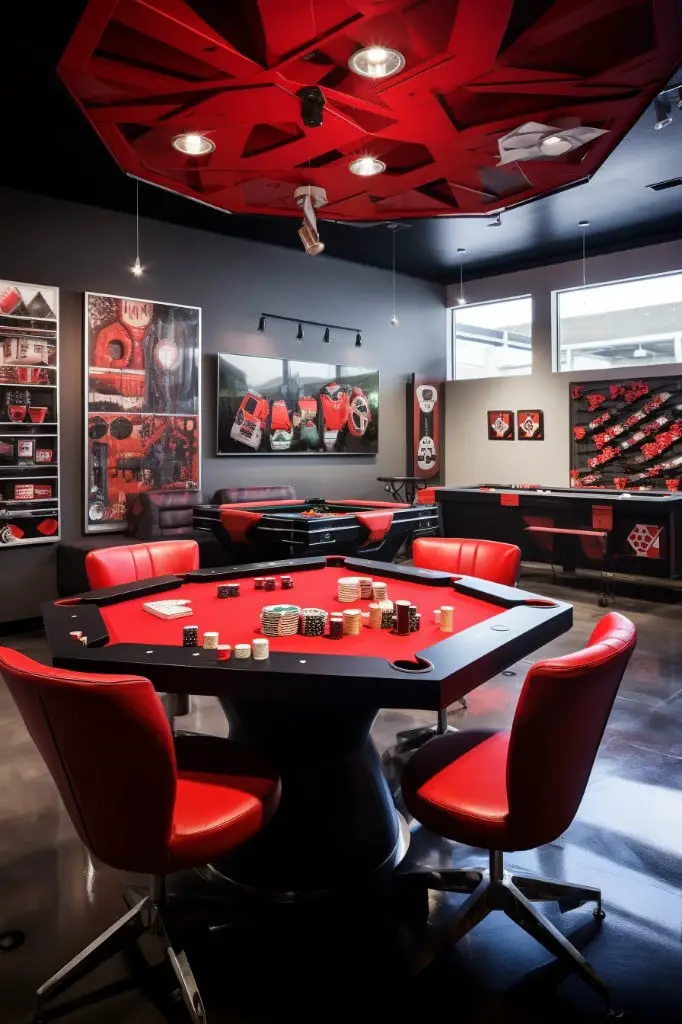 Choosing the correct spot is an essential first step. Space where eight to ten people can comfortably sit is needed. Natural light can enhance the ambiance, but remember to also include adjustable artificial lighting for those late-night games.
The most crucial feature of your poker area is the table. A felt-covered oval table is the traditional choice, providing ample space and a professional look. Foldable poker tables are ideal for a multi-purpose room, while a stationary poker table can lend a more authentic feel.
Chairs, too, play a vital role. Comfortable swivel chairs can make long games less taxing. Alternatively, any sturdy chair with cushioning will suffice.
A small cabinet for storing poker chips, cards, and other accessories should be included in the setup, keeping everything tidy and within reach.
Below are the key points:
Select appropriate, spacious location with substantial lighting
Choose between foldable or stationary poker table
Provide comfortable, durable chairs
Include storage for poker accessories
Ping Pong Table Installation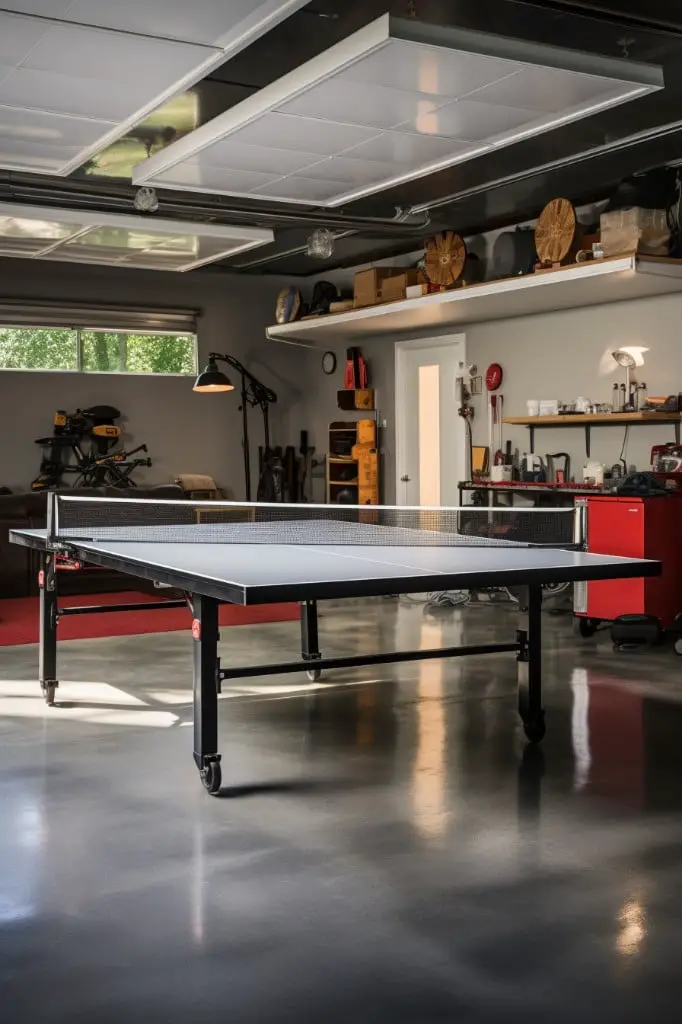 To effectively install a ping pong table, consider these vital aspects:
1. Space: Aim for at least 5 feet of open space on each side of the table. This allows for comfortable movement and a competitive game. Ensure there's enough clearance above, free from low-hanging lights or beams.
2. Lighting: Illuminate the table evenly with bright, non-glare lights for optimal visibility.
3. Surface: Install on a flat surface to maintain a level playing field. If the garage floor is uneven, consider the addition of an area rug or flooring mats.
4. Access: Allow easy access for both players. If possible, position the table close to the garage door providing natural ventilation and lighting.
5. Storage: Consider tables that fold or have wheels for easy storage and mobility.
6. Accessories: Plan to accommodate a nearby storage area or rack for paddles and balls.
Careful consideration of these elements ensures an efficiently organized ping pong zone for an engaging, undisturbed playing experience.
Slot Machines Zone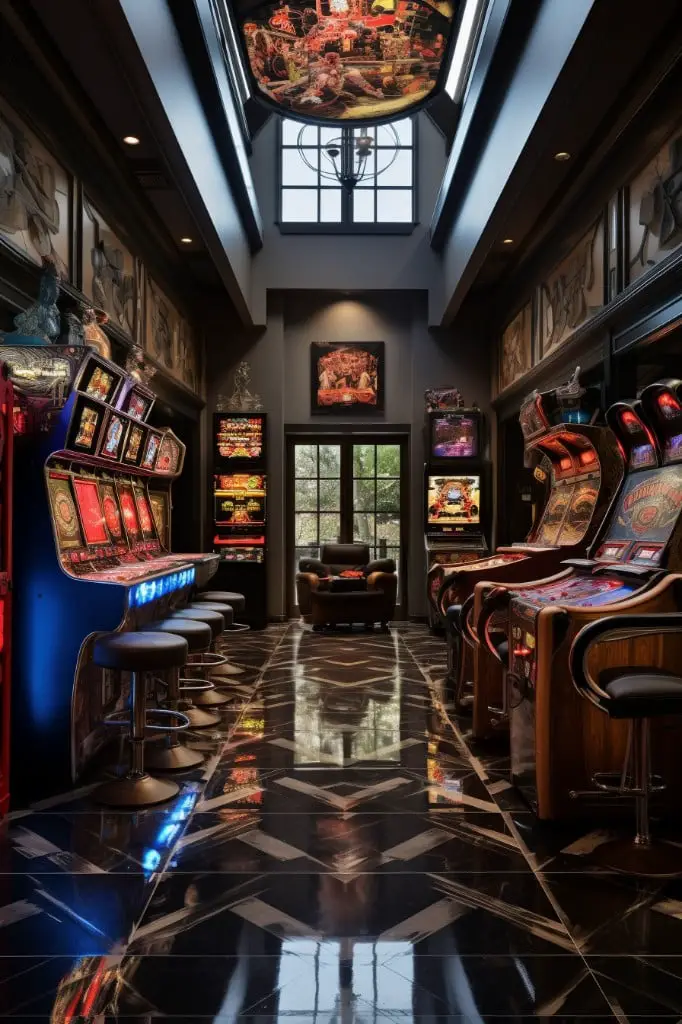 In designing your Slot machines zone, consider some key points to create a captivating, authentic casino atmosphere. Start with selecting slot machines that not only match the aesthetic you aim for but also provide riveting gameplay. Vintage models can offer a nostalgic ambience, while modern digital ones deliver flashy lights and sounds for the full casino experience.
For the layout, place your machines in a row, similar to the familiar setup one would notice in a bustling casino. Make sure to allocate sufficient space around each machine for comfortable gameplay.
Lighting plays a significant role in setting the right mood. Opt for dim, warm lights to replicate the casino ambiance adequately. Neon signs and low-hanging pendant lights can help amplify the vibe further.
Lastly, integrate a small seating area with drink holders near your slot machines to allow players a break without detaching completely from the game zone. This area can also serve as a spectating spot for others to enjoy the thrill of the game.
Remember, the goal isn't just to win, but to recreate an enchanting atmosphere that contributes to an immersive gaming experience right within your garage.
Indoor Golf Simulator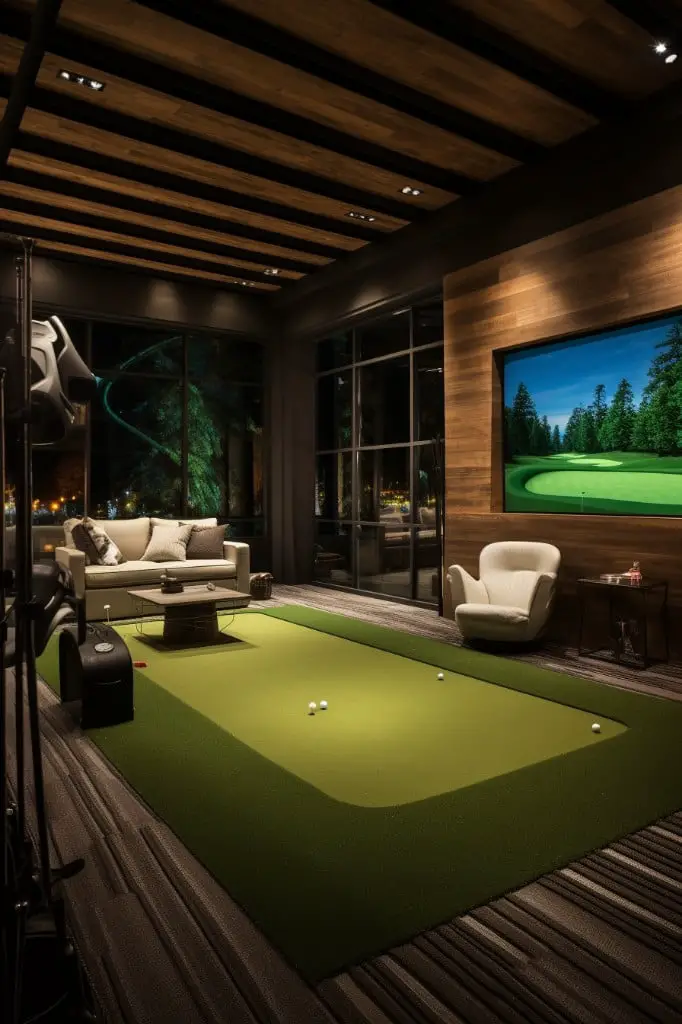 An indoor golf simulator offers a unique and sophisticated addition to your garage game room. Not only does it provide entertainment, it also allows for practicing golf skills without having to leave the premises.
Key points:
1. An indoor golf simulator requires a projector, a screen, a launch monitor, and sufficient space.
2. High-quality simulators can mimic real golf experience with accurate tracking systems and digital portrayals of famous courses.
3. Adequate ceiling clearance is necessary for accommodating swings. Usual requirements are 9-10 feet high.
4. Seek professional help for installation to ensure optimal functioning and longevity.
5. Keep the simulator clean and maintain it regularly to prevent technical issues and provide a smooth gaming experience.
In essence, creating a section in your garage for an indoor golf simulator can fuel your love for golf, and also prove impressive for your guests. It offers amusement, practice, as well as an element of grandeur to your garage game room.
Home Cinema With Game Consoles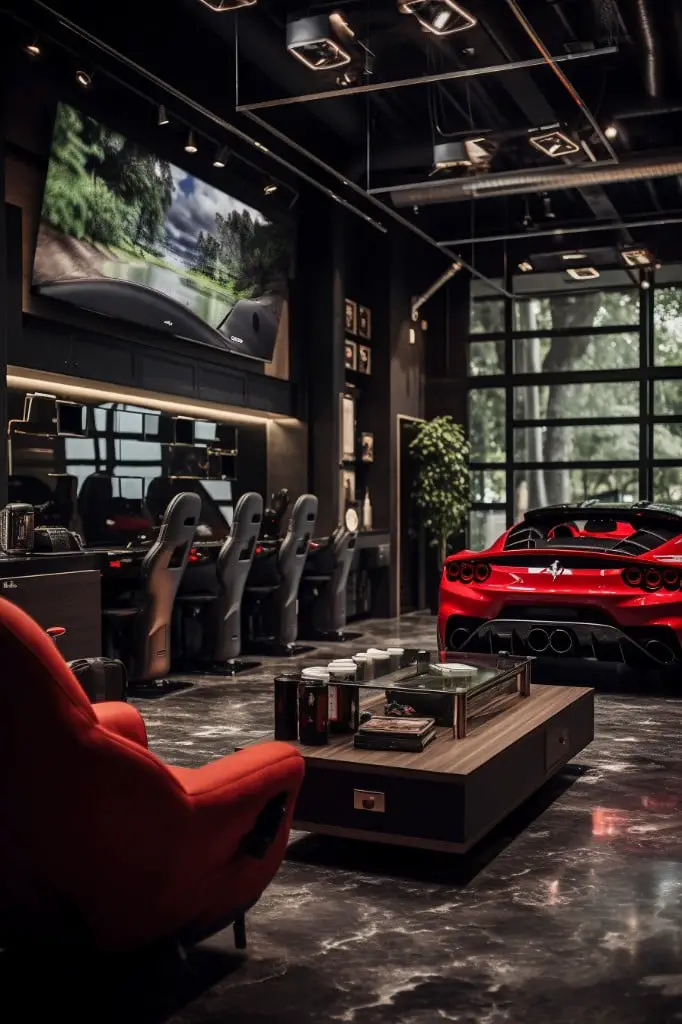 Transforming a section of your garage into a home cinema gives you an immersive venue for gaming. Key points to consider in this arrangement include:
Space Evaluation: Assess the space required for seating, the screen, and game console setup. Tip: Opt for a wall-mounted flat-screen to maximize space.
Seating Arrangement: Incorporate plush seating with cup holders for comfort during extended gaming or viewing sessions.
Audio Setup: Consider a surround sound system for an immersive audio experience.
Game Console selection: Choose from a variety of consoles, such as PlayStation, Xbox, or Switch, depending on your gaming preferences.
Proper Lighting: Opt for dimmable lighting to balance screen visibility with ambient atmosphere.
Storage Space: Include storage space for games, accessories, and remotes for an organized, clutter-free zone.
Ventilation: Ensure adequate air circulation to prevent electronic devices from overheating.
Remember, the goal is to create a designated space that offers an enhanced gaming experience combined with the amenities of a home cinema.
Multi-game Card Table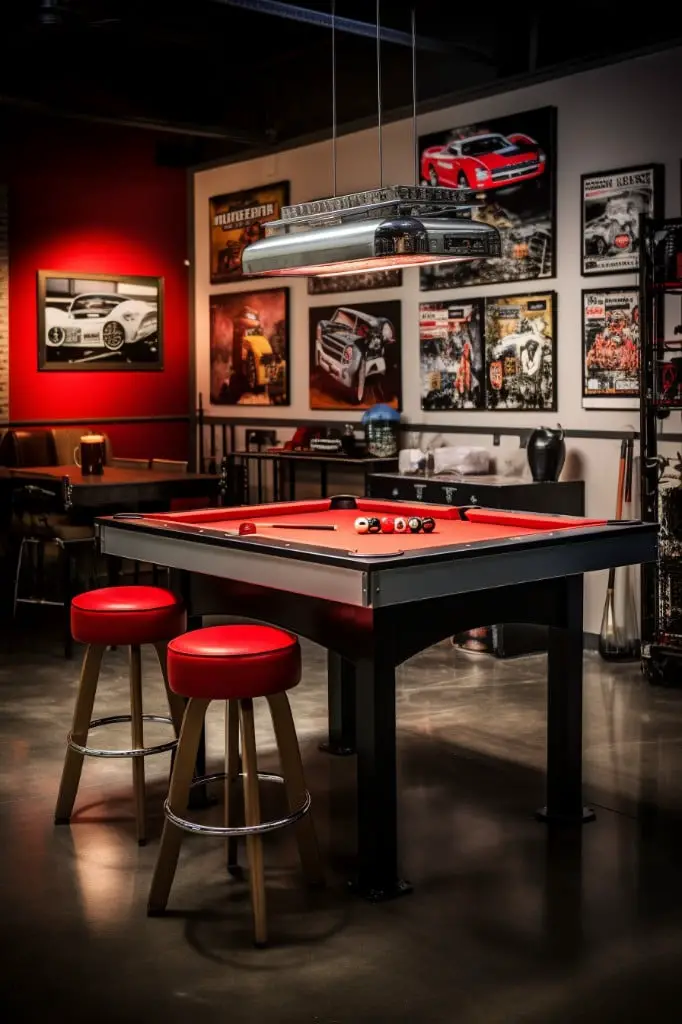 Equipping your game room with a multi-game card table significantly boosts its versatility and entertainment value. Ideal for poker nights, blackjack rounds, or a bridge match, it's a surefire route to endless hours of competitive fun.
Key points:
Space-Saving: Operating on a "swap top" system, these tables offer multiple game options whilst capitalizing on a minimally compact footprint. It's the perfect solution for garages where space might be a concern.
Variety of Games: From chess to checkers, backgammon to roulette, and classic card games, endless entertainment is within arm's reach.
Easy Transition: Interchanging the game surfaces is typically user-friendly and requires minimal effort or expertise.
Extra Features: Most multi-game card tables are equipped with cup holders and compartments for game pieces or poker chips, adding convenience and a touch of authenticity.
Design Options: Whether your preference leans toward a sleek modern aesthetic or a charming rustic look, there is a wide range of styles available, making it easy to find one that fits your game room's decor.
Beverage Bar for Refreshments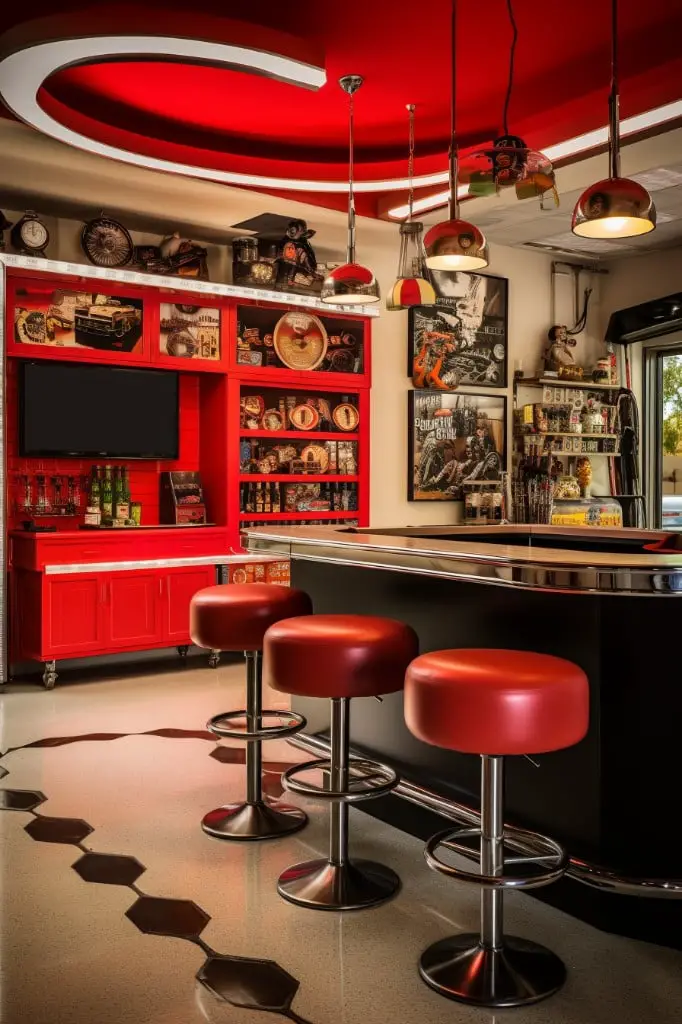 Keeping your game room guests hydrated is crucial. A beverage bar will serve as a go-to spot for refreshments during intermissions. It adds an extra layer of convenience and social appeal to the space, and it doesn't have to be extravagant. There are several essentials to consider when setting up a beverage bar:
Refrigerator: For cooling drinks. A mini fridge should suffice for most.
Storage: Shelves or cabinets for storing various beverages such as sodas, water bottles, and possibly some adult beverages.
Glassware: Depending on the beverages you plan to offer. This might include pint glasses, soda glasses, and cocktail glasses.
Coasters: For preventing drink spill damaging your furniture.
Snacks: A selection of light snack options could also be a pleasant addition.
All in all, a beverage bar further enhances the atmosphere of enjoyment and relaxation in your game room.
Sports Memorabilia Display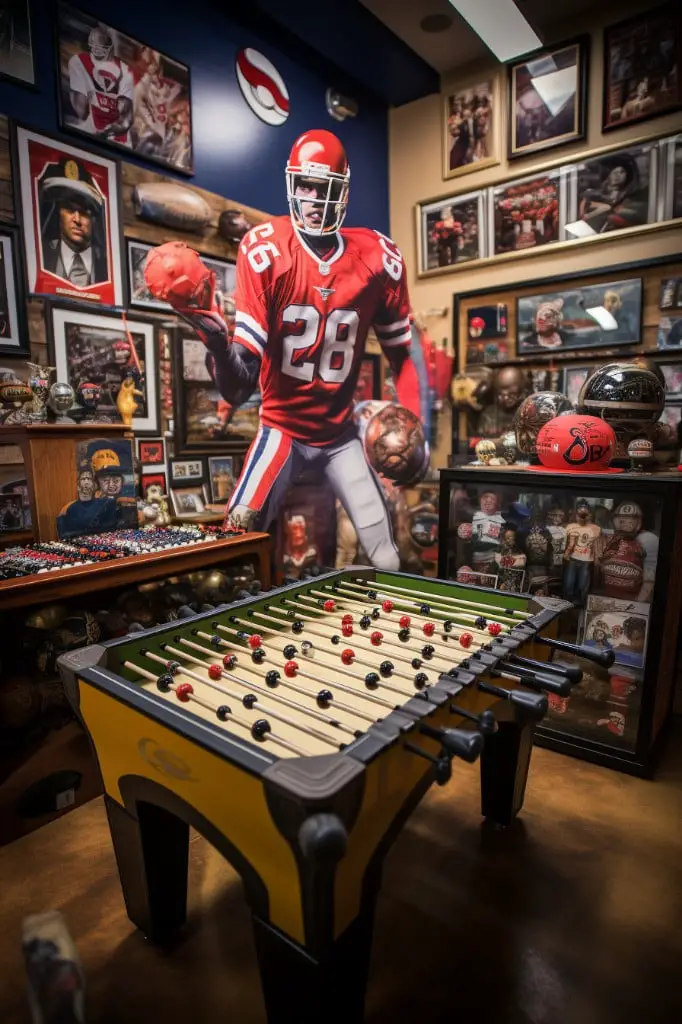 A well-curated showcase of sports memorabilia can become a point of pride and conversation in your garage game room. Here's how to set it up:
1. Collection categorization: Organize items by sport, team, or player to create visual appeal and ease of navigation.
2. Proper framing: Use custom shadowboxes or jersey frames for signed jerseys, balls or bats, safeguarding value and integrity.
3. Lighting: Use directional lighting to highlight the impressive pieces, accentuating their details and colors.
4. Wall mounting: Install sturdy shelves or cabinets for trophies, helmets, and other heavy items.
5. Protective display cases: For signed cards or rare collectibles, secure them in protected display cases.
6. Rotation of collection: Periodically rotate items, giving every piece its time in the spotlight and refreshing the look of the room.
7. Spacing: Avoid overcrowding. Items need room to "breathe" and to be viewed from different angles.
Handling your collectibles with care and thoughtfully presenting them will create a standout feature in your game room that speaks to your personal sports journey and passions.
Comfortable Seating and Game Table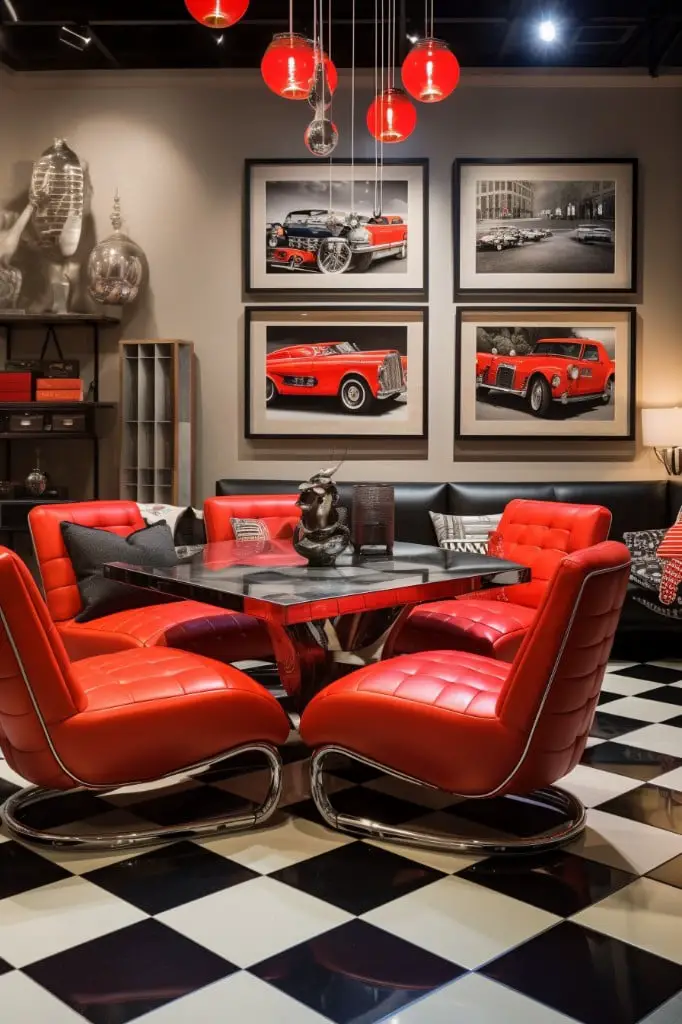 Considering a game room, two fundamentals are the seating arrangement and the game table. Durability, comfort, and space optimization are fundamental when crafting this essential area. Let's delve into the specifics.
1. Seating – Opt for upholstered chairs or sofas that provide optimal comfort during long gaming sessions. Leather pieces are a great option, they offer a luxurious feel, and are easy to clean. Don't forget to incorporate ottomans for extra seating or footrests.
2. Game Tables – Selection should be based on your favorite games. It can range from poker tables, chess tables, to multipurpose options that accommodate several games. The size needs to be proportionate to the room and seating arrangement.
3. Layout – Position the game table in a way that it becomes the highlight of your seating arrangement. Ensure adequate moving space around the table.
4. Lighting – Install adjustable lighting fixtures above your game table to create an engaging, warm ambiance. Choose bulbs that do not strain the eyes.
5. Accessories – Integrate elements that enhance convenience such as side tables for beverages or snacks, and stands for cues or racks if it's a pool table.
Remember, your game room should not only make a statement aesthetically but also provide ultimate comfort and functionality.
Neon Lights for Evening Play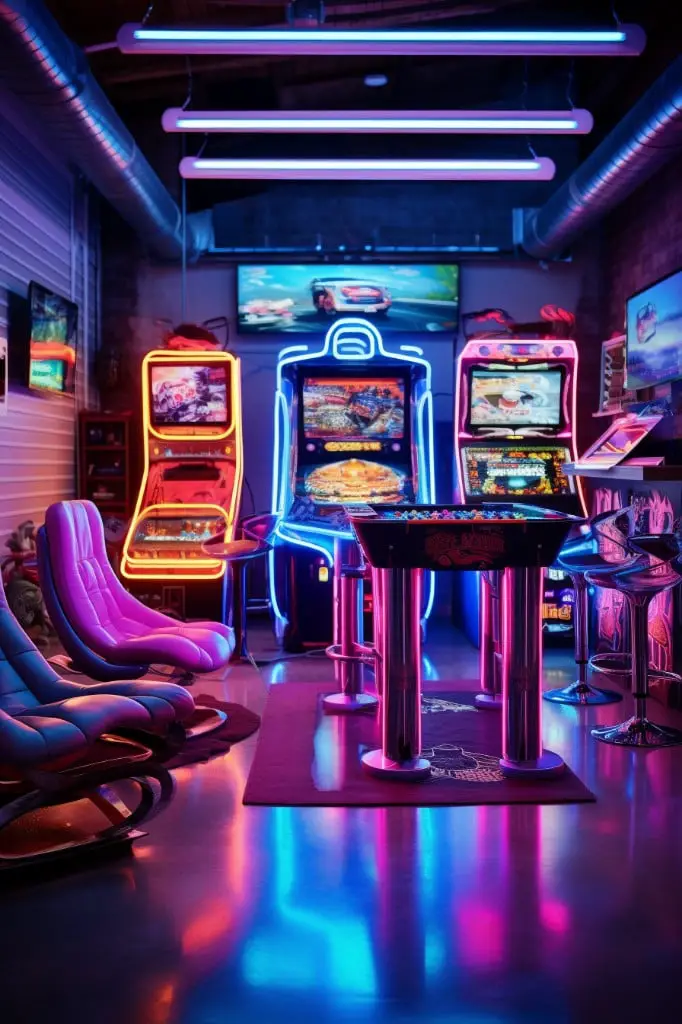 Bright, vibrant, and strikingly aesthetic, neon lights bring a unique charm to your garage game room. Not only do they amplify the overall ambiance, but also ensure clarity during nighttime play. Installing these illuminating accessories is a convenient way to enhance visibility without being glaringly bright.
Key Points:
Variety: Neon lights come in diverse shapes, sizes, and colors. You can opt for game-themed lights like a joystick, ping-pong bat, or a simple abstract design.
Functionality: These lights provide sufficient illumination for evening play, highlighting game tables and play areas.
Atmosphere: Neon lights can create a playful mood, resembling a classic arcade ambiance.
Easy Installation: Most neon lights are plug-and-play, which means you don't need professional installation.
Energy Efficiency: They are more energy-efficient than traditional lighting options, making them a sustainable choice.
Remember to strategically position your neon lights to brighten up key areas, while maintaining the playful evening atmosphere that sets the mood for exciting gaming sessions.
Boxing Bag / Fitness Zone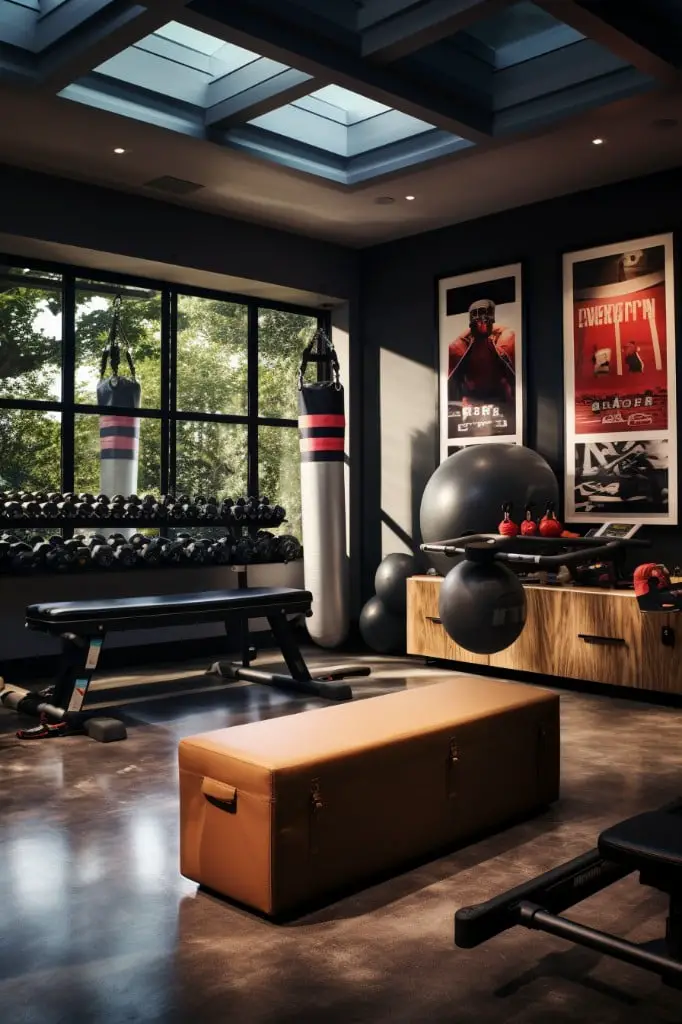 Incorporating fitness elements into your garage game room is a great way to maintain a balance between fun and health. Among the prime choices is a boxing bag. It offers a unique and effective way to stay in shape and relieve stress. Ensure it's hung correctly; it must have ample space around it to circumvent any potential damage to nearby decor or injury to players.
Key Points:
Boxing Bag Selection: Opt for one suited to your weight and fitness level. Freestanding and hanging types are available, each with different benefits.
Space Considerations: You need enough room to move around the bag freely, avoiding any interference with other zones.
Bag Installation: Follow proper installation instructions. Remember, safety is paramount.
Accessories: Consider getting gloves and hand wraps for protection.
Additional Fitness Equipment: Complement your boxing zone with a set of dumbbells or a yoga mat for a more comprehensive workout area.
Floor Matting: Install special matting or padding underneath the bag area – it provides cushion for your feet and collect perspiration.
Ventilation: Since workouts can make you sweat, ensure the area is adequately ventilated for comfort.
Remember, the aim here is not to convert your garage into a full-fledged gym, but to create a welcoming environment where fun and fitness can coexist harmoniously. Always consider the overall aesthetic of the game room when adding in your boxing bag or other fitness elements.
Related: