Last updated on October 28, 2023
Transform your garage into the ultimate man cave with some simple yet stylish decor ideas that will take it from drab to fab.
I am proud to have written and designed this article on 20 Simple Garage Man Cave Ideas, and it's my sincere hope that you'll find it as inspiring and enjoyable as I did creating it.
Transforming your garage into a man cave doesn't have to be complicated or expensive. With some creativity and a little bit of elbow grease, you can turn this often-neglected space into your personal sanctuary.
Whether you're dreaming of a sports-themed retreat, a high-tech gamer's paradise, or a laid-back lounge for weekend relaxation, there are plenty of simple, budget-friendly ways to bring your vision to life.
In this article, you'll find a wealth of easy and affordable garage man cave ideas that cover everything from lighting and furniture to wall decor and storage solutions.
So, roll up your sleeves and get ready to create a space that's all your own.
Install a Large Flat Screen TV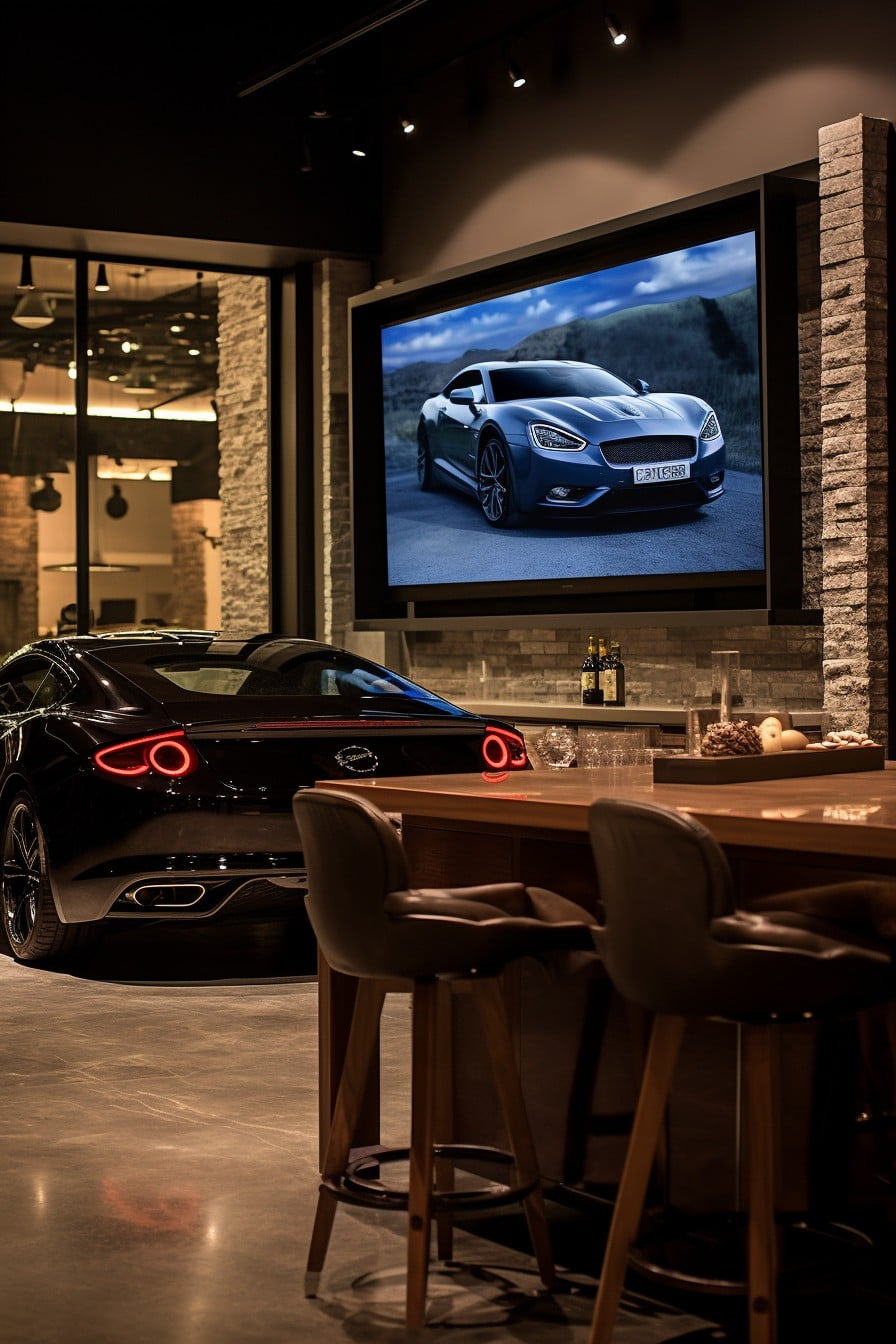 When choosing the location for your TV, consider seating arrangements and glare from windows or lights. Larger screens often require more viewing distance, so account for space. A good mounting bracket ensures secure installation, with an angle adjustable feature offering flexibility in viewing positions.
Key points:
Position: Choose a location that minimizes glare and facilitates comfortable watching
Screen size: Larger screens require more viewing distance. Adapt your room setup accordingly.
Mounting bracket: Ensure the TV is securely mounted. Adjustability is a plus for flexible viewing angles.
Set Up a Mini Bar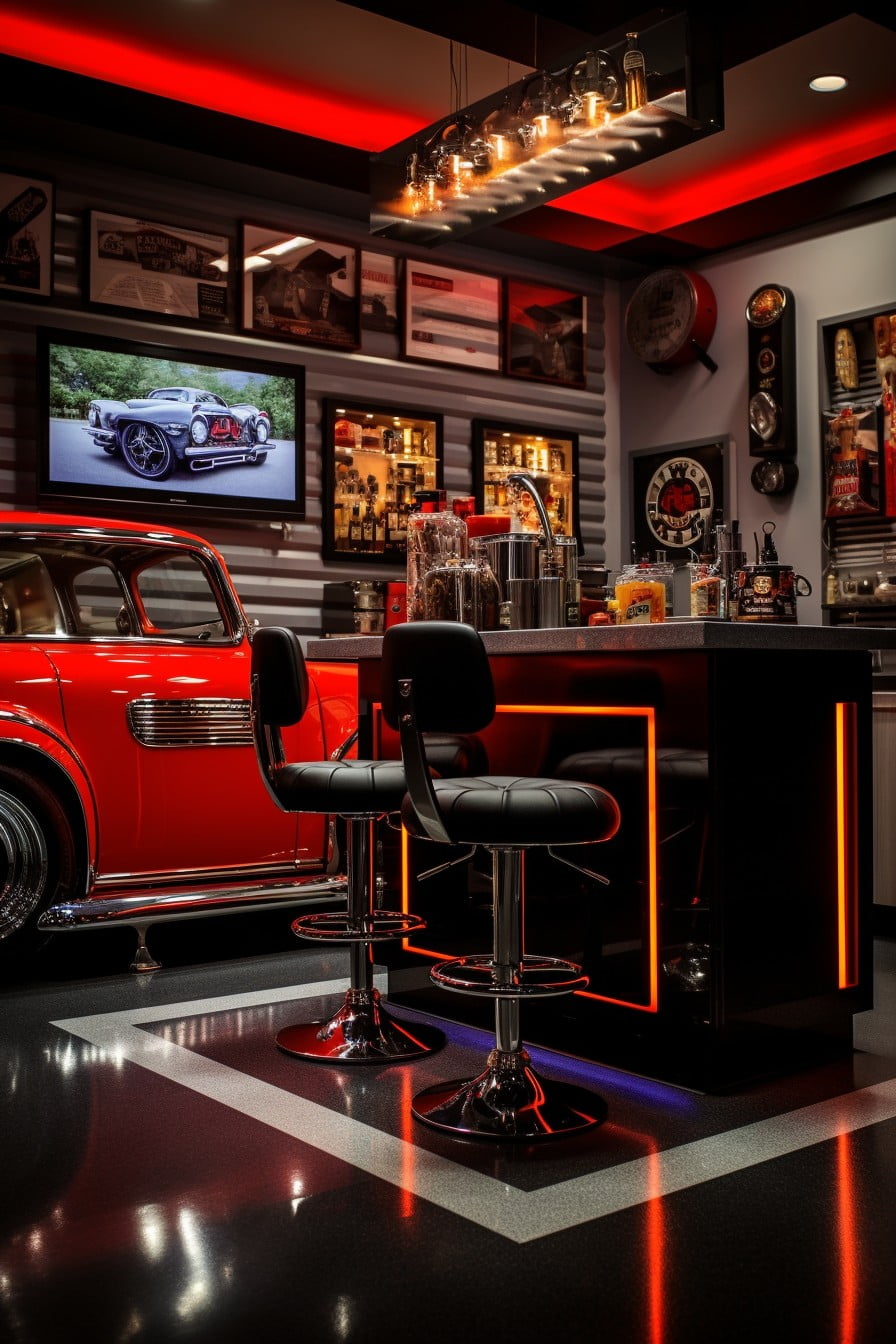 Transforming one corner of your garage into a hospitality hub won't go without applause from your friends. Consider investing in a compact refrigerator to keep beverages chilled and ready for consumption.
Opting for a built-in bar with a small sink would be a more polished approach, while a movable bar cart provides flexibility.
As for the bar top, consider materials consistent with the garage's vibe – rustic wood, polished concrete, or even checkered automobile flags for motoring enthusiasts.
Key Elements:
Compact refrigerator or customized cooler.
Built-in bar or movable bar cart.
Bar top material such as rustic wood, polished concrete or thematic selections.
Small sink for convenience.
Use Neon Signs for Decoration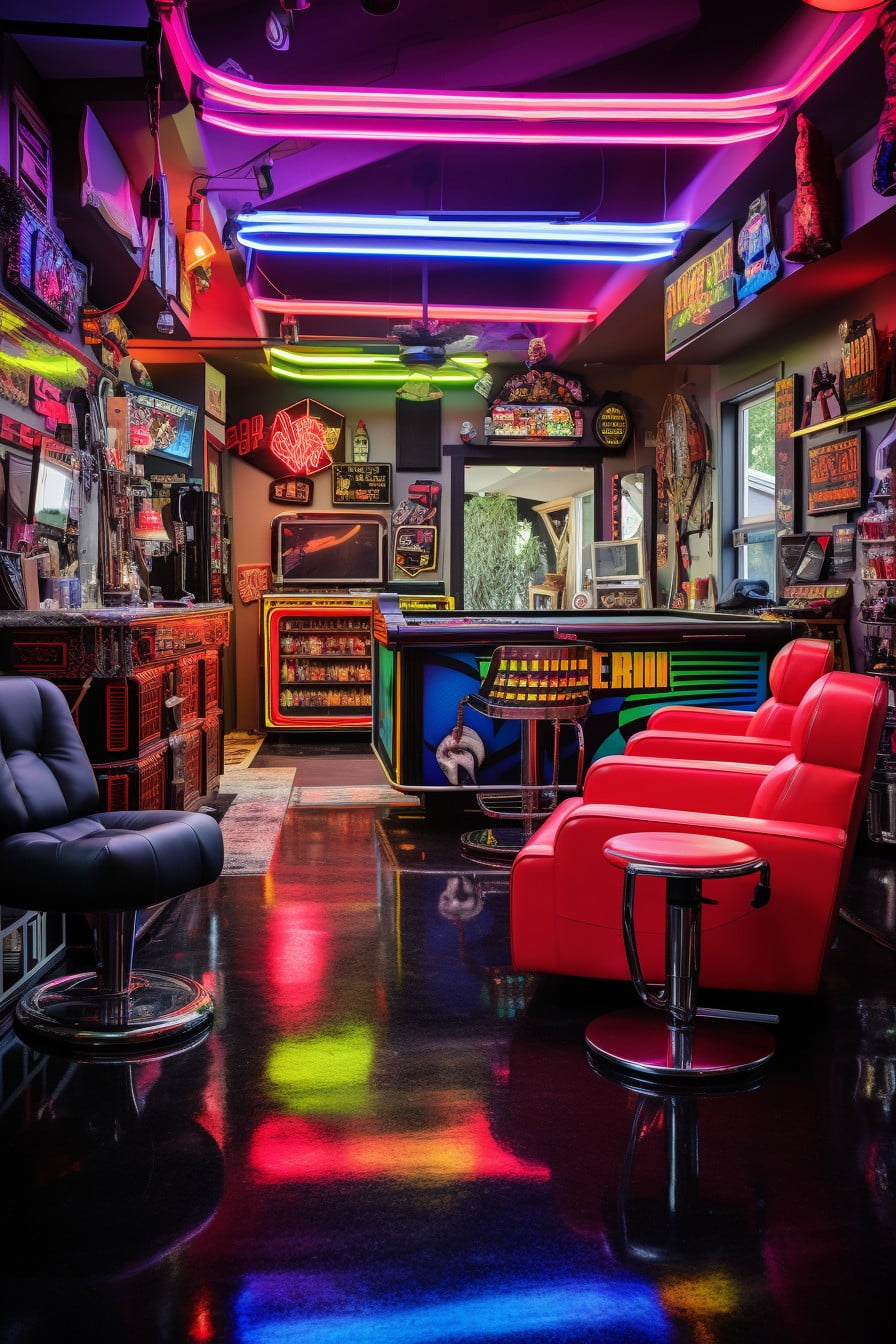 Adding a pop of color and a retro vibe, neon signs can significantly uplift the garage space's ambience. They exhibit a unique combination of modern technology and vintage aesthetics. With a plethora of designs available, they are more versatile than one might assume.
Numerous factors should be taken into consideration when integrating neon signs:
Design and Text: Choose something that aligns with your interests, such as your favorite beverage brand or sports team. Personalized messages are a great choice too.
Colors: Opt for colors that either complement or tastefully contrast your garage's existing color scheme. Remember, neon signs should not clash with your surroundings.
Placement: Position your neon signs at eye level on an accent wall for maximum visibility.
Dimmer: A sign with a dimmer allows you to control the brightness and create the perfect mood for different occasions.
Power source: Consider where you'll get the power to run the sign. It should be close to a plug point, ensuring no dangling wires could cause mishaps.
Integrating neon signs can undoubtedly transform the garage into a lively and energizing spectacle, reflecting your personality and passions.
Add a Pool Table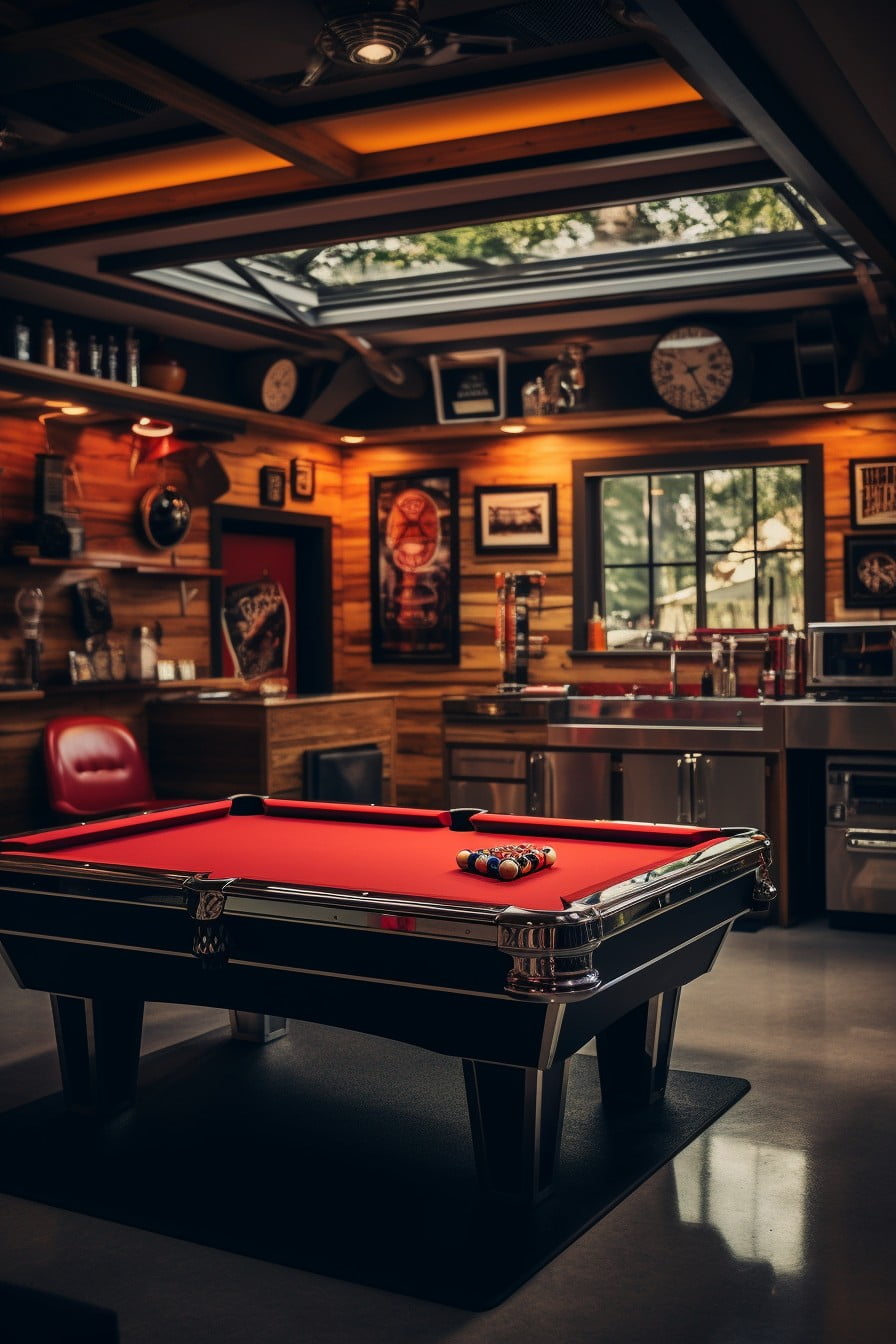 Choosing the right pool table for your garage man cave is essential. Consider factors such as size, style, and importantly, your budget.
Standard pool tables come in eight (4'x8′) or nine (4.5'x9′) foot models. Ensure that the garage offers ample space not just for the table, but for cueing room around it.
For style, a rustic or antique table may add an air of sophistication, while a modern design could give a sleek ambiance. Budget will affect choices in terms of materials and craftsmanship; slate tables are best for a smooth, level playing surface but may come at a higher cost.
Consider these points when introducing a pool table into your man cave:
Measure available space for both the table and cueing room.
Decide on a style that fits with your man cave theme.
Factor in your budget; prioritize quality for long term use.
Consider including accessories like cues, balls, and a rack in your plans.
Look into professional installation to ensure a level playing field.
Make it the focal point of your man cave to improve the overall decor.
Put Up Sports Memorabilia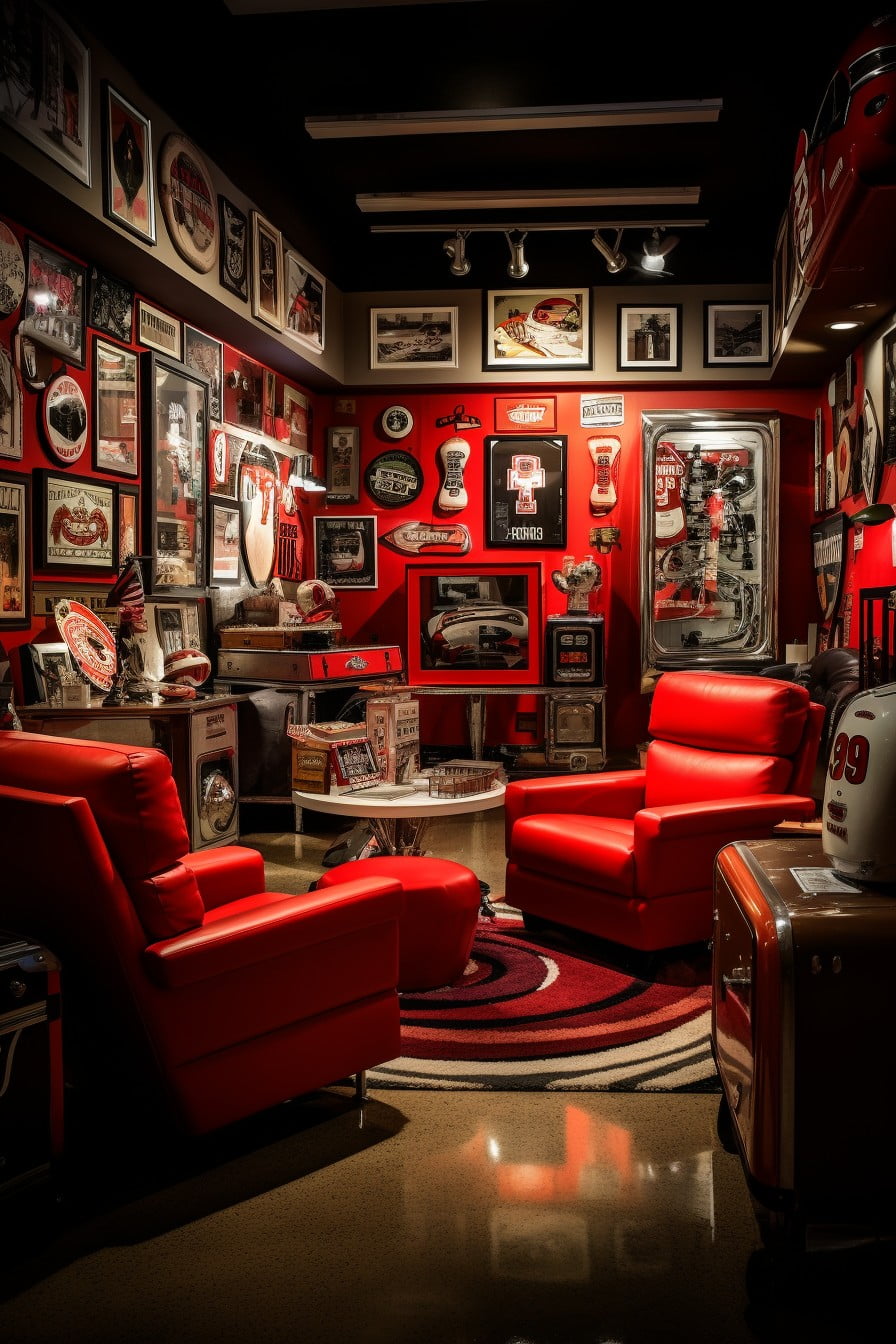 Sports memorabilia, whether from personal collections or bought, are great ways to showcase your passion. From team jerseys and autographed baseballs to vintage posters, your choices are vast.
Here are key points to keep in mind:
Be selective: Choose pieces that carry sentimental value or enhance your décor theme.
Frame and protect: Protect your valuable items by framing them, adding both longevity and a polished look.
Grouping: Arrange related items together for a more significant, unified impact.
Positioning: Ideally, place these items at eye-level for prominent display and easy viewing.
Lighting: Accentuate your memorabilia with the correct lighting, enhancing their presence.
Rotate: Change out pieces periodically to maintain a fresh look and allow all items their time to shine.
Consider these guidelines as you curate and display your sports memorabilia, the heart of any sports-themed man cave.
Create a Gym Space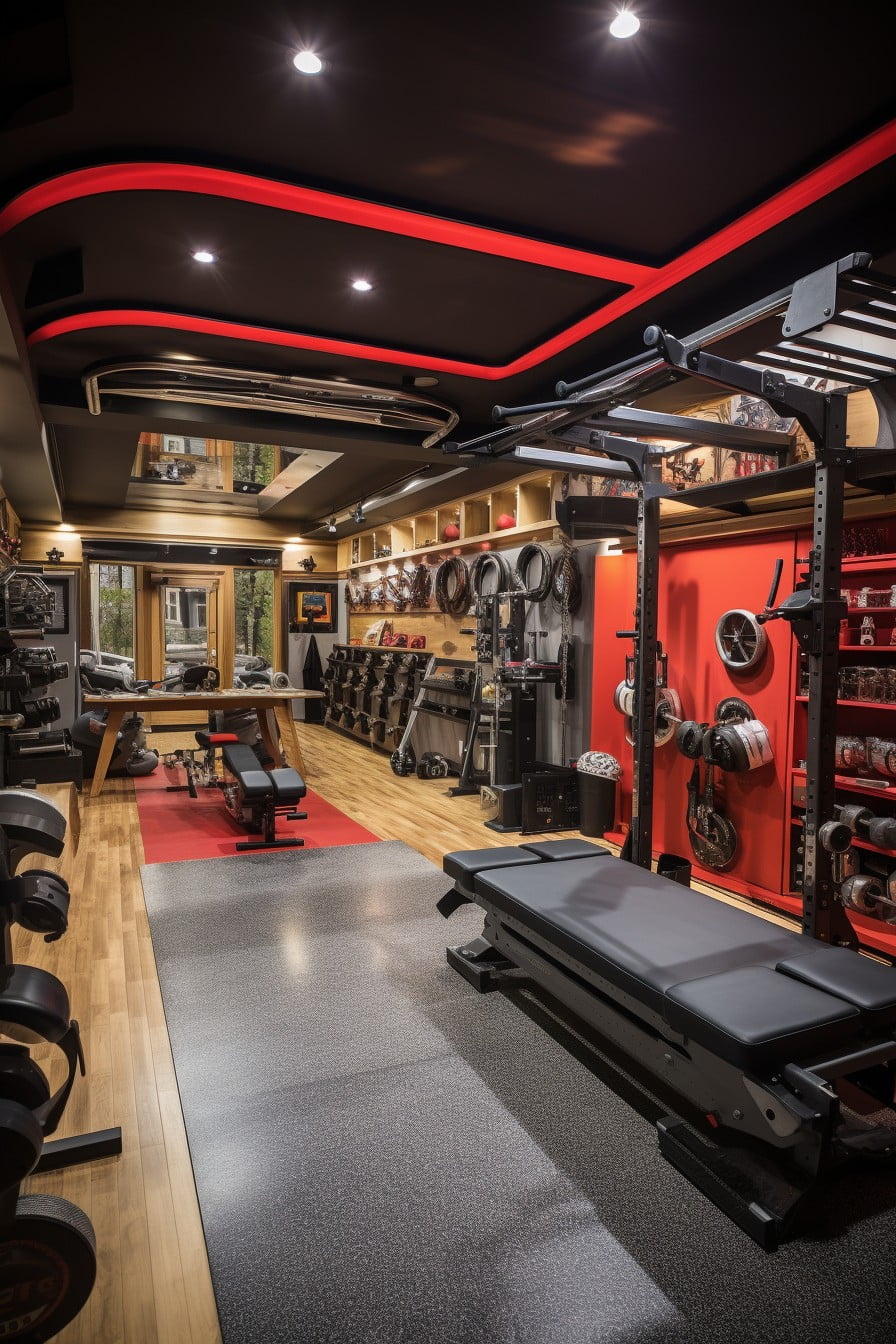 Designating a portion of your garage man-cave for physical fitness offers a convenient way to blend relaxation and health. In making the transition:
1. Determine the Space: Identify a suitable area in the garage that can comfortably accommodate gym equipment without cramping the entire setup.
2. Select Appropriate Equipment: Opt for multipurpose fitness gear such as adjustable dumbbells, resistance bands, or a compact home-gym machine to save space.
3. Gym Attachment: Consider gym attachments like a wall-mounted pull-up bar or anchored resistance bands.
4. Floor Protection: Invest in high-density foam mats not only for comfort during floor exercises but to also protect your flooring from damage due to dropped weights.
5. Maintain Cleanliness: Regular cleaning of this space is vital to prevent the accumulation of dust on your equipment.
6. Ventilation & Lighting: Make sure the area is well ventilated to allow adequate airflow and sufficiently lit to avoid strain during exercises.
Remember, the goal is to create a functional gym space within the comfort of your man-cave. Balance is key as one activity should not hamper the convenience of another within the same room. Keep the area clutter-free and organized for optimal usage.
Install a Dart Board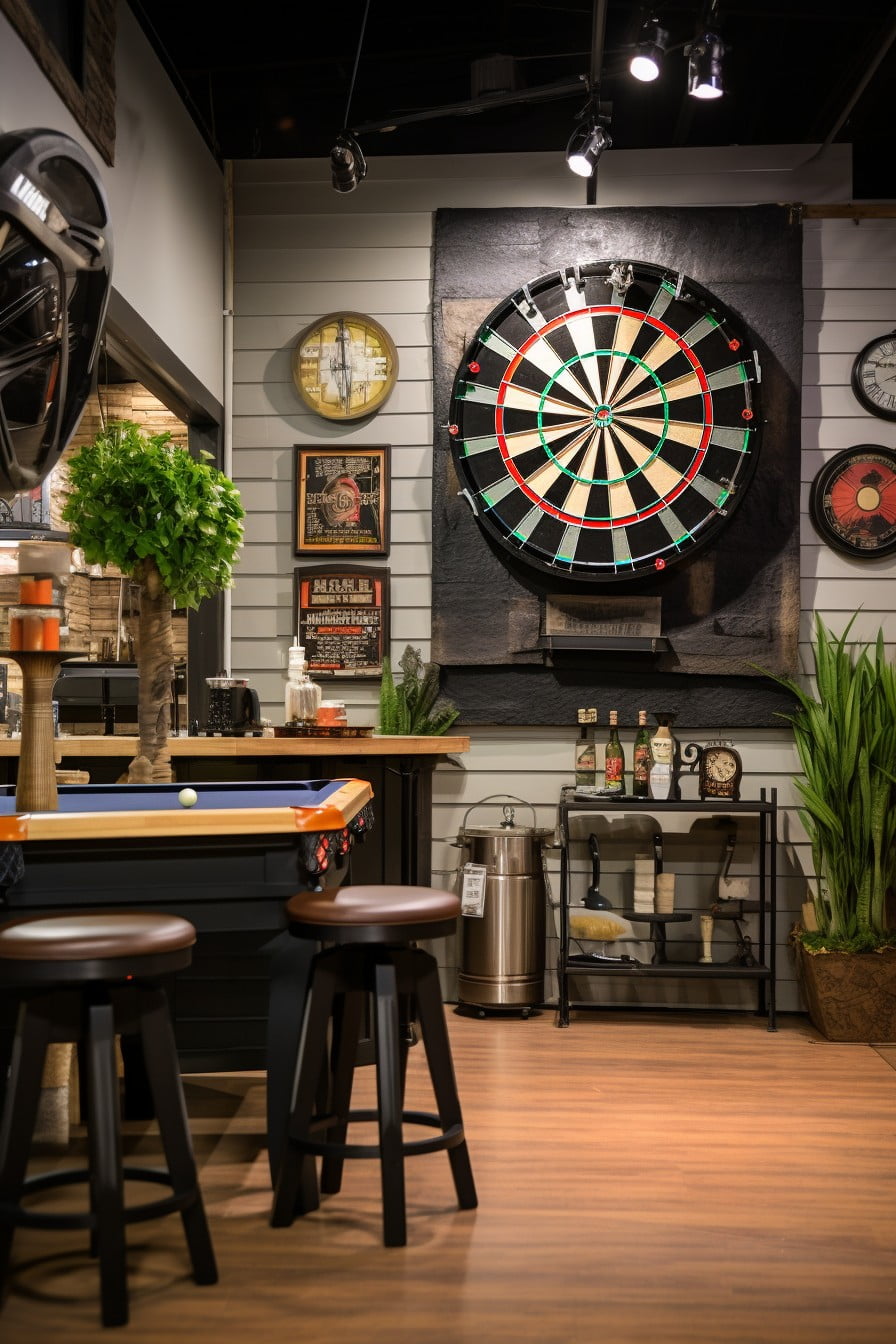 An integral feature of any righteously decorated man-cave, having a dart board is more than just entertainment. It's a source of friendly competition, and it adds a classic pub feel to the space.
Key points:
Choose a proper location. Safety should be a prime consideration. Aim to place the dart board in a low-traffic area where missed throws won't risk hitting people or breaking anything.
The official height for a dart board is 5 feet 8 inches from the center of the bullseye to the floor. Ensure you measure correctly when installing.
Protect your wall. Even the most experienced dart players can miss, so consider adding a dartboard cabinet or wall protector to prevent unnecessary wall damage.
Lighting is crucial. A well-lit dart area helps in providing more precision and adds an atmospheric effect.
Remember to store your darts in a safe and convenient place. You could opt for specific dart holders, a simple shelf, or even stow them in the dartboard cabinet, if you have one.
This simple guide can help bring the fun of an English pub right into your garage man-cave.
Add a Beer Fridge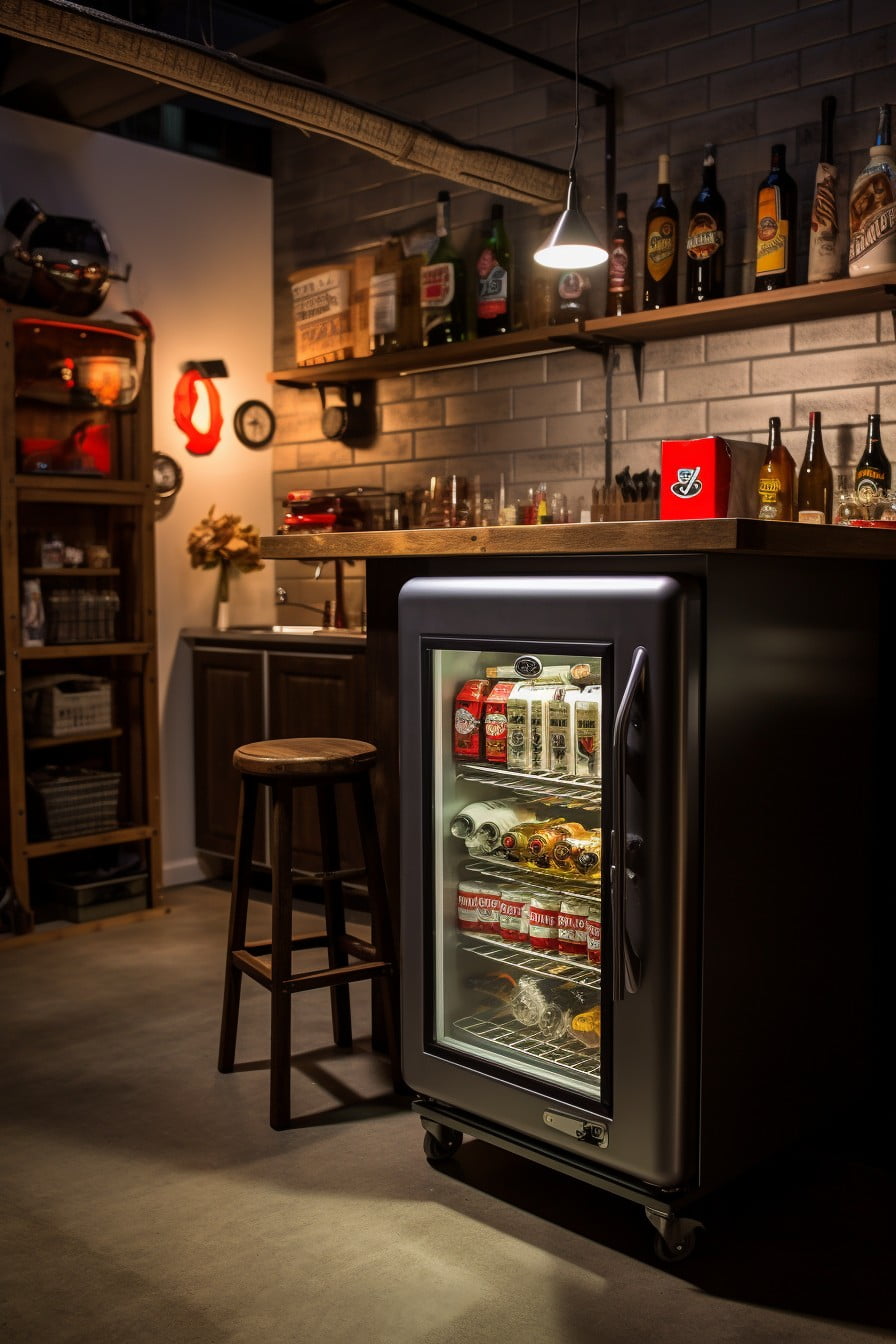 Ensuring your beverages are always cold is essential for a man cave. A beer fridge proves to be a practical addition, freeing up your main household fridge and keeping your drinks conveniently within reach. This functional piece can also add a cool aesthetic to your garage space.
Key Points:
Selection: Choose from an array of compact, under-counter fridges, or go for a larger, stand-alone unit depending on the space available.
Location: Opt for a corner near your seating area for easy accessibility.
Variety: Stock up on various types of beer, both for personal preference and to impress your guests.
Efficiency: Consider energy-efficient models to save on electricity bills.
Features: Some fridges have adjustable shelves or door bins for flexibility in storage.
Theme: Match the exterior of your fridge to the man cave's overall aesthetic—vintage, sleek, or sport-centric.
Set Up a Poker Table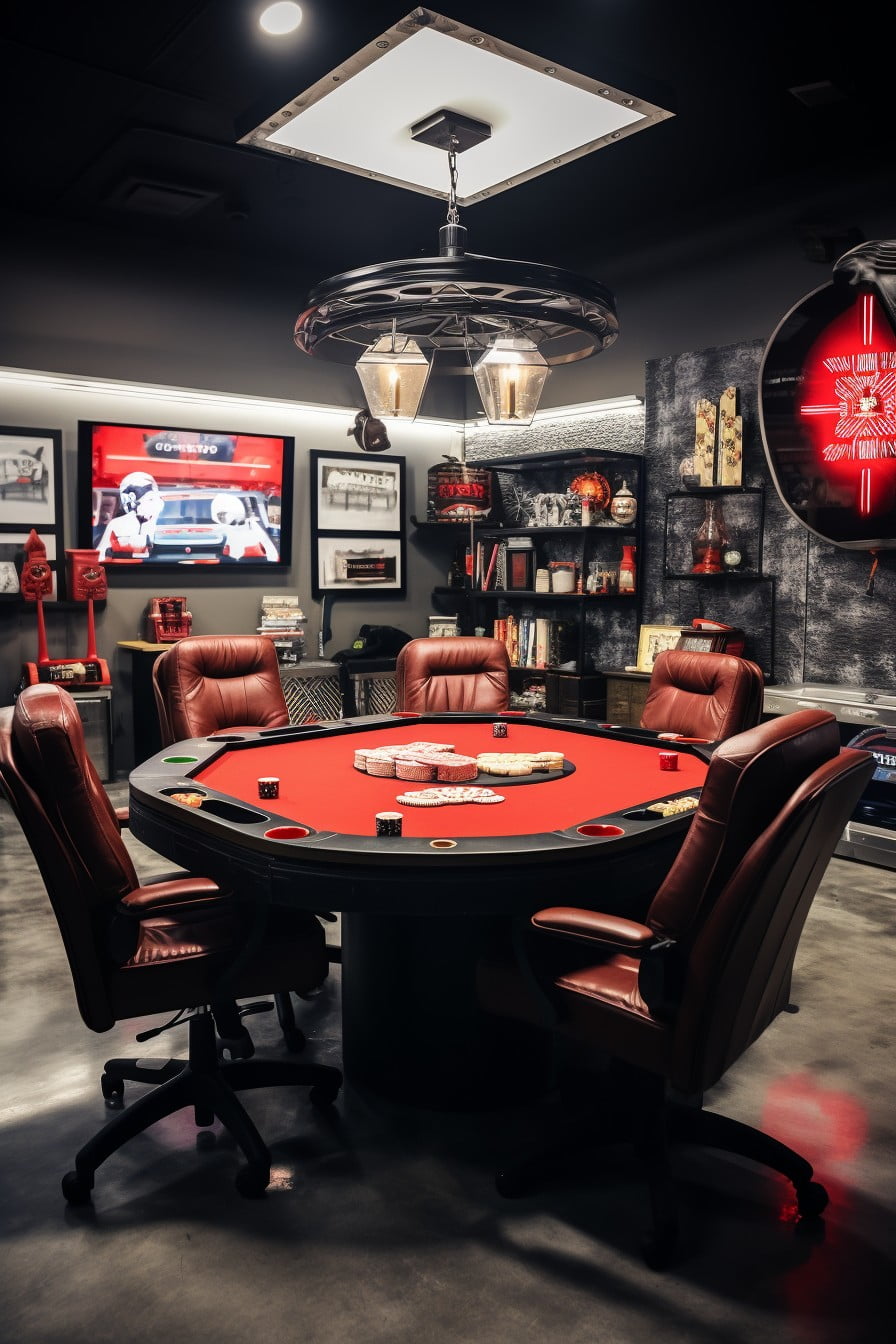 Incorporating a poker table in your man cave design is an excellent choice for those with a penchant for games. Here are a few key perspectives:
1. Placement: Consider setting the table in the middle of the room for easy accessibility and movement around it; ensure sufficient lighting. Remember, the right ambiance is paramount for evening poker banquets.
2. Table Selection: Choose between foldable options or solid wood tables based on your space and preference. The market offers various styles from vintage rounds to professional-grade Texas Hold 'em designs.
3. Chair Comfort: Prolonged periods of sitting are typical for poker games; thus, padded chairs are a smart investment for comfort and endurance during challenging rounds.
4. Accessories: Invest in quality poker chips and multiple packs of cards. A side table or nearby cabinet can be helpful for storage.
5. Decor: Embrace the theme; consider canvas art with poker motifs, or a neon sign to bring that unique casino vibe.
Remember, the goal is not just to create a gaming space, but a cosy environment that blends seamlessly with the overall man cave aesthetics.
Include a Working Station for DIY Projects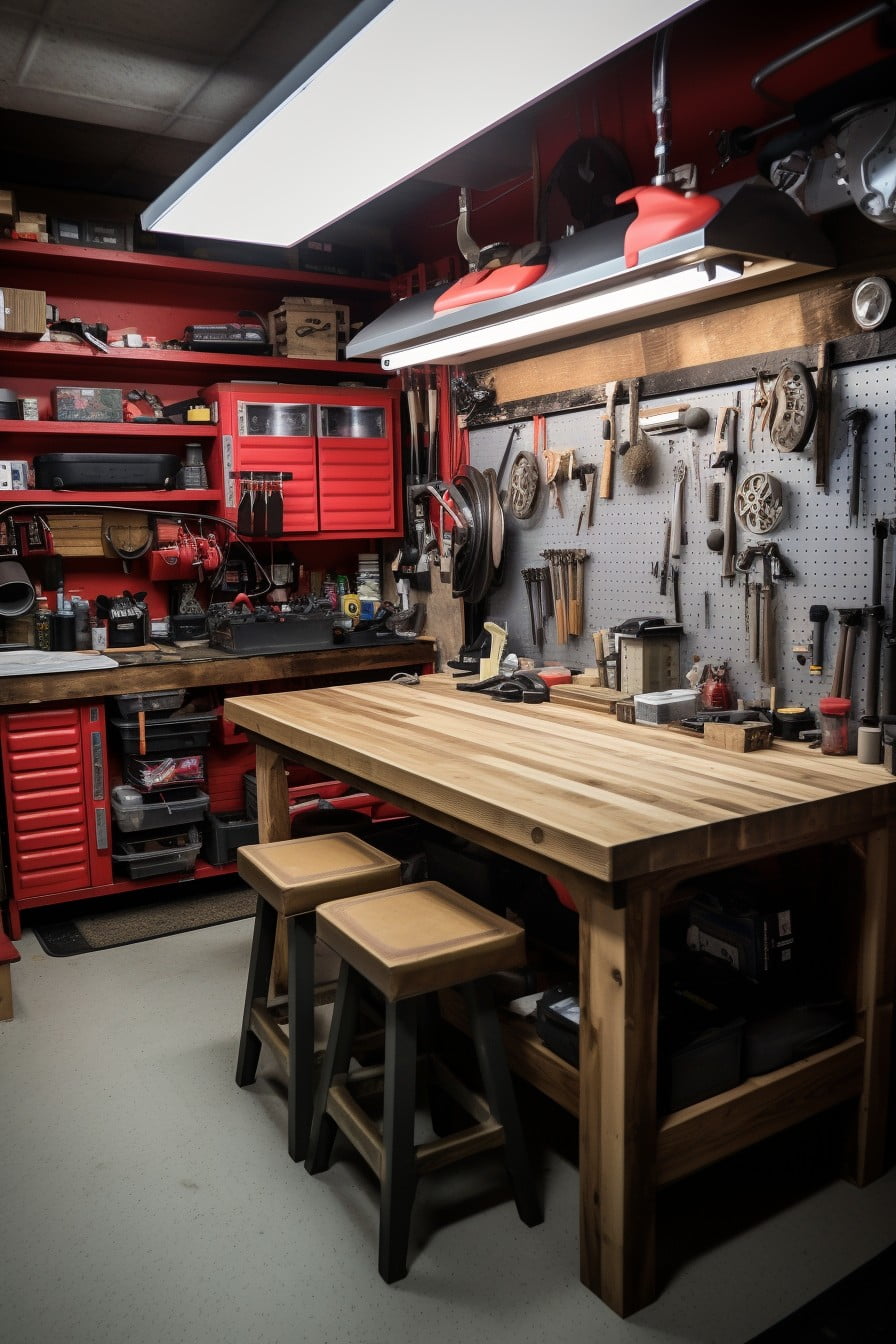 Having a dedicated workspace is the cornerstone of an efficient man-cave garage. Whether you're a woodworking hobbyist, a car mechanic enthusiast, or a tinkerer of any sort, creating a productive workshop at home adds both function and value to your space.
Key Points:
Workspace Design: Tailor the station to the nature of your DIY projects. Consider including a sturdy bench, necessary tools, and sufficient storage options.
Proper Lighting: Ample and direct lighting impacts precision in work. Incorporate task lights or install brighter overhead fixtures.
Tool Organization: Use pegboards, shelves, or tool chests for efficient organization and easy reach of your tools.
Safety Measures: A first aid kit, fire extinguisher, and non-slip floor mats are key safety additions to any workspace.
Convenience Additions: Installing a sink or using a portable vacuum cleaner can assist in quick clean-ups post-projects.
Remember, an efficient workspace reflects your interests, needs and ensures a seamless project execution. Make your man-cave not just a leisure space, but an arena for creativity and productivity.
Use Floor Mats With Car Logos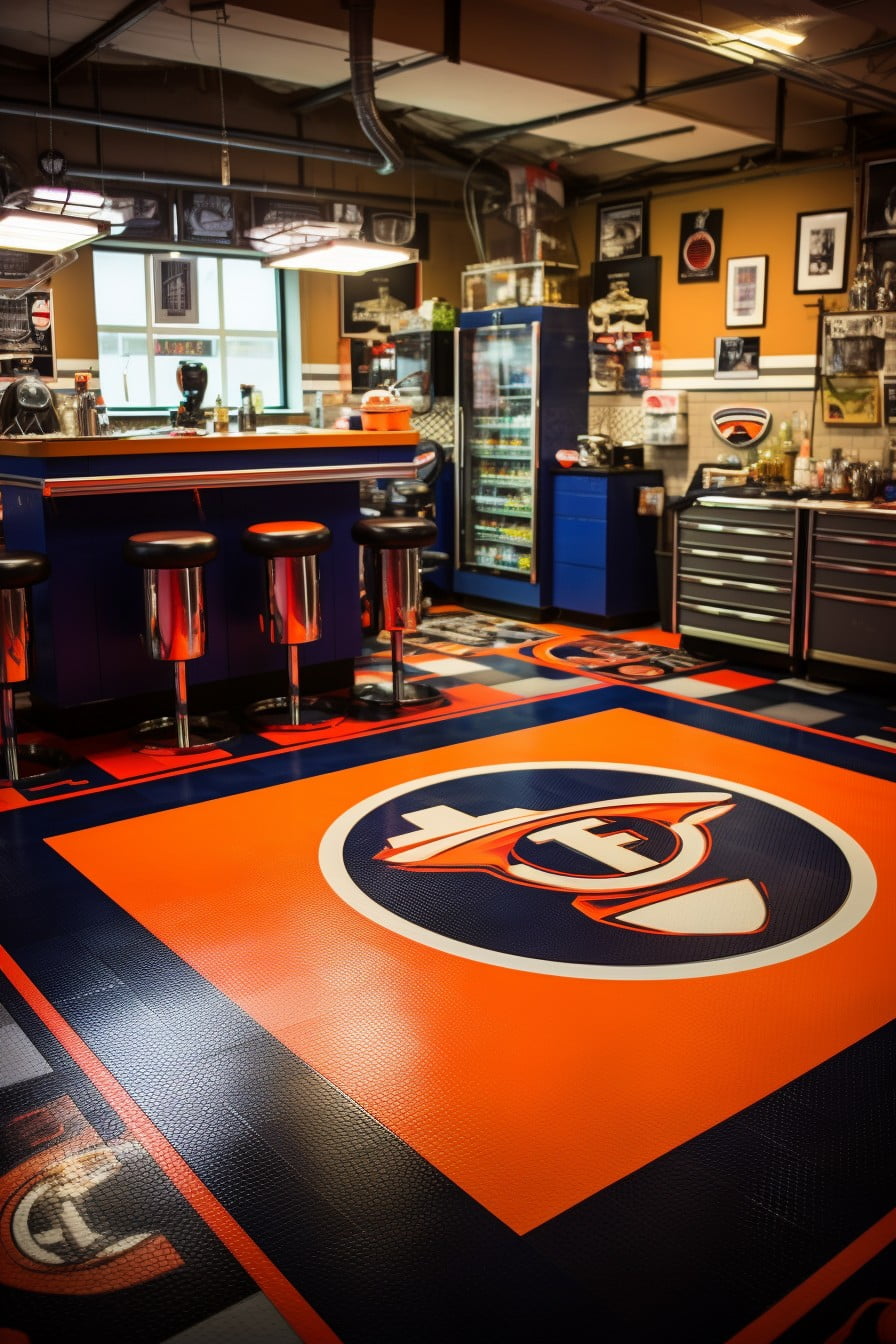 Floor mats, engraved with various car logos, can enhance the aesthetic look of your man cave, doubling up as both functional and decorative elements. They bring a unique twist to the garage's decor, underscoring the place's primary function.
Key points:
Floor mats safeguard your floors from spills and dirt.
Car logo engraving pays homage to your favorite automobile brands.
Mats provide aesthetic attractiveness, complementing your garage's theme.
You can use them strategically to differentiate functional spaces.
They are readily available and easy to maintain.
To maximize impact, consider mats emblazoned with the logos of iconic car manufacturers such as Ford, Chevrolet, or BMW. The variety of options available provides ample scope to customize your space to your liking.
Make a Record Player Corner
Enhancing the man cave's appeal, a corner dedicated to vinyl records offers both a vintage aesthetic and a delightful audio experience.
Key elements involved include:
Record Player: Choose a quality turntable with optimal sound output. Vintage record players with modern functionalities balance nostalgia and technology.
Adequate Shelving: Invest in open shelving or cabinet-style storage, which allows easy access to records while providing a visual showcase.
Seating: A single comfortable chair or beanbag should suffice, creating an ideal spot to relax and appreciate music.
Lighting: A soft lamp can set the right mood for this corner without overpowering the overall garage lighting.
Sound Insulation: Consider adding some, especially if the garage has thin walls. It will help in minimizing sound transference.
Having these components makes the set-up a haven for those who enjoy the rich, immersive sound of vinyl records.
Furnish With Comfortable Recliners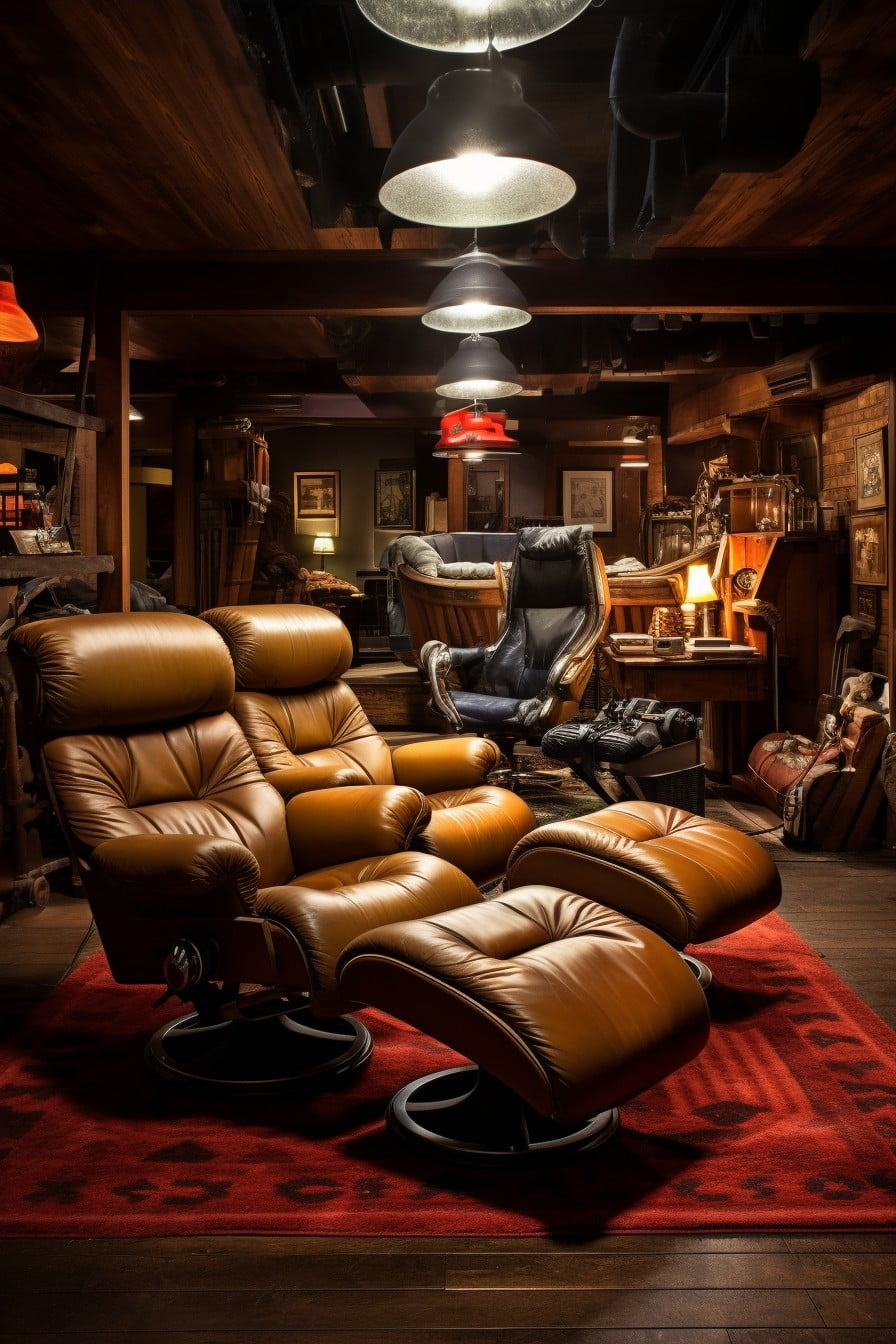 When considering relaxation after a long day at work, or watching a game over the weekend, nothing beats a well-positioned, plush recliner. Thus, it's pertinent to consider these factors to enhance the comfort of your man cave:
1. Materials: Leather recliners offer a classic, masculine look with durability, while fabric upholstered options deliver warmth and comfort for extended lounging sessions.
2. Size: Extra-wide recliners provide ample room for stretching out, while smaller models are ideal for compact spaces.
3. Features: Models with built-in cup holders, power recline functions, and heating or massage features significantly elevate the comfort level.
4. Positioning: Place recliners in a prime spot—for instance, facing the TV or offering a good view of the room—to maximize enjoyment.
Remember, it's not just about fitting your space; it's about creating an indulging personal retreat with the perfect balance of comfort and style.
Install Vintage Car Parts As Wall Decor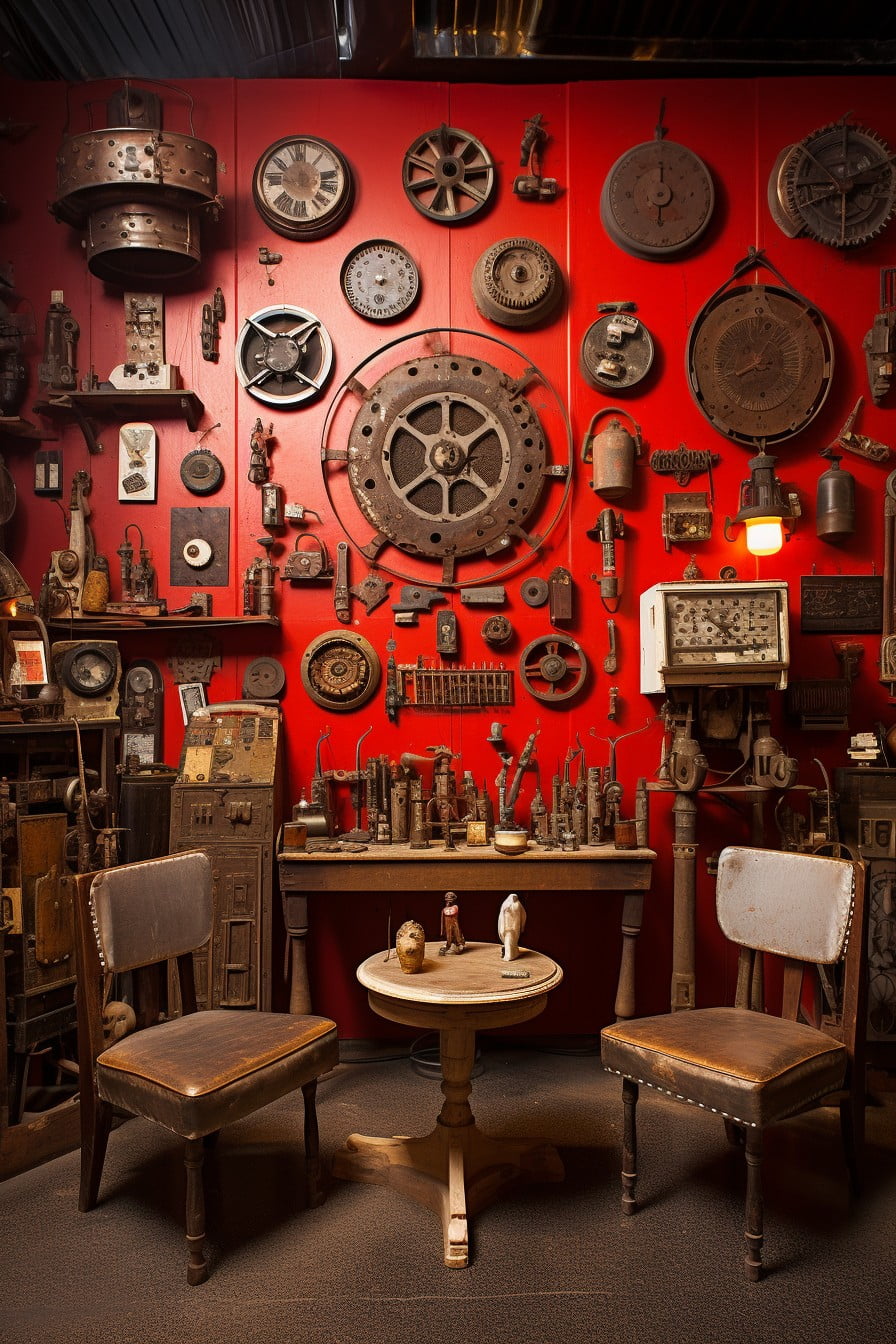 Approaching the interior with a classic appeal, this involves mounting pieces like salvaged hoods, vintage steering wheels, or framed license plates on your man cave walls. Here's what to keep in mind:
1. Sourcing the components: Visit local junkyards, flea markets, or online auction sites to gather unique parts.
2. Preparing the parts: Depending on the condition, you might need to clean, repair, or refinish the parts to bring out their rustic charm.
3. Arranging the parts: Think strategically. Distribute pieces to create a balanced, eye-catching display.
4. Fixing securely: Ensure each piece is secured well. Heavier parts may require support braces or stud mounting.
5. Lighting: Amplify the vintage vibe by strategically placing accent lights to highlight these masterpieces.
Using automobile parts not only speaks to a love of vintage decor, but also car culture, giving your man cave a personal, nostalgic touch.
Create a Wall of Fame With Framed Posters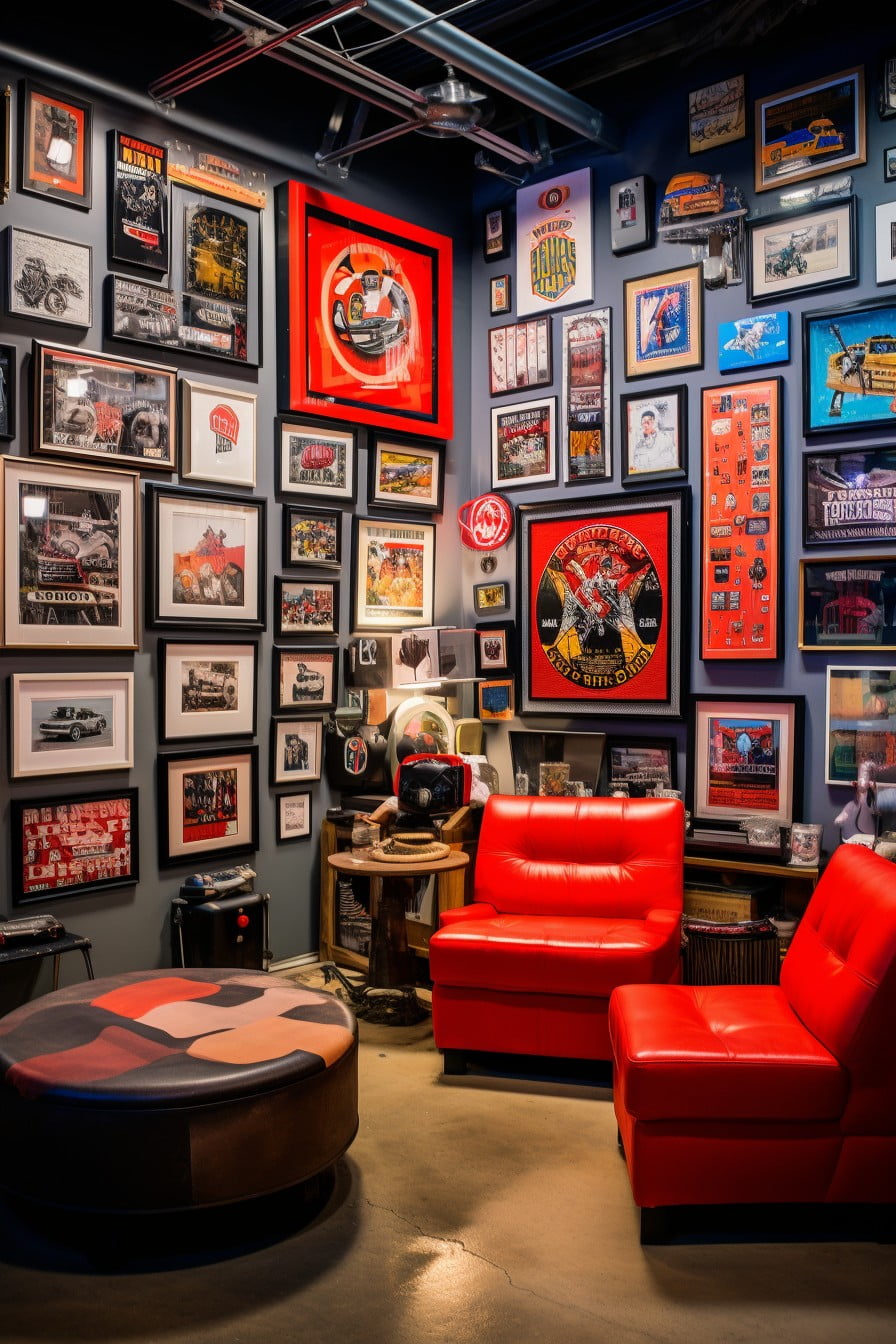 To create an engaging backdrop, consider selecting artwork or posters that call attention to personal passions or interests. Movie or concert posters, vintage ads, or iconic images all work well. Follow these steps for a styled arrangement:
1. Curate Selection: Align choices with the overall area theme. Consider different eras, genres, or subjects.
2. Framing: Inject a layer of sophistication by framing the artwork. Uniform frames offer a sleek and clean look while mixed framework adds an eclectic touch.
3. Layout Design: Arrange in a tasteful manner, either symmetrically for a classy appeal or asymmetrically for a modern twist.
4. Hanging: Ensure secure installation with proper hooks and nails, hung at eye level for optimal viewing.
5. Lighting: To further accentuate, consider focused spotlights pointing towards the art.
The "wall of fame" marks a thoughtful addition, offering not only visual interest but also conversation starters that inject personality into the space.
Set Up a Music Jamming Space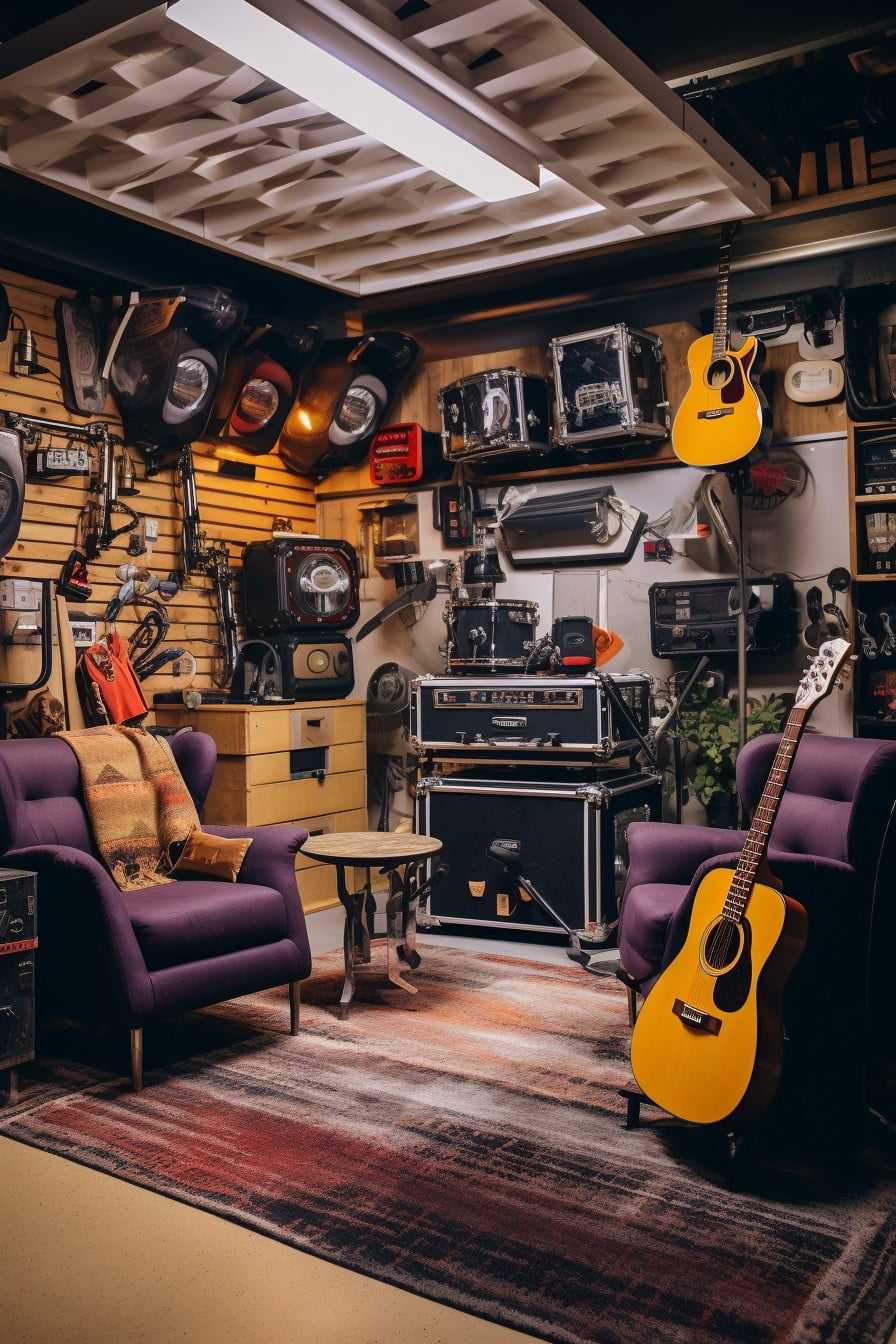 Turning a portion of your garage into a music jamming space can inject a dynamic and creative energy into the man cave. Firstly, consider soundproofing the area to avoid disturbing neighbors or other household members. Use acoustic panels or soundproof paint on the walls, and dampening pads under drum sets or amplifiers.
Next, establish a specific area for the instruments. The arrangement will depend on the kind of instruments you play. For instance, if guitars are your go-to, invest in some guitar stands or wall hangers.
Ensure there is adequate lighting, which is particularly important for reading sheet music. A mixture of both task and ambient lighting would be beneficial. Choose adjustable options to customize the brightness for different scenarios.
Finally, remember to create a comfortable and inviting vibe. Add in a rug for better acoustics and comfortable seating for when you need a break.
Key Points:
Soundproof the area
Arrange spaces for instruments
Ensure adequate lighting
Create a comfortable ambiance
Install a Projector for Movie Nights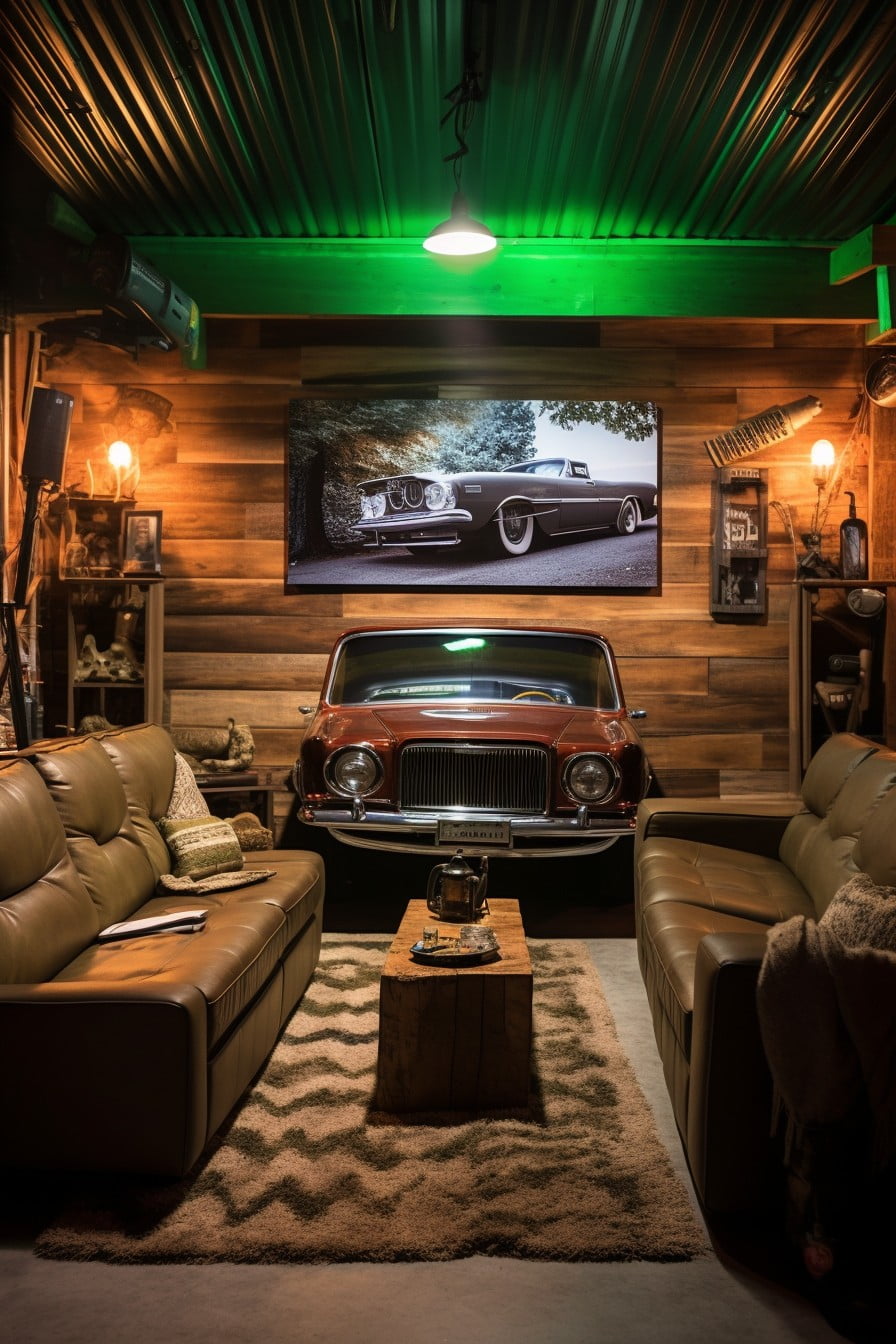 A projector elevates your viewing experience, creating a private cinema right in your garage. Think large scale, high definition visuals, paired with great surround sound systems for that immersive experience.
Key points to consider include:
1. Projector Quality – Opt for high-resolution models for clearer pictures.
2. Sound System – Complement the visuals with a high-quality surround system.
3. Seating Arrangement – Choose comfortable seating, considering the projector's angle.
4. Lighting – Opt for dimmable lights to control the ambiance during screenings.
5. Screen – A white wall suffices, but a retractable screen provides better visuals.
By incorporating these elements, your projector setup in the man cave is certain to be an instant hit. Whether it's watching sports, a movie night, or gaming, the experience is bound to be unique and thrilling.
Add a Pinball Machine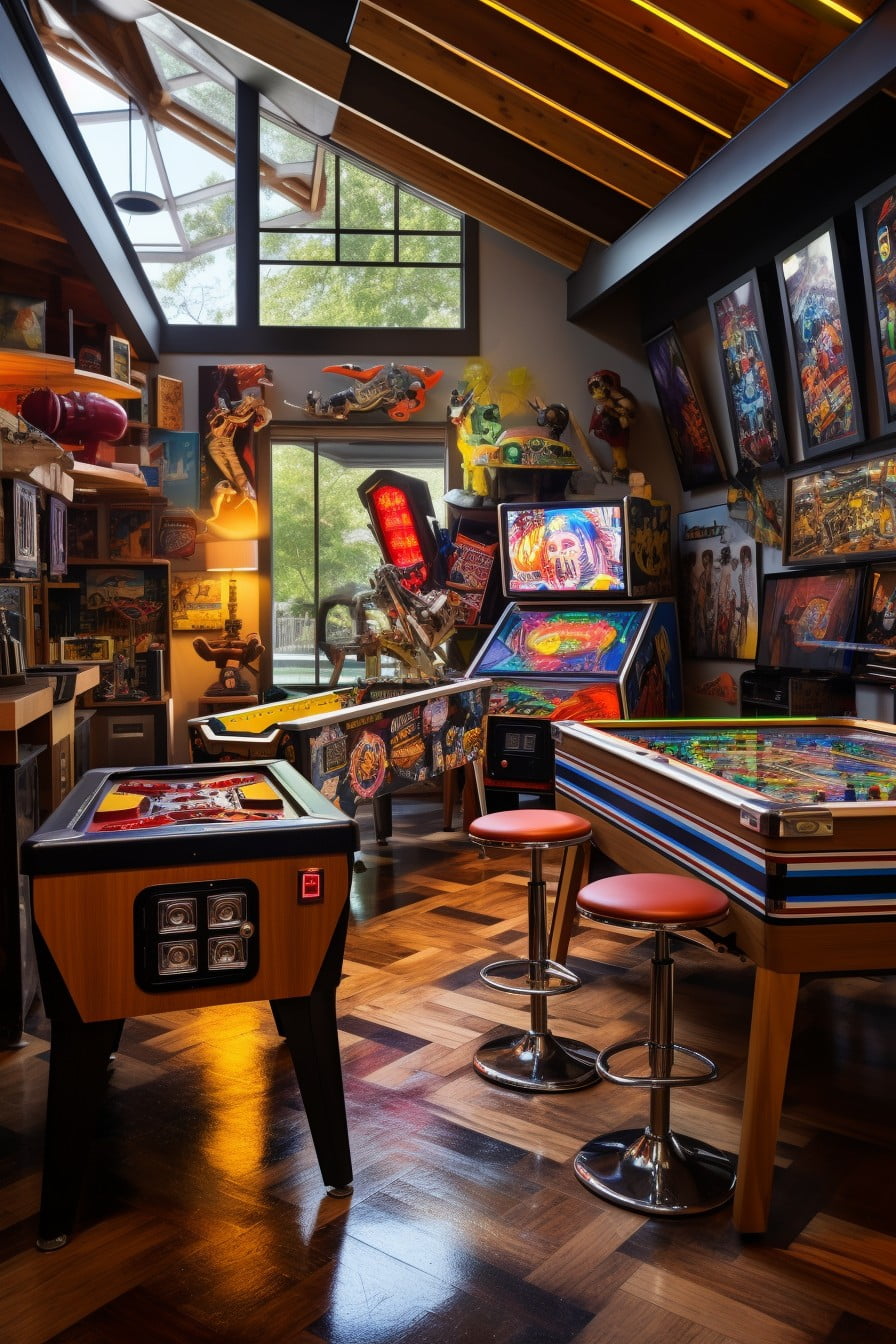 A pinball machine can serve as an entertaining focal point, infusing a retro vibe into your garage man cave. For enthusiasts, selecting the perfect pinball machine might hinge on the theme, gameplay complexity, and era of manufacture.
Key Points:
1. Choosing your Machine: Consider acquiring a machine themed around a favorite band, movie, or era. It's your personal space after all, make it resonate with your preferences.
2. Placement: Pinball machines can be noisy. Hence, placing them farther away from quiet spaces can help maintain a balance within the man cave. Also, remember to keep the area around it clear for the player to move freely.
3. Maintenance: Mechanical elements require upkeep. A routine cleaning, waxing, and circuitry check can help in maintaining the machine's longevity and playability.
4. Lighting: Illuminate the machine area appropriately. Pinball involves quick reaction times, and proper lighting ensures better visibility.
5. Multi-functionality: Apart from being a game, a pinball machine acts as a conversation starter, a showpiece, and a reminder of the glorious past of gaming.
Remember, the aim is to enhance the garage man cave experience, while keeping the essence of the pinball game intact.
Install a Hammock for Relaxing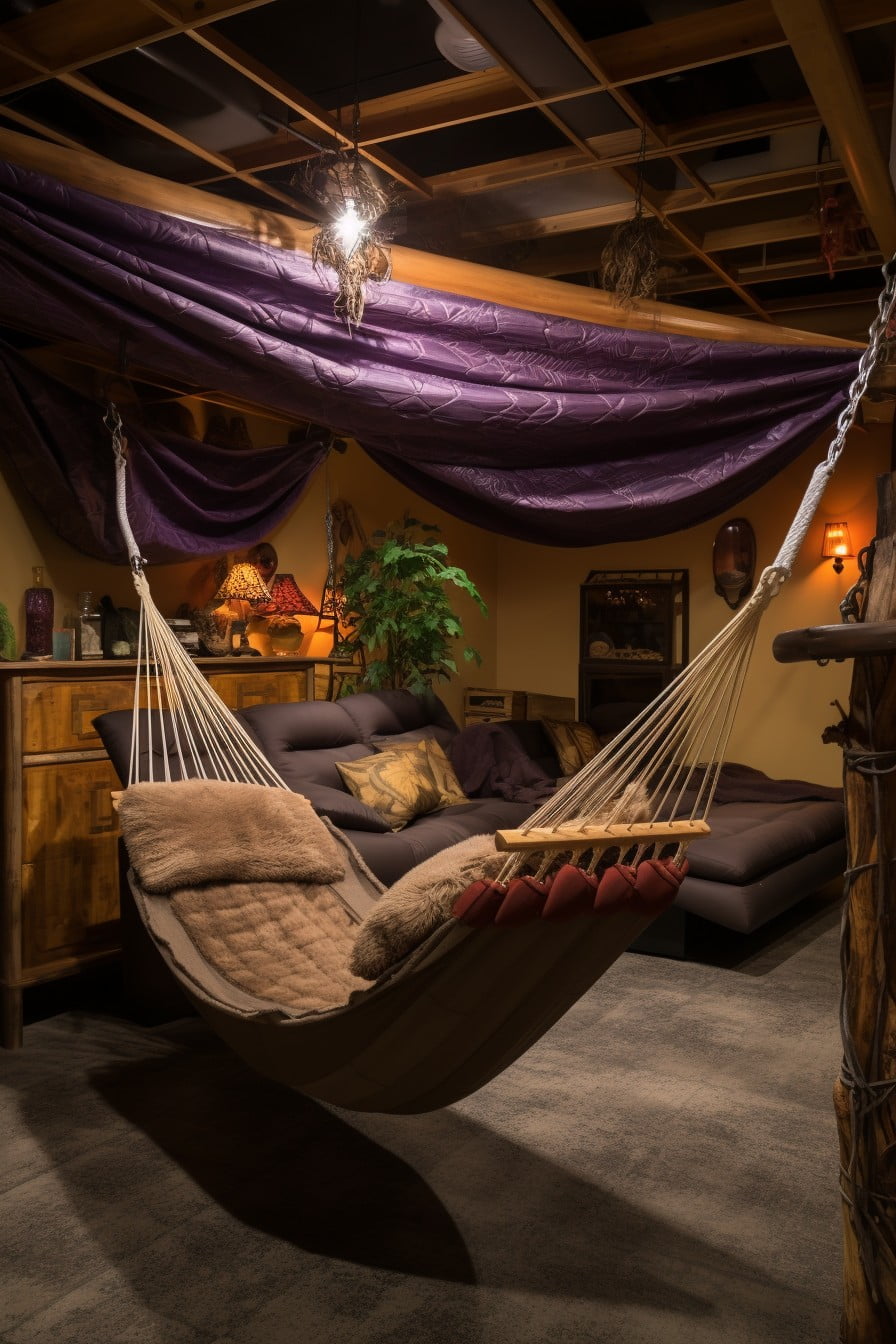 Suspended between a couple of sturdy beams, a hammock becomes an invitation to slow down amidst the bustle. Given the flexibility, it can be strung up when desired and stashed away when floor room is required. Ideal for an afternoon siesta or an immersive reading session, it brings a vacation-vibe right into your man cave.
Key points:
1. Select a hammock with durable, high-quality material.
2. Ensure the hammock is installed properly for safety.
3. Choose a location in your garage that maximizes space.
4. Opt for a style that fits with the overall man cave décor.
5. Keep in mind comfort and usability when choosing a hammock.
6. Consider a hammock with a stand if beams are not available.
7. Ensure there is enough distance and height for the hammock to hang properly.
Use Metal Signs and License Plates As Decorations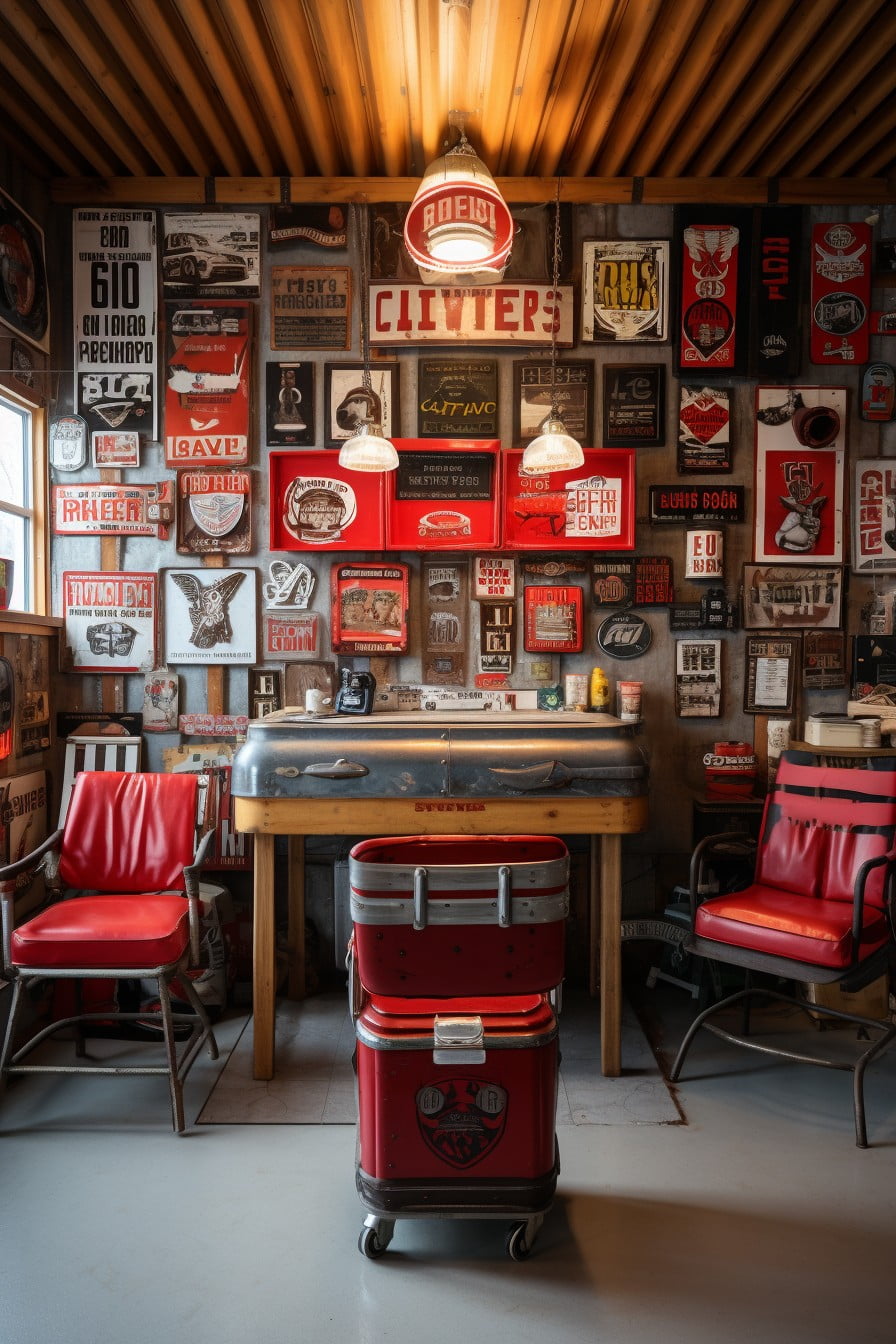 Metal signs and license plates can work wonders in adding a raw, rustic charm indicative of a countryside pit stop. They are a unique touch, echoing a globe-trotting spirit and love for the open road.
Here are few ways to incorporate this decor idea:
Thematic Collection: Display signs from different states or countries for a geographical theme.
Vintage Appeal: Opt for older, distressed signs to give a feeling of history and time past.
Contrasting Colors: Choose signs with varying colors to create a vibrant, visually appealing wall.
Unconventional Uses: Consider using plates as a border for mirrors or picture frames.
Humour Element: Use signs with witty or humorous quotes to infuse a fun, lighthearted touch.
Remember, the arrangement of these pieces can greatly influence the overall aesthetic. Endeavour to balance visual weights for a harmonious display.
Related: