Last updated on October 28, 2023
Explore these innovative garage ideas that transform your space into a practical, organized haven while boosting your home's appeal and functionality.
"I take immense pride in curating these 20 cool and innovative garage designs, and I genuinely hope they inspire you as much as they excited me during the creation process."
Transforming your garage into a cool and functional space can be a fun and rewarding project. Whether you're looking to create a man cave, an organized workshop, a home gym, or even a game room, there are countless ways to upgrade this often overlooked area.
In this article, you'll find a wide range of cool garage ideas that cater to different needs and preferences. From flooring and lighting options to storage and decor ideas, we've got it all covered. So, let's dive in and start exploring these innovative ideas that will help you get the most out of your garage space.
Epoxy Flooring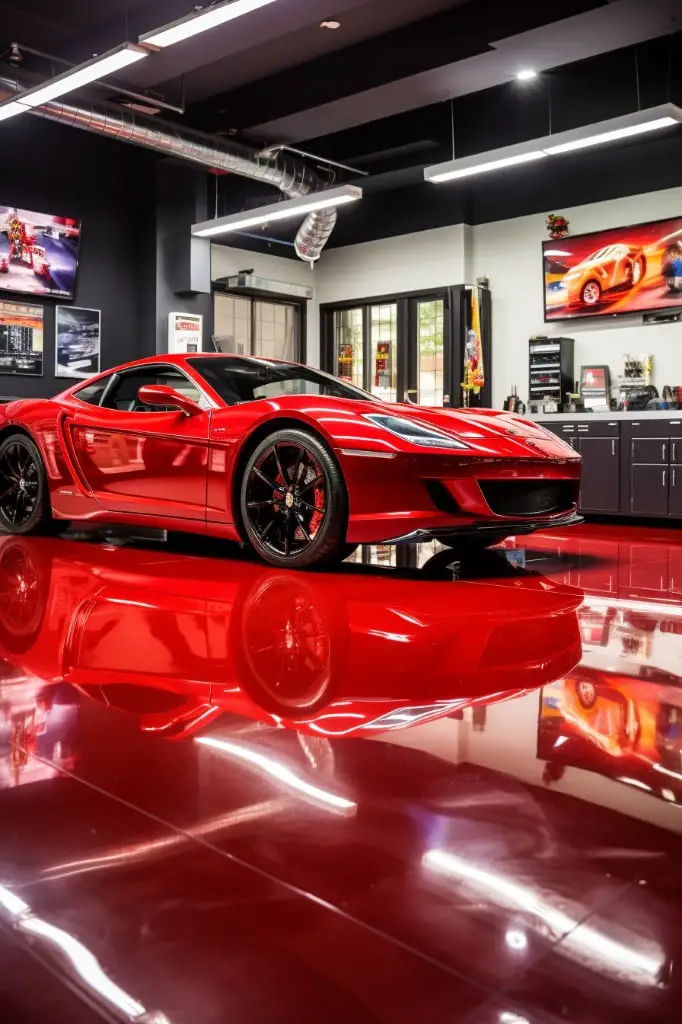 To transform your garage into a sleek and clean space, consider investing in epoxy flooring. Known for its durability and wear resistance, epoxy is a material that offers both aesthetic appeal and superior protection for your concrete floors.
Key points to understand about epoxy flooring include:
Durability: Epoxy can withstand heavy loads, making it ideal for garages where vehicles or heavy equipment are stored.
Maintenance: This flooring type is easy to clean due to its resistance to oil, grease, and other common garage stains.
Installation: While it's possible to install epoxy flooring as a do-it-yourself project, professional installation guarantees optimal results.
Customization: Epoxy comes in a variety of colors, textures, and finishes, allowing full customization to match your garage's overall design.
Safety: With its bright, reflective surface, epoxy flooring enhances visibility in the garage. Also, its anti-slip features ensure safety.
Overall, epoxy flooring stands as an excellent choice for any garage upgrade, combining functionality, aesthetics, and safety in one package.
Climbing Wall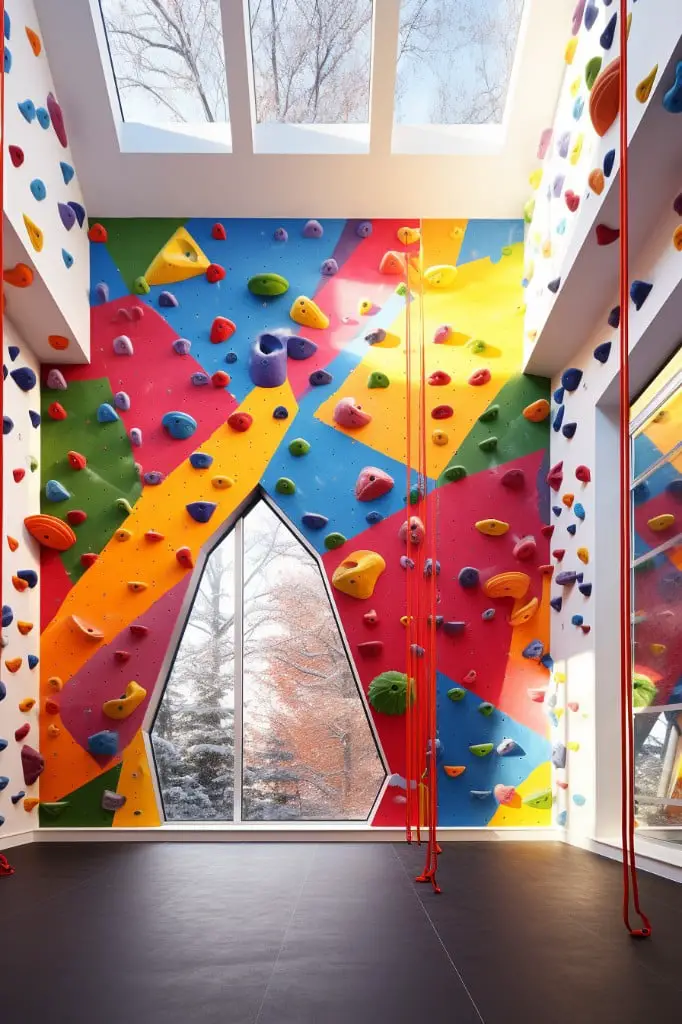 Integrating a climbing wall can morph your garage from functional to fun while maximizing vertical space. It can prove to be not just an exciting addition for those with an adventurous bent, but also an effective fitness tool.
Key Points:
DIY or Professional Installation: Depending on the level of expertise and customization required, consider if this will be a do-it-yourself project or if professional help is needed.
Materials: Hardwood, plywood, and T-nuts are essential materials for the wall. Varying climbing hold shapes and sizes can increase challenge levels.
Safety Measures: Install a thick crash pad at the base of the wall to prevent injuries. Make sure the wall is securely attached to studs in the garage wall, and don't forget to consider total weight capacity.
Space Assessment: The size and design of the wall will largely depend on the available garage space. Think creatively about how the wall can wrap around corners or ceilings for added difficulty.
Maintenance: Regular checking of the condition of the wall and holds is critical to ensure safety and longevity.
Built-in Tool Cabinets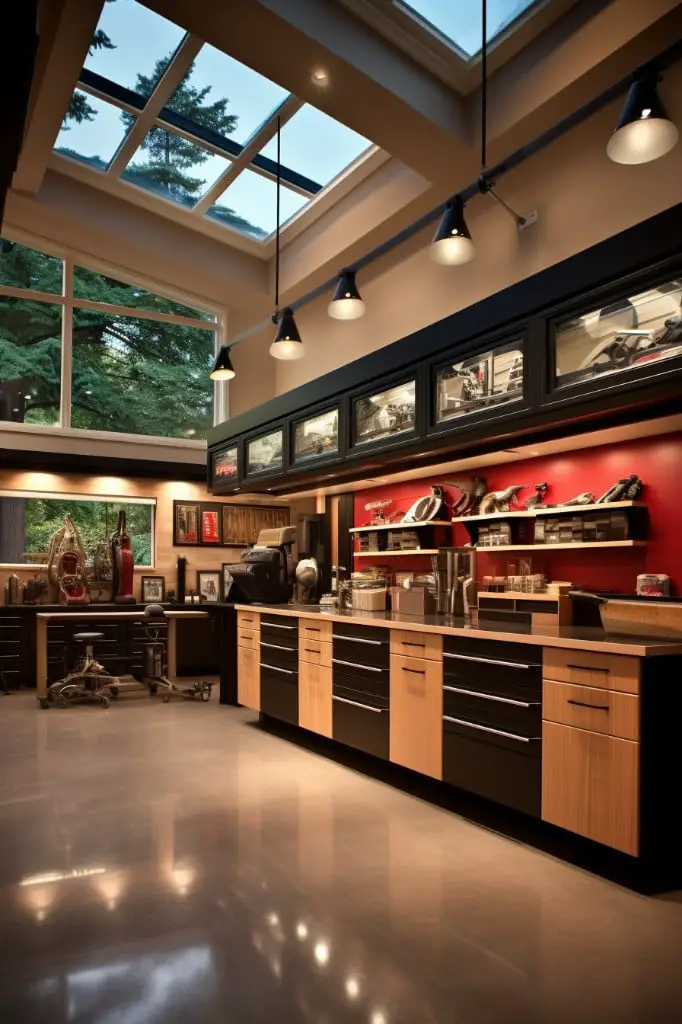 Incorporating built-in tool cabinets into your garage design maximizes space-efficiency and keeps your workstation organized. These custom cabinets give your tools a specific home, making it easier to find what you need when you need it. This reduces the time spent searching for tools and enhances productivity.
Here are the key concepts to understand:
Space planning: Cabinets can cover a wall or be strategically placed for optimal access and flow.
Customization: Cabinet sizes and designs can be tailored to fit specific tools and equipment.
Integrated Design: Cabinets can seamlessly blend with the overall garage decor enhancing aesthetics.
Durability: Heavy-duty material options ensure longevity against elements typically found in garages.
Safety: Lockable cabinets secure dangerous tools and chemicals, providing a safer environment especially for households with children.
Adjustable Workbench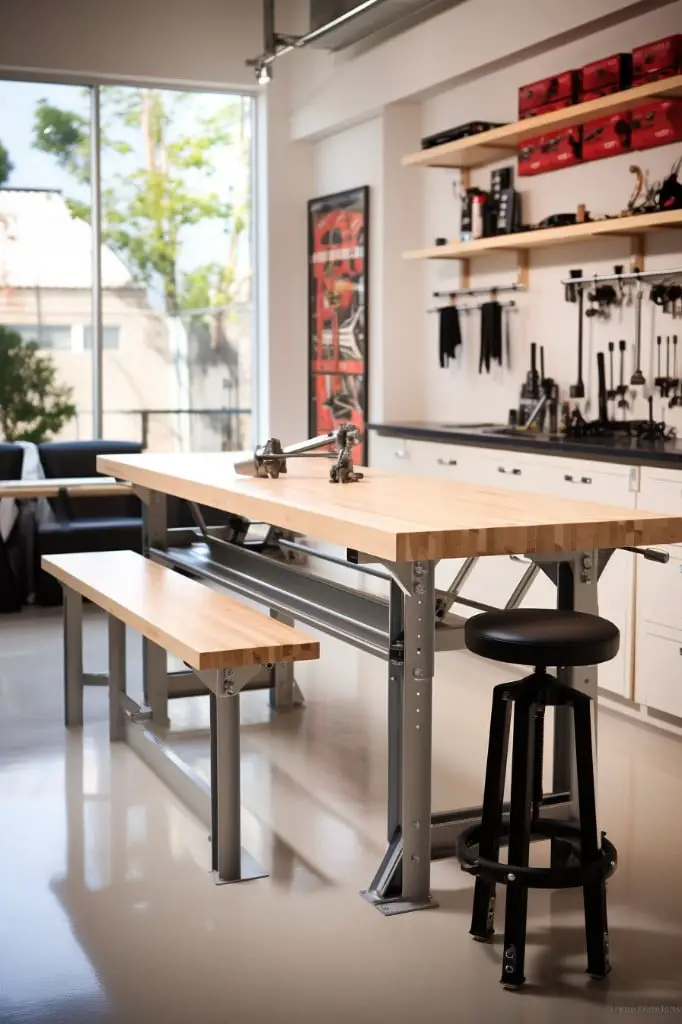 An adjustable workbench proves itself as an invaluable asset, particularly in homes where diverse projects are tackled. It caters to various tasks by allowing alterations in height and configurations.
Key Points:
Flexibility: Adjust to the demands of different projects. Whether you're painting, woodworking, or repairing, it allows for a designated workspace that can be modified based on the task at hand.
Ergonomics: It safeguards your health. Adjusting the height can prevent straining your back, fostering a better posture and promoting ergonomic efficiency.
Space-saving: A foldable design provides significant space when not in use. Strategically mounted against the garage wall, it unfolds when needed and stows away after use, thereby optimizing garage space.
Versatility: Use it as a traditional workbench or convert into a sawhorse or scaffold based on your needs.
Durability: Typically made from resilient materials like stainless steel or robust wood, it offers longevity, sustaining weighty tools and heavy-duty projects.
Gym or Yoga Studio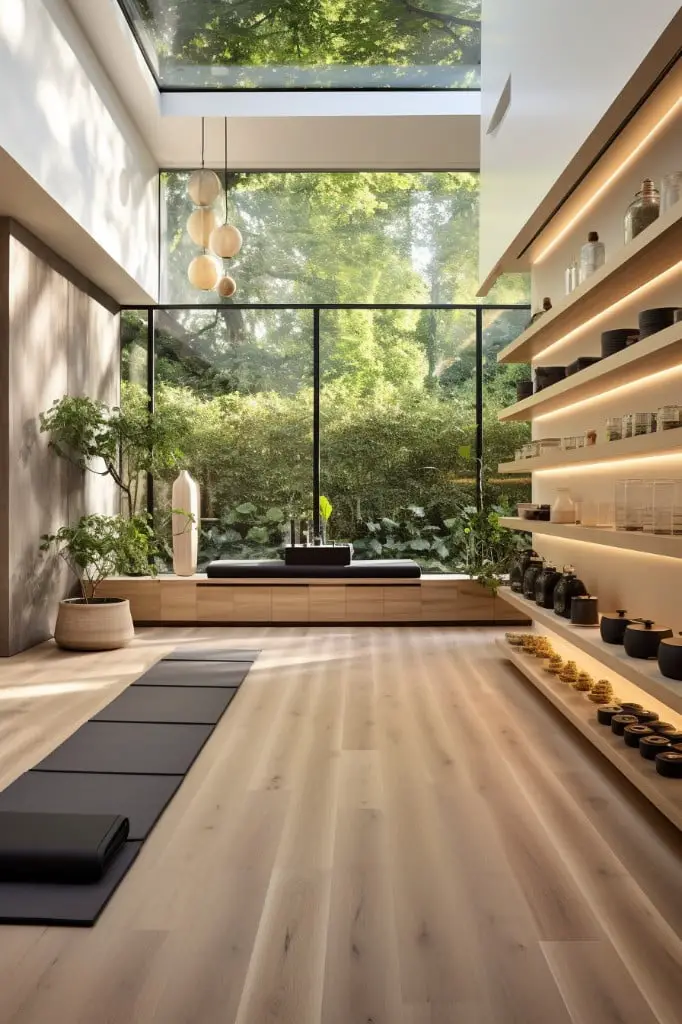 Transforming your garage into a personal fitness or yoga studio adds functionality, promotes wellness, and can increase property value. This conversion process often requires fewer structural changes than other renovations. However, factors to consider include the need for adequate space for equipment, natural light provision, mirrors, flooring suitable for workouts, and temperature control for comfort.
Key Points:
Space: Determine what fitness equipment or yoga necessities will be housed and ensure an appropriate floor plan with ample space.
Natural Light: Incorporate windows or skylights to increase light. Lighting promotes a sense of well-being, vital for a gym or yoga center.
Mirrors: Install mirrors to enhance the feeling of space and enable correct form during exercise.
Flooring: Rubber flooring is popular due to its resilience, ease of maintenance, and ability to absorb impact.
Temperature Control: Install a heating or cooling system, or an energy-efficient alternative, to maintain comfort during workouts.
Noise management: Insulating the room will contain noise, preventing disturbances to the household while exercising.
This goes beyond aesthetics; a well-planned gym or yoga studio can be a motivational tool that encourages regular fitness routines.
Custom Storage Solutions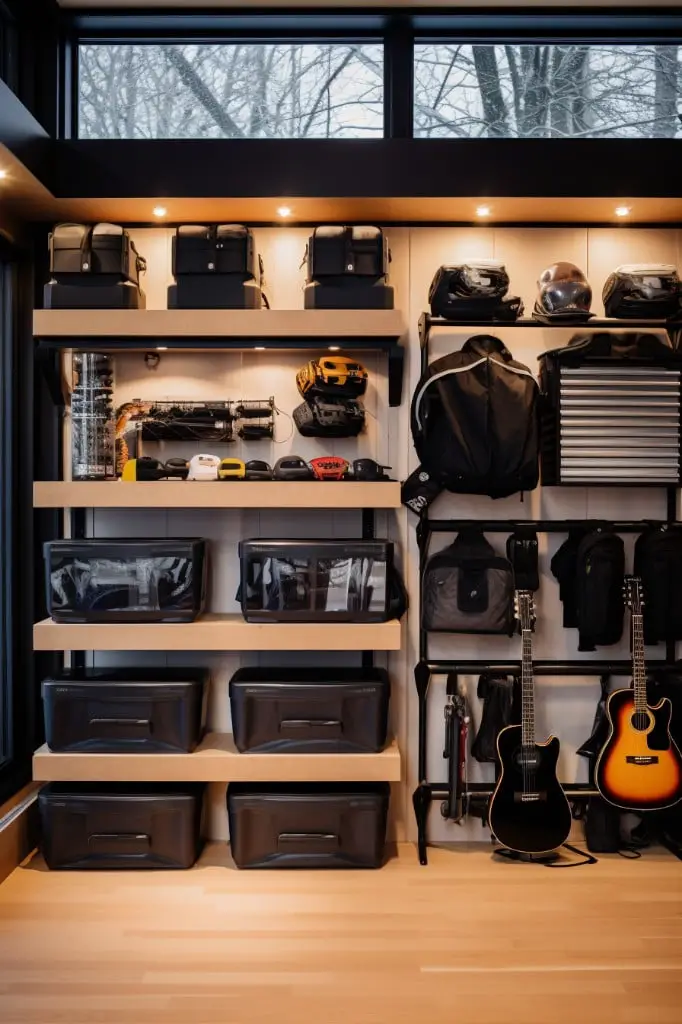 Capitalizing on every inch of space, custom storage solutions allow for an efficient and well-organized garage environment. Here are some fundamental concepts behind these solutions:
Modular Storage: Provides flexibility. Can be rearranged based on the changing needs and types of items to be stored.
Built-in Cabinets: Aesthetically pleasing and perfect for storing tools, auto parts, cleaning supplies, and more.
Overhead Racks: Utilizes ceiling space for storing lesser-used items.
Pegboards: Ideal for hanging tools, making them easily accessible.
Slatwall Panels: Enables attaching various racks, bins, and baskets, maximizing wall space.
Corner Shelves: Takes advantage of often overlooked corner areas.
Remember, making smart use of space can provide a more productive, convenient garage area. A well-organized garage speaks volumes about one's home management skills.
Vintage Gas Station Theme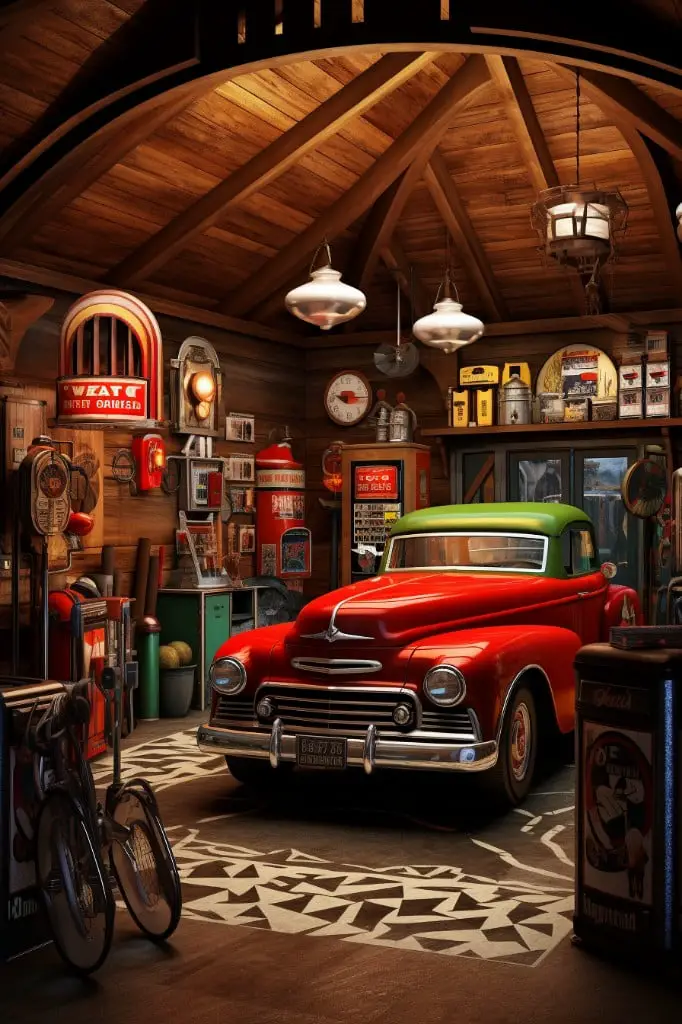 Embracing a vintage gas station theme can offer an authentic retro feel to your garage. This involves a number of key elements:
1. Memorabilia: Collect and display vintage items such as old gas pumps, oil cans, or signage from antiquated gas stations.
2. Color Palette: Adopt colors reminiscent of the era – think red, white, and blue of the 50s service stations or the green and yellow of a classic John Deere station.
3. Flooring: Consider installing checkered flooring which was a staple in old-time gas stations.
4. Furnishings: Opt for vintage furniture. A repurposed service counter can serve as a unique workbench.
5. Lighting Fixtures: Vintage pendant lights or old-school neon signs can enhance the authenticity of the theme.
Remember, attention to detail can truly bring a vintage gas station theme to life. Collecting artifacts over time will add history and personal touches to your space.
Motorcycle or Car Display Area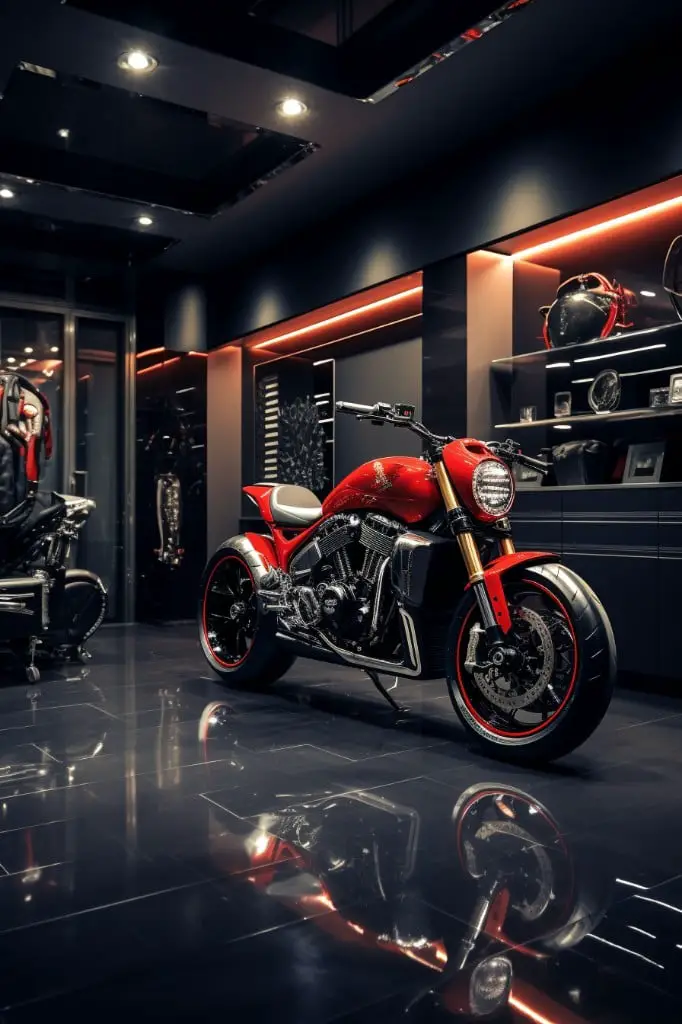 Shelving units, recessed spotlighting, and polished concrete floors can elevate your garage into a showroom for beloved bikes or classic cars. Depending on your aesthetic, you may choose vintage or modern shelving and alcoves for displaying helmets, tools, and other accessories.
Key points:
Use shelving units or alcoves for displaying accessories.
Recessed spotlighting showcases your bike or car.
Polished concrete floors offer an elegant show area.
Create a theme – vintage or modern, aligning to personal tastes.
Top it off with a poster or wall art reflecting the era or make of your favorite vehicle.
Sports Equipment Storage System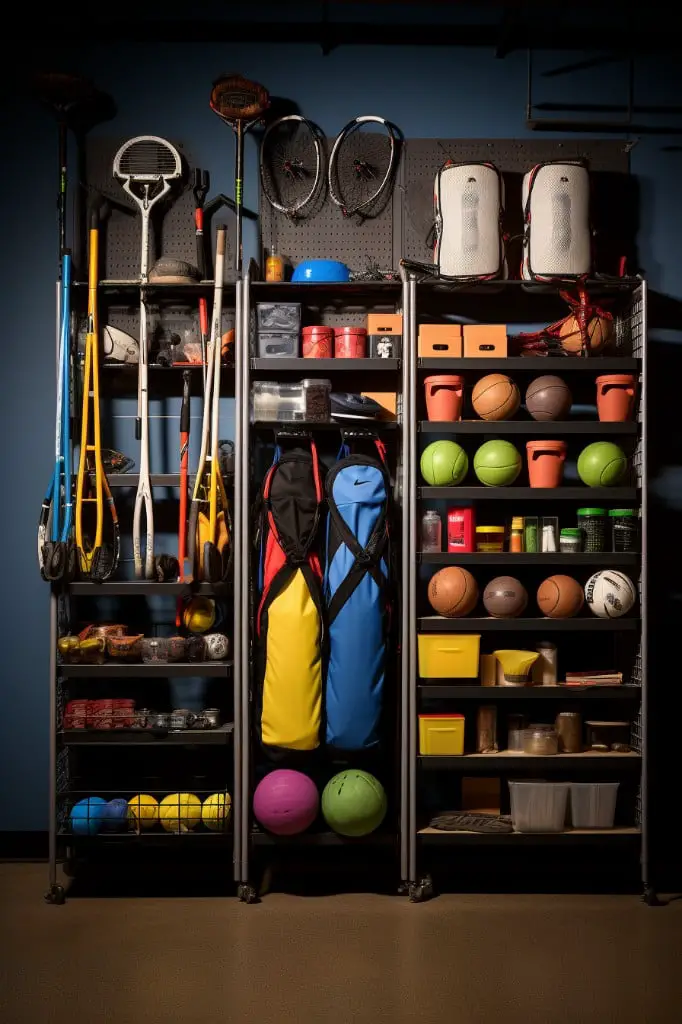 Harnessing vertical space for storage optimization can not only save floor space, but also neatly categorize sports gear for easy access. Here are a few key points to consider:
1. Wall Racks: Depending on your sport preference, wall racks can accommodate footballs, baseball bats, tennis rackets and so on. Ensure racks are sturdy and offer secure hooks or slots.
2. Cabinets For Smaller Equipment: For smaller items such as golf balls or mitts, dedicated cabinets with drawers can provide organised storage.
3. Floor to Ceiling Net Bags: A smart choice for lightweight items like yoga mats and basketballs, these bags take up minimal space and provide easy access.
4. Peg Boards: A versatile solution, peg boards with movable hooks can customize storage for skateboards, helmets, or protective gear.
5. Bins and Boxes: Perfect for grouping items, label each box or bin based on the type of sport or family member for clean compartmentalization.
6. Custom Solutions: Based on given space and requirements, local carpenters or home improvement stores can create personalized systems.
Properly designed storage for sports equipment not only extends gear lifespan by preventing damage, but simplifies organization and increases available garage space.
Mini Movie Theater Setup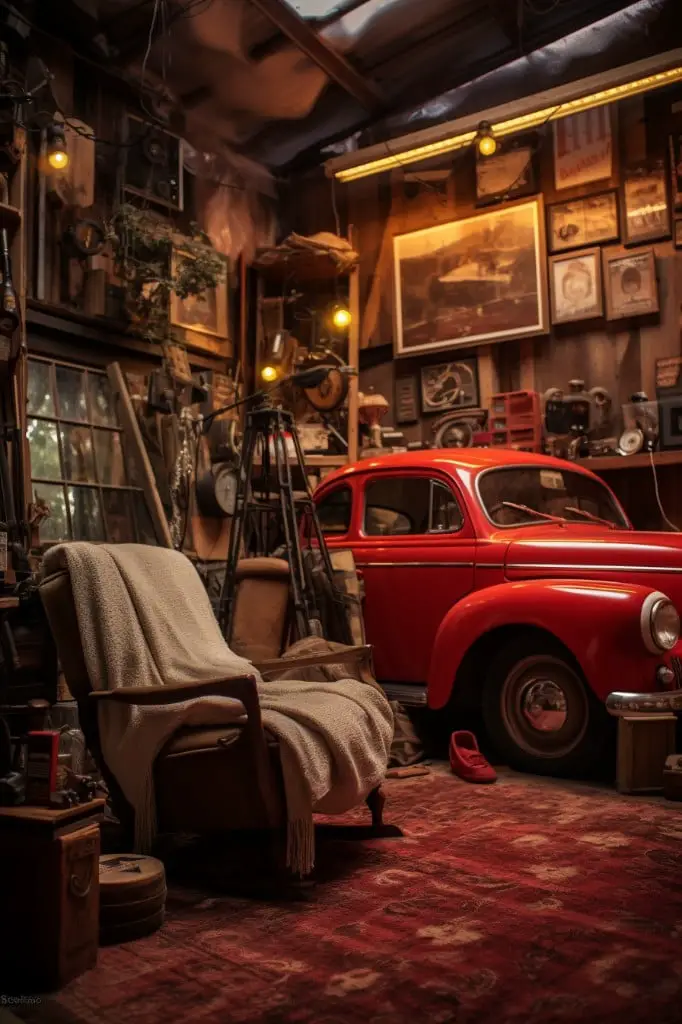 Creating a mini movie theater setup can elevate your garage into a space of relaxation and entertainment. Firstly, designate a wall for the projection of movies, ensuring it is smooth and painted in a neutral shade.
For an even higher quality visual experience, consider investing in a retractable projector screen. Next, consider the acoustics – soundproof panels can provide a controlled audio environment, enhancing your cinematic experience.
Comfort is essential, so considering plush seating options, like reclining chairs or even a cozy couch, is a must. Lastly, don't forget the ambiance. A dimmable lighting system can set the right mood for every film.
Key Points:
Projector screen or wall.
Acoustic soundproofing.
Comfortable seating.
Dimmable lighting system.
Bike Racks and Wall Mounts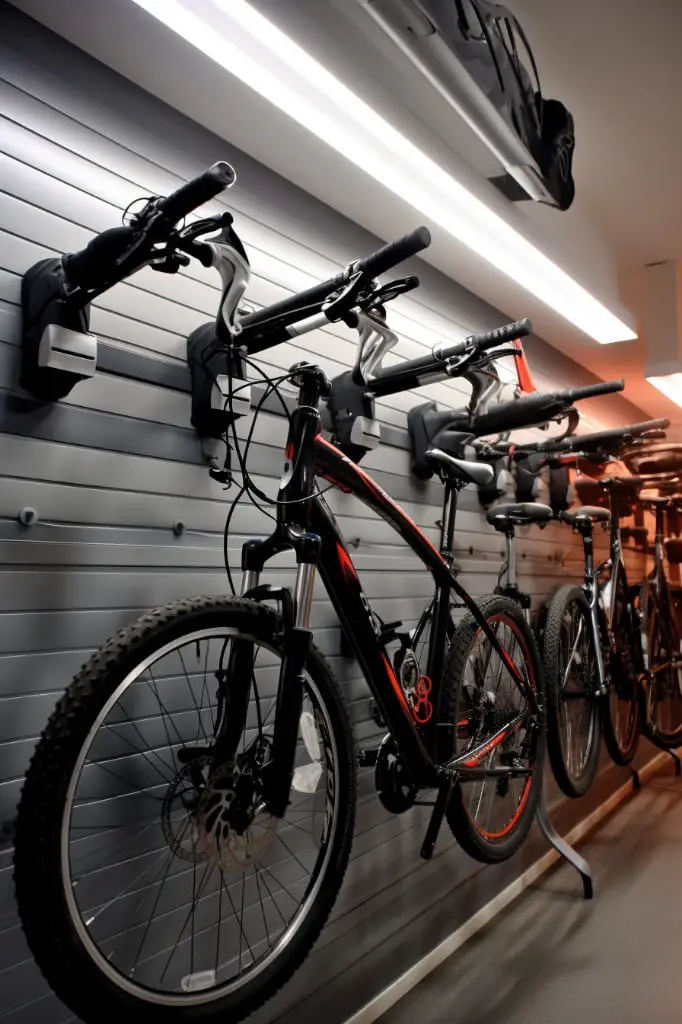 Capitalizing on vertical space can dramatically enhance your garage's functionality. Implementing wall mounts for bikes is an elegant and efficient way of accomplishing this. Compared to conventional floor stands, wall mounts save significant space, providing unobstructed pathways and a cleaner look.
Key Points:
1. Variety of Options: From simple hooks to advanced hanger systems, the range is wide and suiting every storage or decor need.
2. Easy Installation: Minimal tools and time needed for installation. Most systems come with detailed guides.
3. Accessibility: Serves to keep bikes easily accessible while securing them from potential damages.
4. Space Optimization: Frees up floor space, making room for other purposes in the garage.
5. Aesthetic Appeal: When carefully selected and installed, can add a touch of modernity to your garage.
Remember, it is important to ensure the wall mounts are securely fastened. This will prevent any bike falls and consequent damage to your vehicle or garage floor.
LED Lighting Fixtures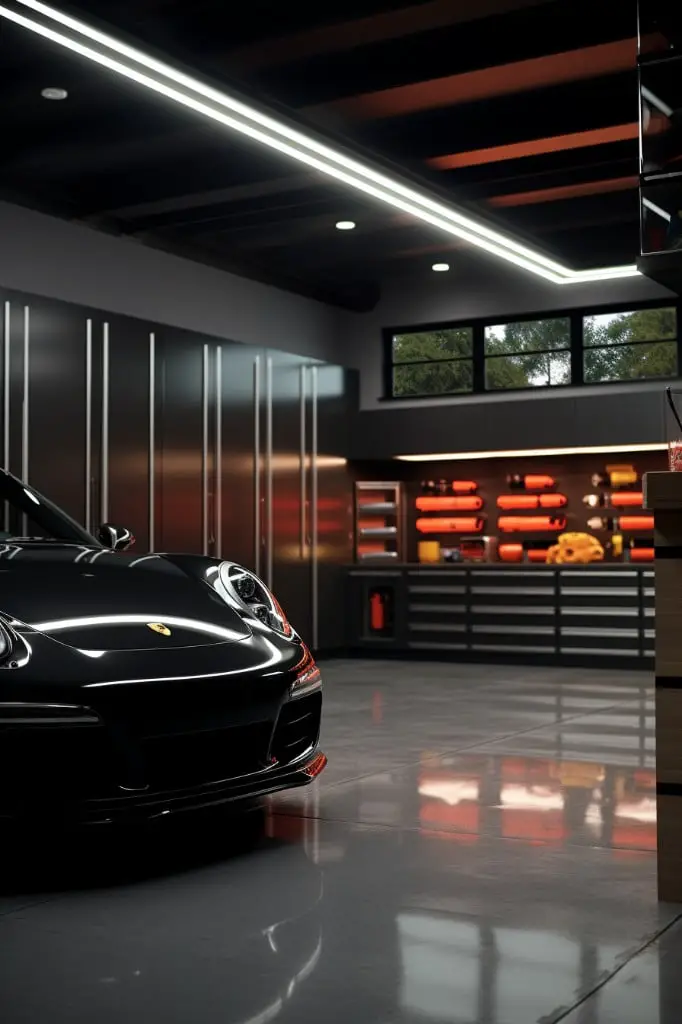 The practical and aesthetic benefits of LEDs can considerably enhance a garage's appearance and functionality. LEDs consume less power and last longer compared to traditional incandescent lights, making this a favorable choice for energy-conscious individuals.
Key Points:
Energy Efficiency: LEDs utilize approximately 75% less energy than incandescent lighting.
Durability: LED bulbs have a lifespan of up to 50,000 hours, far outlasting traditional options.
Improved Visibility: LEDs provide bright, clear light that's ideal for workshop tasks.
Variety: LED fixtures come in a range of designs to fit any garage layout or aesthetic preference.
Safety: LEDs do not contain toxic substances and register lower temperatures, thus reducing risk of accidents or fires.
Installing LED lighting fixtures in your garage not only ensures better visibility but also provides a modern and sophisticated look while taking safety and power consumption into consideration.
Man Cave With a Mini Fridge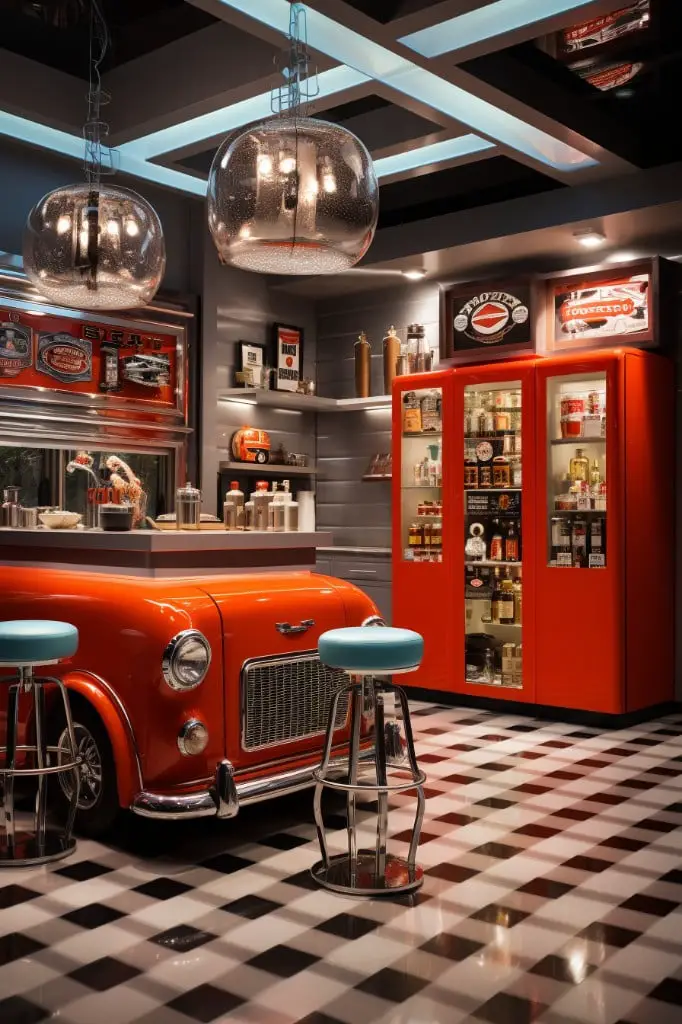 Understanding the importance of personal amenities within your at-home sanctuary, a man cave accommodates all your needs. Integrating a mini fridge ensures that refreshments are always within arm's reach, and this convenience enhances the overall experience, whether you are watching the big game or engaging in some quiet contemplation.
Key points:
1. Provides easy access to drinks and snacks, eliminating constant trips to the kitchen.
2. Contributes to the self-sufficiency of the man cave.
3. Can blend harmoniously with the decor, with options ranging from sleek stainless steel to retro.
4. Offers coolant capabilities for varying items, accommodating everything from craft beers to sodas.
5. Creates an ambience akin to having a private bar, enhancing the relaxing atmosphere.
Music or Recording Studio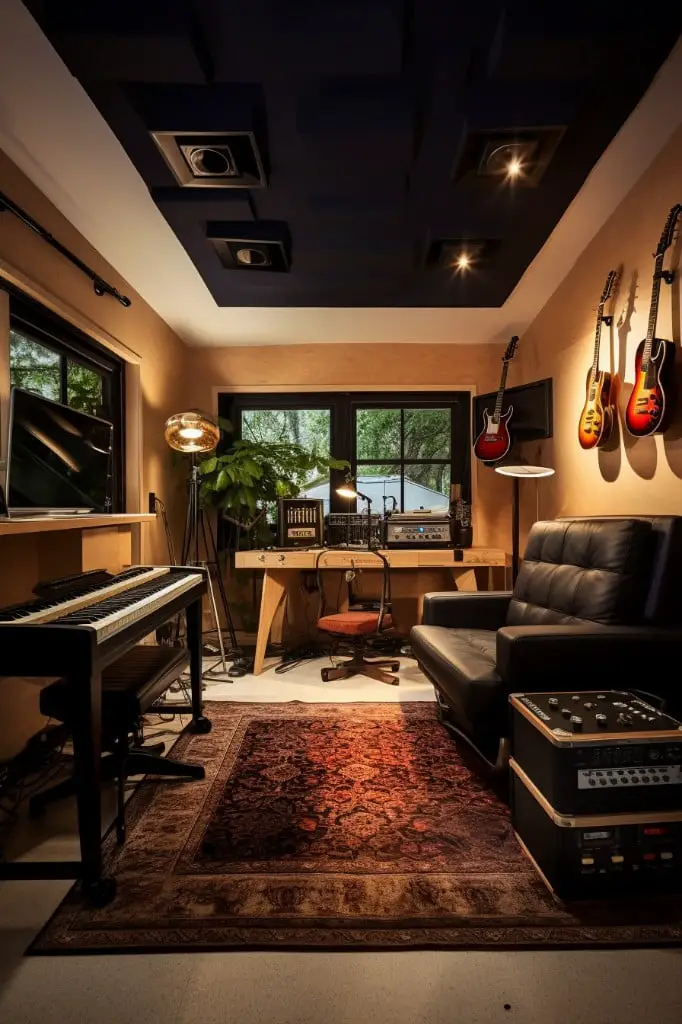 Investing in soundproofing materials is a prudent first step in creating a music or recording studio. Quality acoustic panels and foam tiles can significantly reduce noise pollution and enhance sound quality.
A music stand, chairs, and microphones tailored to specific instruments provide essential functionality. For recording purposes, consider incorporating a simple mixing desk and a digital audio workstation.
Key points to remember while setting up:
Soundproofing materials like acoustic panels and foam tiles.
Essential musical equipment – music stand, chairs, microphones.
Recording equipment – mixing desk and a digital audio workstation.
Electric Vehicle Charging Station
Incorporating an electric vehicle charging station into the garage design balances functionality with modern technology. Factors to take into account include:
Charger Type: Level 2 chargers, supplying 240 volts, are ideal for home garage, reducing charging time significantly versus standard 120-volt outlets.
Installation: Professional installation is recommended, factoring in a dedicated electrical line to handle the charger's power needs.
Positioning: Ideally, the charging station should be located close to where the EV's charging port is when parked.
Safety Features: Make sure to have weatherproof and safety certified chargers to avoid electrical mishaps.
Smart Features: Some chargers can connect to a home's wifi, allowing users to monitor and control charging via smartphone apps.
Cost: Installation costs, along with the price of the charger, can vary. It's worth considering potential energy provider or government incentives which may offset expenses.
This addition to the garage serves a clear purpose while acknowledging our transition to more sustainable sources of energy.
Smart Garage Door Opener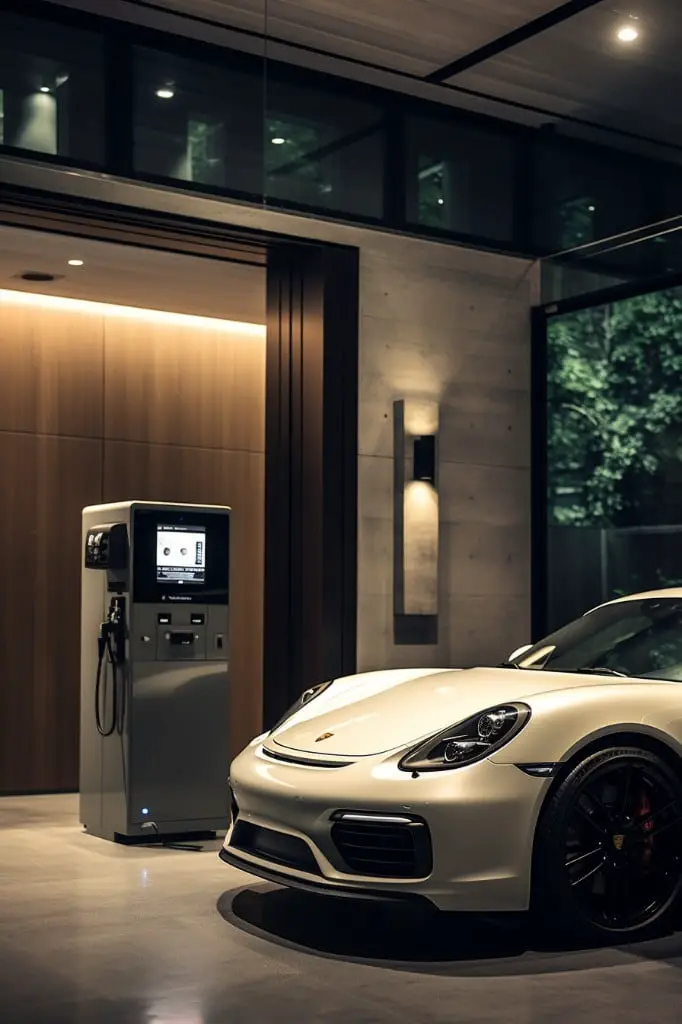 Advancing technology has brought convenience to life in many ways, one of them being the advent of the smart garage door opener. This device provides several key benefits:
Remote Access: Using Wi-Fi, smartphone apps allow you to operate your garage door from anywhere, giving you control even when you're away.
Security Alerts: It notifies you whenever your garage door is left open, adding an extra layer of home security.
Convenience: Some models have compatibility with popular home automation systems or voice assistants, enabling seamless integration into your smart home ecosystem.
Scheduling: You can set schedules for when the garage door should open and close, useful for regular routines.
Visitor Access: Virtual keys can be issued to family members or trusted friends, eliminating the need for physical keys.
Investing in a smart garage door opener adds an innovative and secure solution to your garage revamp. Ensure you select a model that aligns best with your needs and, of course, your smart home system compatibility.
Overhead Storage Racks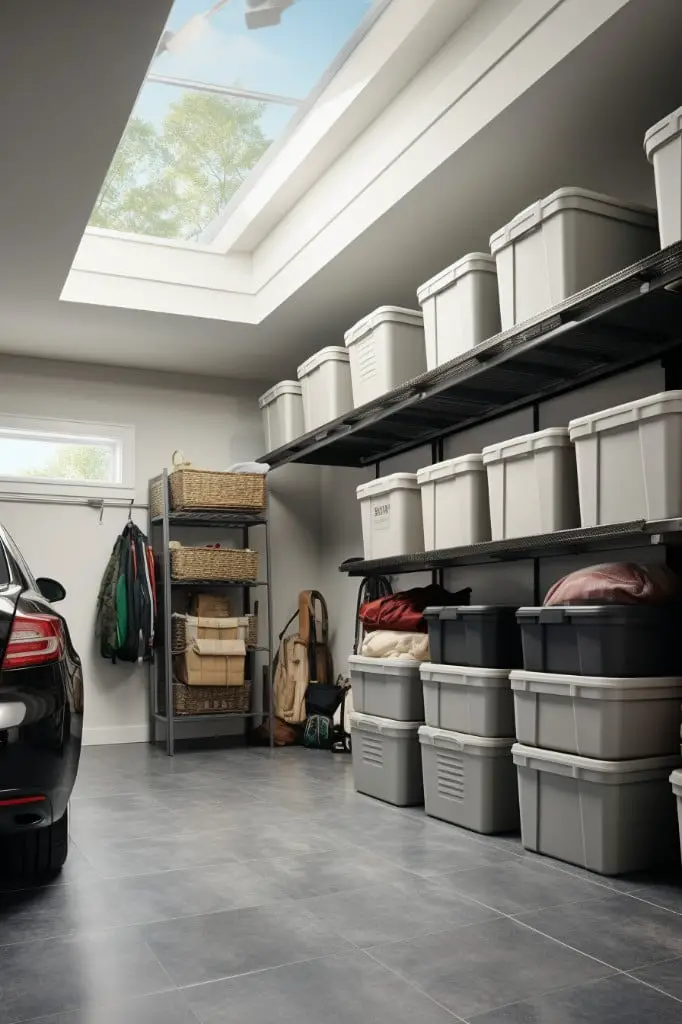 Maximizing vertical space can significantly increase your garage's storage capacity. Overhead storage racks offer a flexible solution, transforming often unused areas into practical space.
Here are the critical points to understand:
Accessibility: Designed for easy access, overhead racks can hold bulky items like holiday decorations or camping gear, keeping them within reach.
Customizable: These racks come in varying sizes and styles, fitting into any decor or layout. They can be standalone or attach to the ceiling, depending on your garage's structure.
Safe and Secure: Engineered to secure heavy items safely, these racks often have sturdy steel construction and a high weight capacity. They help to declutter the floor, reducing trip hazards.
Weather Resistance: Many overhead storage options are resistant to rust and corrosion, making them durable in various climatic conditions. This feature makes them ideal for the garage setting.
Space-saving: By utilizing ceiling space, overhead racks free up your garage floor, offering room for vehicles or other activities. This solution helps achieve an orderly, spacious garage.
Wall-mounted Tire Rack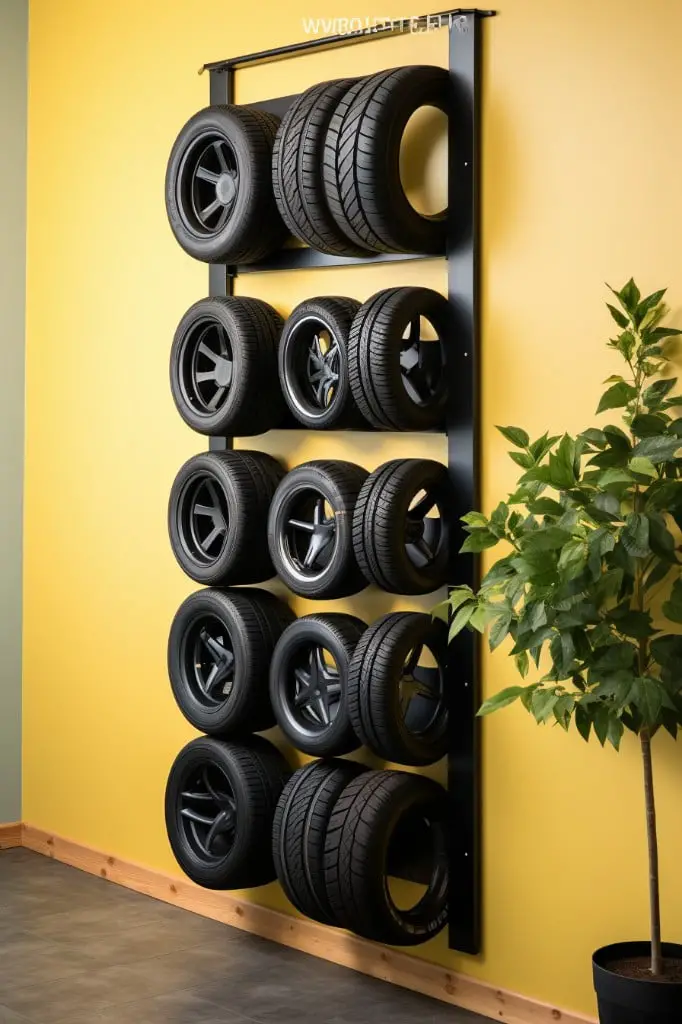 Prioritizing vertical storage equates to smart use of space, and this logic extends to tire storage as well. Committed car enthusiasts or households with multiple vehicles can find value in a wall-mounted tire rack.
Key points include:
Optimizes Garage Space: By utilizing vertical space, you keep the floor clean, subsequently improving the manoeuvrability in the garage.
Protects Tires: By storing tires off the ground, they are shielded from wet conditions that could deteriorate rubber over time.
Accessibility: Easy access to tires when seasonal changes necessitate a switch.
Presentation: The rack turns tire storage into an eye-pleasing arrangement, augmenting the garage's overall aesthetic.
Durability: Made out of sturdy materials, such as steel frames, ensuring longevity and the ability to handle heavy loads.
So, a wall-mounted tire rack not only declutters but also adds an element of design and utility to any garage space.
Game Room With Dart Board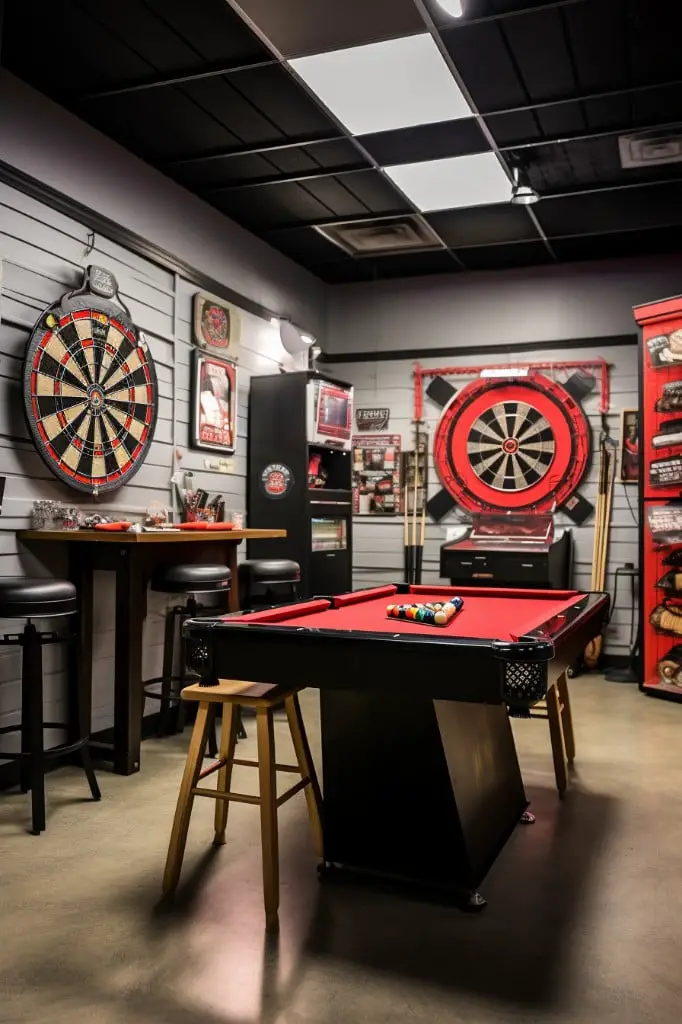 Further enhancing the appeal of your garage, a dart board introduces a competitive, yet congenial sporting activity into the space. Key components to factor into this project include:
1. Dart Board Placement: Situate the board at regulation height of 5 feet 8 inches, measured from the floor to the center of the bullseye, ensuring a standard playfield.
2. Protection: Consider installing a dartboard cabinet or backboard to prevent damage to the walls from missed throws. This also allows for easy storage of darts and scoreboard materials.
3. Lighting: Proper illumination is crucial for both aesthetics and functionality. Overhead lighting or dedicated dartboard lighting can eliminate shadows for better target visibility.
4. Space: Leaving ample room for the throw line (oche) is essential. A minimum distance of 7 feet 9.25 inches from the dart board is necessary for regulation play.
5. Flooring: Opt for a floor that can withstand occasional dart drops. Rubber or cork flooring options are a smart choice, providing both resilience and easy maintenance.
Overall, a dart board adds a dynamic element to your garage, making it a conducive place for recreation and social gatherings. With careful planning and thoughtful design, you can transform your standard garage into a vibrant game room.
Solar Panel Installation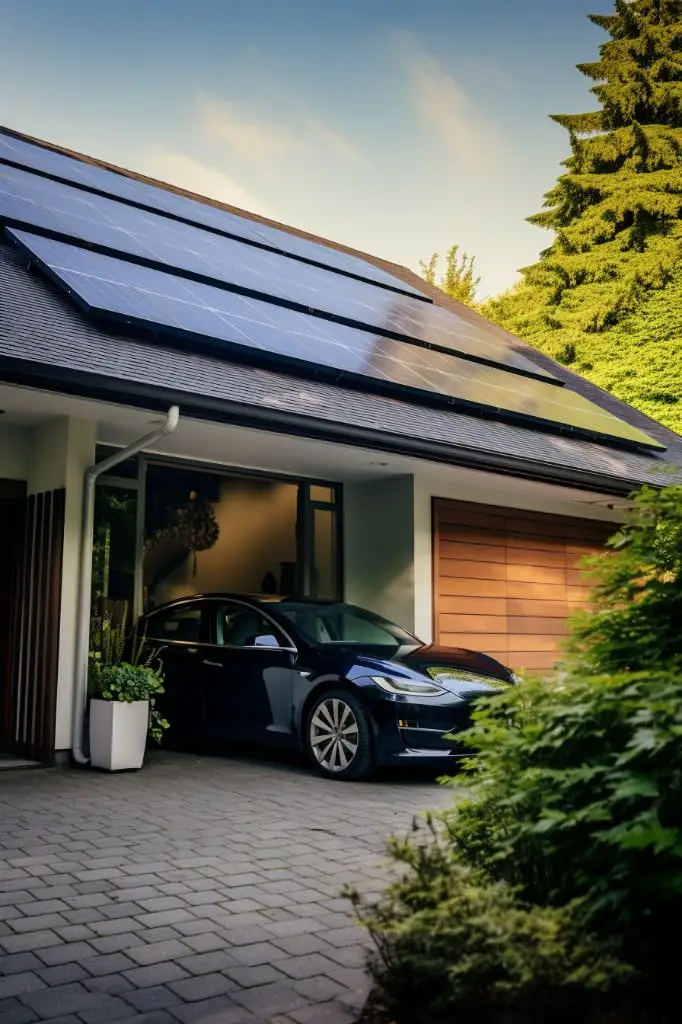 Harnessing solar energy through the installment of panels returns control of your power supply to your hands. It presents not only significant cost savings but also a nod towards environmentally-friendly practices.
Here are the key concepts:
Energy Independence: Free yourself from reliance on the local power grid and evade frequent electric disruptions. Solar panels allow for various autonomous power systems, ranging from fully independent off-grid networks to grid-tied structures with backup power options.
Environmental Impact: Utilizing a renewable energy source reduces greenhouse gas emissions. This small, personal contribution aids efforts against global warming.
Cost-Effectiveness: High initial installation costs are offset by the long-term reduction in electric bills. Many regions also offer tax incentives for solar panel usage, slashing overall investment.
Property Value: Homes equipped with solar power systems typically have higher property values. Buyers appreciate the prospect of lower energy costs, and the eco-friendly facet is a selling point for many.
Remember, professional installation ensures optimal alignment for sunlight exposure and electrical safety. Consider your roof's design and orientation, the average sun exposure, and your local climate to maximize the benefits of solar panels.
Related: