Last updated on November 19, 2023
Explore the transformative potential of your garage with these innovative decor ideas that promise to revamp this often overlooked space.
I am proud to present my article on "20 Garage Makeover Ideas: Unleashing Your Garage's Full Potential," complete with unique designs that I've created and hope to ignite your inspiration, just as much as I enjoyed crafting them.
Transforming your garage into a functional and appealing space can be a rewarding project. Whether it's for additional storage, a hobby room, or a cozy den, there are countless ways to revamp this often underutilized area of your home.
This article delves into various garage makeover ideas, from simple organization tips to more extensive renovations. It provides practical advice on how to maximize your garage's potential, including detailed steps and considerations for each makeover idea.
So whether you're a DIY enthusiast or planning to hire a professional, you'll find valuable insights to help you navigate this exciting home improvement journey.
Install Overhead Storage Racks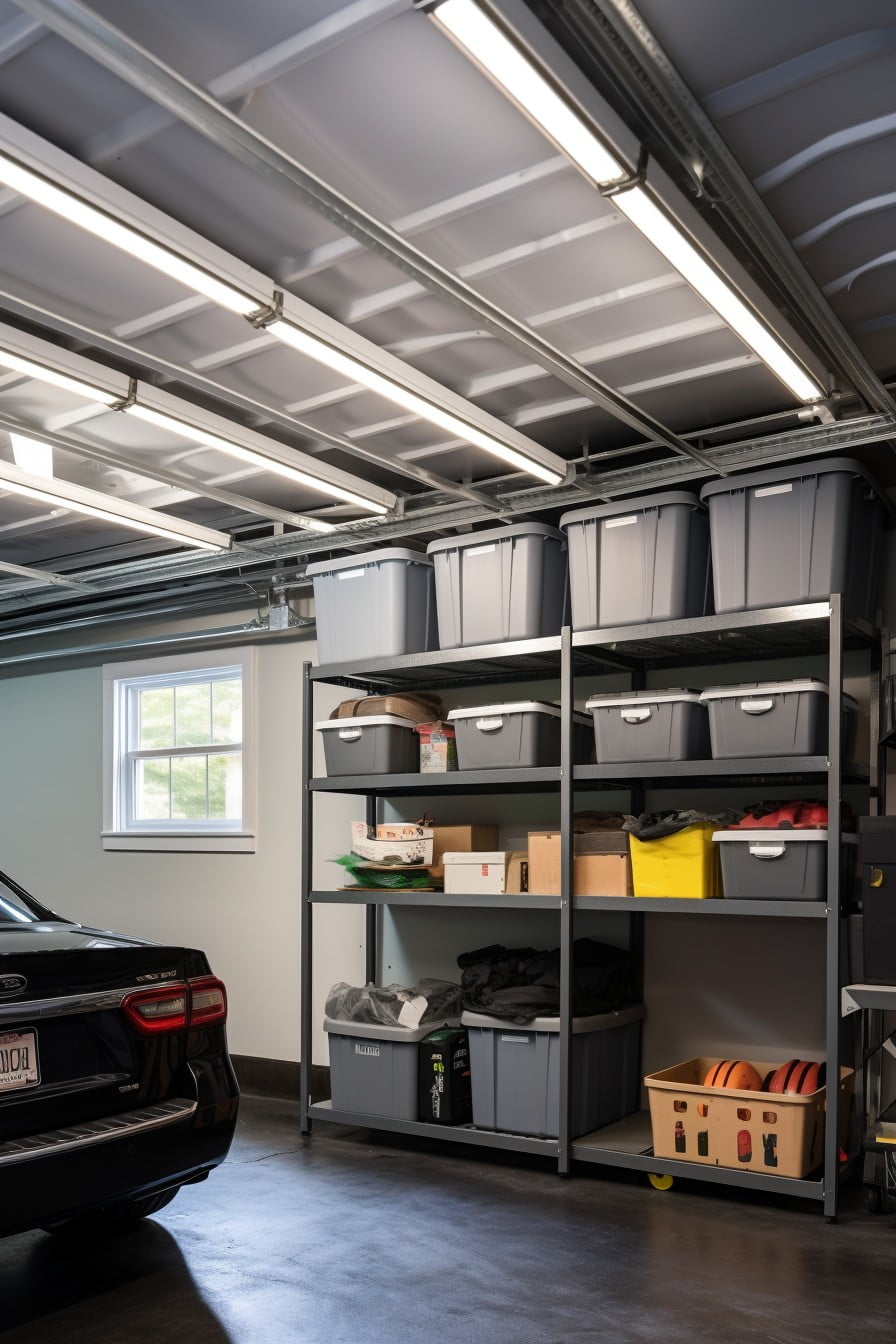 Maximizing overhead space with storage racks is a clever way of decluttering the floor and keeping items out of reach from children or pets. Opting for adjustable, heavy-duty steel racks adds durability and allows customization to accommodate different item sizes.
Some key elements to keep in mind when installing overhead storage racks include:
Positioning: Place the racks above parking spaces or along the perimeter where they do not pose a head bump risk.
Weight Limit: Always consider the weight limit of racks to prevent overloading and subsequent damage to the garage structure.
Accessibility: Use sturdy step ladders or pulley systems to safely reach stored items.
Seasonal swapping: Store less frequently used or seasonal items overhead to free up easily accessible storage for every day or frequently used items.
Safety mechanisms: Opt for racks with safety lips or netting to prevent items from falling.
By considering these points, one can effectively utilize the often neglected overhead space to increase storage capacity of the garage.
Create a Tool Workshop Area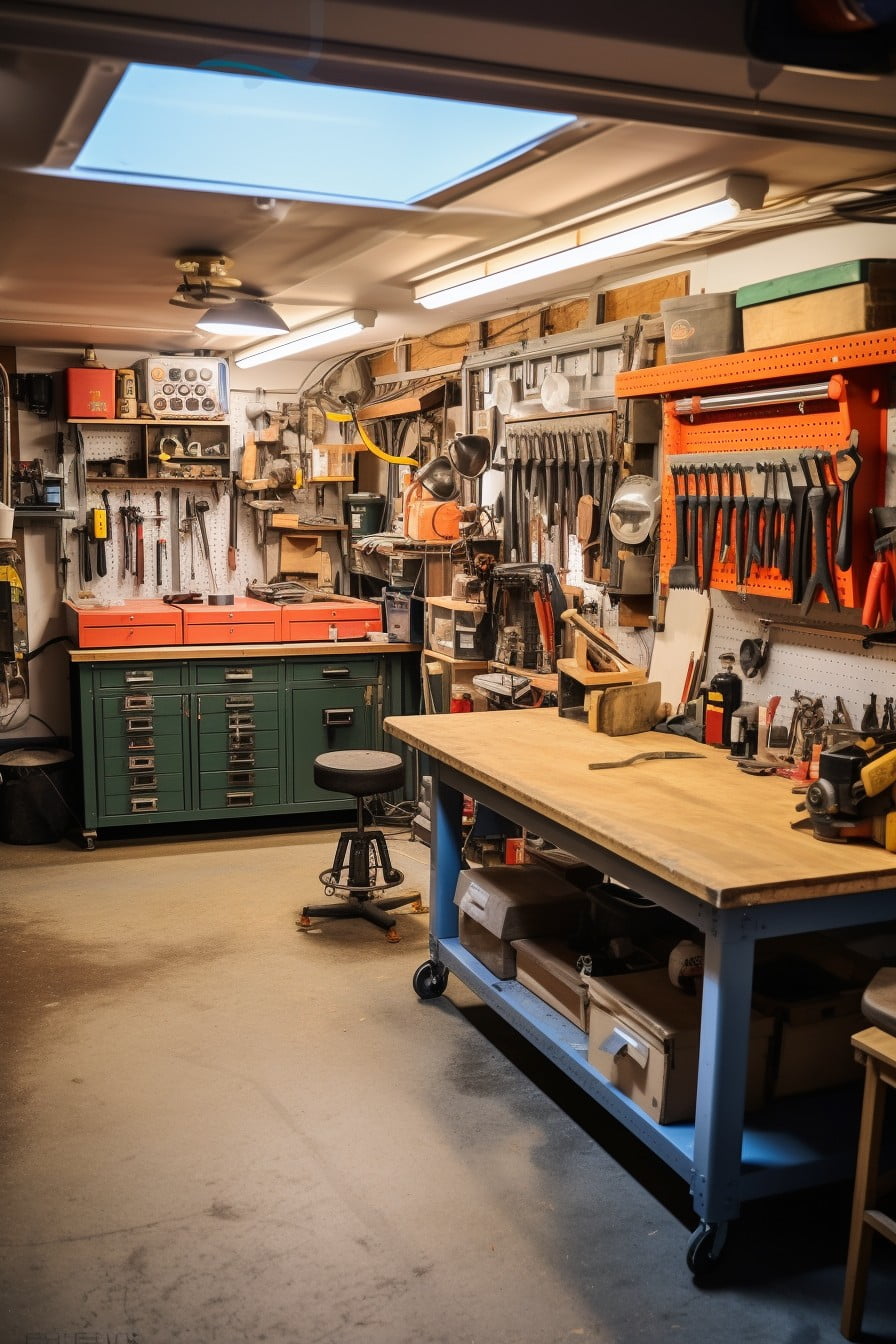 Delving into the versatility of your garage, a tool workshop area can amplify functionality and boost productivity by leaps and bounds. It provides a dedicated, safe and organized space for executing both hobby-related and essential repair tasks.
Noteworthy considerations for setting up your tool workshop:
Storage: Opt for sturdy cabinets or drawers to store larger tools and supply units. Pegboards and magnetic strips significantly aid in hanging smaller tools for easy access.
Workbench: A well-built, sturdy workbench lies at the heart of a tool workshop. Ensure it complements your workflow and comfortably accommodates your projects.
Lighting: Good quality, bright lighting is vital for precision and safety. Overhead lights coupled with task lights can efficiently illuminate the entire workspace.
Power Outlets: Strategically placed outlets cater to various power tool needs. An outlet strip along the workbench edge can save from cable clutter.
Safety Measures: Install a fire extinguisher, keep first-aid kits handy, and store sharp objects and chemicals at a safe distance from children or pets.
Remember, the finest workshop is one that seamlessly integrates with your needs and work habits, yielding a harmonized and productive environment.
Introduce Wall-mounted Shelving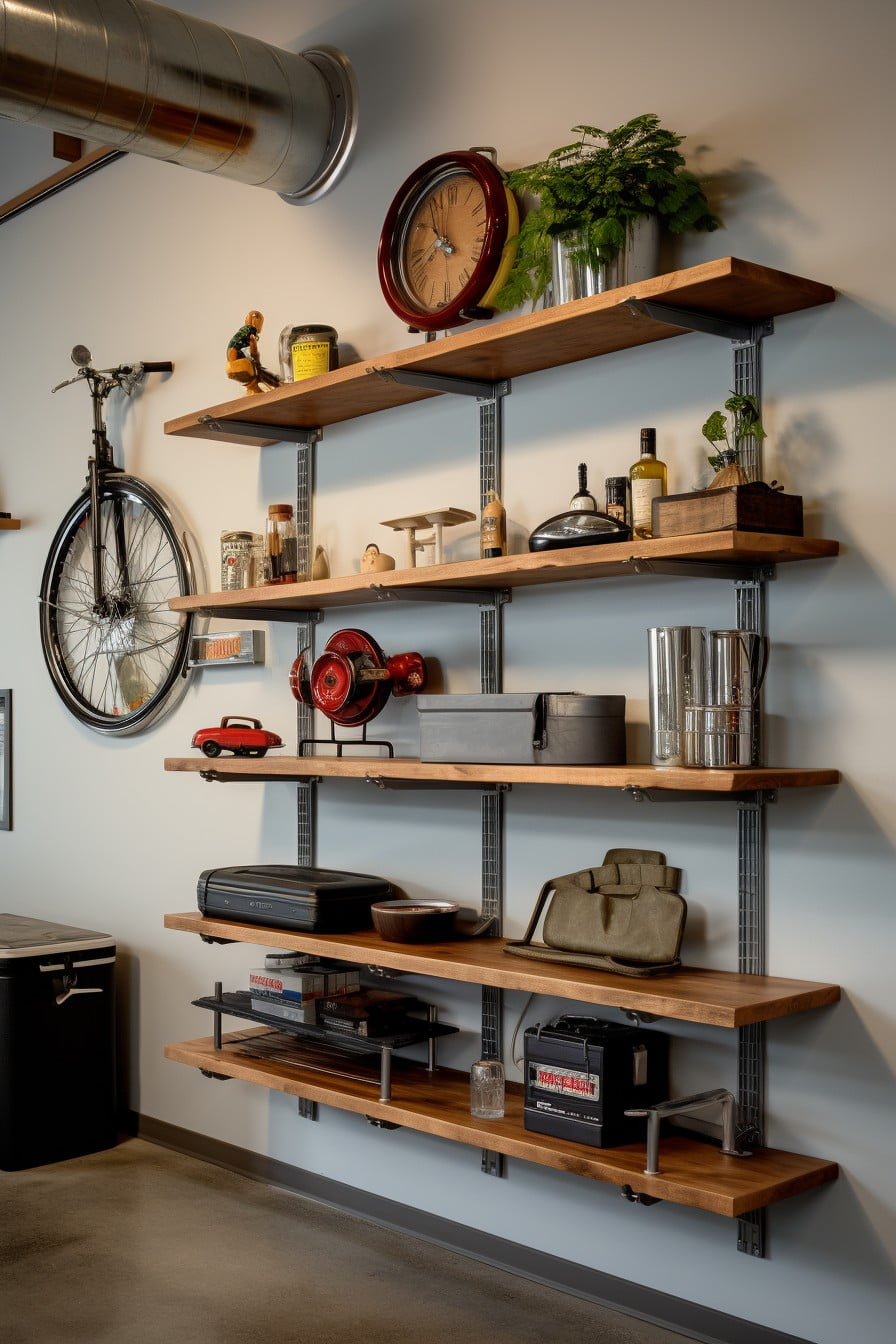 Maximizing the vertical space can significantly enhance your garage's storage capacity. Wall-mounted shelving presents options to organize your belongings in a more defined, accessible manner – a place for everything, everything in its place.
Key pointers:
Consider strength and durability: Choose heavy-duty, durable materials like steel or reinforced plastic that can withstand the weight of garage items.
Customization: Tailor the height and spacing between shelves based on the size of items you plan to store to optimize the usage.
Accessibility: Ensuring items used most often are within easy reach will provide convenience.
Safety: Be sure to secure shelving to wall studs to prevent possible accidents.
The implementation of wall-mounted shelving is an organized, practical solution to reclaim your garage space, and establish order out of what can often be chaos.
Apply Epoxy Floor Coating for Durability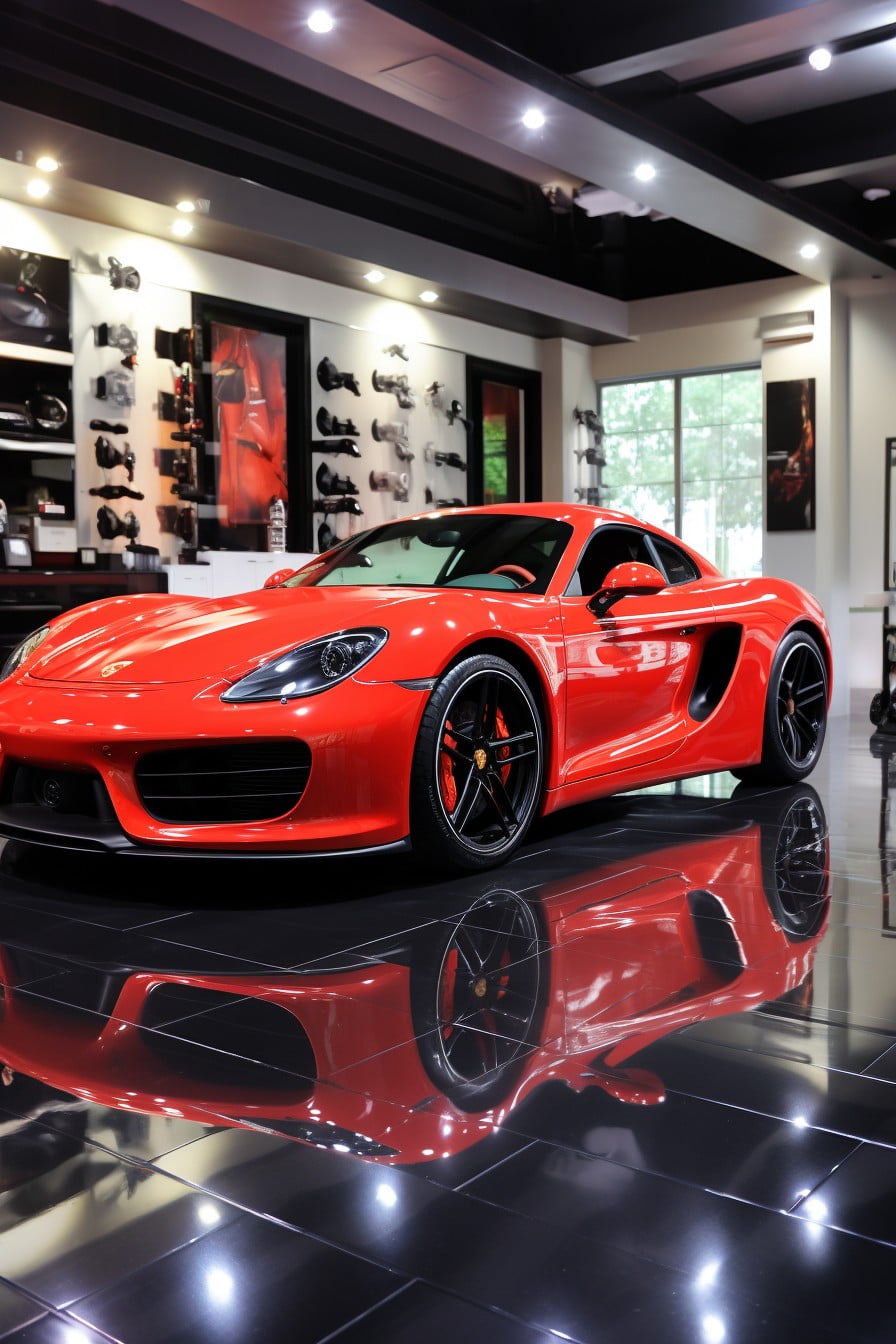 Epoxy coating has emerged as a leading choice for garage flooring due to its numerous advantages. It not only gives your garage floor a professional, glossy look but also increases its durability manifold.
These coatings are robust and provide a shield against stains and cracks, making cleaning a breeze. Additionally, epoxy floors are resistant to chemicals, automotive fluids, and heavy equipment, extending the lifespan of your garage floor.
Key points:
Enhanced durability: Epoxy resists wear and tear, keeping your floor free from defects.
Easy to clean: The coating repels oil, dirt, and dust.
Chemical resistance: The epoxy protected floor tolerates spills from automotive fluids without staining.
High gloss finish: It leaves your garage with a professional, shiny appearance.
Lifespan expansion: Epoxy-coated floors outlast uncoated concrete ones.
Variety of Styles: Available in numerous colors and patterns to match your aesthetics.
Build a Loft for Additional Space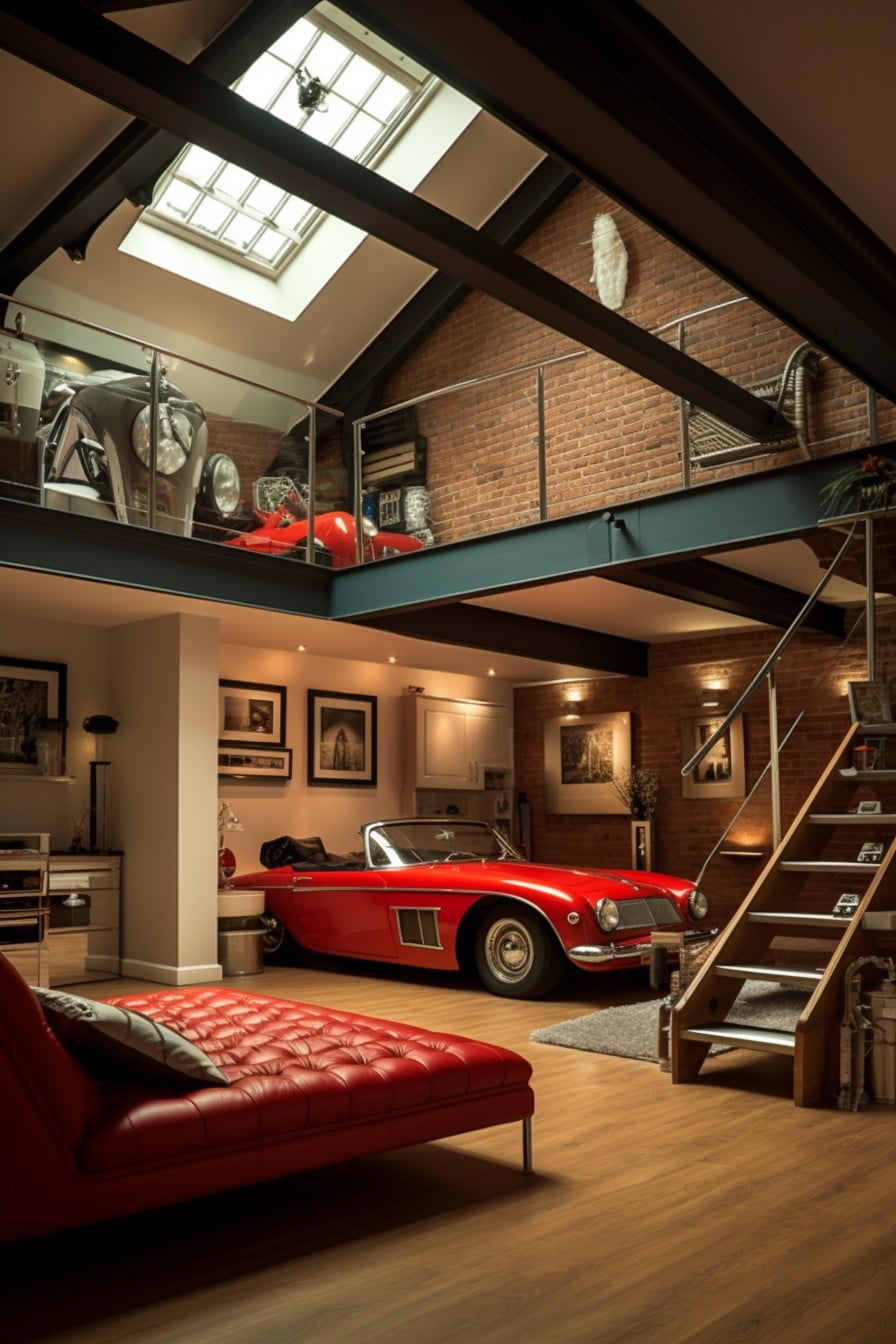 Building a loft can effectively double the usable area in your garage. This option is optimal for high-ceiling garages, providing an elevated platform for storage or even a cozy hangout nook.
The key considerations include:
Load Capacity: Ensure the garage's structure can hold the additional weight of a loft, including people and stored items.
Access: Stairs or a ladder must be planned for access to the loft. Retractable units save on floor space.
Lighting and Ventilation: The loft needs to be adequately illuminated and ventilated.
Building Code Compliance: Apply for necessary permits and adhere to local building regulations.
Layout and Design: Plan the loft's appearance and its role in the overall organization of the garage.
Professional Help: Engage a contractor or architect if you don't have significant experience in such construction projects.
Convert Into an At-home Gym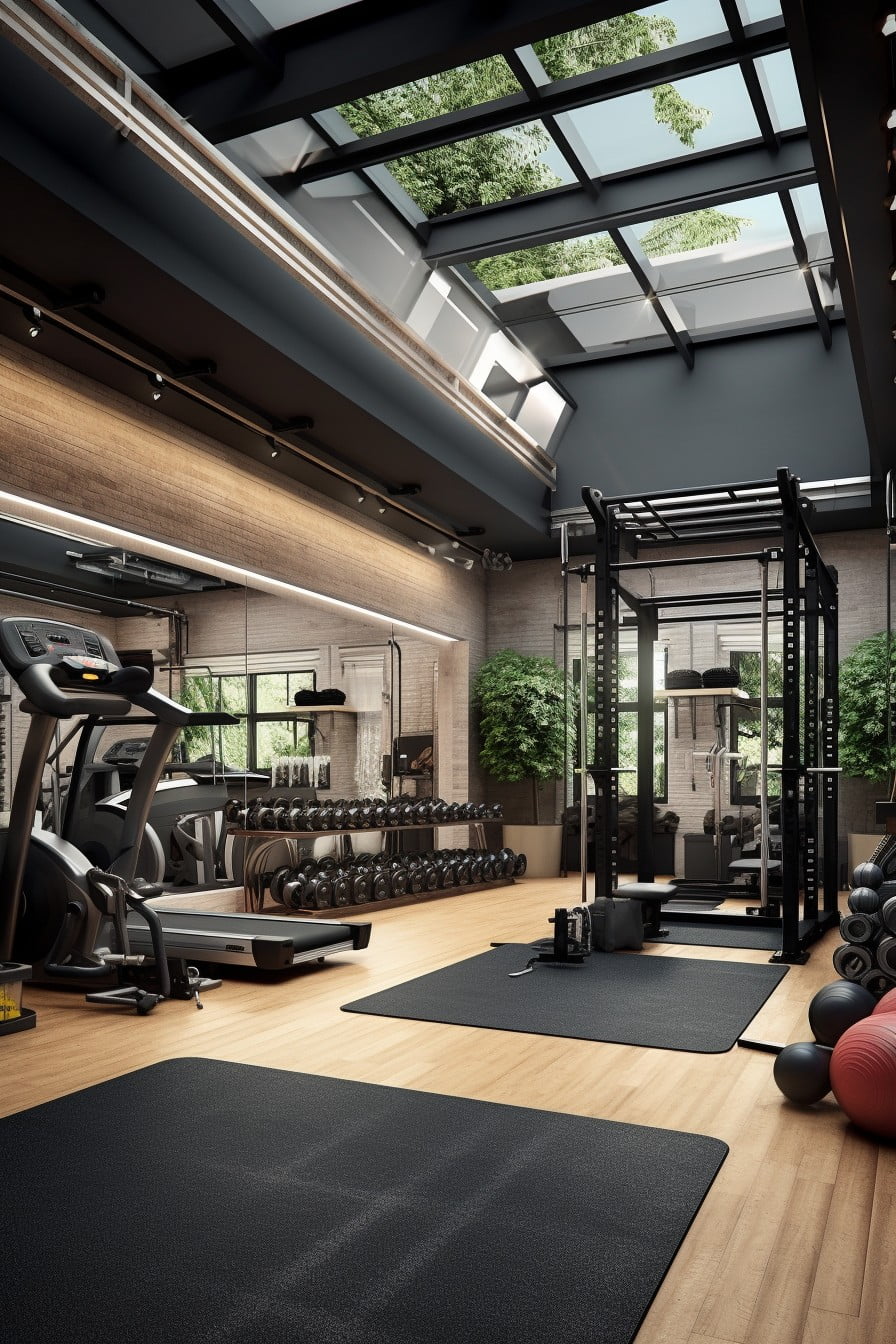 Transitioning your garage into a fitness sanctuary provides the convenience of a workout routine without ever leaving home.
1. Flooring: Start with installing proper gym flooring, such as rubber tiles or rolls, to ensure safety and comfort during workouts.
2. Equipment: Consider space-saving gym equipment, like adjustable weight sets, resistance bands or foldable treadmills. A compact home gym station is another versatile option.
3. Storage: To keep the workout area organized, include storage options for small items such as yoga mats, free weights, and skipping ropes. Wall racks and shelving units can effectively de-clutter the space.
4. Ventilation: Install ceiling fans or air conditioning, as the physical exertion requires sufficient air circulation to maintain a comfortable environment.
5. Mirrors: Add wall mirrors to not only make the space look bigger but also monitor your form during workouts.
Remember, customizing the garage into a home gym hinges on personal fitness goals and available space. The concept behind this option is to merge functionality with aesthetics for an optimal home workout experience.
Paint Walls for a Cleaner Look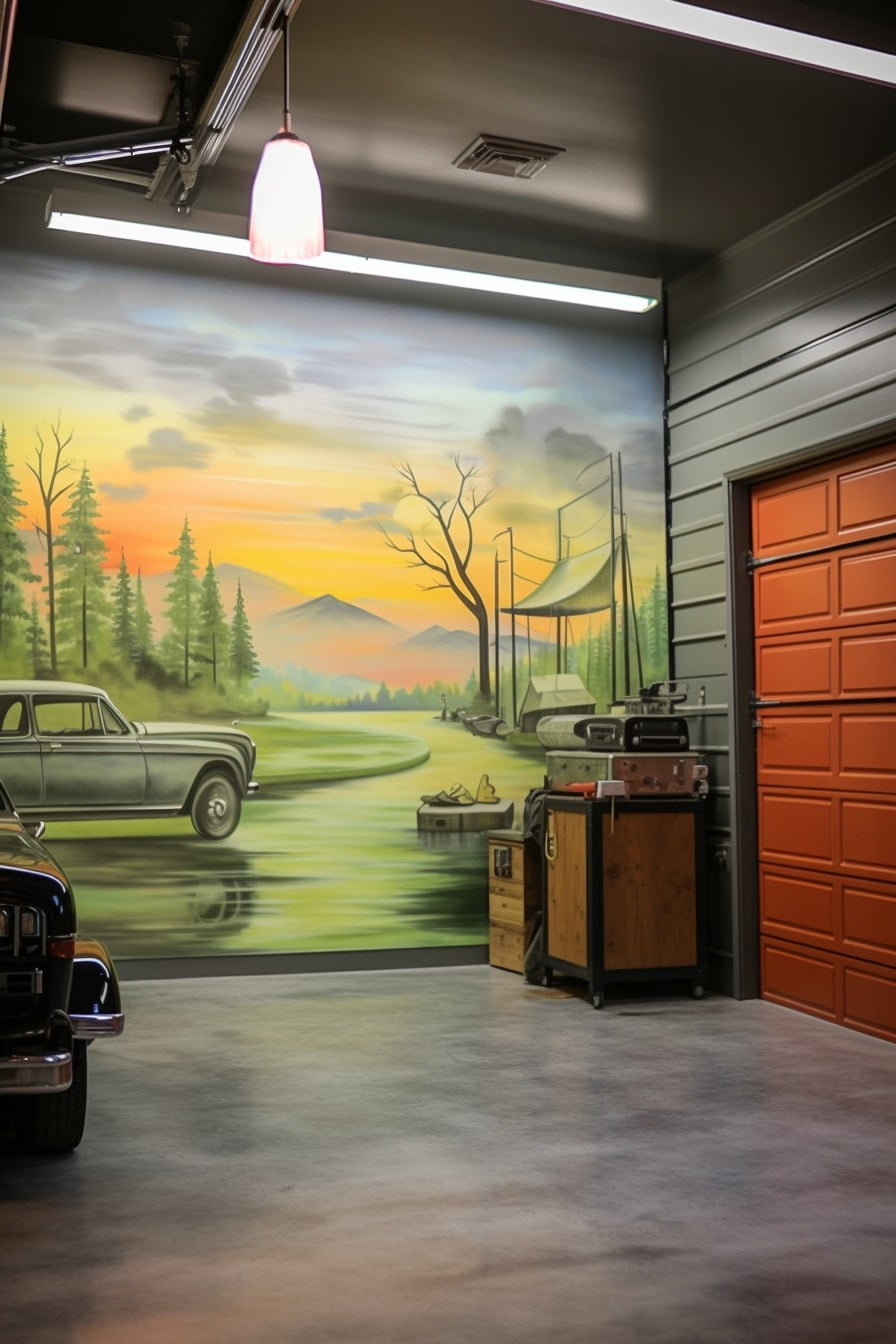 As a prominent step, selecting the right color scheme greatly influences the overall aesthetic. Light, neutral tones such as whites, grays, or beiges, due to their capacity to reflect light, can enhance the brightness of the space.
If the garage's purpose is more activity-based, a semi-gloss paint finish is practical due to its durability and ease of cleaning.
Key points:
Light, neutral colors reflect light and brighten the area.
Semi-gloss paint finish is durable and easy to clean.
Choose a color that complements your garage's purpose.
Painting is an inexpensive way to dramatically change the look and feel of the room.
Install New Lighting Fixtures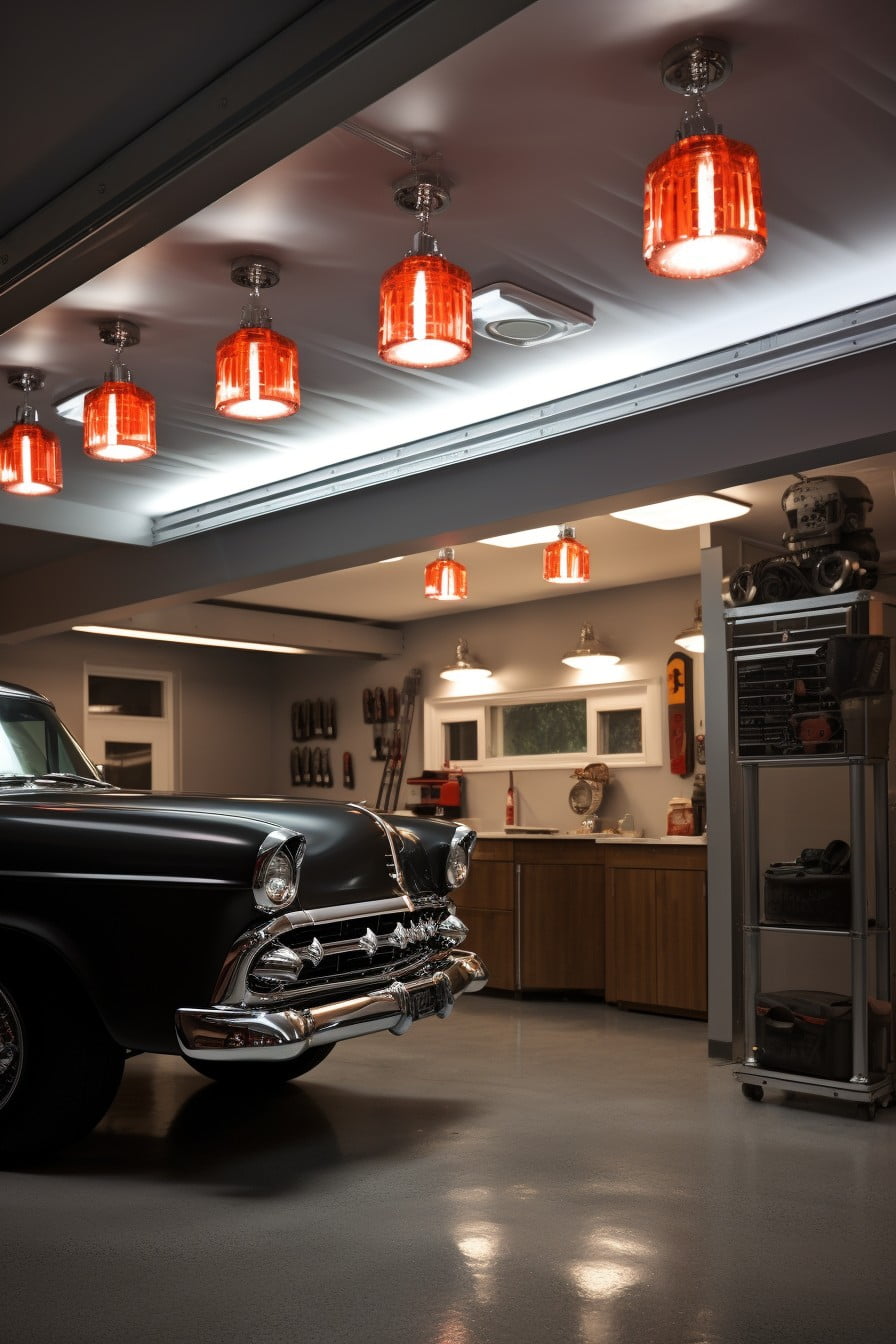 Upgraded lighting can make all the difference in your revamped garage. Begin by identifying the key areas that need illumination, including the workshop, storage areas, and overall ambient lighting.
Firstly, consider installing overhead LED strip lights. They offer high-quality illumination, are energy-efficient, and have a longer lifespan compared to traditional bulbs.
Secondly, don't overlook task lighting. If your garage features a workshop or crafting area, appropriate task lighting is a must. Go for adjustable, high-intensity lamps which bring focused light to your tasks.
Lastly, ensure the entrance and walkway to your garage are well-lit. Motion-sensor security lights can be a good option, they are both practical and add an extra layer of security.
Remember, balance is key: a well-lit garage is one where the light is distributed evenly, reducing shadows and making the space more welcoming and usable. With functional, well-placed lighting fixtures, your garage's look and utility can greatly improve.
Create a Gardening Station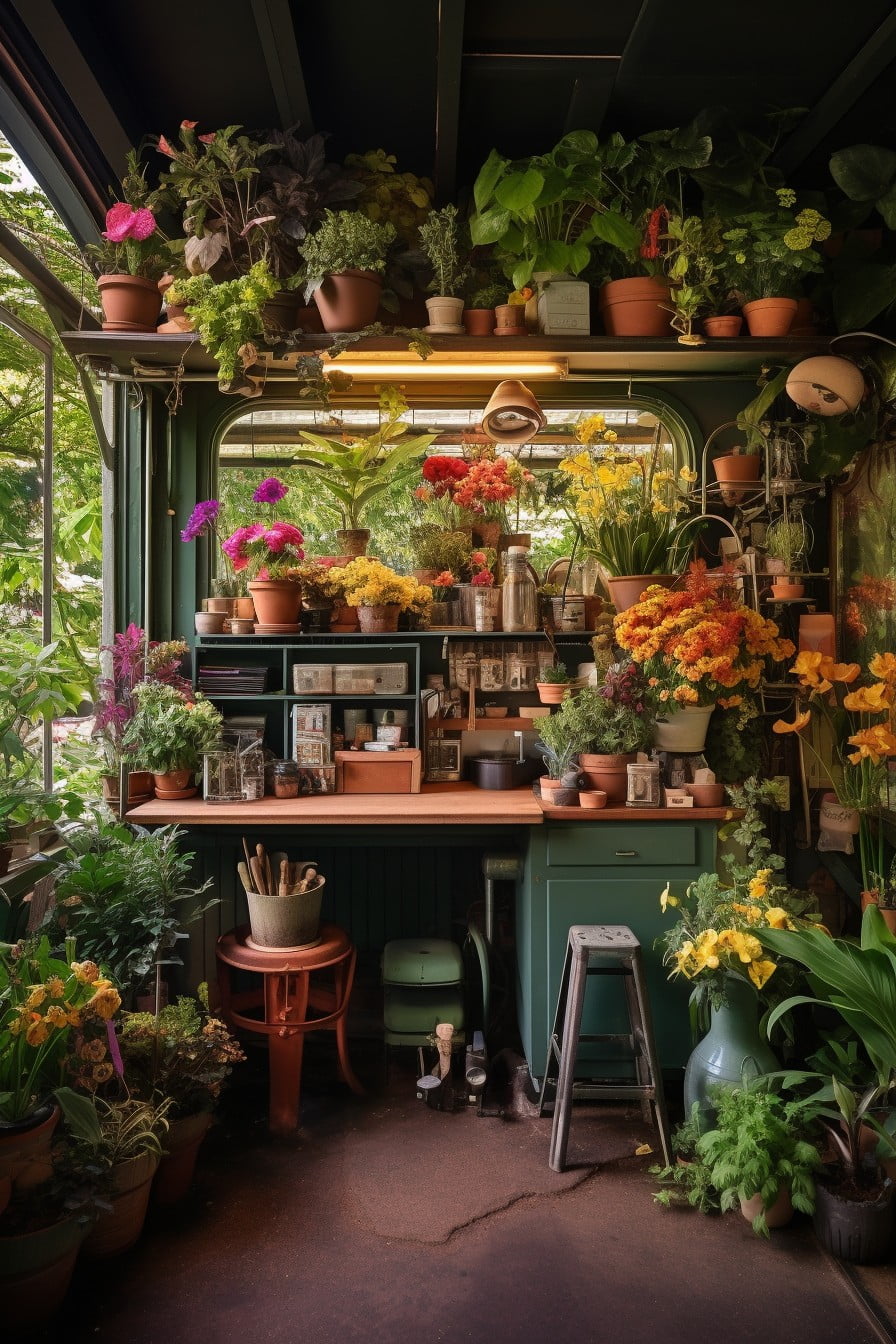 Utilizing a corner of the garage for a gardening station can significantly enhance functionality and accessibility. This compact space is ideal for storing all gardening tools and equipment such as trowels, pruning shears, wheelbarrows, and pots.
Key points:
Workbench: Include a sturdy workbench for tasks like potting plants and preparing seeds.
Storage: Add shelving above and below the bench for efficient storage of fertilizer, pots, gloves, seed packets, and other gardening essentials.
Sink: Consider installing a small sink or hookup for a hose for easy cleanup and watering tasks.
Tool hooks: Use hooks for hanging long-handled tools like rakes, shovels, and hoes to keep them organized and easy to access.
Lighting: Ensure good lighting, natural or artificial, for tasks requiring precision and to promote the growth of seedlings.
Comfort: Invest in an ergonomic stool or chair for comfortable sitting during longer gardening activities.
Install a Pegboard for Tool Organization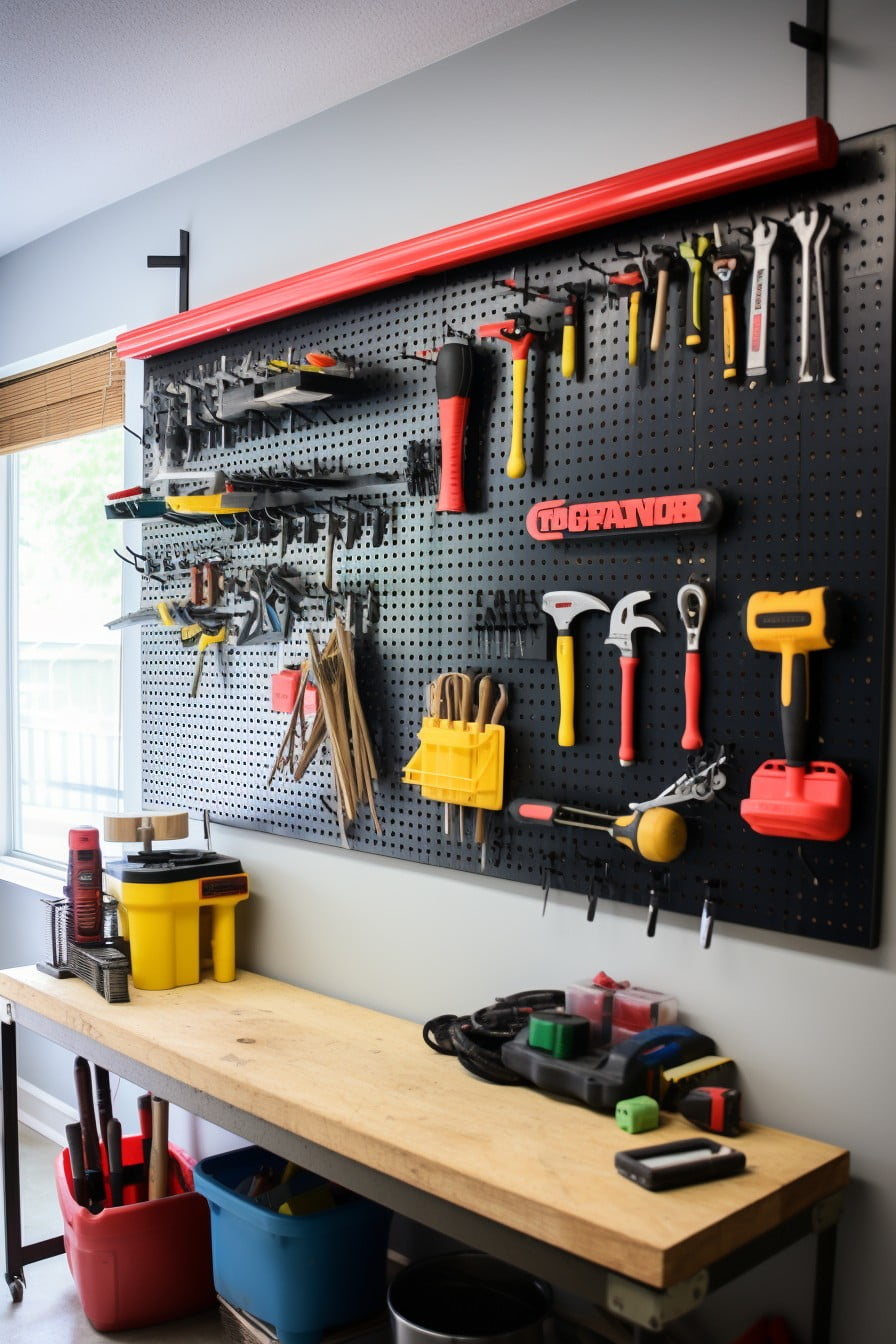 Equipping your garage with a pegboard enhances organization by providing visibility and easy access to tools. It eliminates clutter, creating a more functional and efficient workspace.
1. Material Selection: Opt for durable materials like metal or hard plastic that can withstand the weight of tools.
2. Layout Planning: Before mounting, plan your layout keeping in mind the sizes of your tools, giving enough space for each.
3. Mounting System: Ensure a sturdy install with a strong mounting system. Anchor the pegboard to wall studs for added strength.
4. Accessorizing: Use hooks, bins, and shelves compatible with your pegboard for tool placement. Color-coordinate for aesthetics and easy object identification.
5. Maintenance: Regularly dust and wipe your pegboard. Keep it free from rust and moisture to extend its lifespan.
Implementing a pegboard maximizes vertical space usage, promotes an orderly environment, and enhances workflow efficiency in the garage.
Set Up a Bike Storage Rack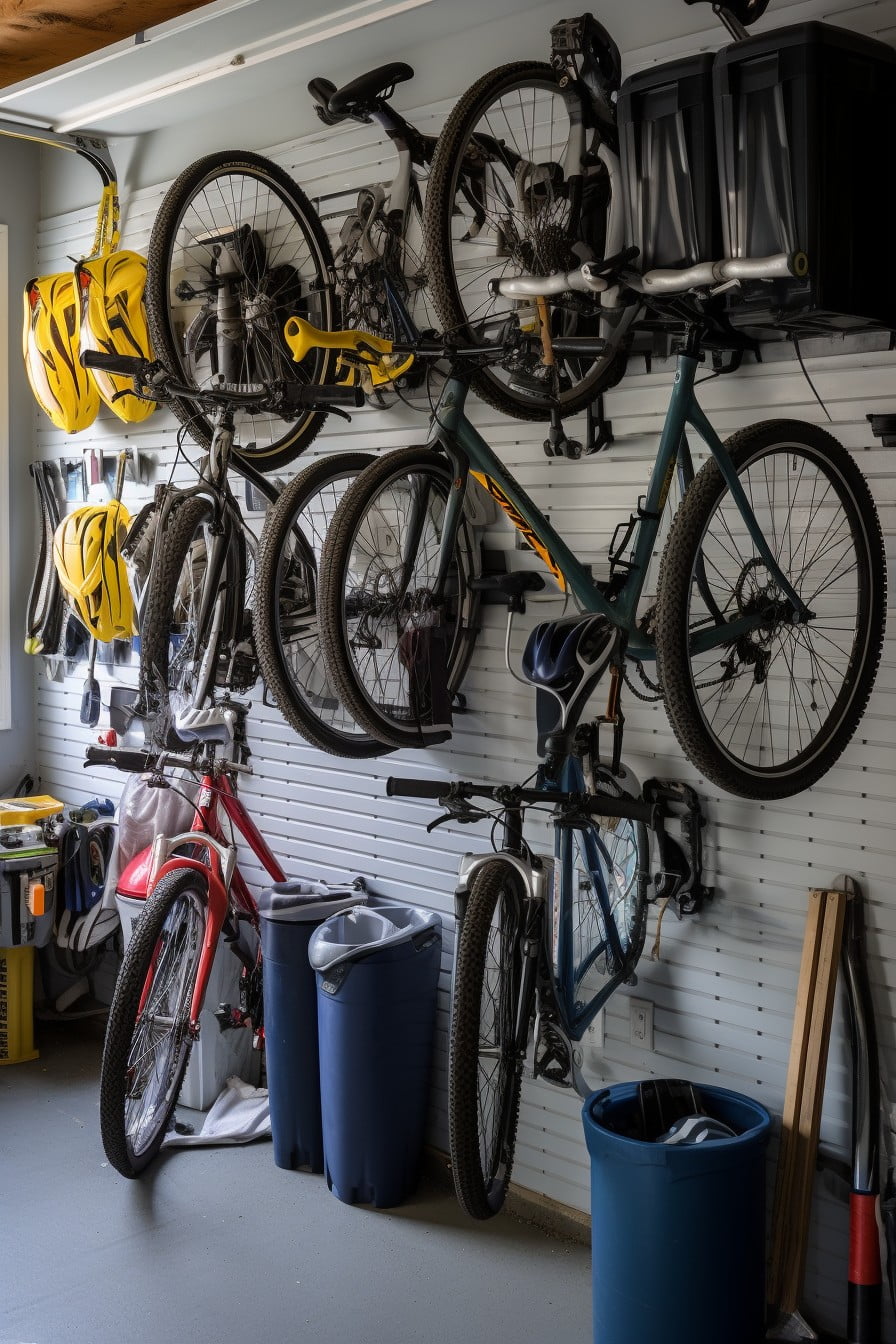 Capitalizing on vertical or horizontal wall space can effortlessly accommodate bike storage. Opt for wall mounts or ceiling hoists, depending on your garage's size and height. Wall mounts, often the less complex and more affordable option, simply require hooking the bike's front tire. Ceiling hoists, though requiring more effort to install, offer an excellent space-saving solution.
Keep these considerations in mind:
Ensure Accessibility: Position storage in a reachable area for easy accessibility of the bikes.
Prioritize Safety: Make sure the installed system securely holds the bikes to prevent accidental falls.
Factor in Space: Account for aerodynamic spaces between multiple bikes for easy removal and return.
Consider Family: Remember the height and strength of all the bike users within the household, particularly children.
Evaluate Capacity: It's crucial to select a system that can comfortably bear the weight of your bike.
Remember, a well-installed bike storage system can effectively maximize garage space while ensuring your bike's longevity.
Upgrade to an Insulated Garage Door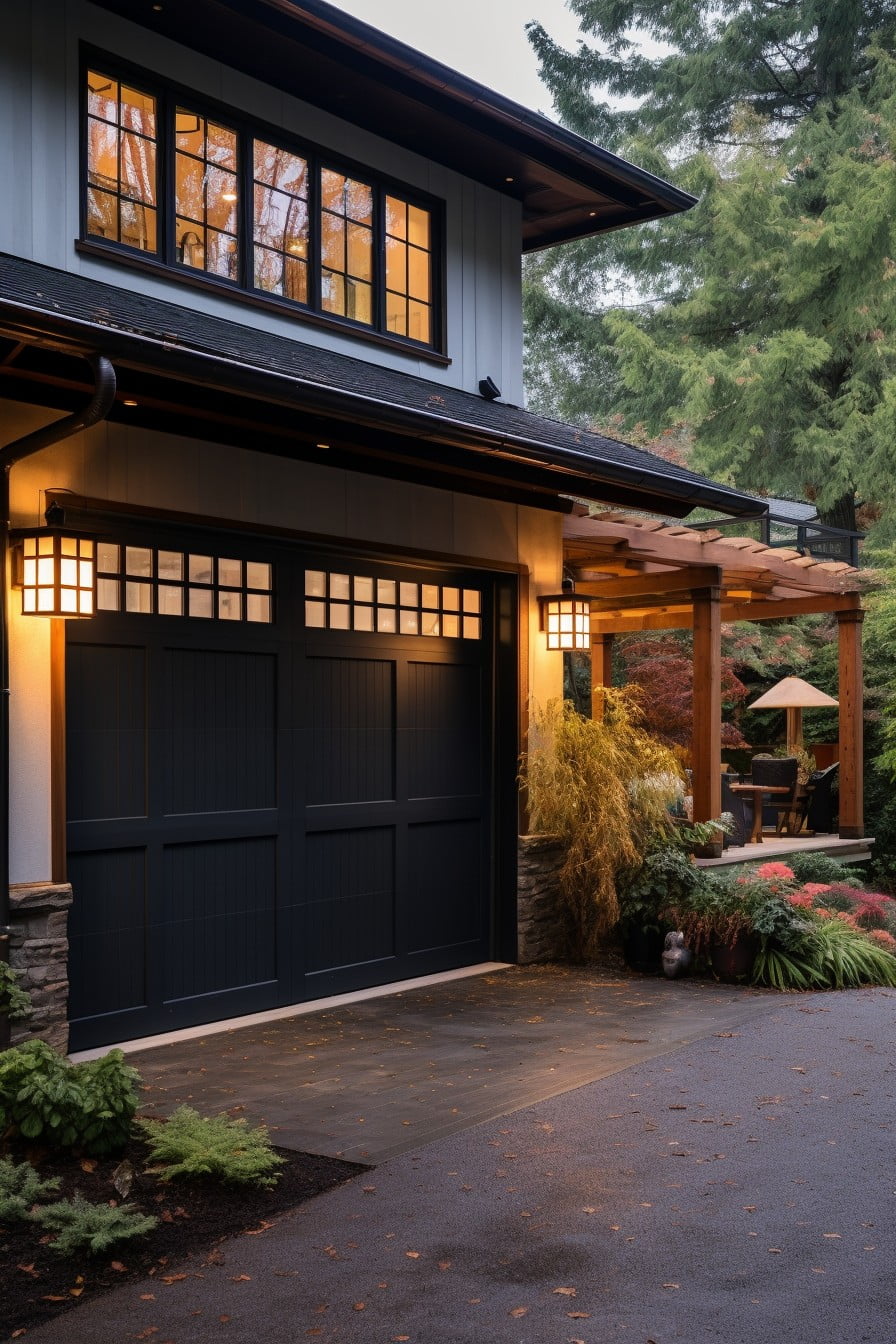 Insulation in a garage door offers several benefits. Primarily, it helps in moderating the garage temperature, an asset during extreme weather conditions, by making the space warmer in winter and cooler in summer.
Considerations while choosing an insulated garage door include:
Material: Common materials are steel, wood, and aluminum. Steel doors, though heavier, offer excellent insulation.
R-value: This measures thermal resistance. A higher R-value signifies better insulation.
Another advantage relates to noise reduction, particularly advantageous if your garage is adjacent to a living area. Also, insulated doors are generally more robust, expanding their lifespan.
An insulated garage door offers energy efficiency, temperature regulation, noise reduction, and enhanced durability.
Install a Drop-down Workbench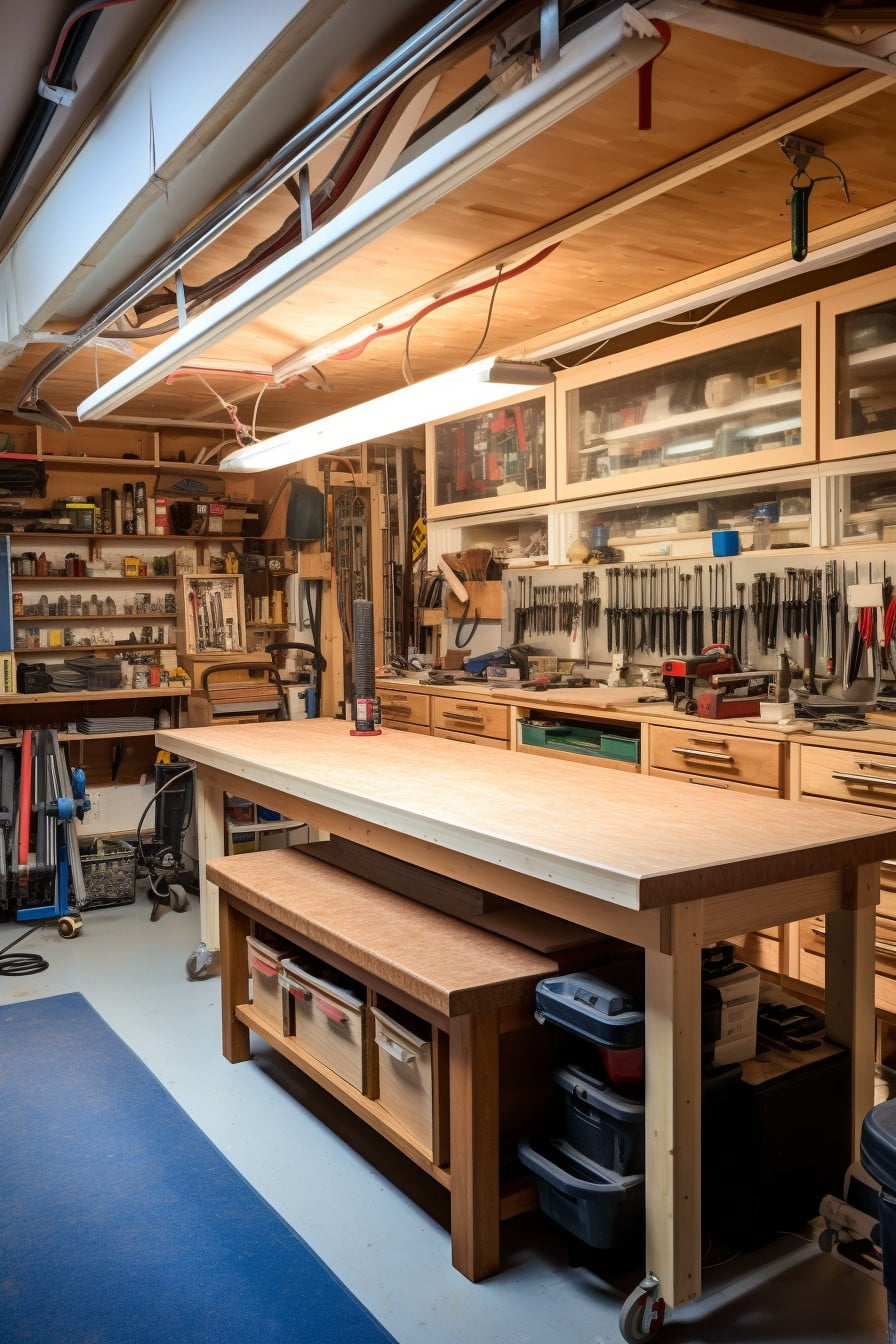 A drop-down workbench offers an efficient use of space while providing a necessary, sturdy surface for all garage-based tasks. Here are the fundamental considerations associated with its installation:
1. Amount of space: Ensure your garage has adequate wall space to accommodate the bench when both folded up and down.
2. Sturdiness: Incorporate strong brackets for supporting heavier weights.
3. Surface Material: Opt for durable, scratch-resistant materials like solid wood or metal to withstand a variety of tasks.
4. Positioning: Locate it near a power source if electricity is required for tools on the workbench.
5. Storage: Consider built-in compartments or shelves below the workbench for tool storage.
6. Mounting height: Adjust according to typical use—lower for heavy-duty work, higher for detailed tasks.
7. Safety: Securely lock the bench in the upright position to prevent accidental drops.
8. Flexibility: Ensure the bench is easy to fold and unfold, adding comfort and convenience to garage activities.
Add Bold Floor Patterns With Tiles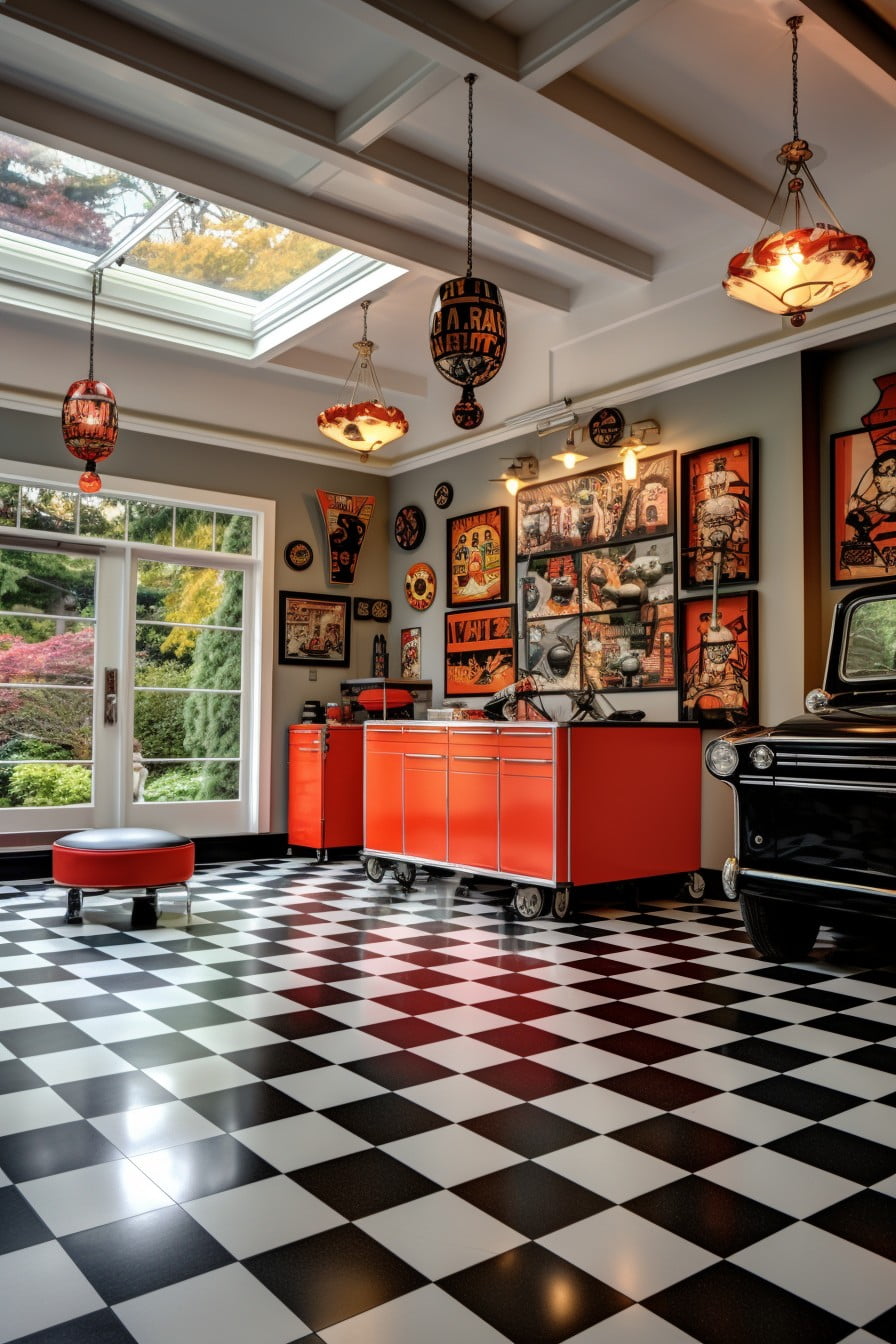 Tiles offer a myriad of designs, allowing you to experiment beyond traditional grayscale garage floors. Consider mixing and matching tiles to create geometric patterns that instantly liven up the space. Opt for durable material – porcelain tiles, for example, are highly resistant to scratches and daily wear.
Key points:
Variety: Explore glazed, textured, or patterned tile options.
Durability: Porcelain and ceramic are top picks for garages.
Design: Mix different tiles for more dynamic aesthetics.
Installation: Ensure proper grouting to prevent chipping or cracking.
Maintenance: Select dark shades or stain-resistant tiles for easier upkeep.
Transform Into a Playroom or Family Room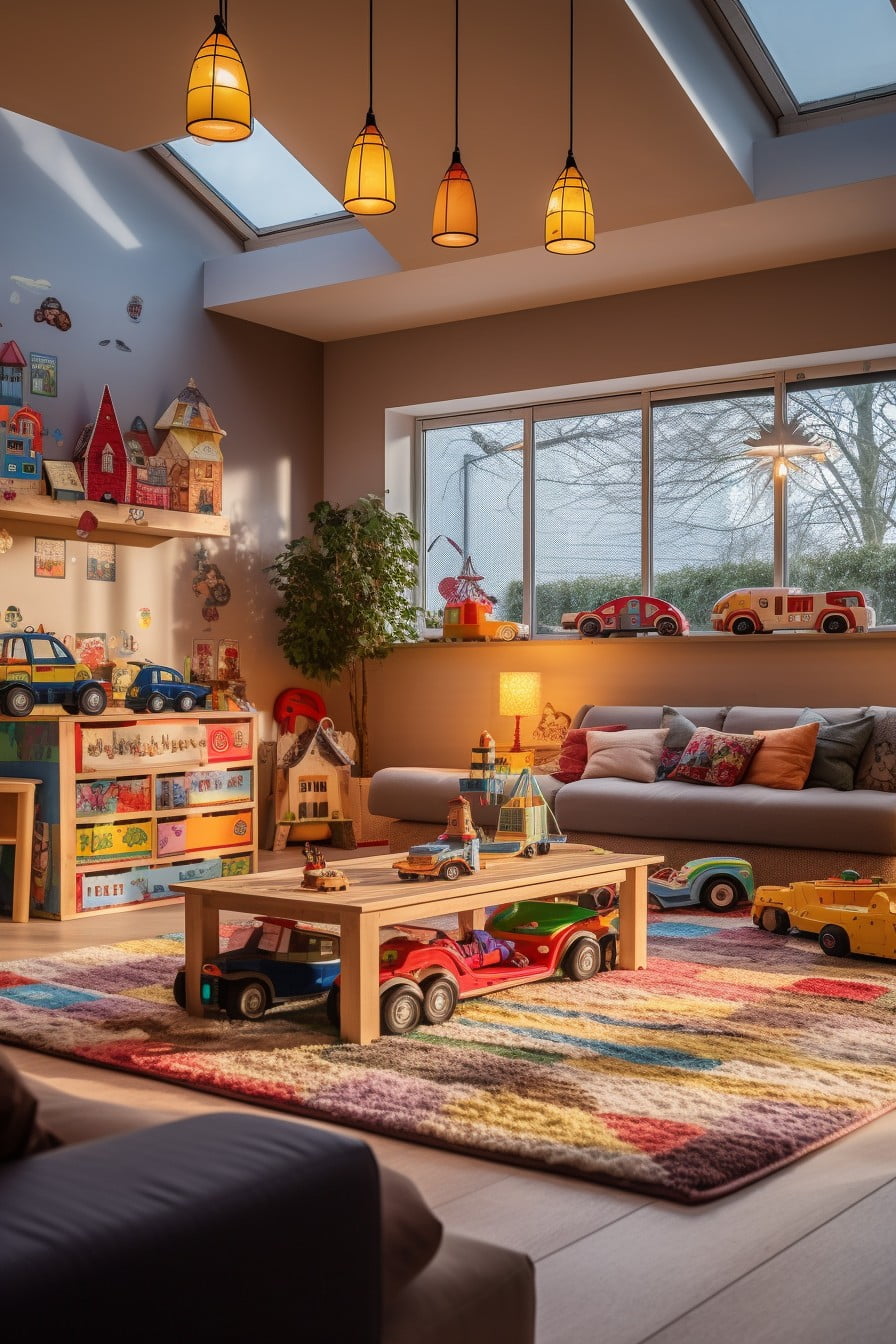 In transforming a garage into a family play area, applying warm, inviting colors to the walls can instantly switch the area from utility space to cozy haven. An array of comfortable seating options, like sofas and floor cushions, coupled with a generous carpet, can create a perfect setting for movie nights and board game battles.
For the younger family members, a designated play area with a car racing track or a mini dollhouse can be a source of endless delight.
Key Points:
Color choice: Opt for warm, inviting hues.
Seating: Opt for comfortable sofas, chairs and floor cushions.
Carpet: A generous carpet ensures a soft play area for children.
Play elements: Include elements like a car racing track or a dollhouse.
Storage solutions: Install smart storage solutions to house toys, books and games.
Add Cabinets for Extra Storage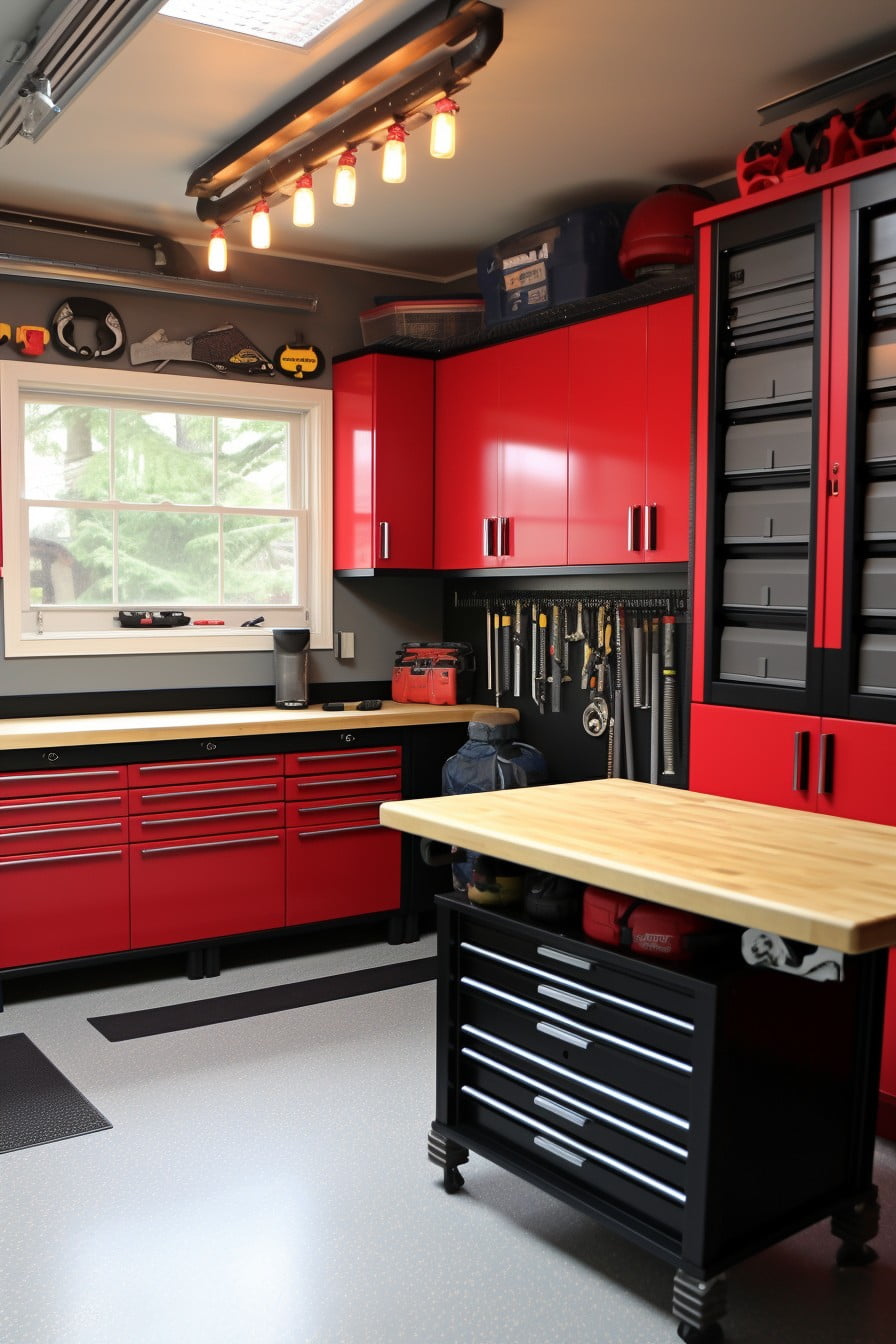 Cabinets cater for both aesthetic appeal and efficient use of space in a garage. Ranging from basic utility cabinets to customized units, these essential storage units can fit into corners, be wall-mounted or stand alone, depending on available space and preferences.
Key points:
Utility cabinets: Their versatility offers a quick and easy storage solution.
Customized cabinets: Tailored to fit the available space, these are an excellent choice for a seamless blend with the garage's overall layout.
Corner cabinets: Make good use of often overlooked areas of the garage. Handy for storing tools or seasonal items.
Wall-mounted cabinets: Ideal for saving floor space and for easy access to stored items.
Stand alone cabinets: Offer sufficient storage and can be moved around to change the layout of the room.
Remember, the choice of cabinets depends on your storage needs, garage space, and budget. Proper installation can enhance the durability and usability of these units. Installing cabinets may seem like a hassling task initially, but the efficiency and tidiness they bring to your garage are worth the effort.
Designate a Parking Area With Signage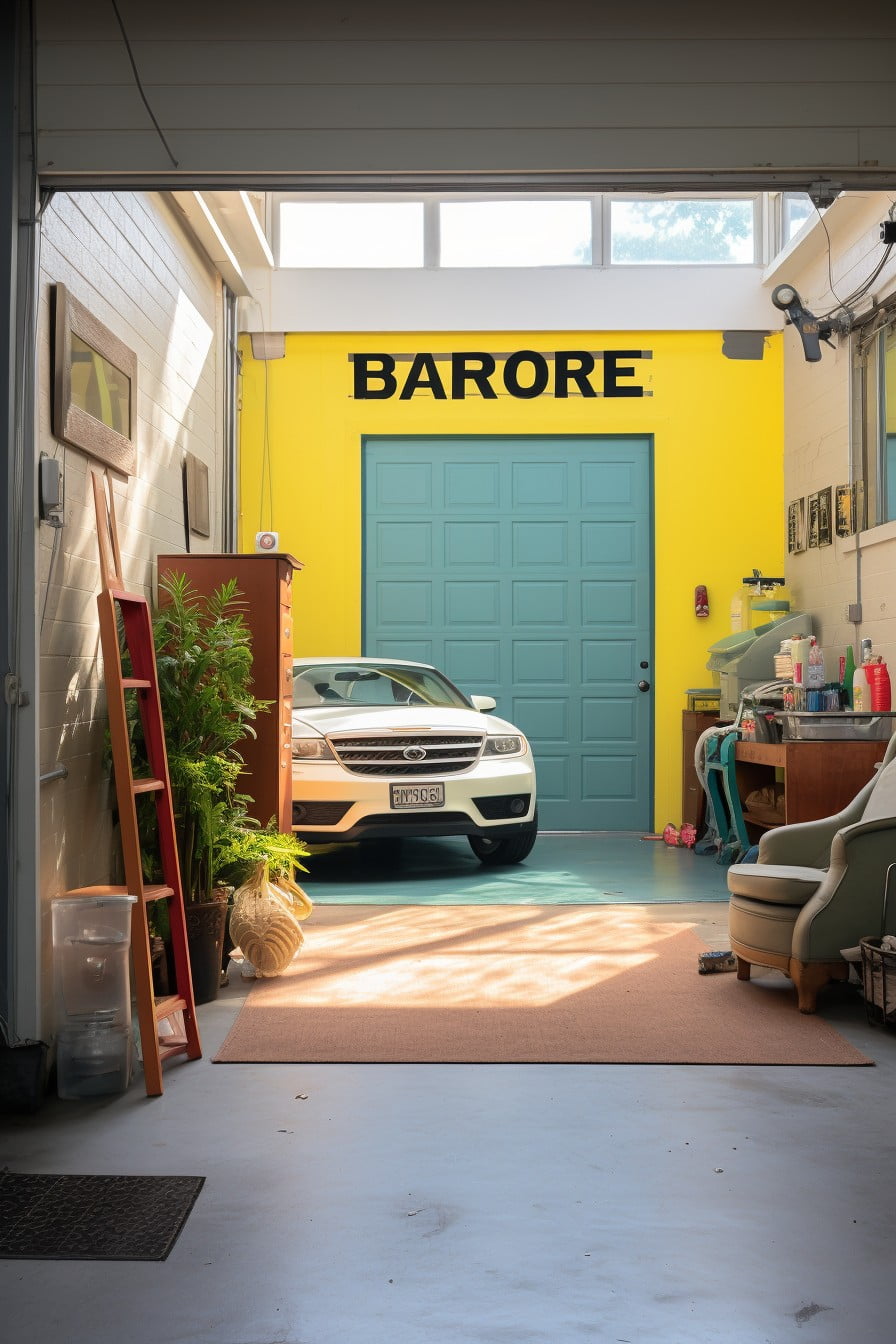 Ensuring the garage stays organized involves more than just storage solutions – a smooth flow of traffic is equally imperative. To manage this, sections dedicated to parking can be clearly defined by utilising signage.
Key points to consider:
Type of Signage: Depending on the garage aesthetics, choose between vintage metal signs, personalized plaques, or modern acrylic signs.
Signage Content: It could show the positions of different vehicles, denote a specific spot for family members, or even display a warm automobile-themed quote.
Positioning: Determine a visible spot to hang the sign up. It must be noticeable right when the garage is entered.
Visibility: Opt for signs with reflective or phosphorescent materials, particularly useful in low-light conditions.
This way, the confusion over vehicle placement is mitigated, establishing a systematic routine in the garage.
Install Ceiling Fans for Ventilation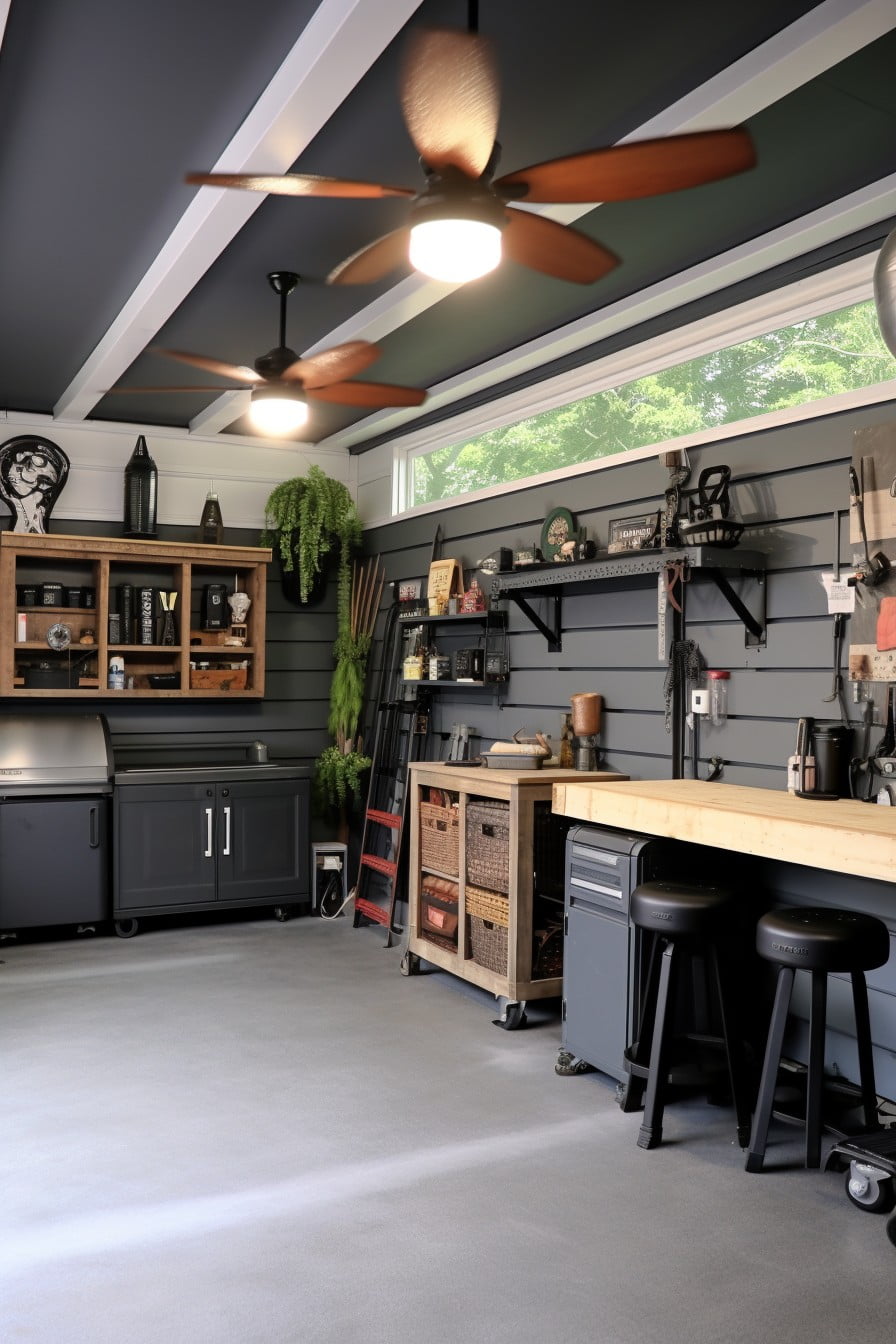 Proper ventilation is an essential factor to consider during a garage makeover. Ceiling fans prove to be a highly efficient way of promoting air circulation, dispelling unwanted smells and maintaining a balanced temperature. Follow the steps below for successful installation:
1. Determine the precise location: Install your ceiling fan in the center of your garage for the best airflow distribution. For higher ceilings, consider a downrod extension.
2. Choose suitable size: The fan's size should coincide with the garage size. Larger garages may need multiple fans or a single larger-sized fan to achieve optimal air circulation.
3. Type of fan: Opt for a model that is energy-efficient and has variable speed settings to control airflow as desired. Water and dust resistant models are ideal for garage environments.
4. Installation: Seek professional help if you are not confident about the electrical set-up. Make sure the fan is safely secured to avoid accidents.
Remember, ceiling fans also provide light and can enhance the aesthetic appeal of your garage. Therefore, choosing a design that matches your overall decor can provide a finishing touch to your space.
Make a Car Care and Maintenance Corner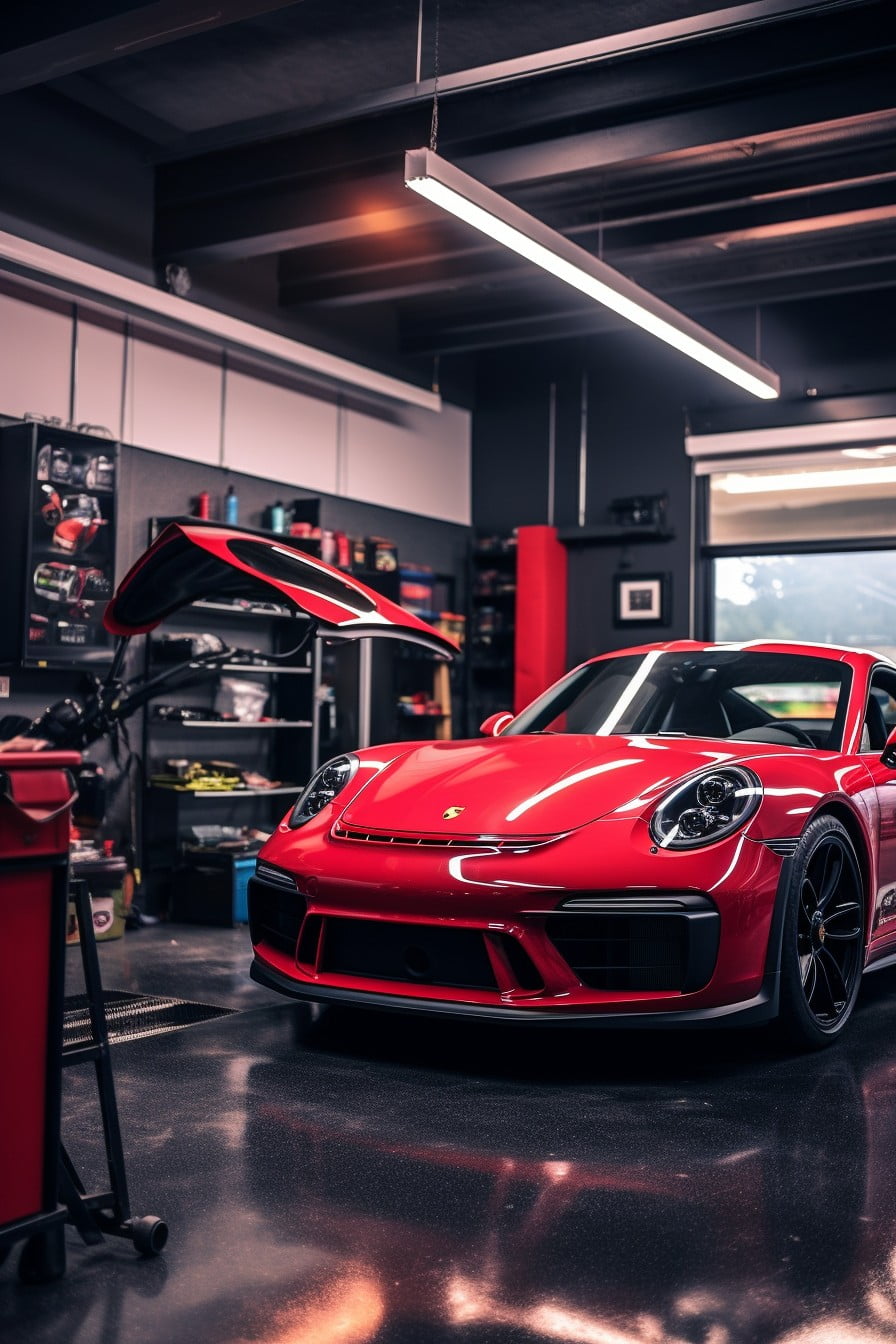 Devising a dedicated spot for all car-related necessities simplifies regular maintenance tasks. Here's how to optimize this space:
1. Stock the Corner: Essential items include car fluids (oil, windshield washer fluid, brake fluid), car cleaning supplies, and a tire inflator for emergencies.
2. Organization is Key: Use portable toolboxes or small shelving units to arrange tools and accessories. Label everything clearly for effortless access.
3. Opt for Mobile: Make the corner's layout mobile. Mount smaller tools and cleaning supplies on pegboards or magnetic strips on the wall, and use store-bought or custom-made storage carts on wheels for heavyweight items.
4. Light the Area: Proper lighting beautifies and serves functionality. Consider adding a good-quality work light.
Remember, safety first. Be sure to store hazardous materials appropriately and keep sharp objects out of the reach of children.
Decorate With Motivational Signs or Posters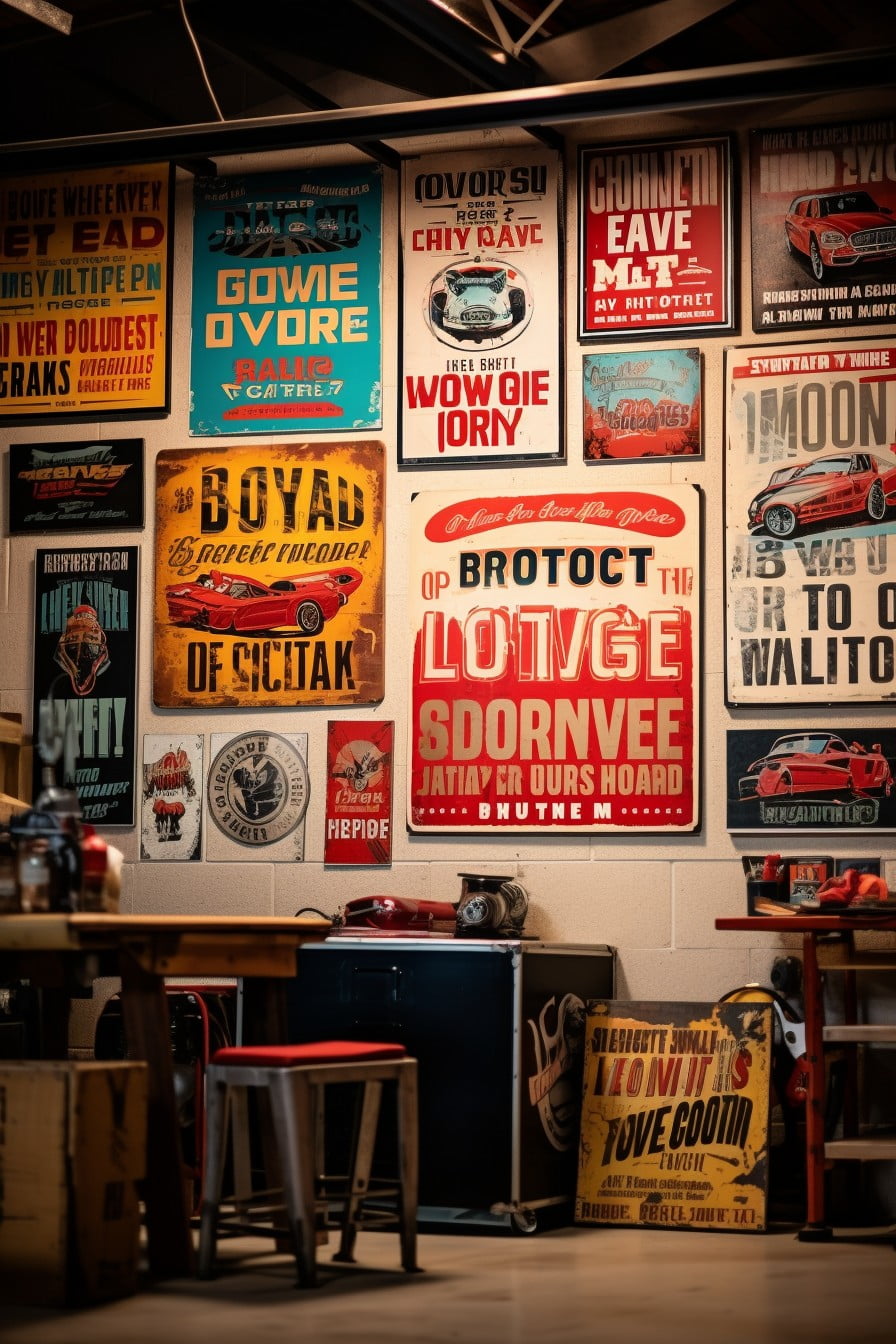 Incorporating motivational signs or posters can contribute significantly to a garage's charm and functionality. They can provide daily boosts of inspiration and add a personal touch to this otherwise utilitarian space. Consider incorporating these key aspects:
1. Theme: Select a theme that resonates with you. It could be anything – car-centric, fitness-focused, or hobby-driven. Your theme should blend with the overall garage aesthetic, enriching its charm.
2. Location: Position your signs or posters strategically. High-traffic areas, or above a workbench, are ideal spots for maximum visibility.
3. Lighting: Ensure proper illumination for your signs or posters. Consider using spotlight or under-cabinet lighting.
4. Size and Scale: Choose the right size of signs or posters. Larger options are impactful, while smaller ones can fit into tight spaces.
5. Material: Opt for durable materials like metal or laminated prints for longevity given the garage environment.
Remember, the goal is to create a space that not only serves your needs but also motivates and inspires you. So, select signs or posters that align with your personal tastes and interests.
Related: