Last updated on September 19, 2023
This is a tutorial on how to attach rope to a wood sign so that it can be hung. In a nutshell:
Step 1: Measure the length of rope needed and cut it.
Step 2: Tie one end of the rope to the back of the sign with a knot.
Step 3: Tie the other end of the rope to an anchor point, such as a nail or screw in your wall, with another knot.
Wood is necessary for doing DIY projects such as making a wall decoration with old wood. The products one would need to do this are rope and reclaimed wood.
Wooden signs may seem like an outdated concept but in this day and age, you can't beat their rustic appeal. Found at stores or online, they are normally very pricey though some will sell for less. Making them however is a very easy task which most could do themselves with the necessary patience and creativity as well as the time to devote to it.
You can hang these wood signs with rope:
Wood Plank Sign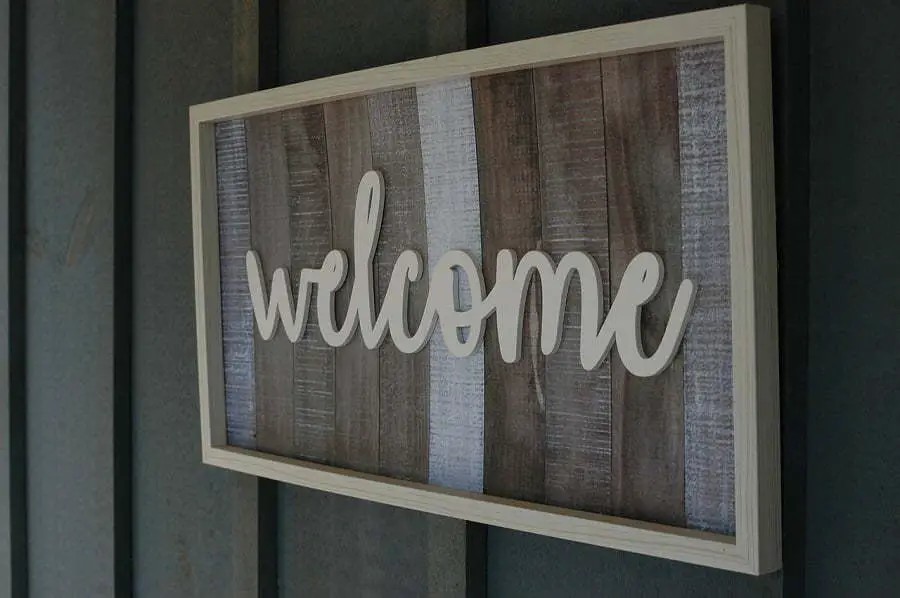 To make a beautiful wood sign out of a wood plank, first purchase a board from the hardware store and use instructions from Salt and Life Blog to transform it into a respectable signboard. The catch: you do not need to be accomplished at woodworking, just look online for simple instructions.
Framed Wood Sign 
The minimal design of the frame makes it appropriate for decoration in a home office. When displaying an uplifting or motivating message, it will impact people greatly.
If you are looking to improve the appearance of your wood sign, opting for framing is one idea that may make it appear more mature and organized.
Asymmetric Wood Sign 
Some sign boards are neat and tidy but some can take advantage of being asymmetrical.
A signboard we found at Creative Ramblings is very unique and this slight asymmetry leaves its impact.
Large Wood Sign 
A wood sign is a beautiful piece of decor that can go on the outside, or even on the inside. Often people hang them up near their doorway, so they're ready for guests! Depending on what kind of wood you choose, it could be notable, but if you pick one easy to see from far away like the top of your porch then you'll ensure any guest will know right where to go as soon as they make it through their door!
Simplistic Wood Sign 
Wooden signs are best when their message is simple and not clustered in many colors.
Wood Board Sign 
You may use the design and have it permanent like they do or you may experiment with different shapes and sizes to get an idea of how you want it. Paint the written words in white onto the wood of your choosing.
Hanging Wood Sign 
Do you need a rustic sign for your wall that is easy to make? This hanging wood sign features lettering that reads "Peace & Love." It has a country style and evokes the country spirit. The maker recommends it for any space you want to look cozier because it will really bring happiness when hung.
Pallet Wood Sign 
Wooden signs are perfect for displaying letters or words on them. Pallet wood, which is typically thrown away can make a perfect canvas for a sign. You can carve out cute words and phrases against the rustic blotched paint job created by the used wood.
Farmhouse Wood Sign 
The welcome signs are generally two of the most heartwarming decoration pieces which give you an exceptional feeling of familiarity every time you get back home from work or a vacation.
Wood Rope Sign 
Many wood signs have phrases painted onto them. If you want to share a phrase that is completely unique, use a rope and establish your signature coastal vibe.
Some wood pieces have artwork or messages painted on them. When wanting to create something entirely unique, write in rope and add the coastal essence for effortless classiness!
Related: