Last updated on September 23, 2023
Explore innovative garage bar ideas that transform underutilized spaces into inviting spots for entertainment and relaxation.
Transforming your garage into a bar is a fantastic way to maximize your home's potential and create a unique space for socializing. Whether you're a cocktail connoisseur or a craft beer aficionado, there are countless ways to design a garage bar that suits your tastes and lifestyle.
From sleek, modern aesthetics to rustic, vintage vibes, the possibilities are endless. This article will guide you through various garage bar ideas, detailing everything from essential bar equipment to decor tips, to help you create the perfect at-home bar.
Convertible Bar Table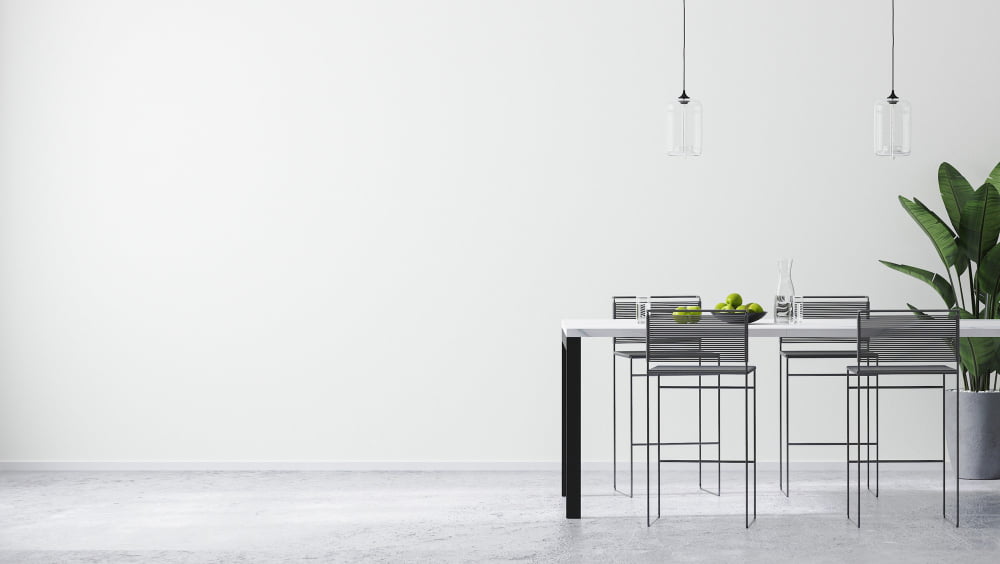 Making the most of your garage space is paramount when creating a home bar. Lean towards a convertible bar table to optimize space utilization. When not in use for serving drinks, it can easily be reused for other purposes such as a workshop table or storage space.
To make a convertible bar table, first, consider the dimensions. It should be high enough for standing and have ample surface area to accommodate bottles and glasses.
Choose a sturdy material like solid wood or metal, which can withstand the wear and tear of different uses across time.
Opt for a foldable or collapsible design. This allows you to fold it away when needing extra garage space, and bring it out for gatherings.
Incorporate storage compartments. They can stash bar essentials such as glasses, bottles or cocktail-making tools when the table is folded away.
Decorate the surface. This could be done in any number of ways, for example applying a distillery logo or brand name, or a laminated top for a glossy finish.
Remember to install locks or fasteners for safety and stability when the table is either opened or closed.
Vintage Neon Signs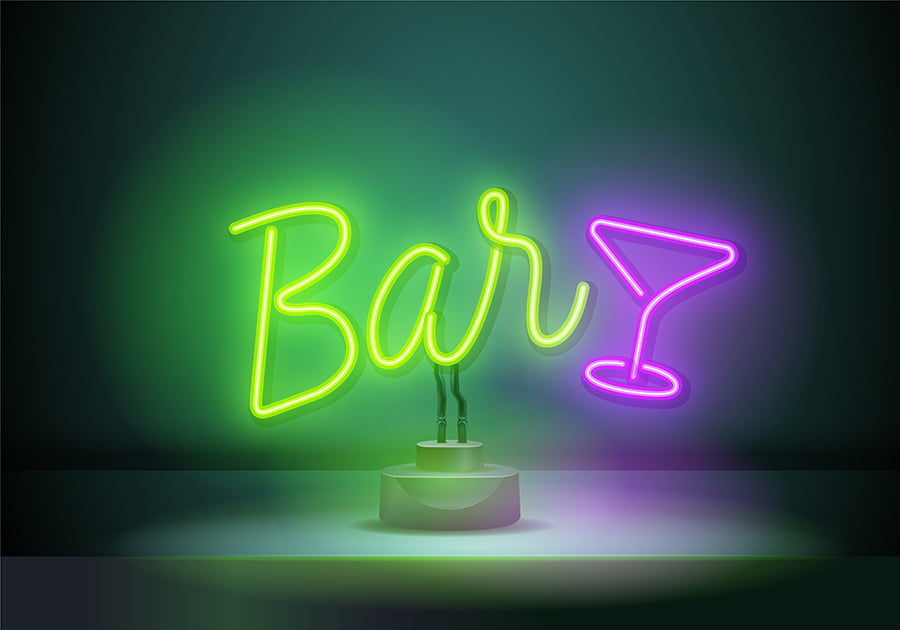 Incorporating vintage neon signs into your garage bar decor adds a touch of retro flair that not only illuminates the space but also serves as a cool conversation starter. Here's how to put this idea into practice:
Choose your sign. The market offers a range of options from reproductions of classic beer labels to novel custom designs. You can even get personalized neon signs with your name or a favorite quote if desired.
Consider the size and placement. Be mindful of dimensions, ensuring your chosen sign fits well within your bar area. Besides, consider its visibility in relation to other elements of the bar décor.
Prioritize safe installation. While neon signs are generally safe, they contain gases that can be harmful if the tubes are broken. Therefore, ensure sturdy installation away from high-traffic areas where it could easily be knocked over.
Maintain properly. These signs can last for years when cared for correctly. Keep them clean, and ensure the electrical components are in good shape. Always unplug when cleaning or replacing parts.
Remember, a vintage neon sign not only provides additional light but also sets the mood. Let it be the highlight or the backdrop, but allow it to have its own space to exude its charm.
Wall-mounted Bottle Opener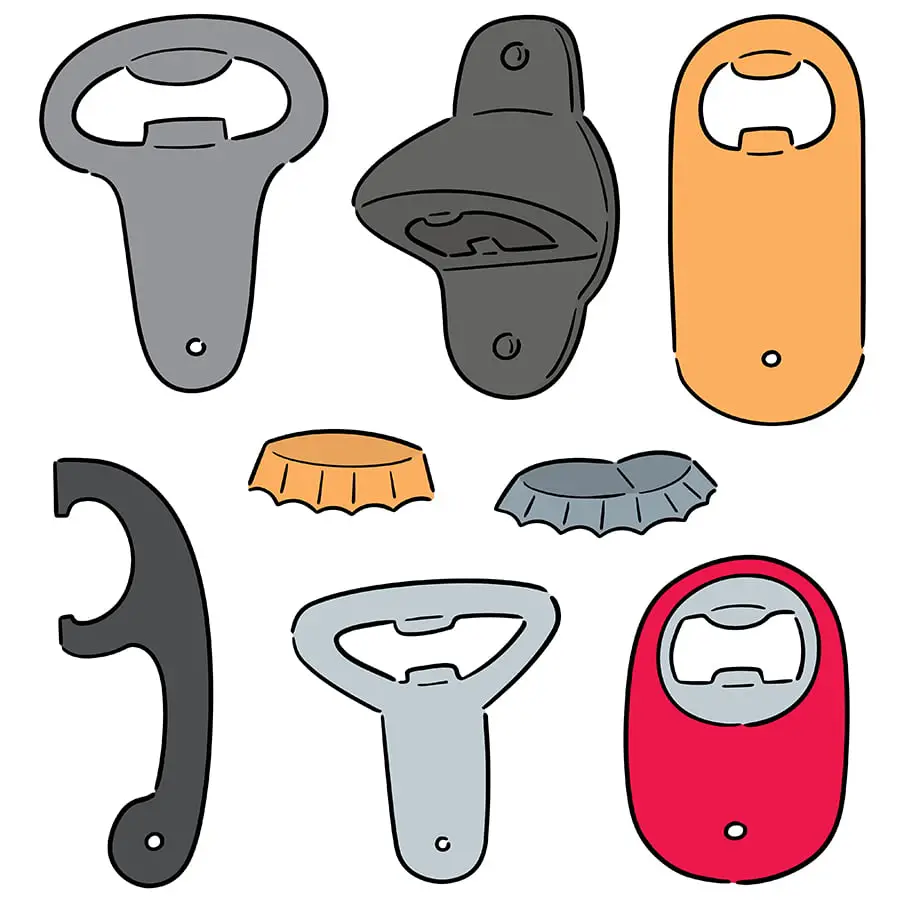 A wall-mounted bottle opener is a practical and stylish addition to any garage bar. There is a variety of designs available, ranging from vintage to modern, that can contribute to the unique aesthetic of your space.
Select a spot that's easily accessible, but not in a busy area where it might get knocked. Often, positioning it next to the fridge or cooler makes the most sense.
Mounting it is straightforward. Ensure that you have a solid surface like a wooden wall or cabinet, and use strong screws for a secure fit. Some models even come with a magnetic cap catcher to prevent a mess.
To enhance the visual appeal of this accessory, consider a custom plaque with a desired logo or symbol. Personalized or novelty openers can also be a fun element that sparks conversation among guests.
Lastly, maintenance is key to its longevity. Clean it regularly and make sure it is not exposed to moisture to prevent rusting. A wall-mounted bottle opener is a small investment that increases your bar's efficiency and adds a touch of authenticity to your garage bar.
Beer Cap Collection Display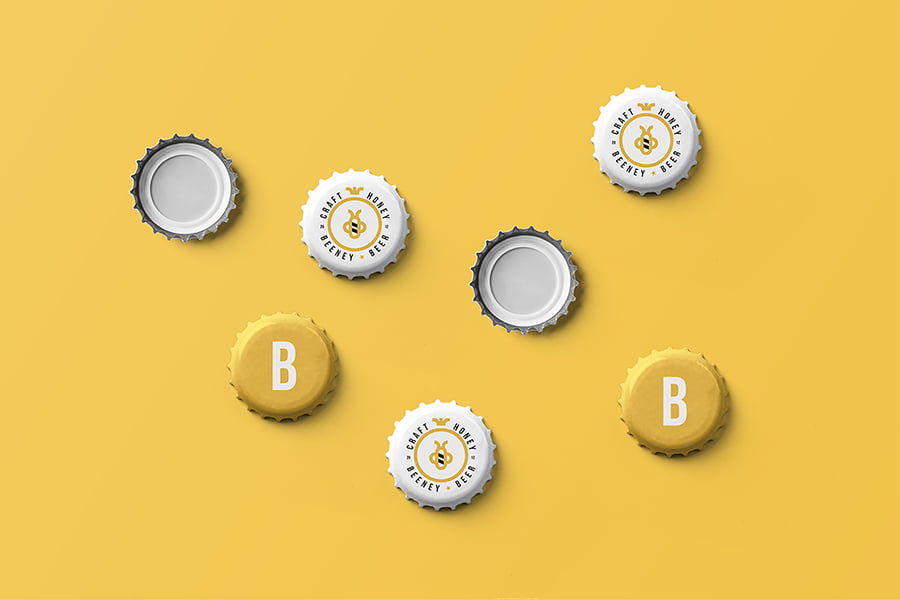 A clever, artistic, and personalized way to exhibit your beer cap collection, this concept merges aesthetics with functionality. Traditionally, bar-goers would toss their caps, but instead, create a fun visual by displaying the variety and colors of gathered caps.
Firstly, to begin your beer cap collection display, find a space on the walls that suits your garage bar layout. Whether it's behind the bar, on an accent wall, or hidden corner, ensure the chosen location complements your overall bar aesthetic.
Next, invest in a display frame that corresponds with your garage bar's thematic feel. You may consider various themes such as rustic, modern, industrial, or minimalist. For instance, a vintage wooden frame might lend a rustic feel, while a shiny metallic frame may work for a modern design.
For arranging the caps, you can adopt an orderly color-coded pattern, differentiate by brand, or opt an unstructured approach letting it reflect your beer-tasting journey.
In terms of mounting, use high-strength adhesives to secure the caps in place. It's essential to carefully plan your layout before sticking them on because it may be hard to reposition them later.
Lastly, add a protective front to the display, especially if it's in an area with energetic bar activities. This eliminates the risk of caps being knocked off, and also directs focus on the collection with a professional finish.
With time, your beer cap collection will not only symbolize cherished memories but will serve as a unique interactive piece of your garage bar.
Mini Fridge or Kegerator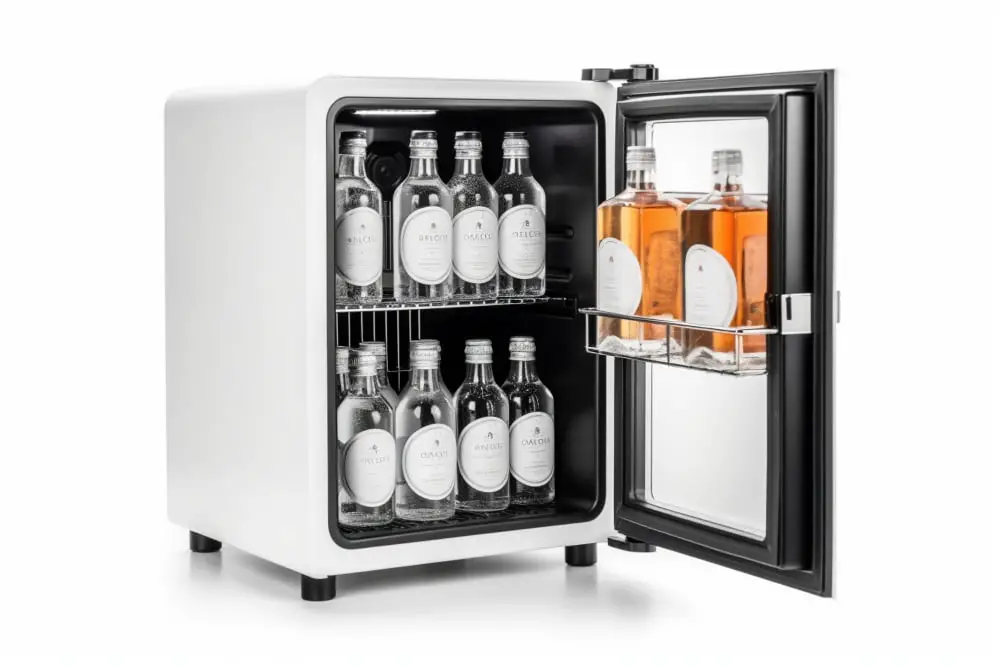 A mini fridge delivers a compact solution for cooling your beverages. You can easily organize and make various drinks accessible at your fingertips. Make sure to consider space, energy efficiency, and adjustable shelving when choosing the right mini fridge.
On the other hand, a kegerator is specifically designed to dispense draft beer, keeping it fresh and perfectly chilled for several weeks. A must-have if draft beer is your preference. It often comes with a CO2 tank, a keg of your favorite brew, tubing, and a tap for pouring.
Some key considerations when selecting a mini fridge or kegerator include:
Size and capacity: The space in your garage bar and the amount of drinks you plan to store or serve.
Energy efficiency: The energy rating of the appliance should be taken into account for long-term usage.
Budget: Keep your budget in mind, as the prices of these appliances vary significantly.
Temperature control: For the best tasting drinks, look for appliances with accurate and consistent cooling.
Noise level: Some appliances can be quite loud, so factor that into your decision.
Remember, this isn't just about convenience: a right choice can add a style statement to your garage bar décor as well. Whether it's a shiny stainless steel mini-fridge or an edgy black matte kegerator, choose an appliance that contributes to your overall theme and aesthetic.
Dart Board Corner
Incorporating a dart board corner within your garage bar can serve as a considerable source of entertainment and fun. Select a wall location that's safely removed from your main bar area and pedestrian paths to prevent accidental injuries during a lively game.
Ensuring appropriate lighting is vital to help players aim and keep score accurately. Opt for adjustable light fixtures for ease and convenience.
Consider investing in a dartboard cabinet set. It not only enriches the appearance but also provides additional functionality by protecting your wall from stray darts and allowing space for keeping track of scores.
One detail to keep in mind is to use a backboard, where it will act as protective gear for your wall and catch any off-target throws. A cork backboard is a great choice as it can prevent darts from bouncing off while reducing the noise produced when a dart strikes.
Darts should be stored securely away when not in use. Metallic stands or wall-mounted holders provide alternatives for showcasing your dart collection.
Lastly, comfortable seating options near the dart board corner can create a social hub, fostering a communal atmosphere amongst friends and family. Choose movable seats to easily adjust as per the crowd and make the area welcoming.
Pull-up Bar or Pool Table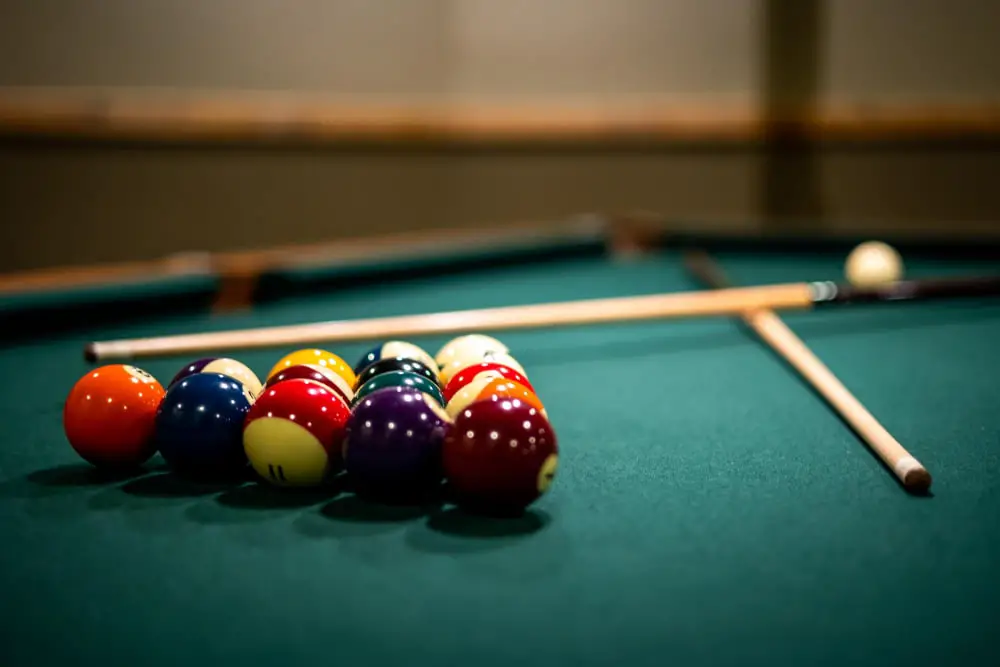 A pull-up bar or pool table can serve as a central feature in your garage bar, bringing in an element of entertainment and competition.
For the fitness enthusiasts, a pull-up bar may be the perfect fit. This installation is great for a bit of energetic fun and casual exercise. You can mount it on the wall, especially in the corner, to maximize space. Going for one that is adjustable or removable ensures that it won't interfere with the bar ambiance when not in use.
On the other hand, the pool table may be the perfect inclusion for those seeking a more laid-back ambiance. With a selection of contemporary, traditional, or rustic design tables available, it's easy to find one that matches your garage bar theme. Remember to allocate enough room around the table for comfortable play. To amplify the classic pool hall experience, consider adding a billiards overhead light.
Regardless of choice, both pull-up bar and pool table offer a social, interactive experience that encourages guests to connect and engage, enhancing the overall garage bar environment.
Hanging Glasses Rack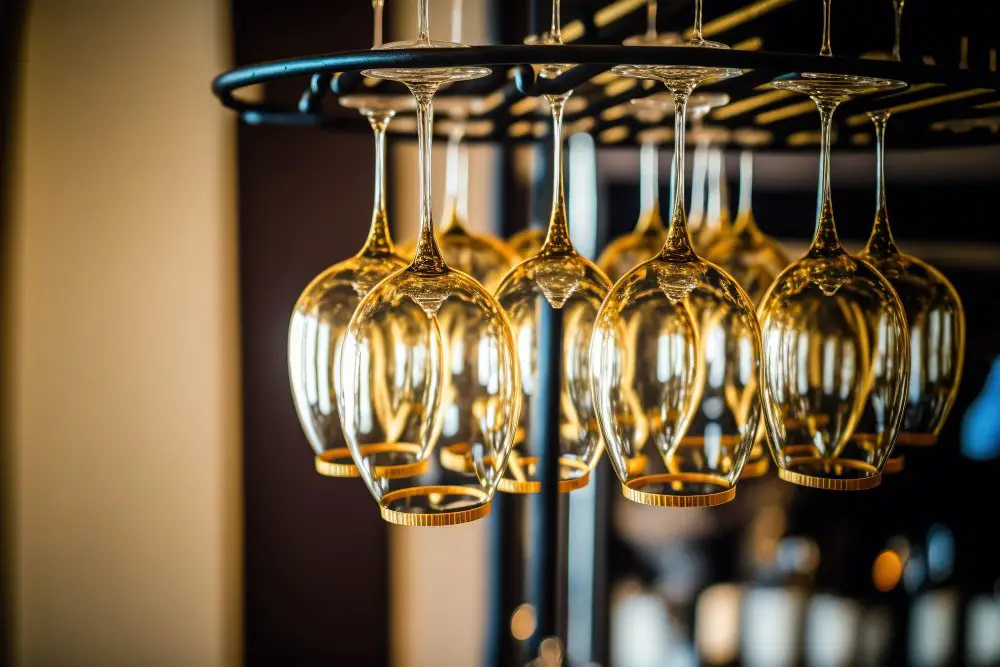 If you are like most bar enthusiasts, you likely have a collection of unique glasses for every occasion. Leaving these glasses on a shelf or inside cupboards may not be the best storage option, especially in a bustling garage bar. This brings us to the practical solution of hanging glasses racks.
These racks are stylish, space-saving solutions and act as functional decor. They suspend your glassware upside down, offering a conventional bar feel while keeping dust out of the glasses. Some key aspects to consider include:
Installation: Secure your rack on a sturdy surface or bolt it directly into a ceiling joist. This will ensure that it stays in place, even with the weight of several glasses.
Material: Options range from wood to stainless steel. Your choice will depend on the rest of your garage bar decor and durability preferences.
Size: Depending on your glassware collection, you can opt for a larger or smaller rack.
Location: Consider setting up the rack near the counter or drink prep area for easy access.
For a personal touch, you can even DIY your glass rack, allowing you to customize it according to your bar style, space limitations, and storage needs. Therefore, a hanging glasses rack is both an aesthetic embellishment and a practical inclusion in your garage bar plan.
Industrial Lighting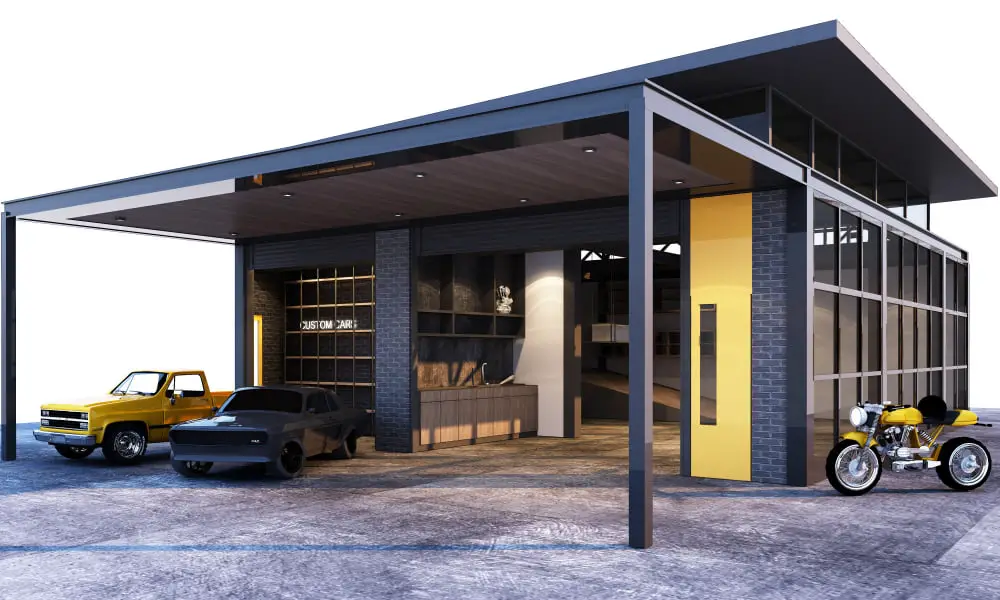 Industrial lighting is pivotal when setting up a garage bar. Far from just a functional element, it also counts as an aesthetic feature that raises the style quotient, bringing a dynamic and urban feel to the bar. A blend of metal and wood materials is quite typical of industrial lighting, increasingly popular due to its uniqueness and raw appeal.
Here are some unique industrial lighting options to consider:
Pendant Lights: Straight down from the ceiling, they give a focused illumination, unveiling an industrial vibe.
Track Lighting: A modern option that allows adjusting each light to specific spots.
Edison Bulb String Lights: These add a vintage appeal and work exceedingly well in a garage bar setting.
Metal Sconces: Ideally placed over the bar or on free-standing walls, casting a warm, subdued light.
Pipe Lamp: A quirky addition that can double as a conversation piece.
To get the most out of your lighting, create layers by combining fixed, overhead lights with sconces or strings. Additionally, consider using a dimmer switch for added flexibility, changing the ambiance according to the mood or event. Be sure to hire a licensed electrician for safe installation, keeping local building regulations in mind.
Classic Bar Stools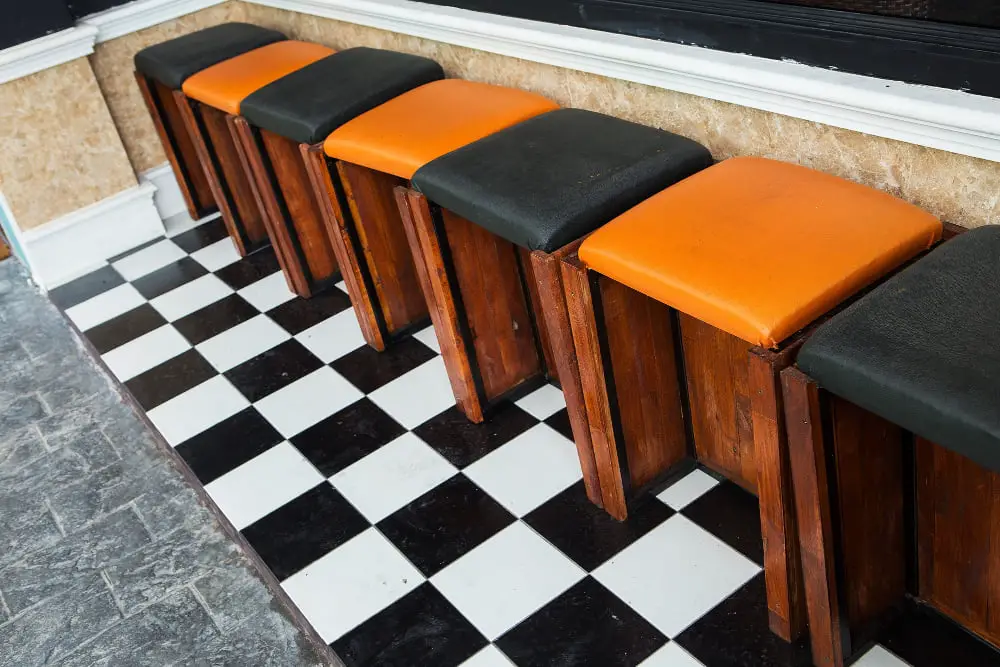 When selecting classic bar stools, it is important to focus on both style and comfort. Look for stools with a timeless design that will blend seamlessly with your garage bar decor. They can be either backless, for a more streamlined look, or with a backrest, for enhanced comfort during long, relaxing chats.
Think about the height of your bar counter. Make sure to measure it before purchasing your stools so that your guests won't struggle getting on or off. A general rule of thumb is an approximate 9 to 12-inch gap between the stool seat and the bottom of the counter.
Consider stools with adjustable height for added flexibility. Swivel stools will permit your guests to turn easily without having to physically move the stool. Cushioned stools may offer a more comfortable seat for longer periods, but will require additional upkeep.
Material is an essential factor for longevity. Hardwoods, such as oak or mahogany, can provide a sturdy base and a classic look. Metal stools, on the other hand, are more durable and easier to clean, fitting perfectly with industrial style garage bars. To prevent scratching your flooring, opt for stools with rubber or plastic feet.
Lastly, don't forget about footrests. These not only enhance comfort by providing a place to rest the feet, but also add stability to the stool. Together, with these key ideas in mind, one can create a cozy and stylish seating area for their garage bar.
Garage Door Turned Bar Counter
Transforming your garage door into a bar counter is a creative and innovative way to make the most of existing structures. Depending on your garage arrangement, this may involve utilizing the doors as surfaces or having a roll-up door, which can serve as a unique backdrop for your bar. It adds an interesting architectural element to your space and also provides a versatile counter surface when entertaining guests.
First, consider the condition and material of your garage door. Ensure it's sturdy, clean, and suitable for food and beverages. You might need to add a sealer or varnish to wooden doors for a more polished look and easier cleanup. A good cleaning and maybe a fresh coat of paint will do a metal door well.
Next, think about the height of the door concerning the stools you'll be using. The typical bar counter height is around 42 inches, which is comfortable for most people to either stand or sit. This adjustment may be necessary to make the space comfortable and functional.
Finally, provide adequate storage near your new garage door bar counter. An array of built-in cupboards, a floating shelf, or a stylish pegboard can hold your glassware, cocktail shakers, corkscrews, and other bar essentials. Remember, convenience is key when you're serving beverages to your guests.
Be sure to always take proper safety precautions when modifying your garage door. For major changes or installations, it's advisable to seek professional help. This idea combines functionality with a unique design element, making your garage bar truly one of a kind.
Adjustable Shelves for Bottle Storage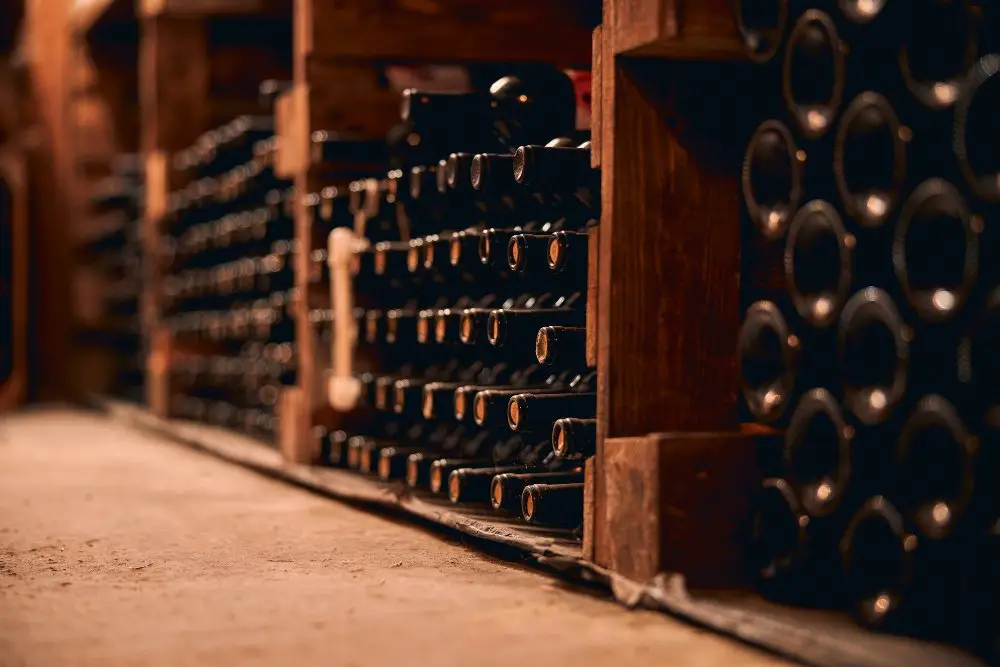 Adapting to the varying sizes of wine and liquor bottles, adjustable shelves offer a practical and aesthetically pleasing solution. The beauty of this setup lies in its flexibility.
Customize the spacing. Depending on your collection, the spaces between shelves can be easily tweaked.
Easy to install. Most adjustable shelving units come with a simple guide, making it a breeze to install.
Variety of materials. From wood to steel, you have an array of options when it comes to materials, ensuring an easy match with your garage bar's theme.
Innovative designs. Some units come with built-in light fixtures, adding a touch of elegance to your bottle display.
Maximize space. Use the top of the shelf unit for items you seldom use, such as special occasion glassware.
Investing in adjustable shelving gives you control over your space and allows your bottle storage to grow with your tastes and interests.
Bar Equipment Organizer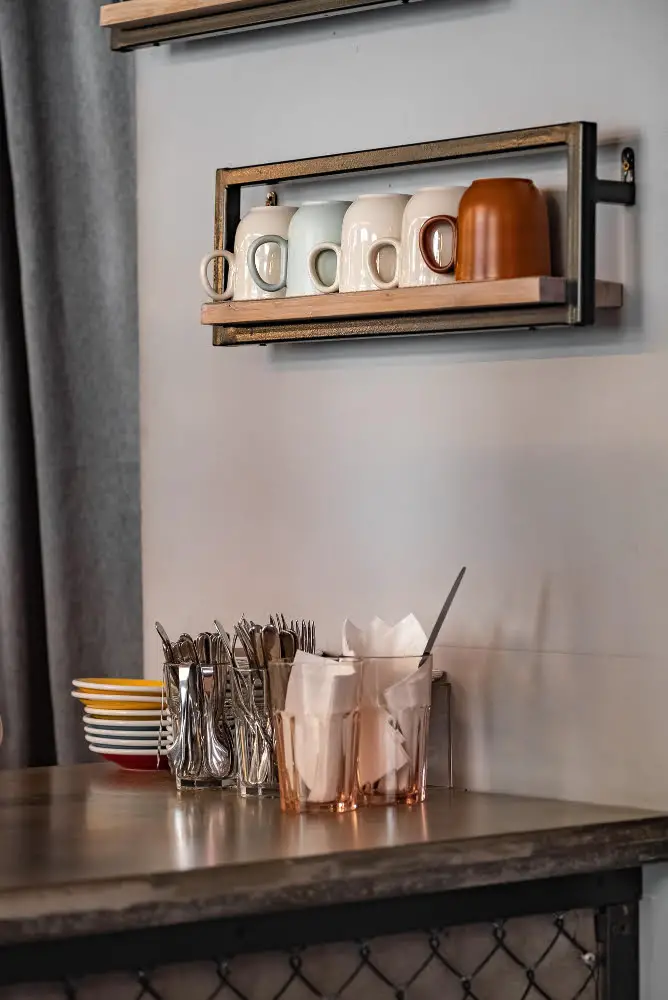 Organizing your bar equipment is crucial in transforming a garage into a functional bar. Firstly, decide on what essential items are needed, such as shakers, mixers, jiggers, stirrers, or muddlers. Keeping these on-hand allows for easy cocktail preparation.
Cube storage units make an excellent choice to stow these small yet essential items.
Next, implement a dedicated space for glassware. Consider incorporating a cabinet or open shelving units. Ensure glasses for differing drink types are categorized for ease of use.
Remember, comfort is key. Place heavier items – such as drink dispensers – at waist level or below to prevent strain when frequently lifting. Meanwhile, less commonly used items can be stored above eye level.
Finally, a rolling cart can also prove indispensable. It provides mobile storage for bottles and mixers and can be easily tidied away when the bar is not in use.
Optimize your storage according to your requirements, by adjusting the space as your bar equipment collection grows. Stick to the mantra of 'a place for everything, and everything in its place' to keep your garage bar tidy and functional.
Sound System for Music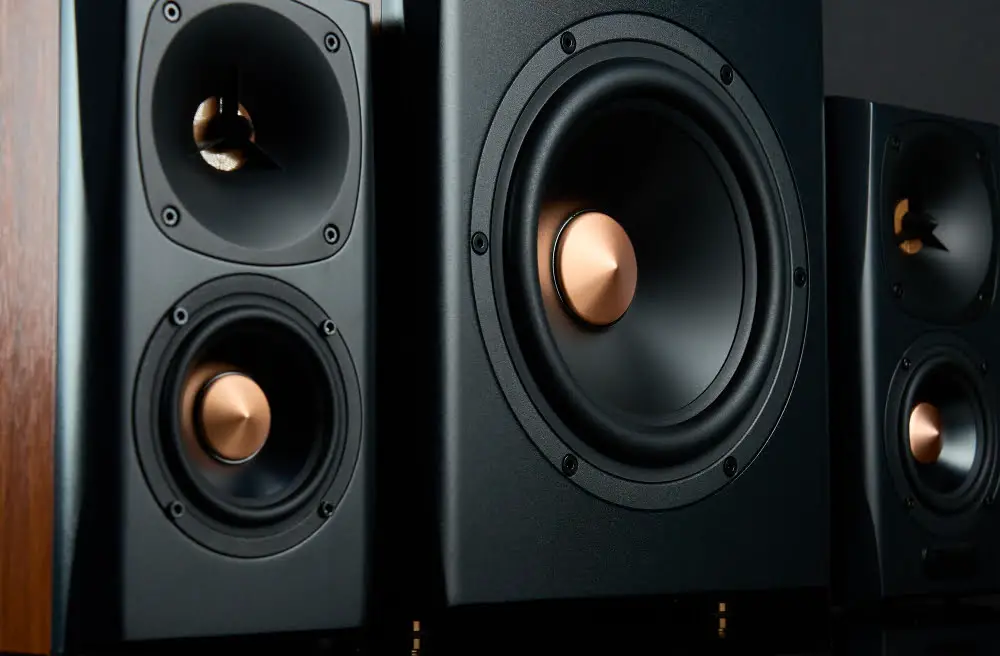 A high-quality sound system can significantly enhance the atmosphere of your garage bar. You'll want speakers powerful enough to fill the space without distorting the sound.
Consider investing in a Bluetooth compatible system. This allows guests to play their music from their phone or other devices, offering a host-friendly solution that leaves control in the hands of the crowd.
Placement is paramount. Optimal placement involves positioning speakers at ear level in key locations around your bar. Think about installing speakers in corners to fill the room with sound, but ensure they're not too close to seating areas to avoid overwhelming your guests.
For those seeking a vintage vibe, consider a stylish vinyl record player as the focal point of your audio setup. Not only do they offer excellent sound quality, but they also make for a unique conversation piece.
Remember to make provision for soundproofing, especially if your garage shares walls with your home or neighbors. Acoustic panels can be stylishly integrated into your design to absorb sound and minimize noise leakage.
Finally, you'll need a durable, waterproof, and easy-to-clean system as it might face the occasional spill or bump during lively social gatherings. Going for a system with these features ensures it stands the test of time in your garage bar.
In essence, it's all about creating a memorable ambiance that your guests will love, and good music will certainly help to get the good times rolling.
Sports Memorabilia Decor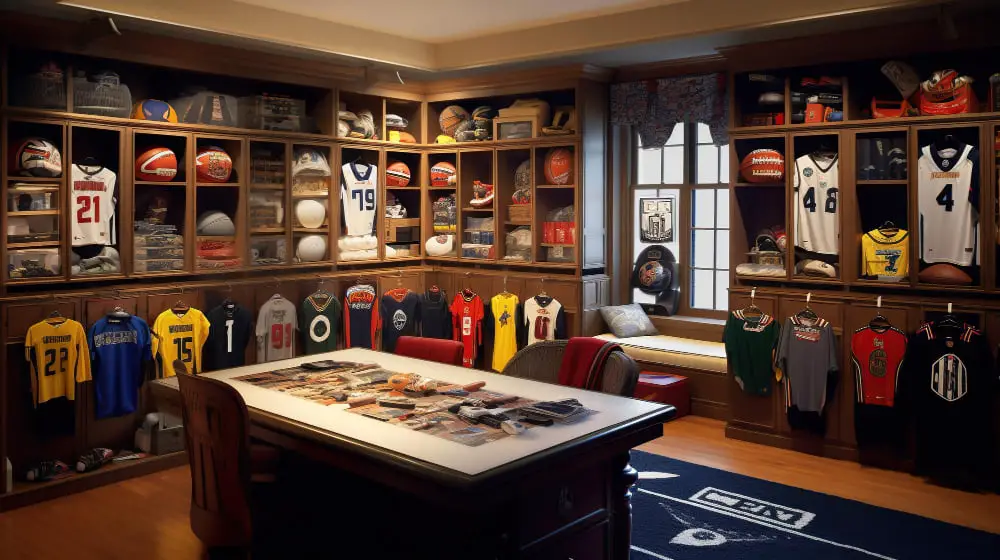 Show off your team spirit in a visually compelling way by integrating sports memorabilia into your garage bar decor. Popular items range from autographed baseballs encased in single ball display boxes to framed jerseys — mount them over your sports-themed bar mat to add depth to your bar surface.
Poster-sized prints of iconic moments can offer a striking visual anchor on the walls.
Practical items can double as decorative accents too. Think team-branded pint glasses or coasters that speak of your allegiance. Even your dartboard can bear the logo of your favorite team.
Mini helmets- arranged on an open shelf would immediately catch the interest of fellow fans.
If space permits, consider a trophy display case holding mementos from games attended or awards won. The key to keeping the decor from overrunning the space is in balancing these special items against the more functional elements necessary for the operations of a bar.
Remember, subtlety can often make a greater impact. Instead of plastering logos everywhere, choose a color scheme that reflects your preferred team. Even team pennants or flags suspended from the ceiling or used as a fun alternative to traditional bunting can provide a whimsical touch and a nod to your favorite sport or team.
Trivia, autograph signing events, or a countdown to the Championship — use a chalkboard or whiteboard to connect with your guests and spark conversations.
Finally, ensure any prized collectibles are properly secured to prevent accidents, especially during the more enthusiastic celebrations!
DIY Pallet Wine Rack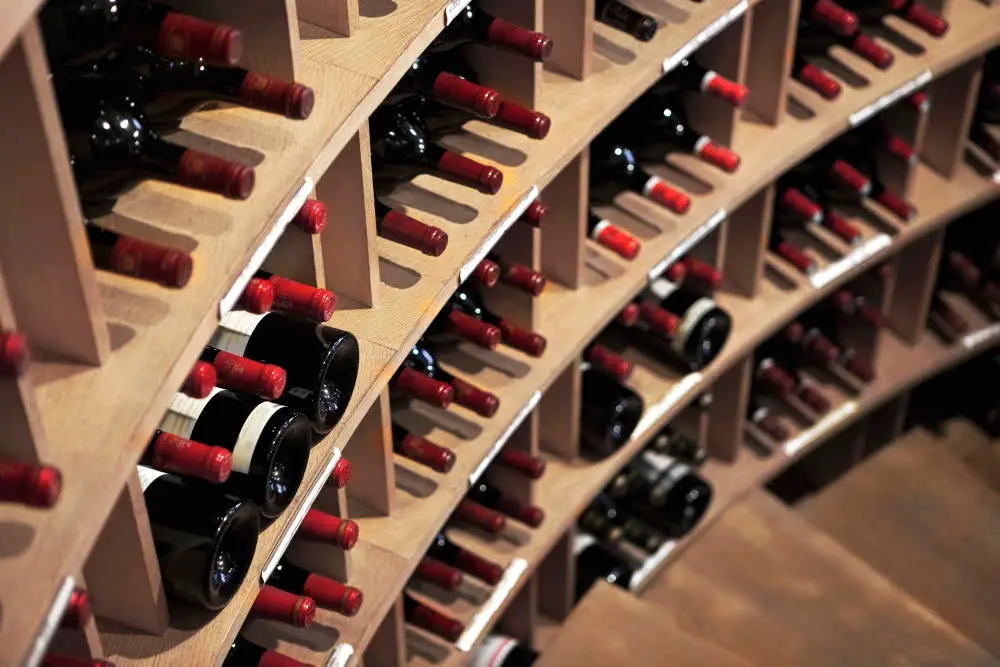 Creating a DIY pallet wine rack can be both a practical and aesthetically pleasing addition to your garage bar. To make one, you'll first need to acquire an old wooden pallet, which are often readily available from local retailers or online free to pick.
Start by cutting your pallet in half across the width, keeping the centerpiece and lower boards intact. This provides naturally spaced slots for wine bottles. Sand the cut edges to prevent splinters and give it a smooth finish.
Next, apply a wood stain that matches the rest of your garage bar decor. Allow the stain to dry fully before proceeding. Now your wine rack is ready for its practical touch. Securely attach a thin strip of wood to the bottom of each slot; this will serve as a base for the bottles to rest against.
To add a charming finishing touch, consider adding a few hooks to the bottom of the pallet. These can be used to hang stem wine glasses, turning your wine rack into an all-in-one wine station. Finally, firmly mount the pallet to your garage wall, ensuring that it is level and securely fixed.
Remember, while this project can be a fun DIY, make sure to use necessary safety precautions when using any tools, and always consider whether the wall you are mounting to can support the weight of the full wine rack.
Portable BBQ Grill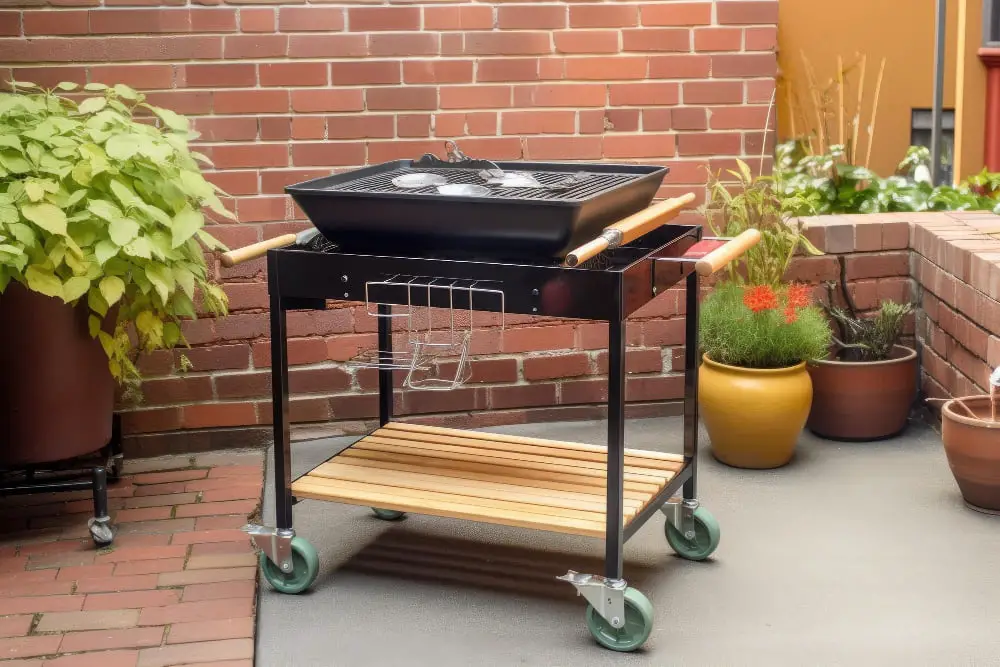 Adding a portable BBQ grill to your garage bar serves as an easy solution for food preparation without leaving the gathering area. It particularly comes in handy while hosting game nights or casual parties.
Choose a small-to-medium sized BBQ grill for convenience. Look for one with wheels for easy mobility and ample cooking space.
For better ventilation, position the grill near the garage door and ensure that fumes are directed outside. This not only maintains a healthier environment but also prevents unwanted smoke and smells from lingering in your garage.
Consider buying a grill with additional features like multiple cooking sections, adjustable heat, and easy cleaning options to make the cooking process more enjoyable.
Lastly, remember to keep a fire extinguisher or fire blanket nearby as a safety measure when cooking inside the garage.
By incorporating a portable BBQ grill, you can elevate your garage bar experience, making it a versatile space for relaxation and entertainment.
Rubber Floor Mats for Comfort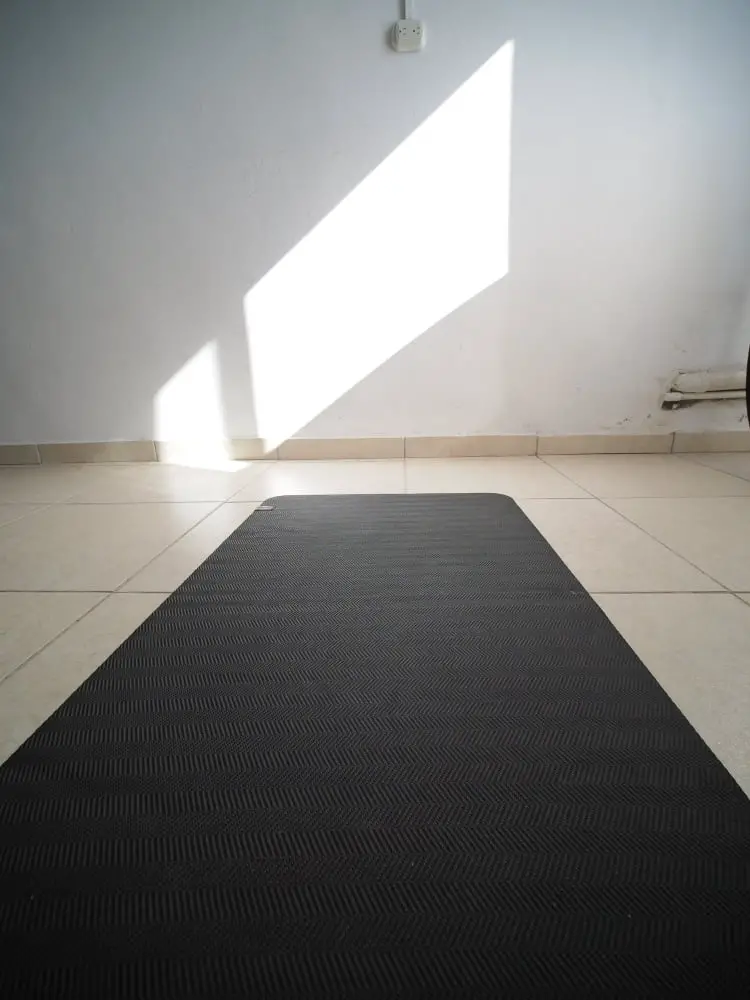 Rubber floor mats, frequently used in gyms and commercial kitchens, make significant contributors to a garage bar setting's comfort. Primarily, they serve an ergonomic purpose, providing foot and back comfort for you and your guests during extended periods of standing and mingling.
Firstly, these mats are renowned for their ability to lessen physical fatigue. Because of their cushioned structure, they reduce the strain on legs, feet, and lower back. For those who enjoy hosting gatherings, this is an attribute that shouldn't be overlooked.
Secondly, beyond their ergonomic benefits, rubber mats have durability to their advantage. They resist wear and tear, withstanding high traffic areas, spills, and even dropped dishes or glasses. Their easy-to-clean nature means that they are a practical choice for what can be a messy environment.
Installation is a breeze, with most mats simply needing to be unrolled onto the floor. This also makes them a portable option, ideal for those who wish to clear away their bar setup sometimes.
Finally, rubber mats come in a variety of designs and thicknesses, so finding one to suit your space and aesthetic preferences won't be hard. From subtle black mats that hide spills to more colorful options that add a pop of personality, variety abounds.
With these ideas in mind, consider using rubber floor mats as part of your garage bar decor. They imbue practicality and comfort into your garage turned social hub, offering a welcoming touch that your guests will appreciate.
Temperature Control for Wine Storage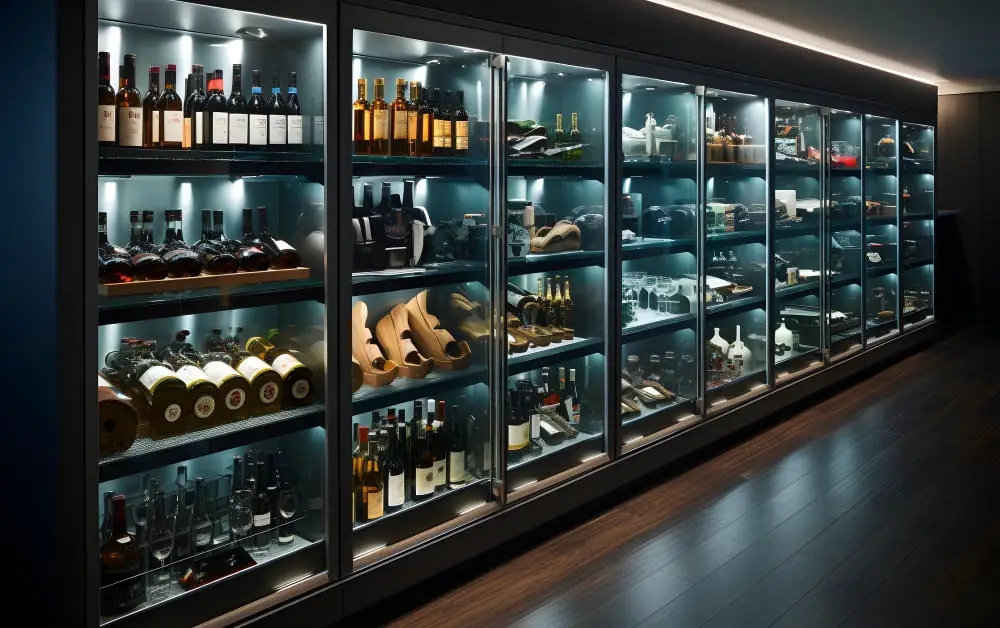 Regulating the temperature in a garage bar is vital, especially for wine enthusiasts. Correct temperature storage both preserves the quality of the wine and enhances its flavor.
There are several practical ways you can achieve this:
Consider investing in a wine refrigerator. Many designers deliberately build wine fridges to maintain the ideal temperature range for wine, between 45 to 65 degrees Fahrenheit.
Install a mini-split system. If the budget allows, mini-split systems offer excellent temperature control, they can heat and cool. They are far more energy-efficient than traditional HVAC systems.
Insulate your garage well. Adding insulation to your garage's ceiling and walls can significantly cool the interior, easing the burden on any cooling systems.
Use thermal curtains or blinds on windows. They can block a surprising amount of heat from the sun, particularly useful if your garage has large or numerous windows.
Remember, temperature fluctuations are the enemy of wine. Try your best to keep the environment steady. Regularly check the thermometer and make necessary adjustments.
Consider the type of wine. For example, red wine typically requires a warmer storage temperature than white. Be mindful of the types of wine you often have and adjust the temperature accordingly.
Avoid storing wine near things that give off heat, such as a furnace or water heater if you have them in your now converted garage bar. They can affect the overall ambient temperature and damage your wine.
Use a dehumidifier. Besides the correct temperature, the right humidity level should also be maintained – ideally between 50% to 70%. Too much moisture can lead to mold, too little can cause corks to dry out. A dehumidifier can draw excess moisture out of the air, preventing dampness in the garage.
Keeping these tips in mind, you can easily maintain the ideal temperature for your wines, ensuring they remain perfect for your enjoyment.
Outdoor Patio Extension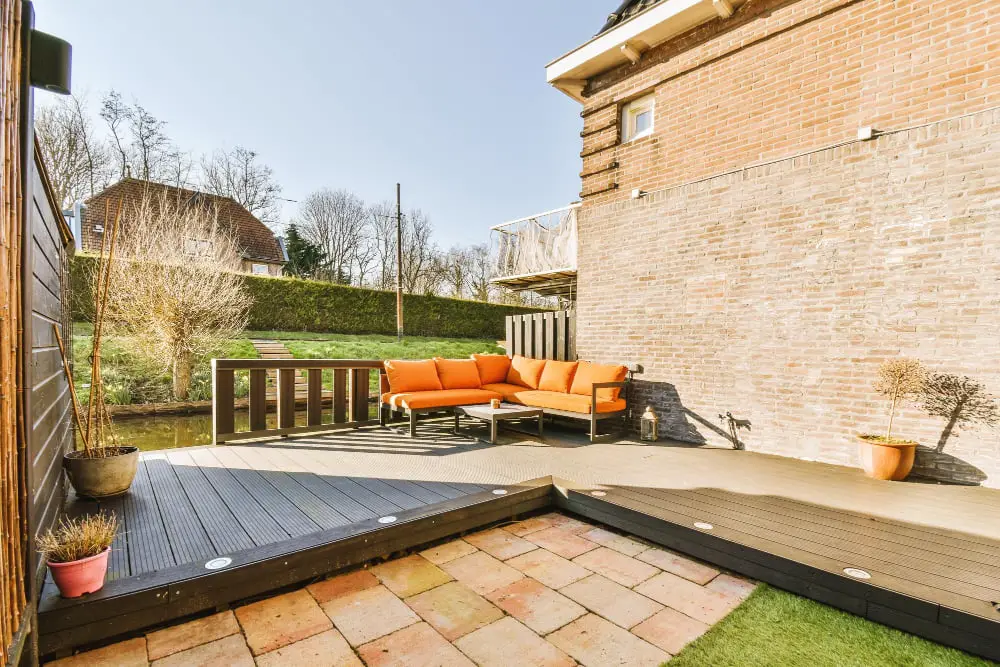 An outdoor patio extension can seamlessly integrate your garage bar with the outdoors, increasing your serving and entertaining experience significantly.
Start by considering the area adjacent to the garage. Is it a garden, a driveway, or perhaps a deck? Your existing space will determine the extension layout. Also, factor in the amount of sunlight the area receives to decide if you need shaded solutions like a pergola or umbrella.
Once you have a plan for the space, focus on the flooring. Wood decking, concrete, tile, or even a well-maintained lawn can work effectively. The choice will depend on your aesthetic preference and functional needs.
Perhaps one of the most essential elements is seating. Opt for weather-resistant furniture that complements your garage bar's interior. Look for options such as an outdoor sofa, hanging chairs, or a picnic table to create an inviting sitting arrangement.
Next, think about lighting. Outdoor string lights, lanterns, or solar-powered path lights can enhance the ambiance as the sun sets. A fire pit table could also provide warmth on cooler nights and act as a charming centerpiece.
Remember, an outdoor extension should match the style and vibe of your garage bar. To tie it all together, consider decor elements like potted plants, outdoor rugs, or artwork that resonate with your bar's theme.
Finally, consider a route for a quick bar serve; a pass-through window or an exterior bar counter can work well in this regard.
Hints on space saving solutions such as multifunctional furniture and foldable pieces might also be helpful for smaller patios. There's no limit to what you can achieve with a bit of creativity and thoughtful planning.
Related: